Hey friends, I'm back with a little update on my Stitch Fix experiment. For the first post I wrote on the mail styling service, click HERE.
As a refresher, for those of you who aren't familiar with the service, Stitch Fix charges you a $20 styling fee and then sends five pieces in each box for you to review and choose your favorites. The $20 styling fee is credited to your account if you purchase any of the items from your box, so you aren't "out" any money for the service itself…unless you don't buy any of the items. Make sense?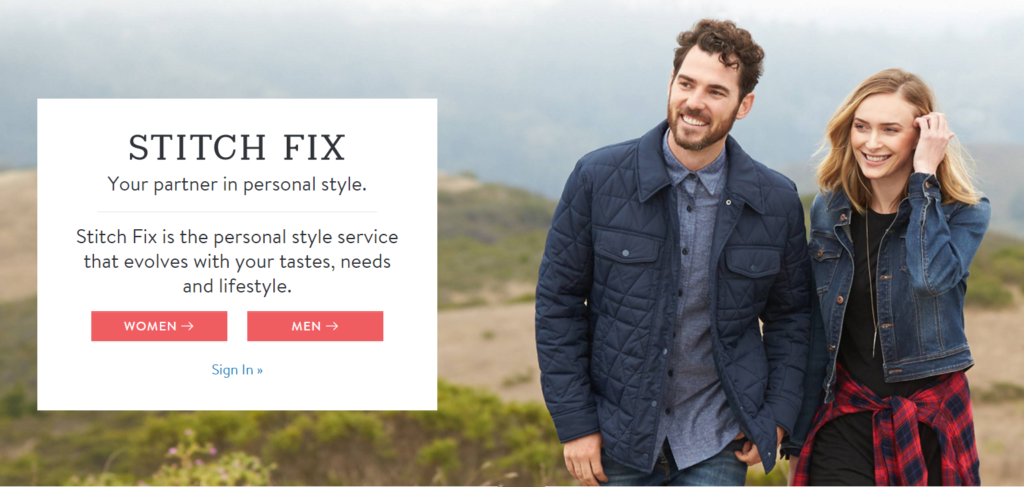 However, right now, if you want to try Stitch Fix, you can get a $25 credit applied to your account if you order your first fix between now and February 21, which means you can try it FOR FREE! CLICK HERE. If you remember, that's how I joined (and got $25 off my favorite pair of jeans….). So, hurry and get your free trial now!
I got a few other boxes after that first fix, but didn't have as much luck with them. One had clothes that were all a little too dressy. Another had a pair of jeans I liked but that was too big…basically, it was fun, but if I wasn't finding clothes I wanted, I decided to stop paying the $20 styling fee and didn't order any fixes for awhile. Then, I got an email saying they'd waive my next styling fee if I tried again…so I did. And this is the fix I got.
I actually haven't checked out yet so you all can help me out by giving some feedback.
Item 1: Yasmin V-Neck Blouse $48.00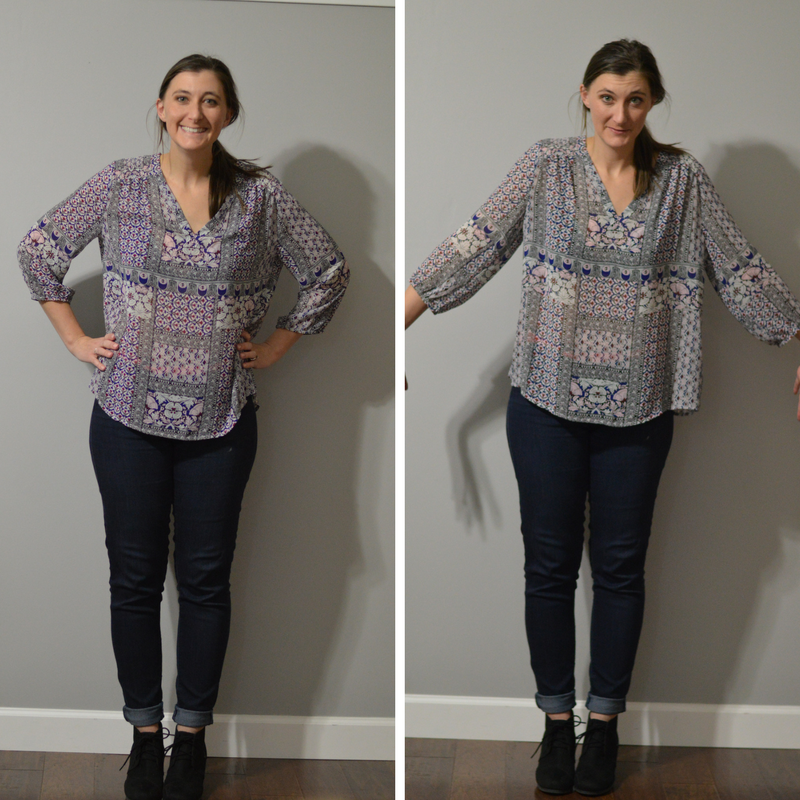 Spoilers, but this just isn't for me. It's boxy and big, but too short. (When I raise my arms, my stomach shows.) Plus, I don't like the fabric. The pattern and color also weren't my favorite. All in all, not very flattering.
Wyatt's take: "Yea, it's kinda weird and big."
Status: I'll be returning this.
Item 2: Chaplin Lined Hooded Anorak Jacket – $94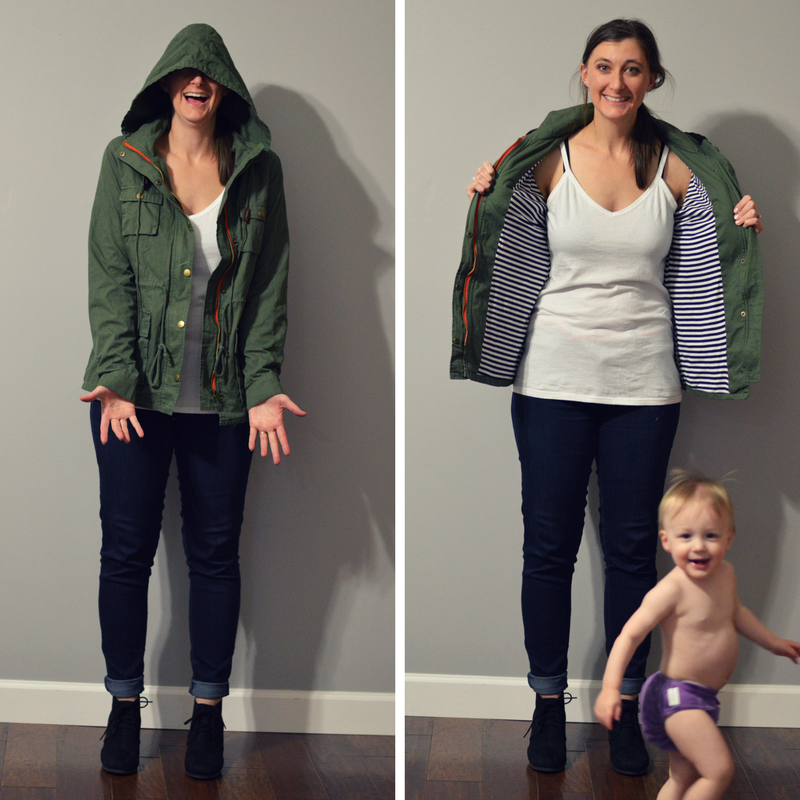 I liked this as soon as I saw it. And I liked it more when I tried it on. It feels great. I really like the sleeve length, the lining is so soft (and cute with those stripes), and the weight is perfect for spring or fall. Or this weird early/fake spring weather we're having right now. Plus, it has a hood. A perk for rainy days.
I wish it was a TAD longer and a TAD slimmer, but other than that, no complaints on the style or fit really.
I had made up my mind to keep it if it was less than $60, and to seriously consider it if it was less than $80….but it's $94, so I'm trying to decide. On the one hand, I think I could find something similar for less. On the other hand, I barely have time for grocery shopping these days, much less hunting down a specific jacket.
Wyatt take: I like it. Fits you well. I bet you'd wear it a lot.
Status…Maybe keeping
Item 3: Gisella Hammered Fan Necklace – $38.00
and
Item 4: Abrianna Longsleeve Knit Cardigan – $38.00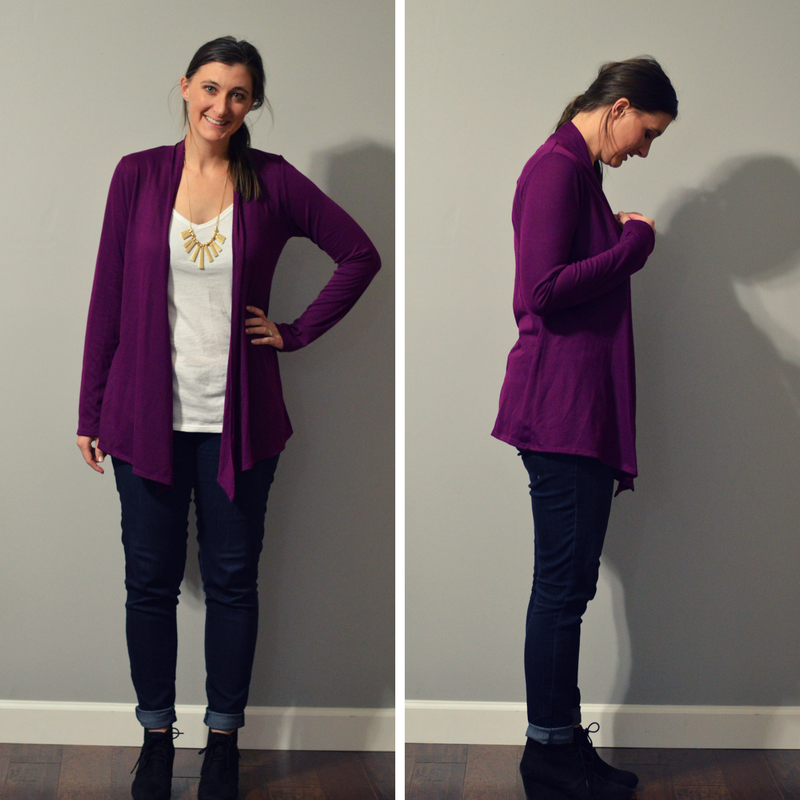 To be honest, I wrote the necklace off as soon as I saw it in the box. It was cute and fits my current gold obsession, but…$40 for a necklace I might wear a few times doesn't work for our lifestyle. I would have had to really love this. And I didn't. It was a nice length though.
The cardigan on the other hand, I think is actually nice. It fits well and I like the flowy front…but, I'm not sure on the color. It's nice because it's different from other things I have, but I'm still undecided.
Wyatt's take: "It good if you like it."
Status: I'll be returning the necklace, still deciding on the sweater. Maybe.
Item 5: Kate Boyfriend Jean – $88.00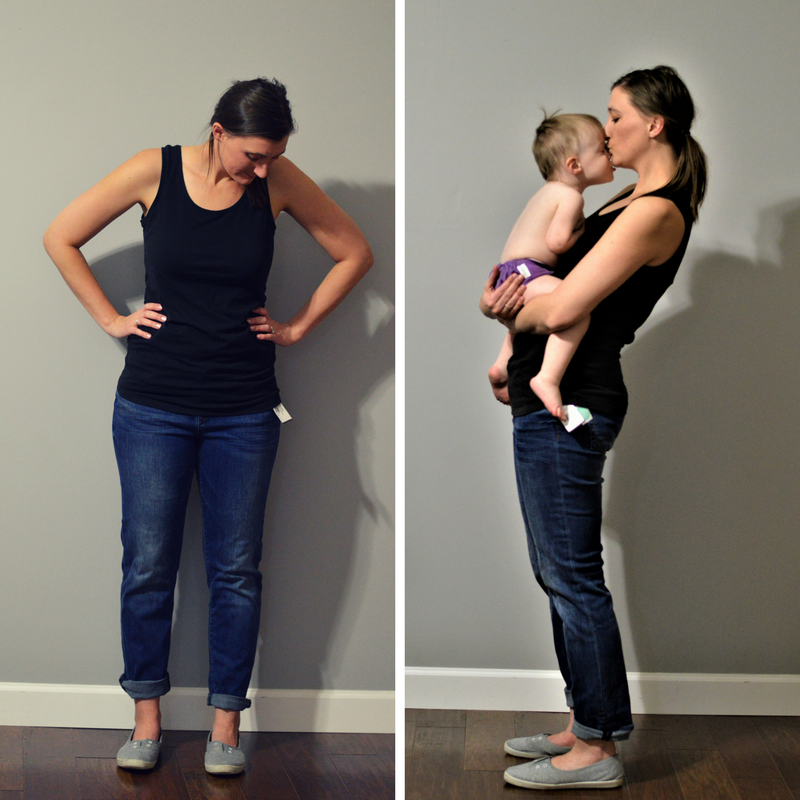 I'd specifically asked for boyfriend jeans with no holes, so these do fit that requirement. My last fix had a similar pair I liked but that were too big, so this time, my stylist sized down…and these are still a bit too big in the waist, though the legs fit fine. They felt good and I do like them, but I'm trying to decide if they are EXACTLY the pair I want…and I'm just not sure yet. I need to put them on again and try walking around the house in them I think.
Wyatt's take: They seem to fit okay. (I show him the gap at the top.) Oh, well, yea. I still think they're okay. You can try on my jeans if you want real boyfriend jeans. (He's so helpful.)
Status: Maybe keeping
So, thoughts on what I should keep or send back? Thoughts on Stitch Fix as a service? 
Want to try it for yourself? Use MY REFERRAL LINK to get $25 off your first fix (that covers your styling fee and goes towards a purchase!) if you order before February 21. Hurry! And don't forget to leave time to fill our your style profile. I just went through and changed some of my answers as apparently my style has changed over the past few month.
Oh, and they also have men's clothes now–and they are launching a plus size line this spring! Remember, you don't have to sign up for recurring fixes (I order mine on demand) so I don't have to worry about forgetting to cancel if I want to stop.
*this post includes my Stitch Fix affiliate link. So, if you plan to order a box, I'd love if you do so through my links above. Thanks!