Hi guys, I have a confession to make.
I'm impatient about our kitchen remodel. And now that we're getting over the hump (ready to start the downhill side of things!), I'm even more ready to start thinking about the fun stuff…decorating!
(Not that sanding drywall mud over your head for hours while you're all covered in sweat and dust isn't fun…trust me, we've had a blast with all that…)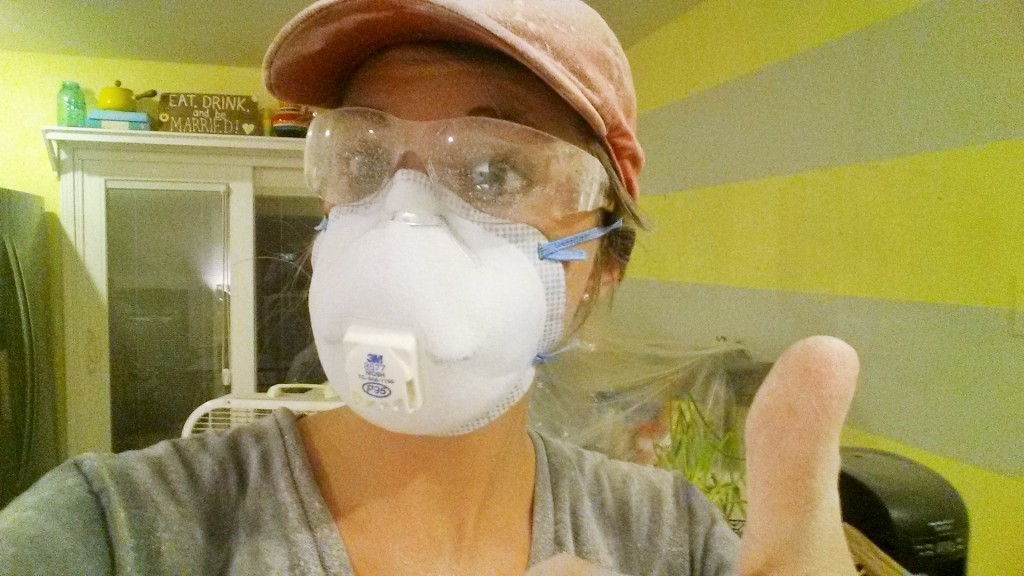 Anyway, since I'm thinking about decorating, I thought I'd share a new free kitchen printable with you all that you can download and print for yourself for free!
(Hint, it's design was totally related to my complete annoyance with managing without our kitchen, and the utter dismay I face every time I have to do dishes in our tiny hall bathroom sink. And it's hanging taped to the mirror in our current bathroom/kitchen. Ugh.)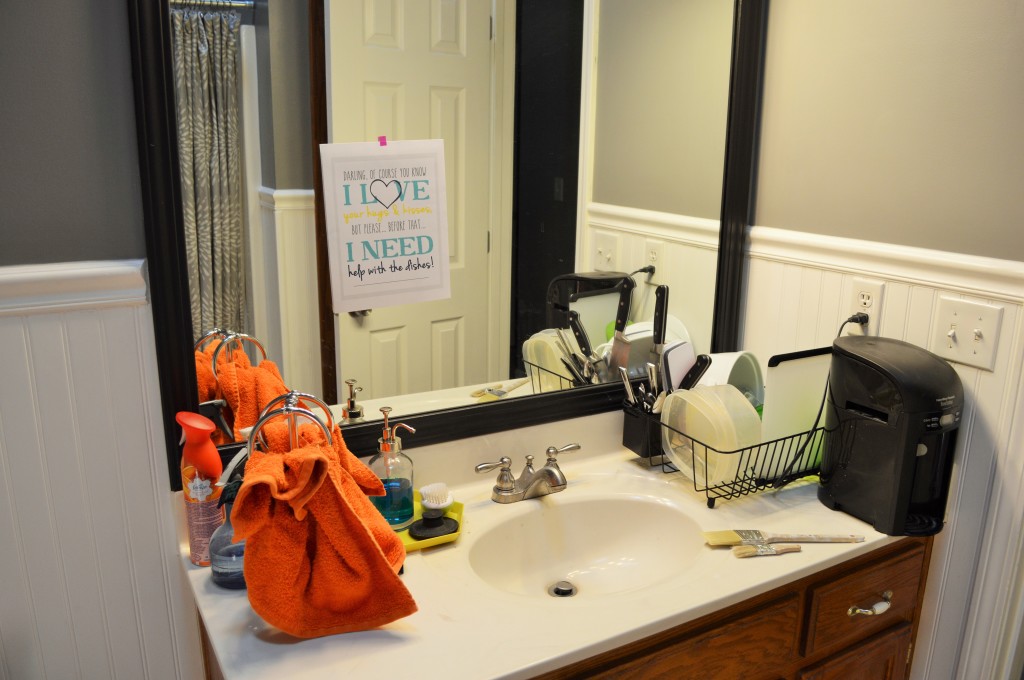 First, I have to give credit where it's due and tell you I created my design after seeing this similar one on Pinterest: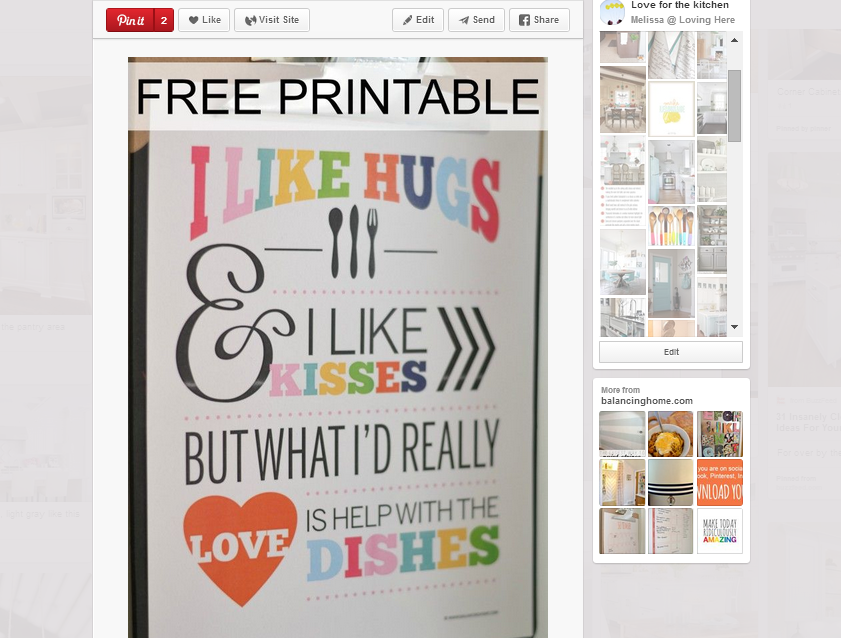 I know there are a ton of similar quotes out there, just check out my quick Google search: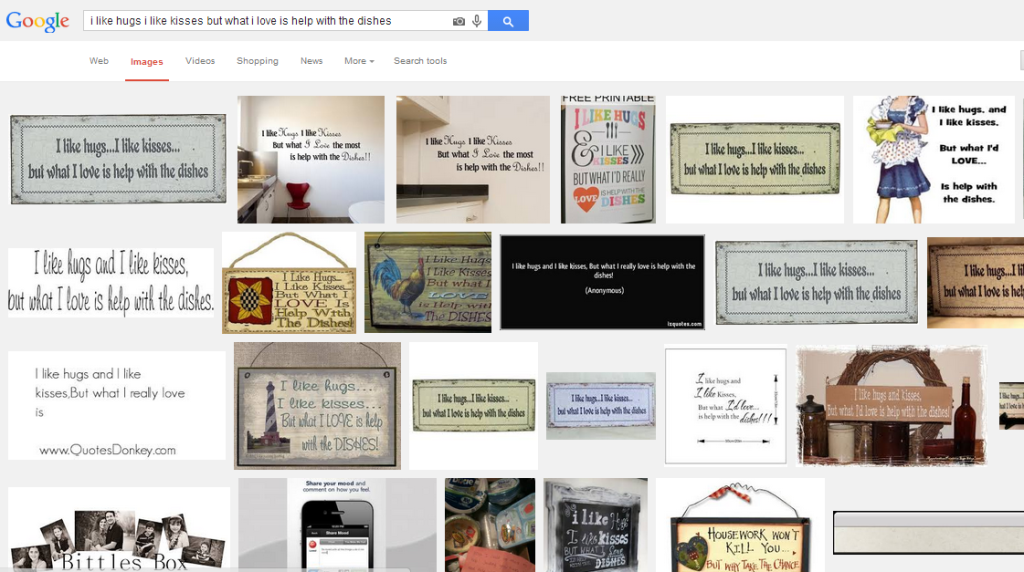 And, you can certainly buy signs with this silly saying on it, but I thought the original quote needed tweaking a bit to fit our life better…considering I always WANT Wyatt's hugs and kisses, I just usually NEED help keeping up with the dishes before I can really relax and enjoy said kisses. And, I try to avoid using the word "love" for things other than real love or love-related things (like hugs and kisses), if that makes sense. It's something my grandma inspired me to guard against and I've tried to take it to heart.
(Of course, if you like the first version, you can find it here.)
So, here's my version:
And now, because it's the Thursday before a holiday, which makes this a Friday for many of you, I'm also partnering with Lindsay at The Newlywed Notebook to bring you another(!) new free kitchen printable.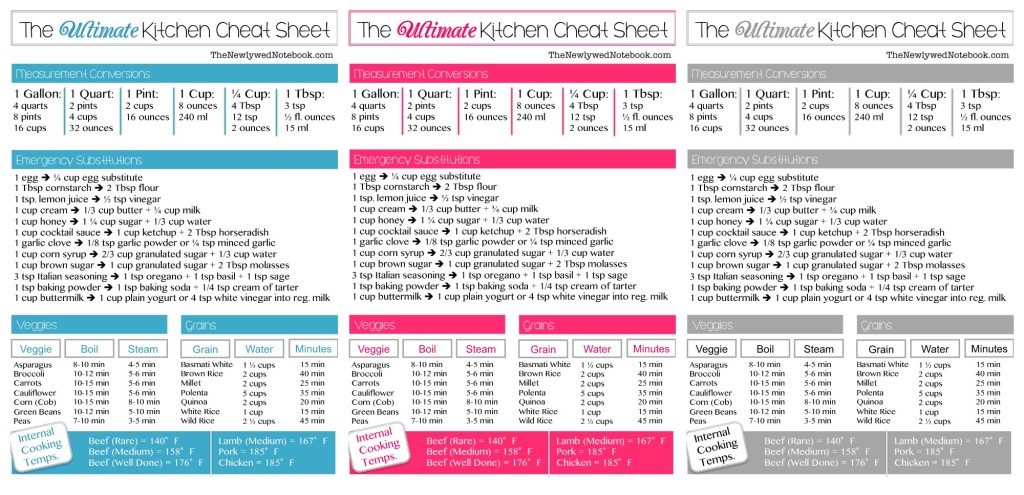 We've recently partnered on a few things, including a giveaway a few weeks ago, and it's been great getting to know another blog friend!
Her design is super cute and really helpful all at the same time, which is great because I always have to look up those conversions she has on there, not to mention the handy substitution list…those are great tips! (Plus, she has it in three colors!)
So, head over to her blog today, here,  to print your free kitchen cheat sheet after printing my dishes-inspired print below!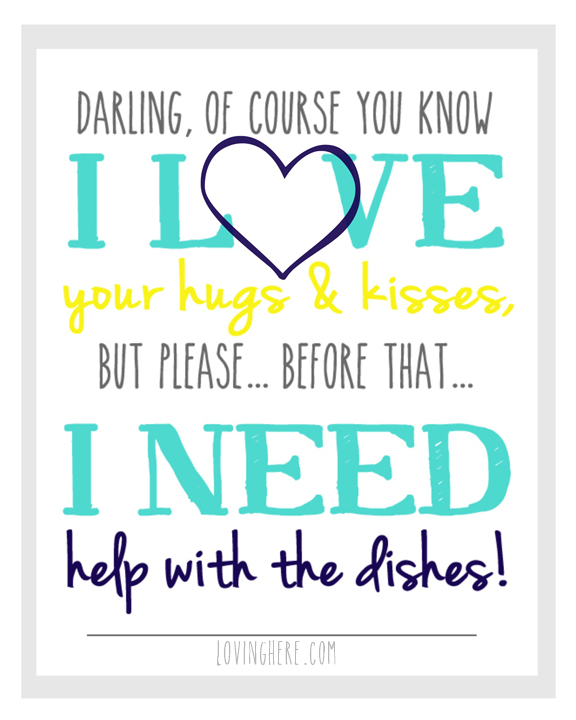 (To download, just right click on the above image and select "save image as") to print at your own leisure–as long as you don't sell it to others! It should be sized as an 8×10 but sometimes things are wonky depending on your printer settings, just select that you want it to print at either 8×10 or 8.5×11 size and you should be set. Feel free to comment below if you have issues!) 
Also, because I know not everyone has a yellow and blue kitchen, I'm offering a custom-colored print for $3. Just email me at melissa (at) loving here (dot) com and I'd be happy to discuss your color preference and change the color scheme to something that would match your kitchen. Red and black? Purple? Green? Whatever you want! Also, I'd send you an image free of our blog name, unless of course you just wanted to keep that on there. 😉
Or, of course, you can just download the one above for free. Your choice!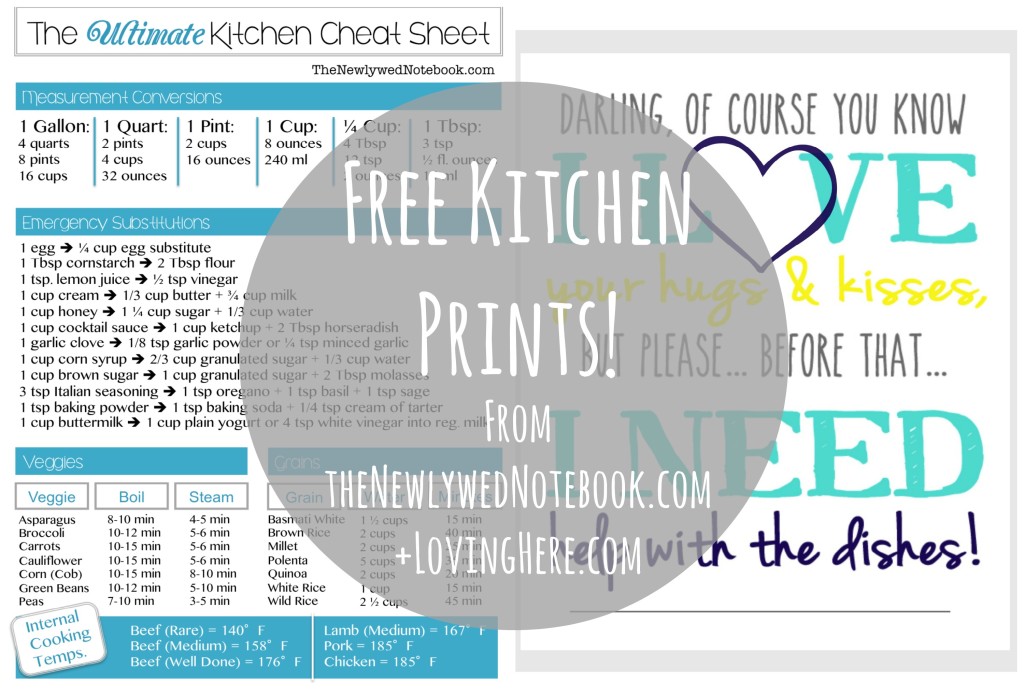 So, which kitchen task drives you crazy? Or which substitution can you never remember? I'd love to hear how these prints will work in your home!
Also, happy "Kinda Friday," friends. Enjoy your holiday weekend, and be safe! And don't forget to put out that flag to show your pride and gratitude for your freedom!
*Remember, this free printable is available for personal use only. Selling this design as your own isn't allowed. It's also not nice, so don't do that, okay? Thanks!