I may have mentioned a few times that we have many, many cucumber from our garden. As in, more cucumbers than we could ever hope to use.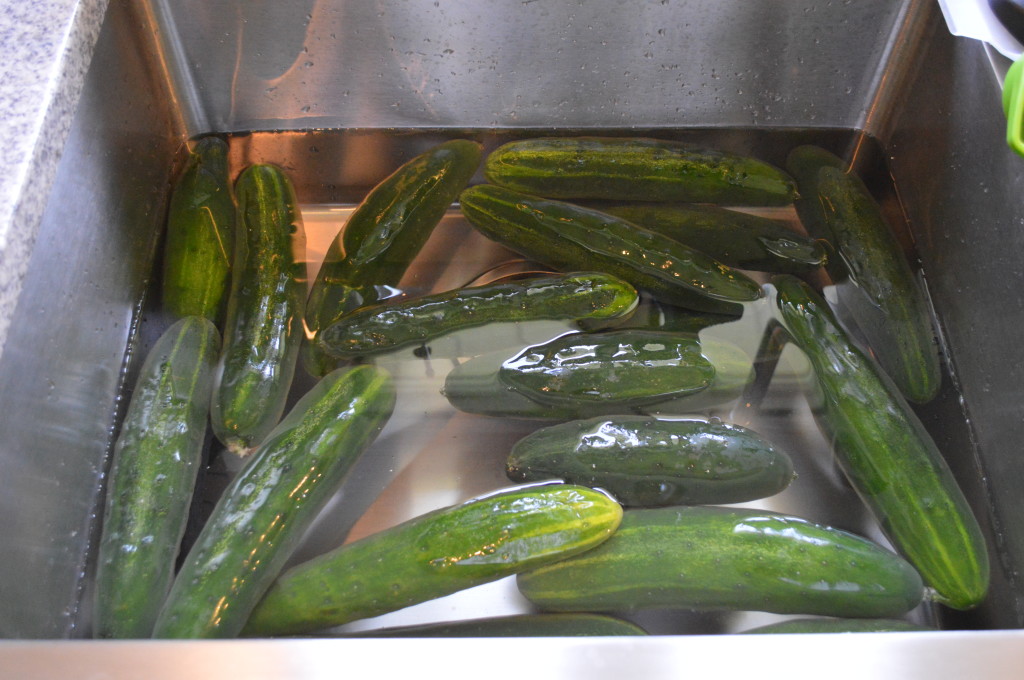 And being as one of my resolutions was to use and preserve more of our produce, I figured I should do something besides just watch them sit in the fridge and get soft.
Unfortunately, my attempts at making "real" pickles last year didn't really turn out. The canning process went fine, but when we tried them, they were super mushy and super salty. As in, uneatably salty. Ick.
(On the other hand, my refrigerator pickles went really well. And those were really popular.)
So, I figured I'd try something new this year. Cucumber chips!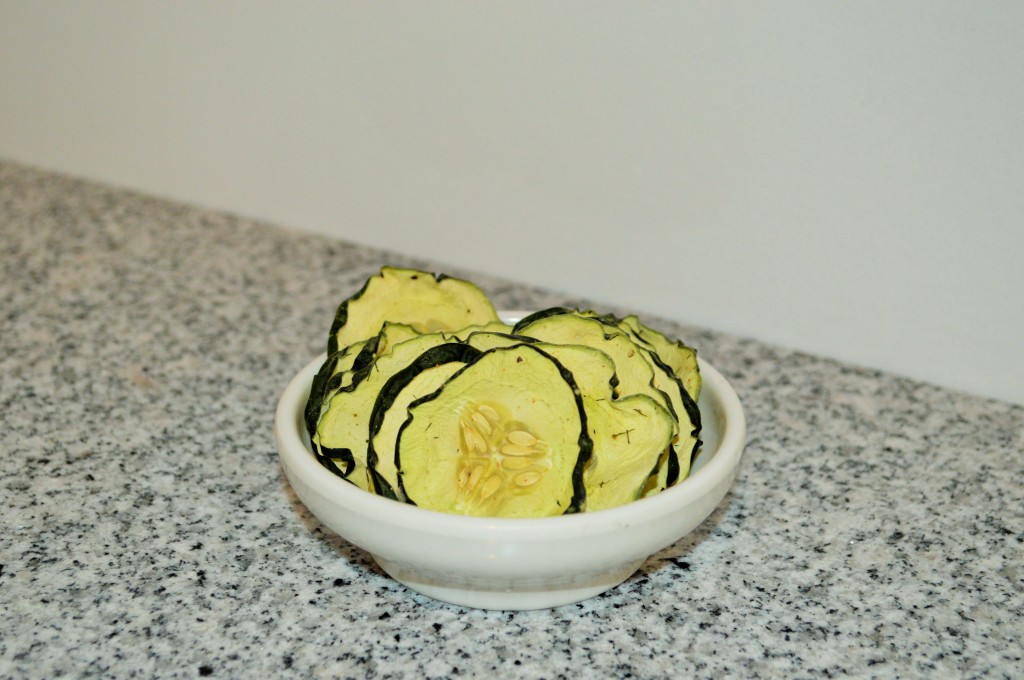 (Just as a disclaimer, these weren't the best ever…but interesting, and I enjoyed munching on them instead of eating just raw cucumbers all day. Wyatt on the other hand, was NOT a fan. He tried one and said "No way."
I've actually made these twice now, and the first time, I made three different version: Mild, "pickle," and hot.
(This was back when I thought Wyatt might eat a few of them.)
FYI, I loosely followed this recipe for inspiration. To get ready, I dragged in the table from Harvey because I was still working without counter tops. Ugh.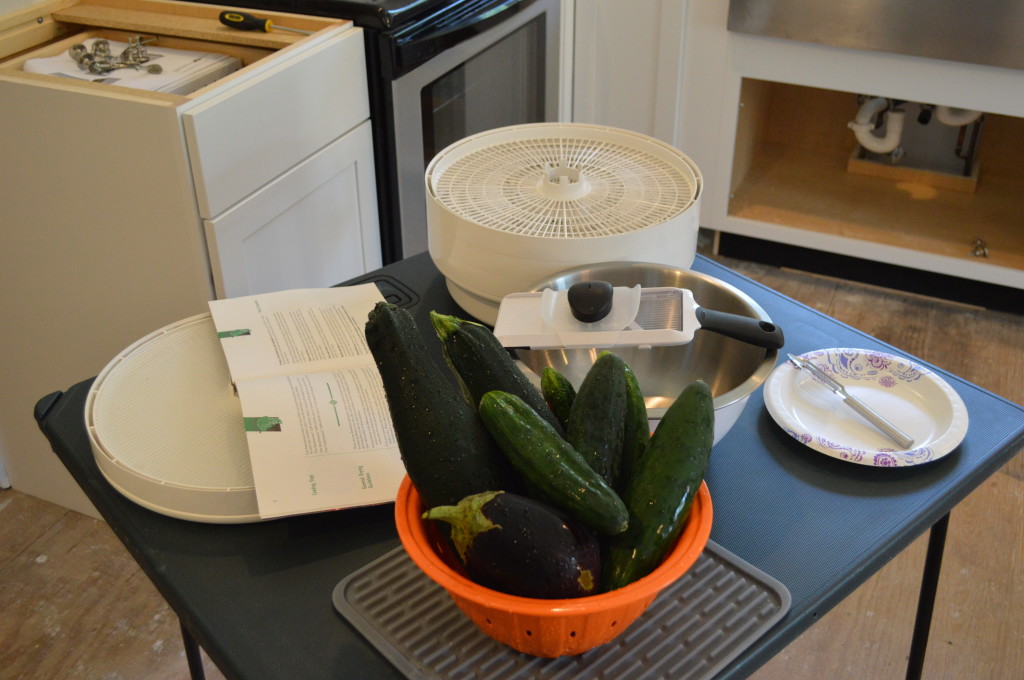 And I gathered all my ingredients: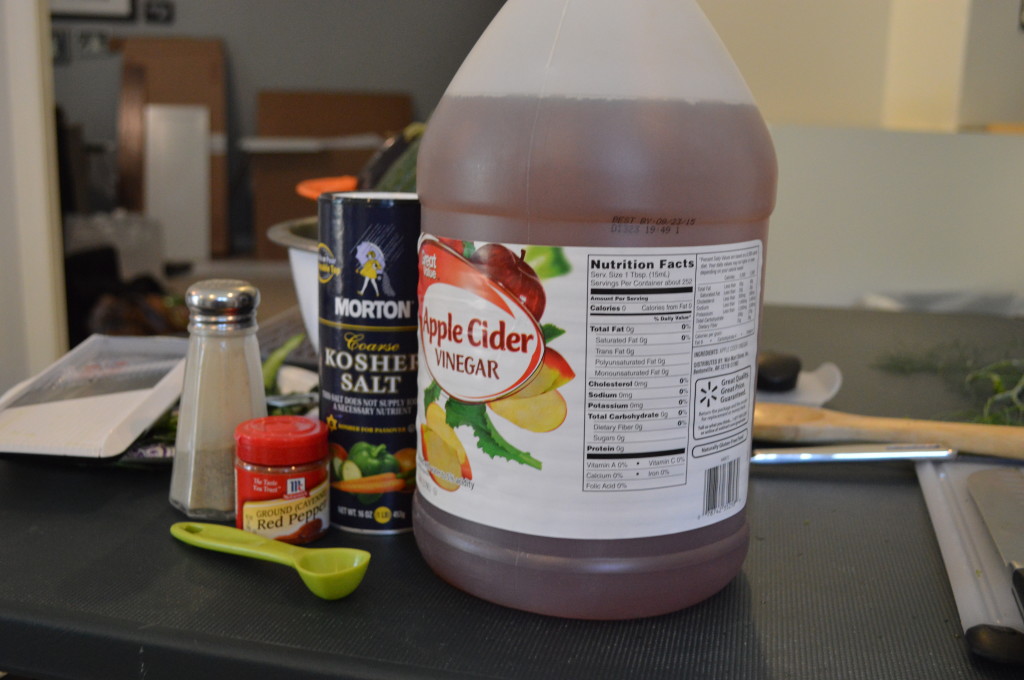 First, I used my mandolin to slice each cucumber into thin slices. You can make them thinner if you want your finished product to be crispy/papery or thicker if you prefer that. (The second batch I used our food processor to slice these up in less than a minute. That's the way to go, for sure!)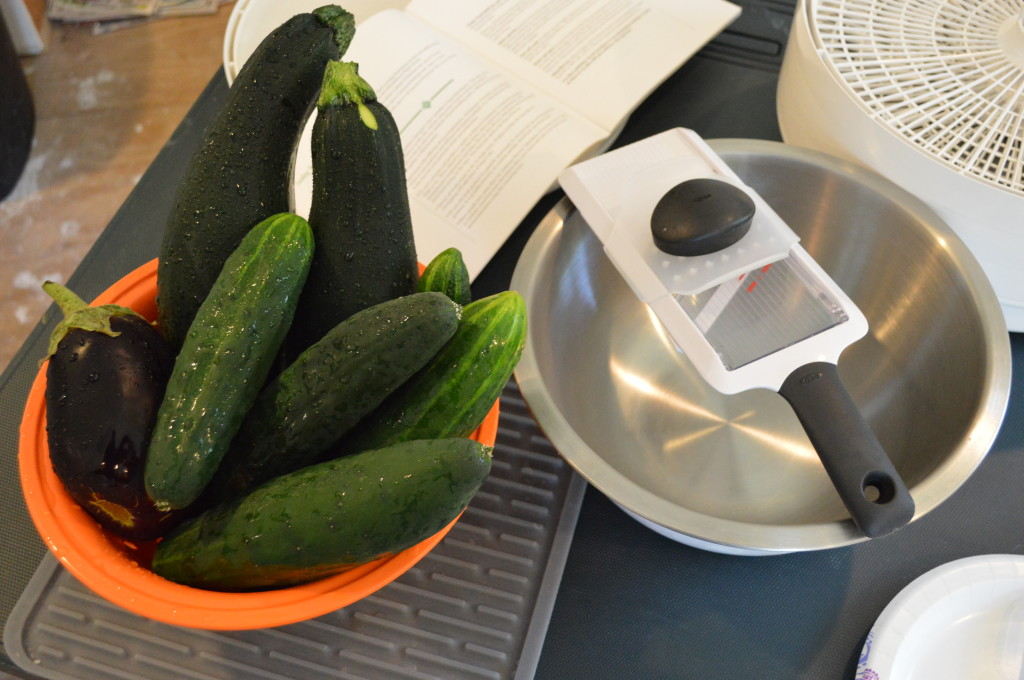 (Yes, I realize some of those aren't cucumbers. I washed the whole bunch of produce at once.)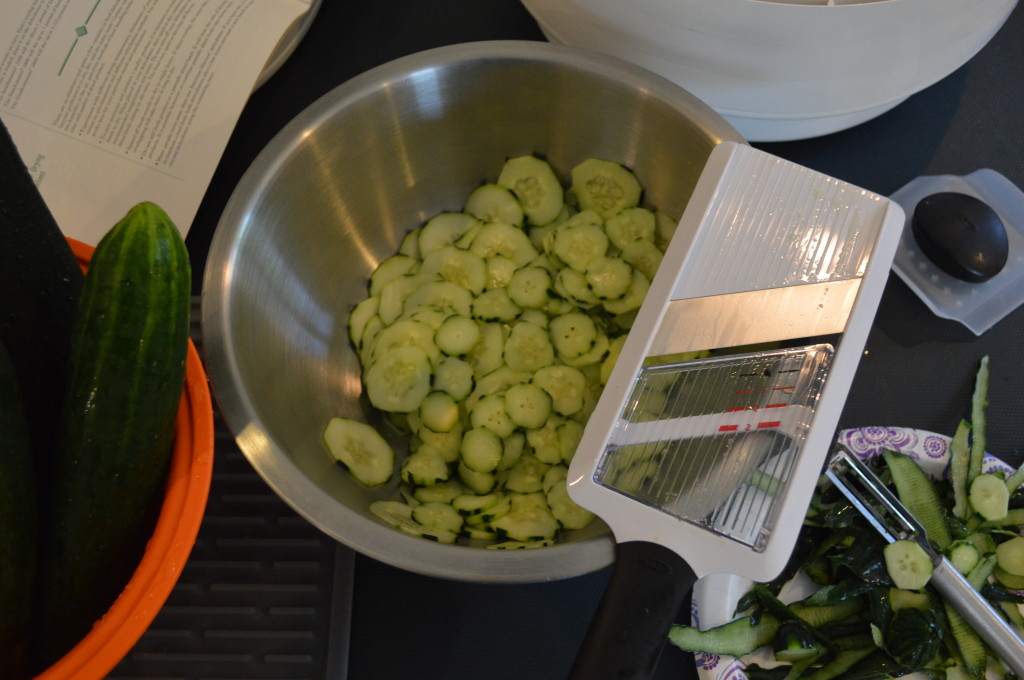 Then, I added my seasonings. For the mild batch, I used about a teaspoon of apple cider vinegar, and some salt and pepper.
For the next batch, I added more vinegar (to make them "pickle-y", finely minced fresh dill, and more pepper.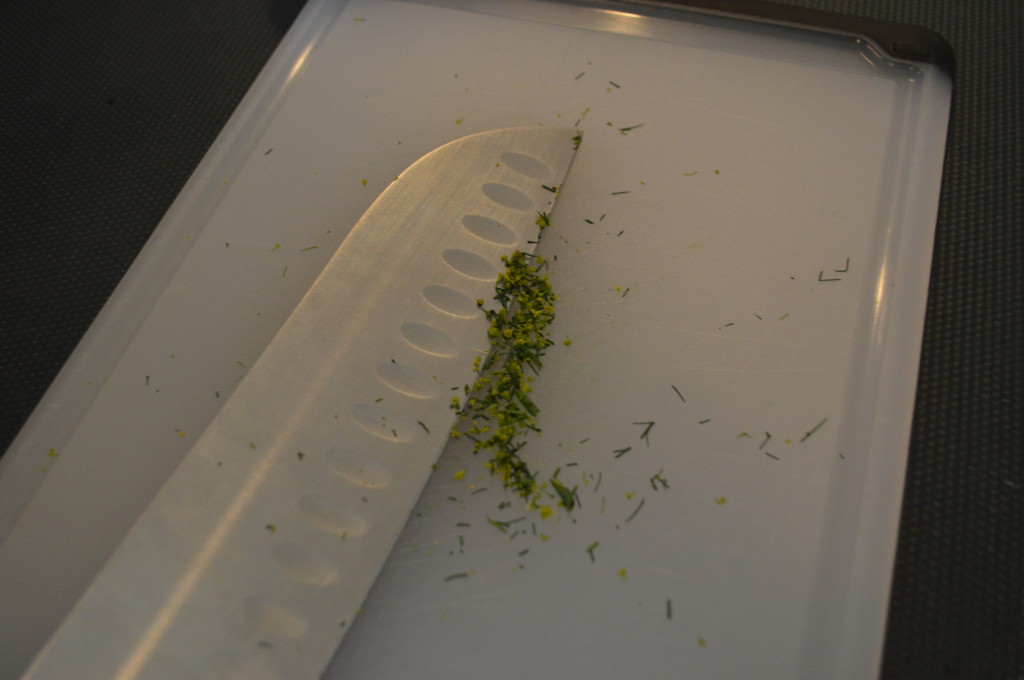 Have I mentioned how much I like fresh dill?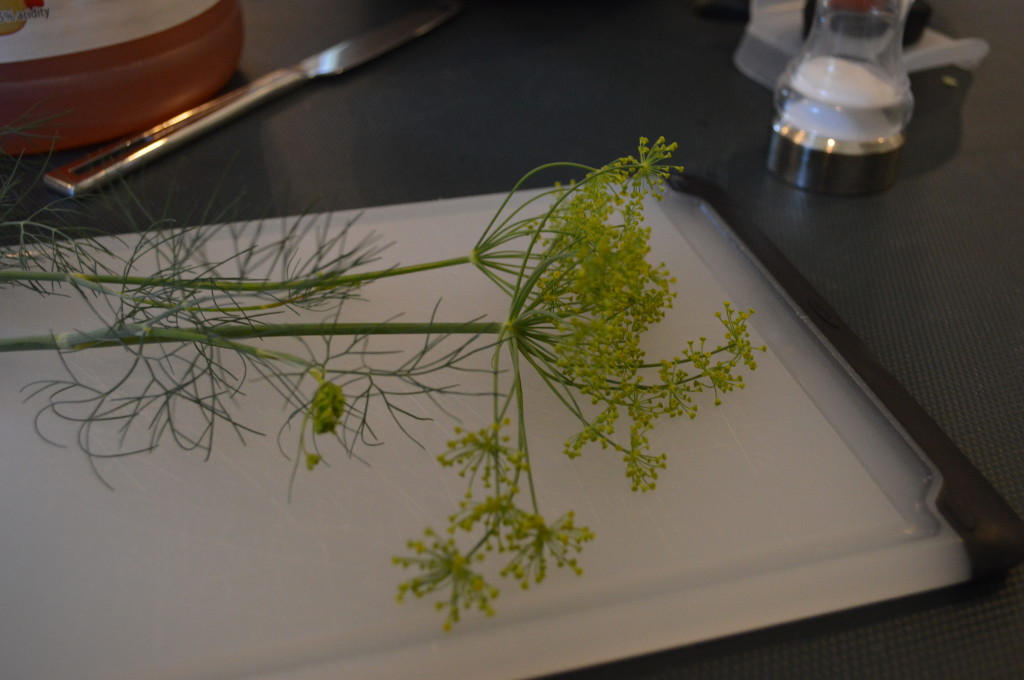 Then, for the "hot" batch, I added cayenne to taste.
Basically, I just added flavoring until I felt like it was "enough." I tasted these before dehydrating them so I could get a feel for the flavor. Just keep in mind things do concentrate as they dehydrate so don't make them too flavorful at first. It turned out decently…I'm guessing on measurements, but I'm sure you will find a favorite recipe if you decide to make these yourself.
Then, I laid them all out into our food dehydrater trays. You could totally do this in the oven too, just use a baking sheet and a low temperature.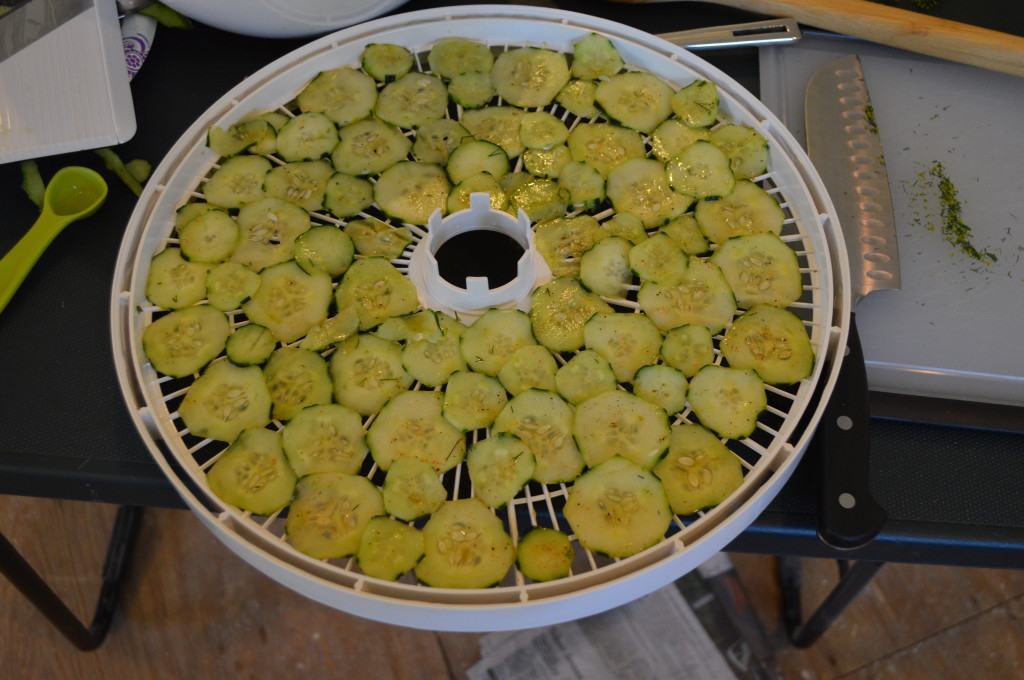 But since I was using a dehydrator, I had 4 hours to wait before I was left with these: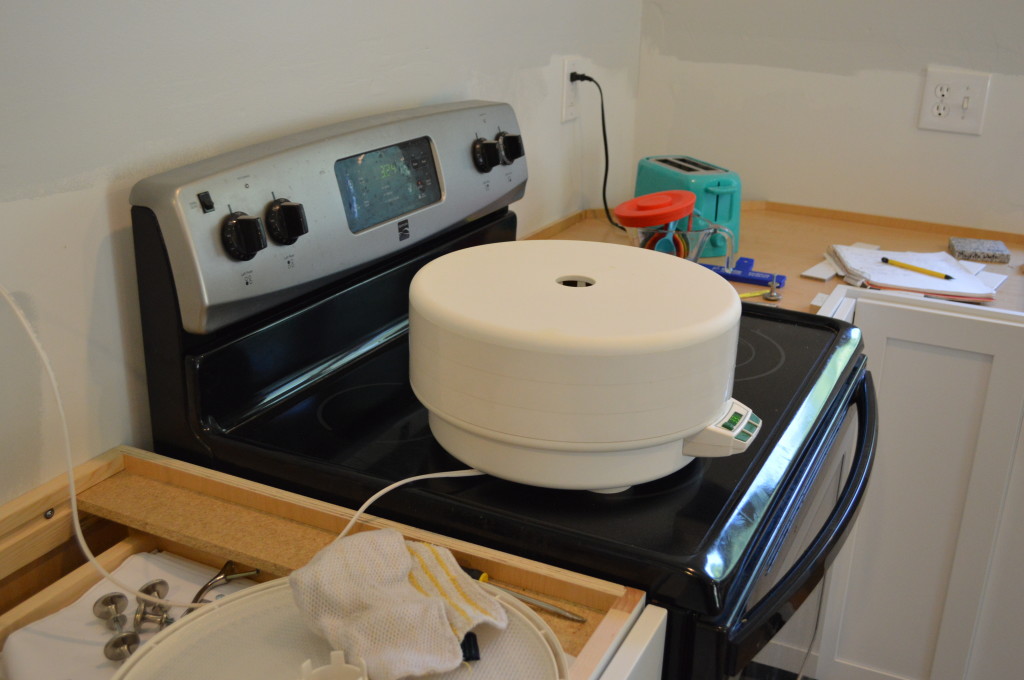 Like I said before, this isn't really a new favorite in our house, but it was an interesting new way to use up some cucumbers.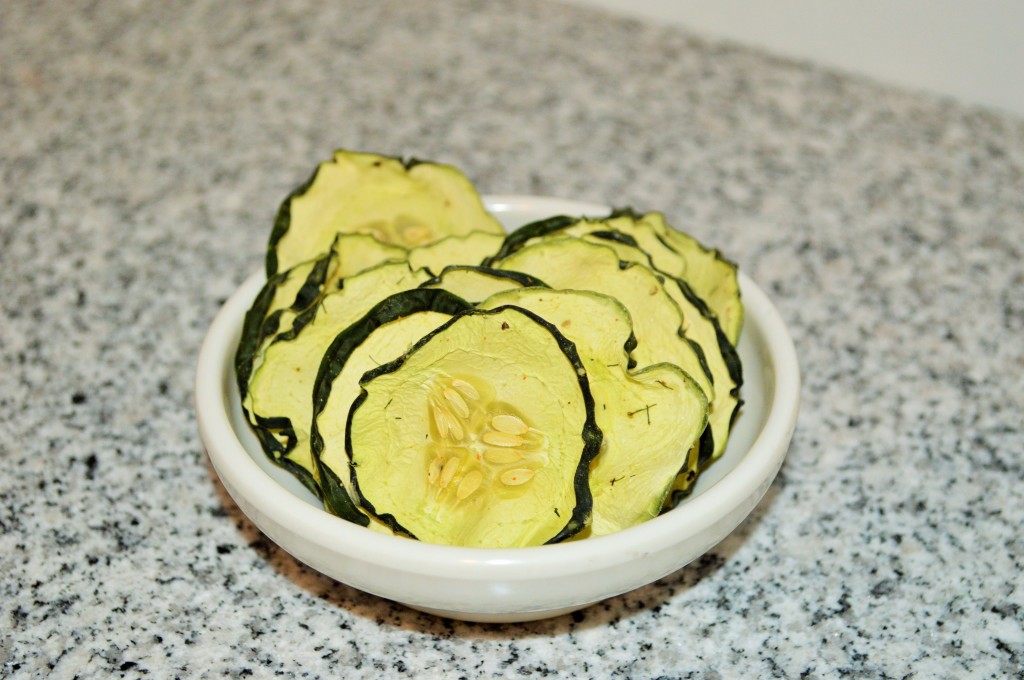 Ever had cucumber trips? Are you a fan? Wyatt's not. I'm on the "meh" side…but it's healthy and a fun snack during the day at home, so I'd probably make them again.