You guys, guess what? I cooked!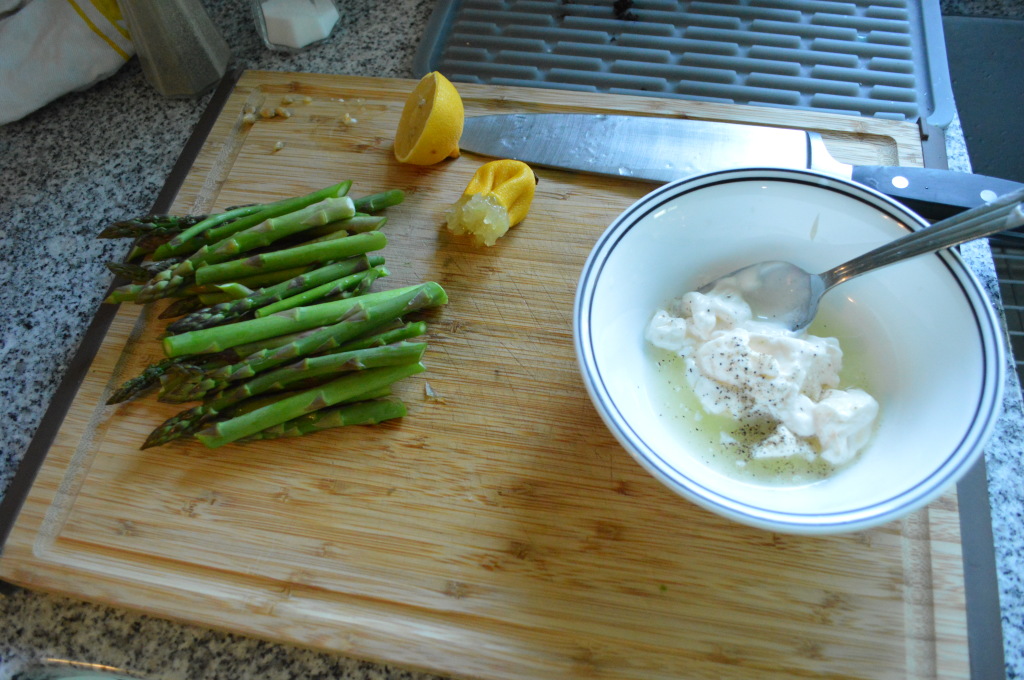 As in, I followed/created a new recipe…something other than sauteing zucchini or boiling potatoes.
I know, I used to cook all the time, but then the pregnancy sickness hit and I sort of just defaulted to eating whatever Wyatt made for us to eat. I'm ashamed to say that even after I was feeling better, I've been too busy with work to really focus on having dinner ready when he gets home, so we usually end up making something quick and easy together. Fish and rice, tuna salad sandwiches, hamburger helper…you get the idea. I've made a few things this springs that were pretty good, but mostly, it's been old stand-by stuff that's fast.
But, recently we were given a great batch of fresh asparagus from my grandma's garden and she suggested I try making this breaded asparagus fry recipe she had seen online. I thought it sounded pretty delicious, so I went for it one night while Wyatt was mowing. It only took about 35 minutes, start to finish, so it wasn't a huge ordeal, and it was a pretty big hit, so I'd totally recommend you try it.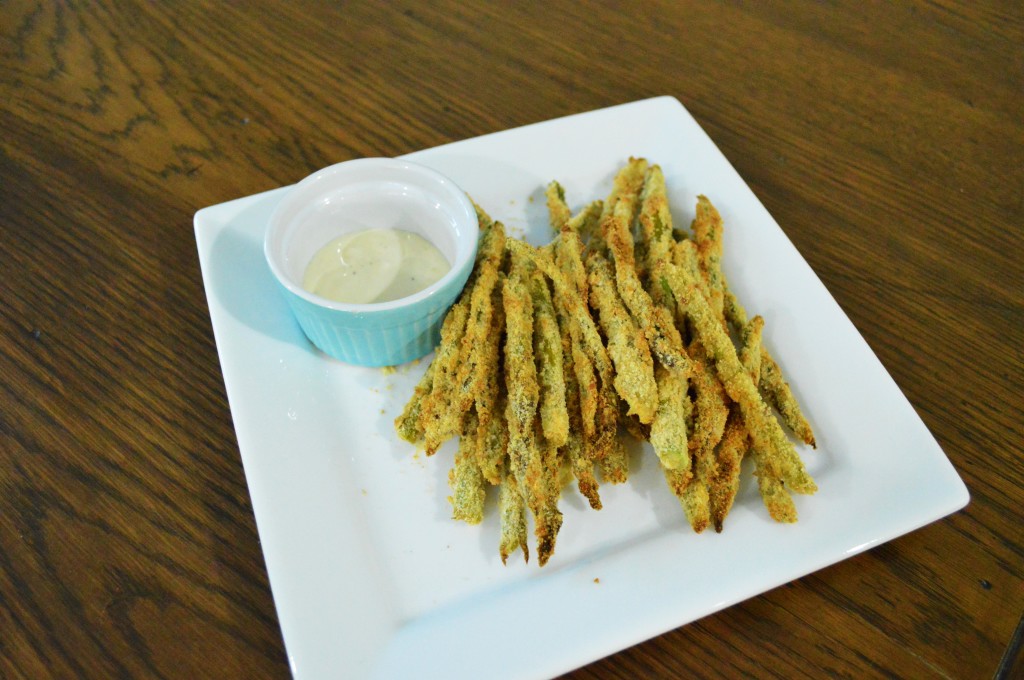 Here's what I did:
First, rinse and chop your asparagus into fry-size pieces. I wanted to be able to pick them up and eat them like fries, not have to cut them with a fork.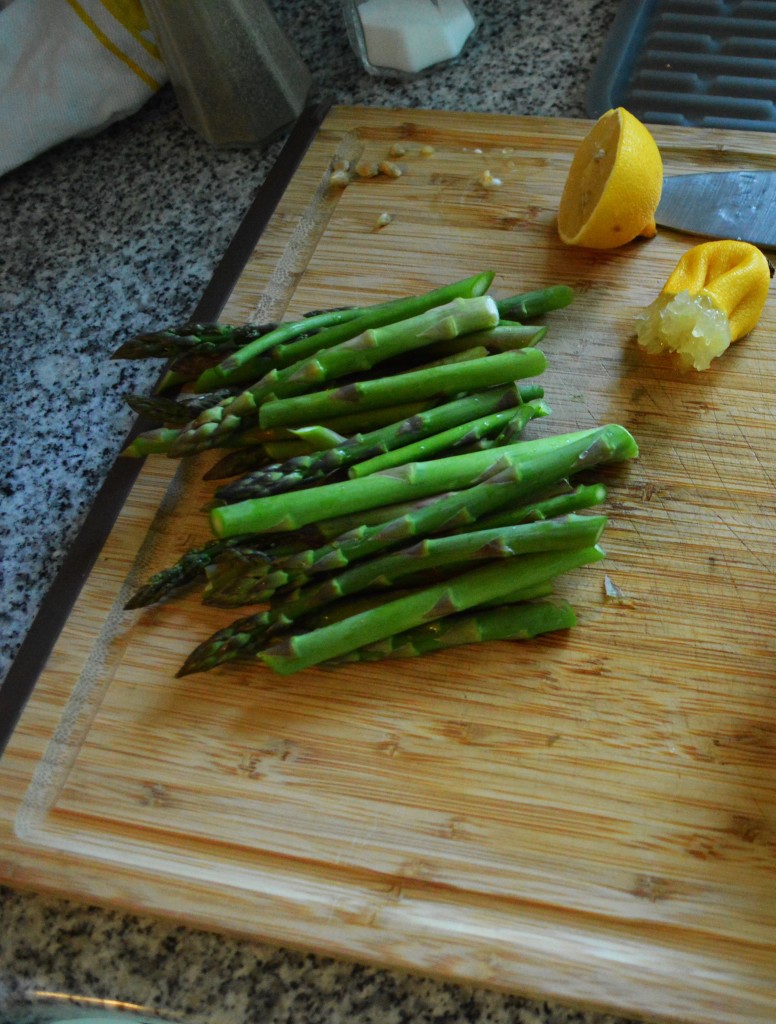 Then, I made the creamy dressing. This holds the breading onto the asparagus while it bakes. For this, I nearly followed the recipe, here. but tweaked it a bit to taste.
I used:
mayonnaise (I used about 1/3 of a cup for the above portion of asparagus)
juice from one lemon
minced garlic to taste (I buy the jarred kind because I'm lazy, so I used a couple spoons of the oil, too)
couple dashes of lemon pepper seasoning mix
salt and pepper
teaspoon of Dijon mustard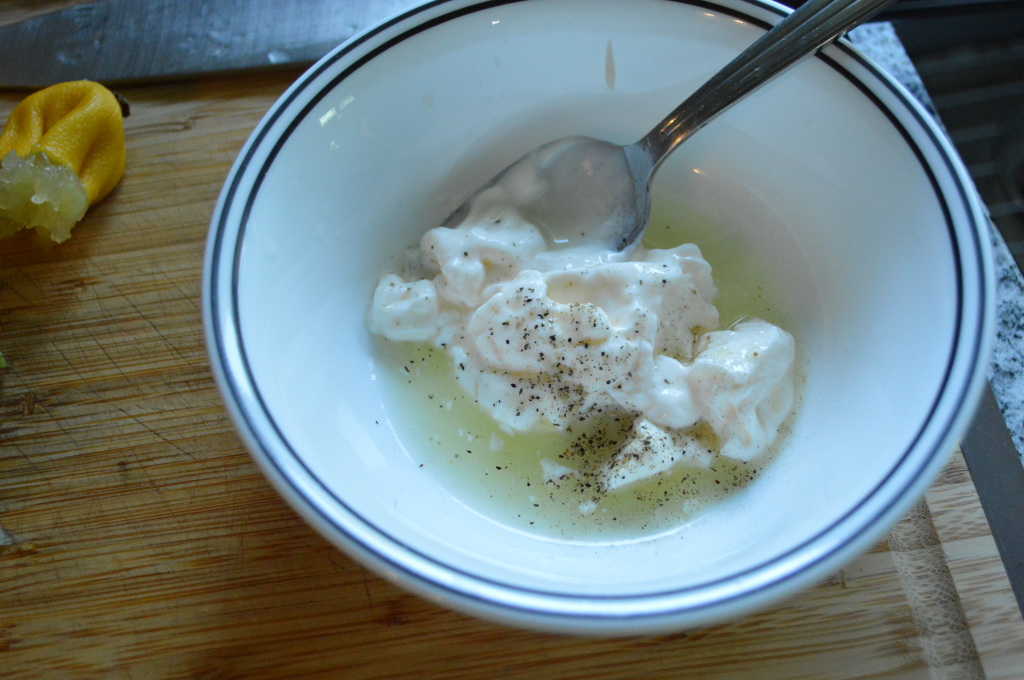 I actually added the mustard as an afterthought because I thought it needed a little kick.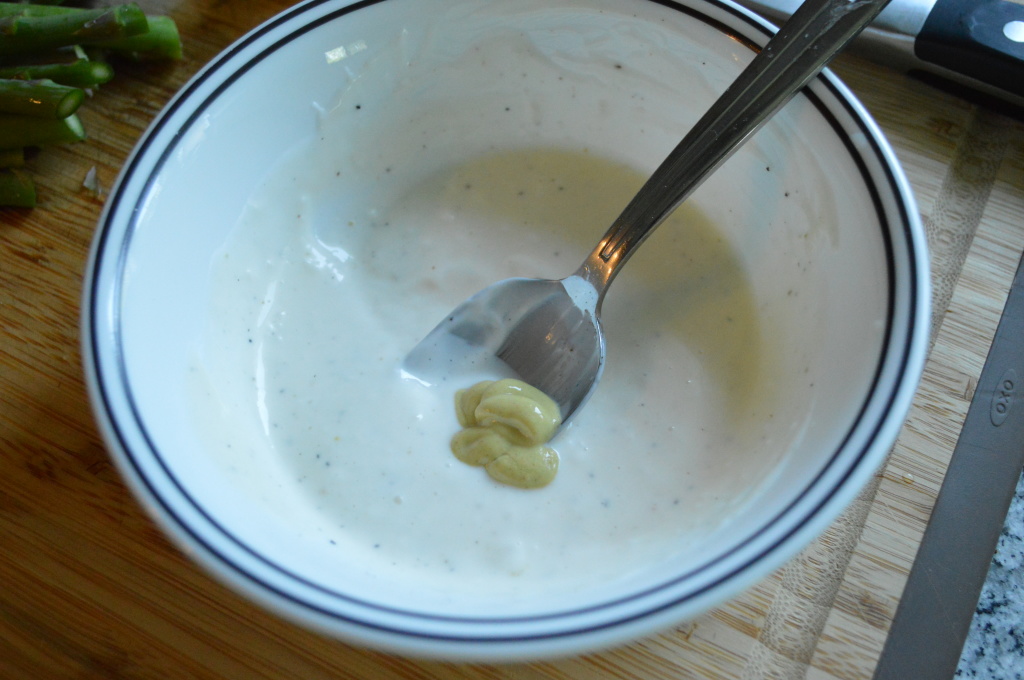 Then, I mixed up two parts bread crumbs (just basic, not flavored or Panko) and one part parmesan cheese blend along with a few shakes of Italian seasoning, but I say go for whatever you have on hand. You could even use cracker crumbs if you wanted I bet.
(I ended up with lots of leftover breading, which I just stuck in a bag in the freezer, but if you don't want leftovers, I'd only make a half-plate full instead of a full plate. )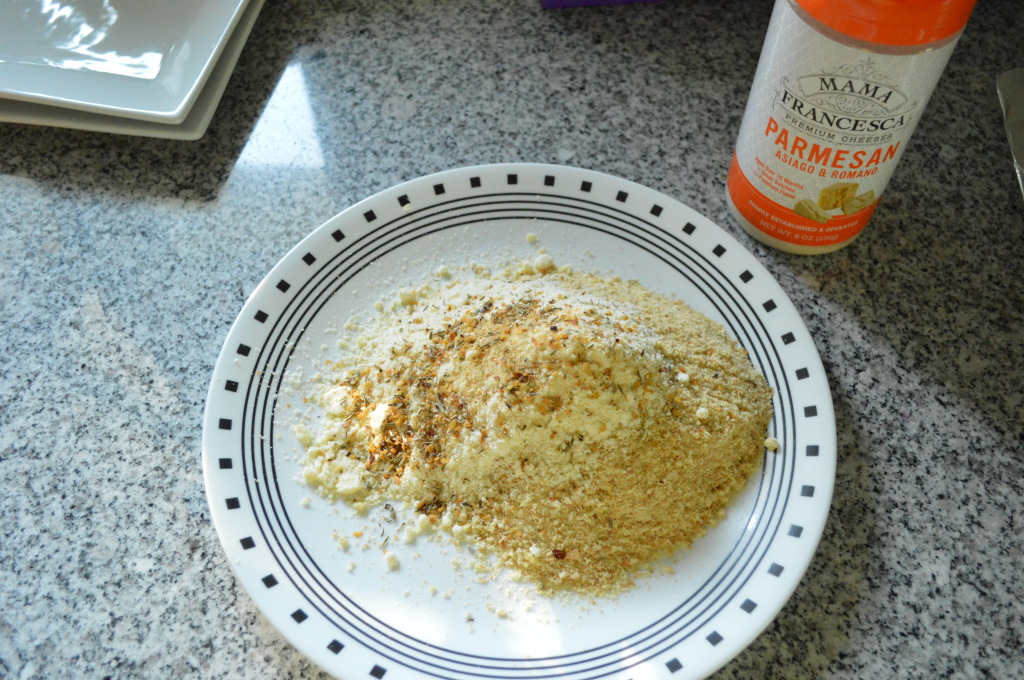 Now for the messy part. I wish I had a magical tip for coating the asparagus with the dressing, but I just used my fingers. You might be able to brush it on and then transfer it to the bread crumbs with tongs, but I figured, there were no raw eggs in the mixture so this way I got to lick my fingers when I was done. And there were less dishes to wash. Double score.
After coating each asparagus piece with dressing, it's time to dip them in the breadcrumbs. You want to get plenty of dressing and plenty of breadcrumbs on every piece. Really coat it.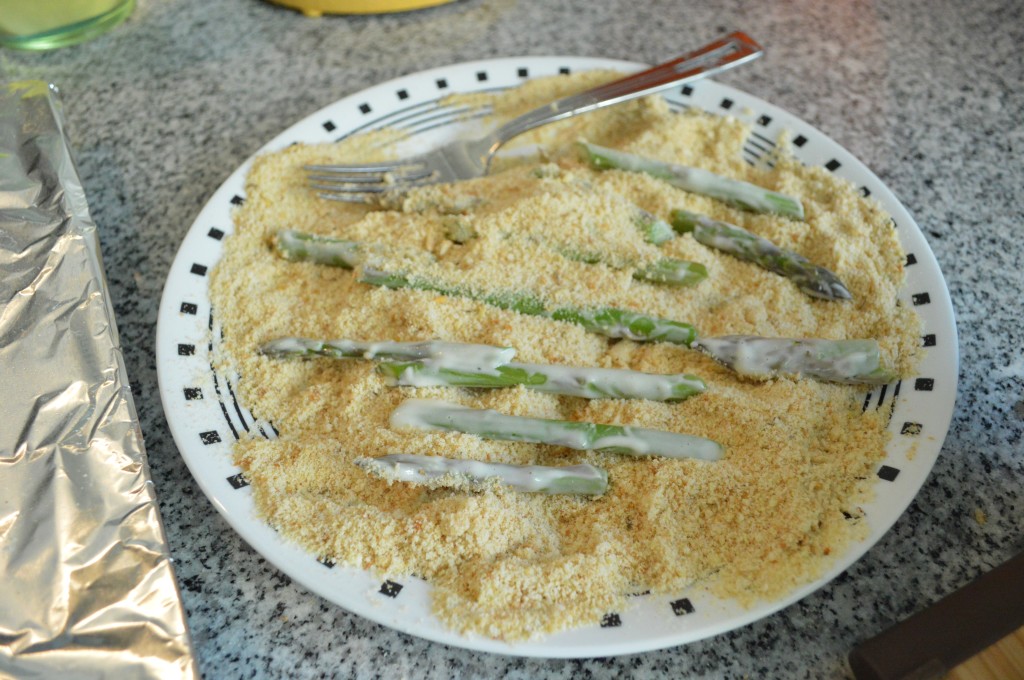 Then, I arranged them on a foil-lined baking dish I had sprayed with cooking spray to avoid any sticking.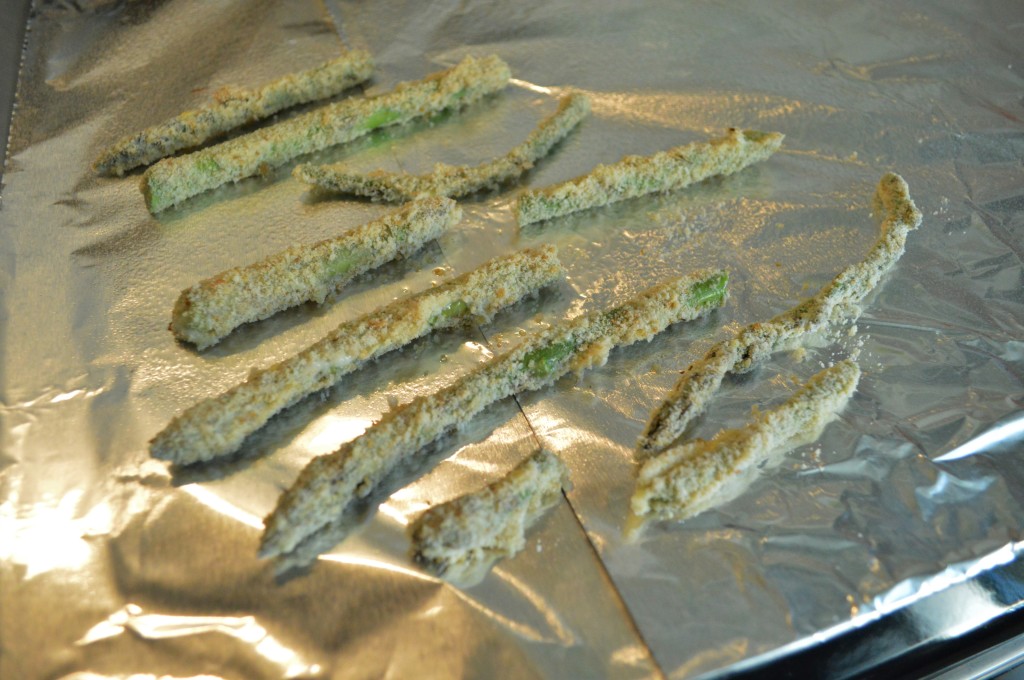 After about 15 minutes in the oven at 425 degrees, followed by 3-4 minutes under the broiler for extra browning, they were ready!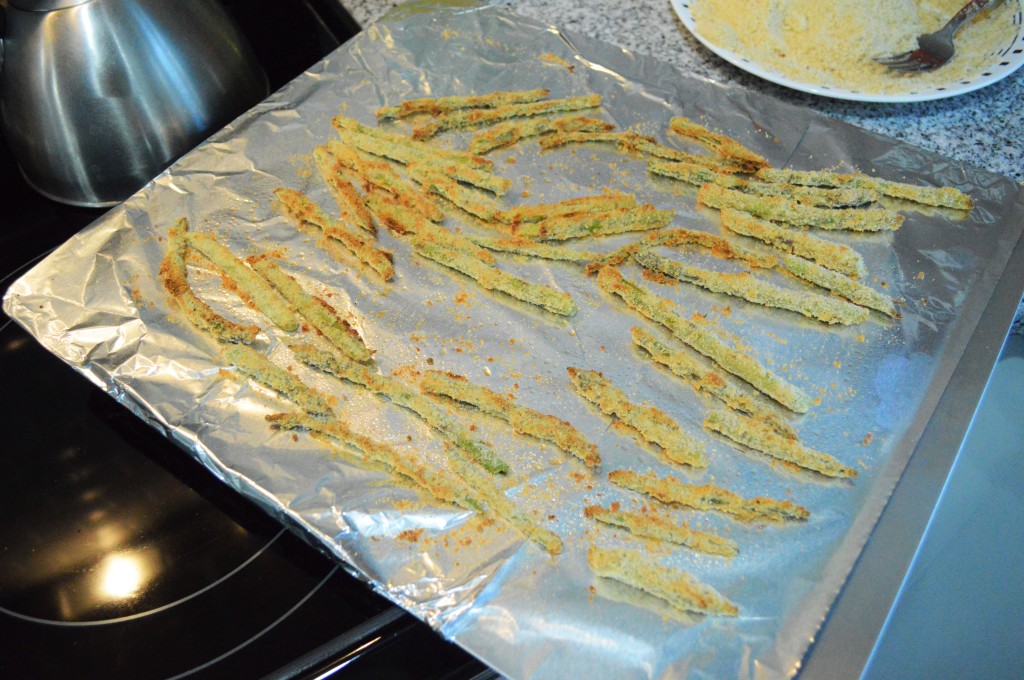 I'm telling you, I was pleasantly surprised by how good these were. I mean, I knew they would be tasty, but I didn't plan of shoving them into my mouth as fast as I could, barely taking the time to share with Wyatt.
I used the leftover dressing mixture as a dipping sauce, which was also delicious. Yu-um.
Ok, so there's my attempt at cooking lately. I have to say I was encouraged it turned out so well after a pretty decent lazy period. I guess I'm getting my stride back in the kitchen…just in time to have the baby and fall back into the "let's just get pizza" mindset. Yay…
Or maybe I'll just make Wyatt make these…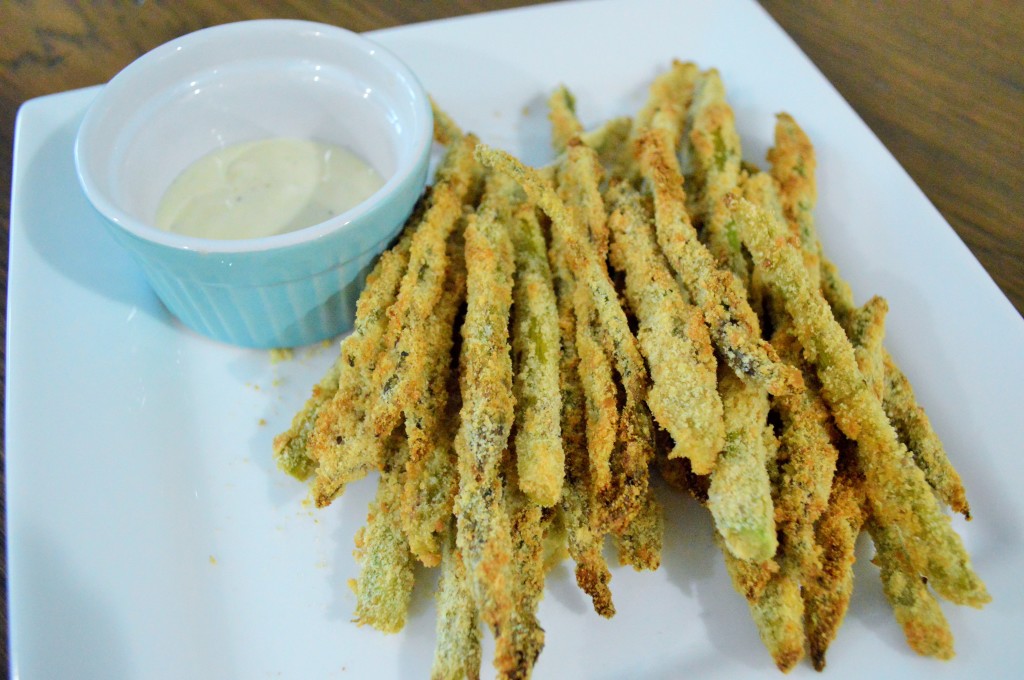 Ever made any kind of vegetable fries? I'd love to see your recipes, too!
(I also have a recipe for zucchini fries, here.)
And don't forget to Pin This!