Well, guys, we officially have a crib for Beanie to sleep in…sorta. Well, it's true we have a crib, and the crib is even put together, but we still need to get a mattress.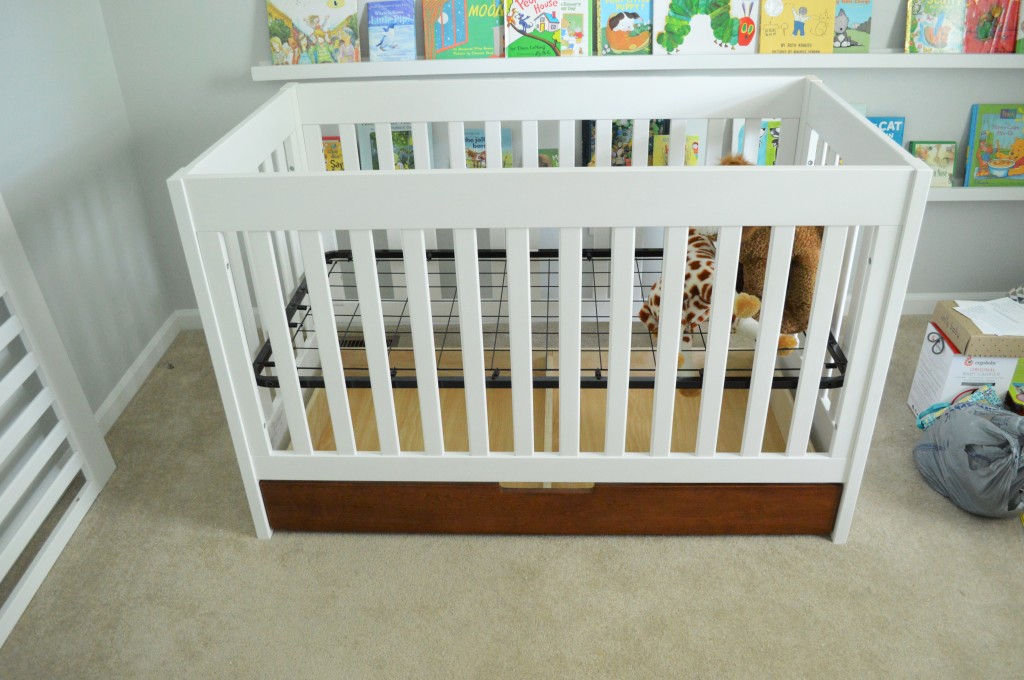 To back up a little bit, let me just talk about out crib shopping experience a little bit. I started looking at cribs pretty early on, as in, before I was even pregnant. If you remember, we had a decent amount of waiting time while trying to conceive and I sometimes found myself day dreaming about babies and nurseries. Plus, I knew the crib would likely be the hardest decision to make so I figured I could use the head start. I had a lot of things on my mind in terms of design that I was hoping to find:
White, or two-toned. I already knew I liked the look of the two-tone dressers. White was also my preference because it would go along with the "light and bright" feel I wanted to create in the room and it wouldn't compete too much with the wooden dresser we already had.
A storage drawer underneath for blankets. Because we all know how many baby blankets we'll collect over the next few years.
Reasonably priced. Duh. We set a budget for less than $300 which may seem high for some, but not for our long wish list. Still, the lower the price, the better.
Solid construction, as much as possible. We wanted this crib to last for future kids and solid wood is more durable. I was a notorious "rocker" as a baby, as in I made a perfectly good high chair so wobbly my parents had to throw it out. So, if our kiddo takes after me, I wanted this crib to be super solid to withstand a bunch of movement. Solid wood also meant less glues and chemicals that can come with particle board construction, all nice for a baby's bed.
Adjustable mattress heights and possibility to convert to a toddler bed if we want to do that in the future.
Meets all current safety regulations. Again, duh.
Clean lines. Nothing too traditional or overly decorative. Remember, we wanted a modern, gender neutral nursery.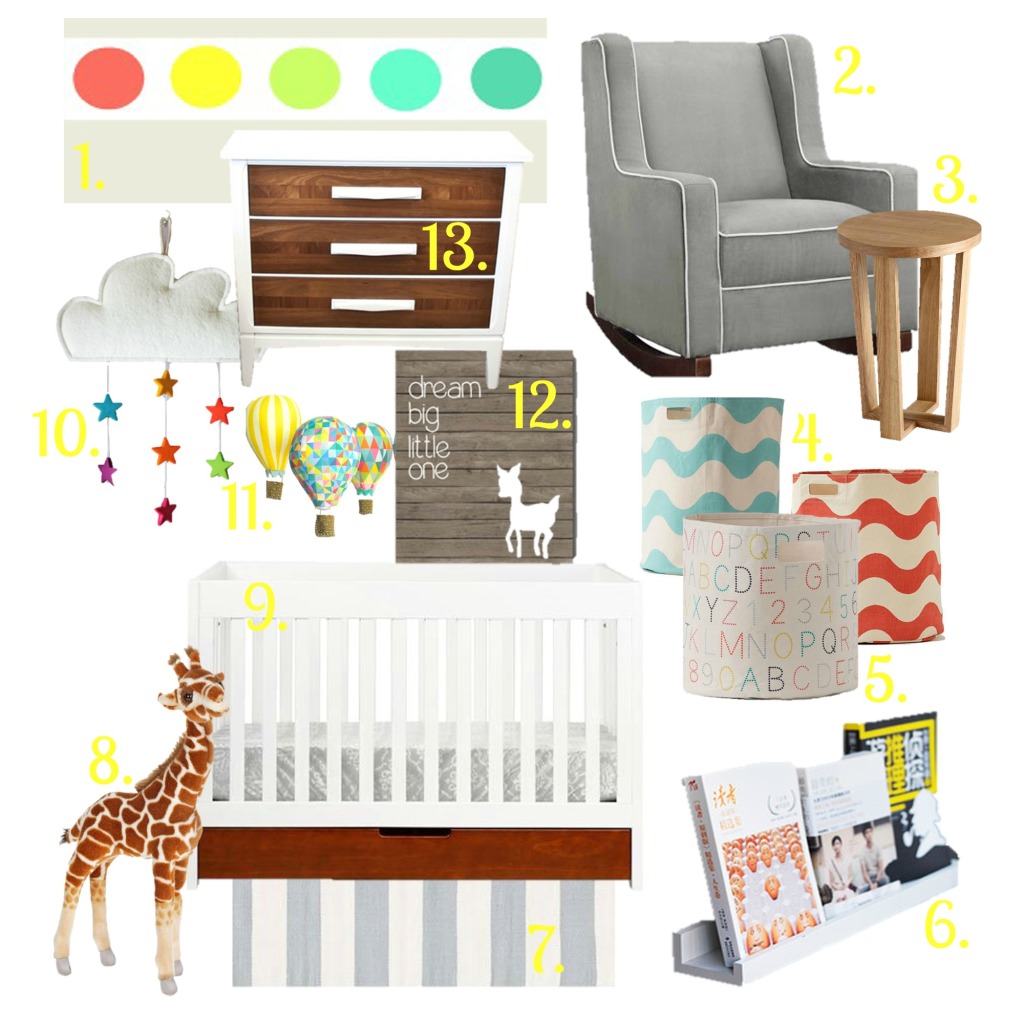 I really didn't know where to start, so I just started looking at random furniture websites and scanning for things that caught my eye and then reading through descriptions and reviews. Eventually that grew pretty tiresome, so I started searching for crib reviews and ratings, which led me to this post by my favorite (now in retirement) bloggers, Young House Love.
Their wish list was really similar to mine, and they did a ton of research in finding a crib that met their eco-friendly and non-toxic wish list. I wasn't originally as worried about those things, even though I knew solid construction meant less glue and such, but I figured those considerations were a bonus in my book, and I was really impressed when their search led to this crib, sold by Wal-Mart of all places.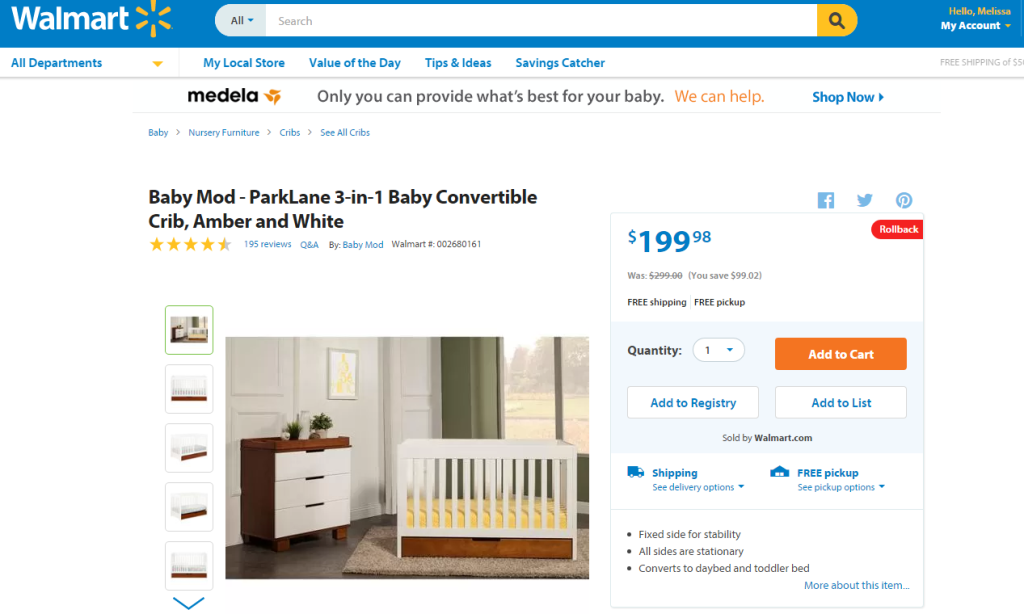 Just check out the awesome description I snipped from the website: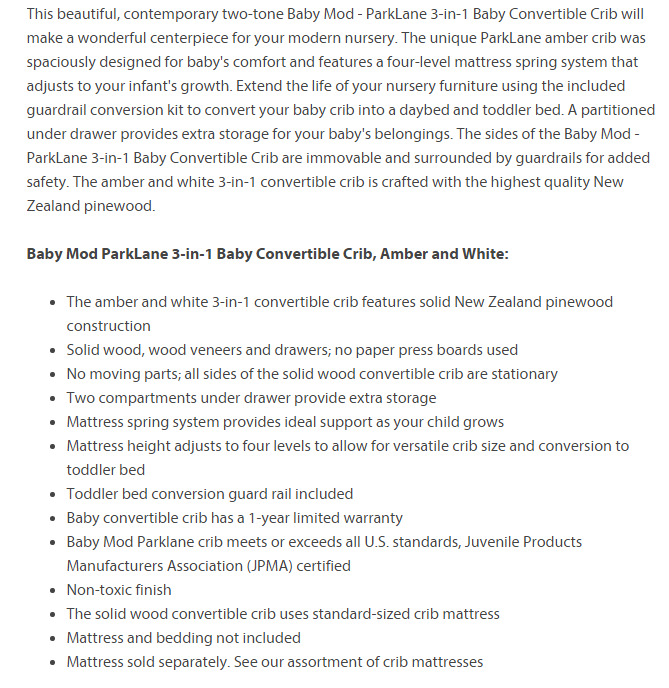 But when I went to Wal-Mart later on to consider buying it (after I was actually pregnant and needing a crib), it was out of stock. Big bummer. I assumed that meant it had been discontinued, not unreasonable because John and Sherry bought theres in 2010 I think…so it was a long shot it was even still on the website. But, on a whim, I clicked the "notify me when this item is back in stock" button and then forgot all about crib shopping for awhile. Plus, this crib was listed at $299….very close to top of our budget.
A couple months later, I was shocked to get an email that said it was back in stock, and on sale for $249, bringing it under our $300 budget. ! I consulted with Wyatt, who liked everything I liked about the crib, and we clicked the order button on New Year's Day this year. I used a bunch of gift cards I'd been hoarding and brought the total down to $128.24, with tax and free shipping, and was ecstatic such a big check mark could be placed on our nursery-needs list.
(We also always use Ebates when we shop online to earn just a little extra savings in the form of cashback. Sign up using our link and you can save, too!)
The crib was delivered a couple weeks after New Year's and then sat, in the box, for months. Like 6 months. But last week, Wyatt got to work on it and started to build our babe's little bed.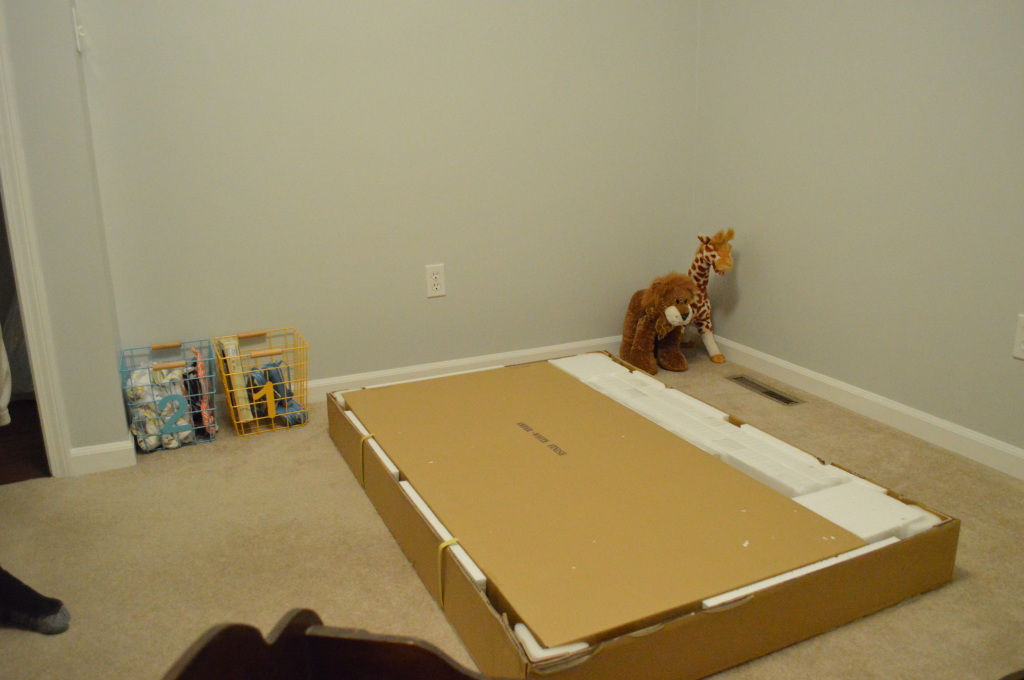 Sadly, when we pulled all the pieces out of the box, one of the side headboards was damaged. As in, really damaged.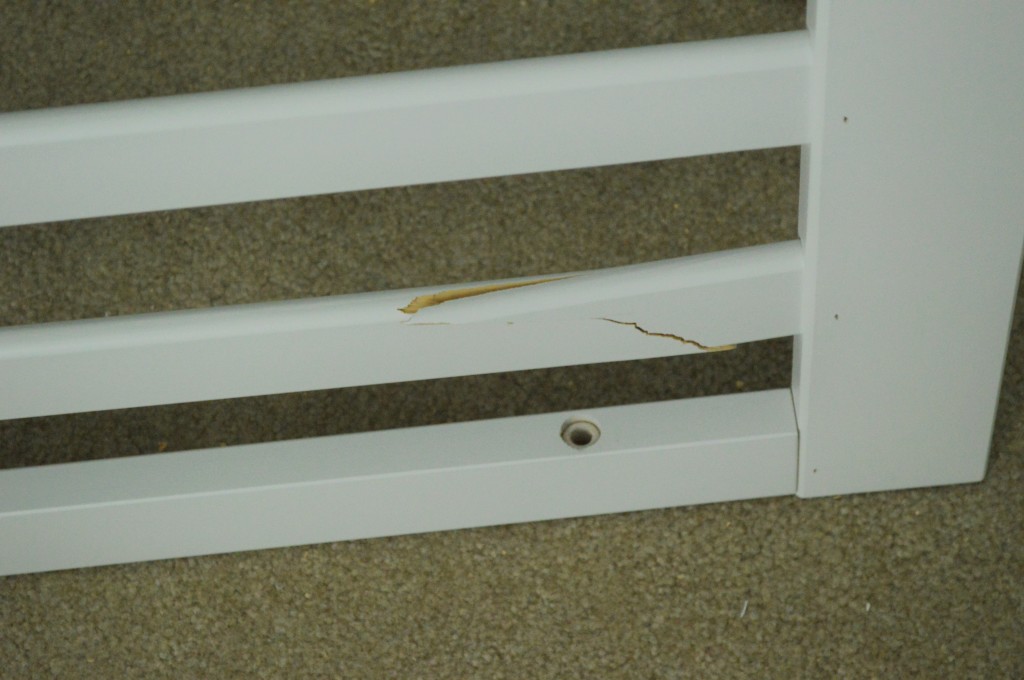 We were both super bummed but I contacted the company (the manufacturer, not Wal-Mart) the next day and got a super fast response saying the new part was on its way to us, shipped free, with no questions asked, even though we had purchased it 6 months earlier. I was totally impressed with their customer service and speed in resolving the issue.
Tuesday, the missing part arrived and Wyatt, our resident furniture builder expert, got the crib together in about an hour, as he promised, and we're now just needing a mattress and some sheets. I only had time to snap one blurry cell phone photo…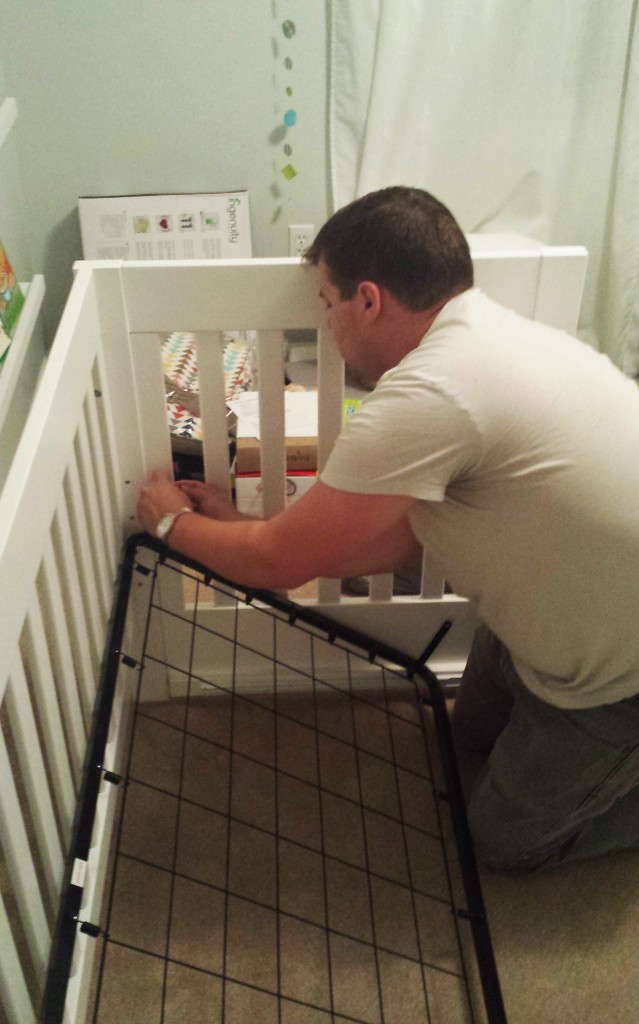 We are very excited about the storage offered by the drawer. Its quite spacious and the wood tone almost perfectly matches the dresser. Score!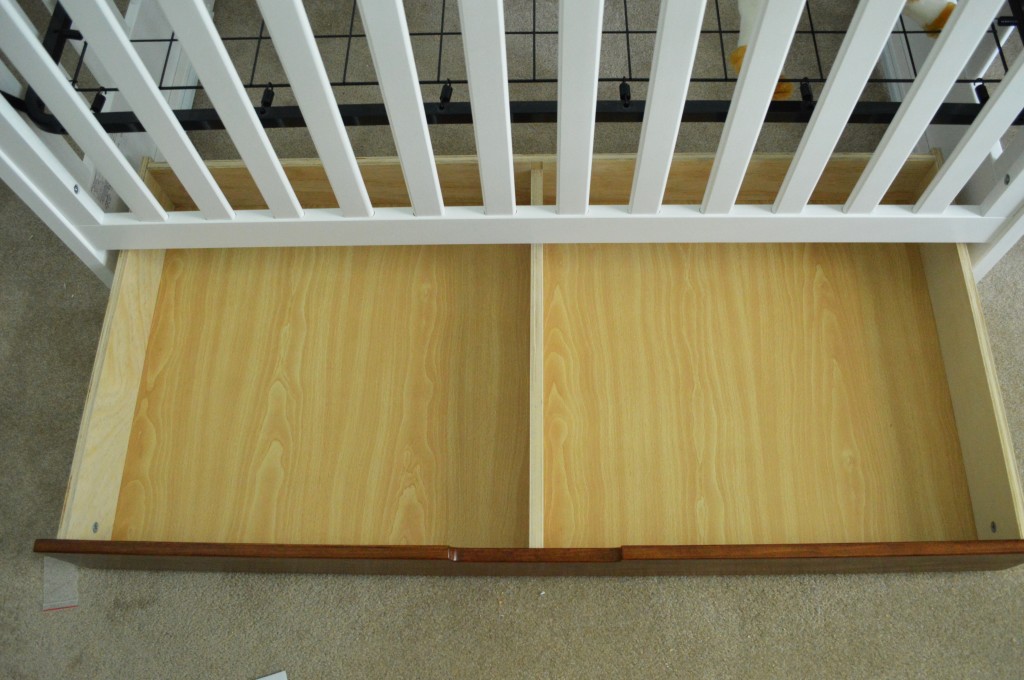 Although, admittedly, the spacious drawer is already pretty full with a bunch of blankets and burp cloths, many of them handmade and generously given to us by friends and family.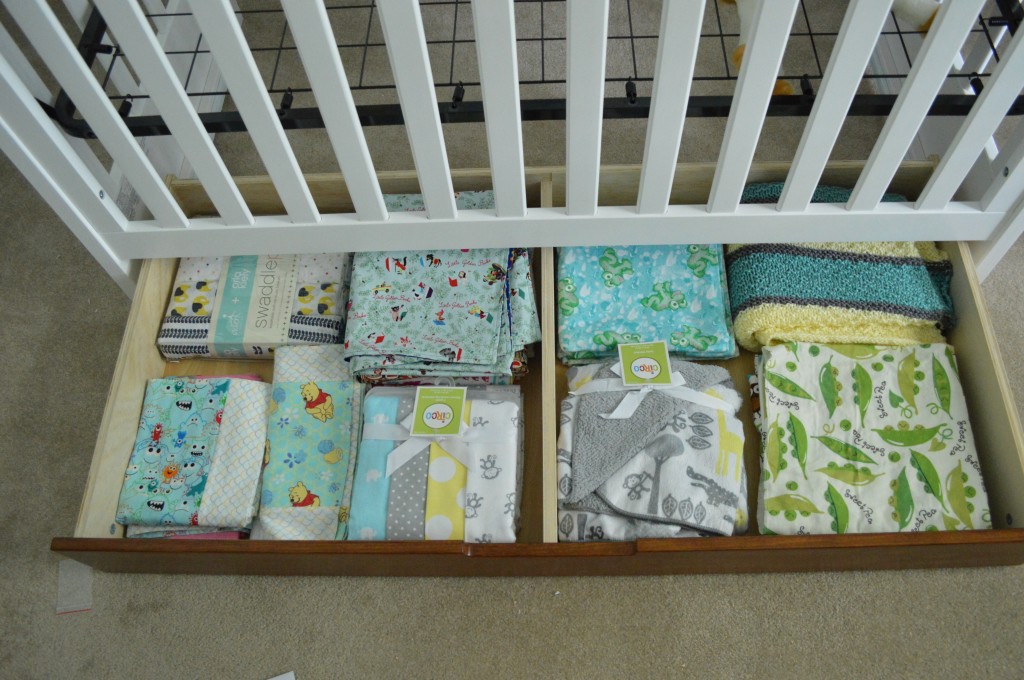 I'm also hoping my mother-in-law can work her magic with a sewing machine to whip us up a crib skirt for the space between the highest mattress setting and the drawer. she already blessed us with the amazing baby quilt that's hanging in a place of honor now that the crib is all assembled.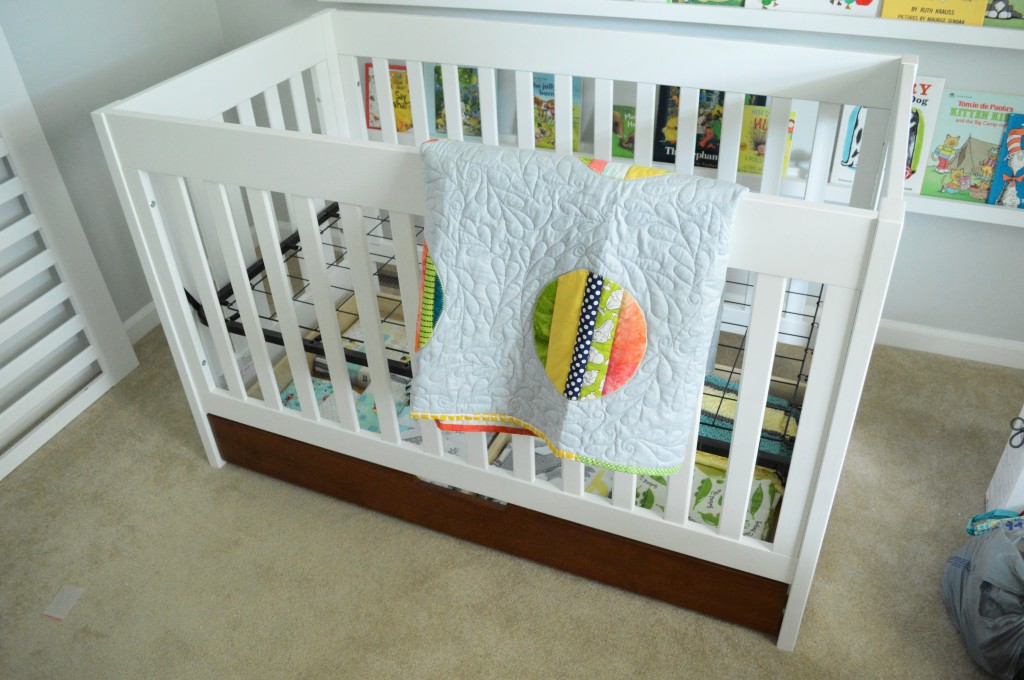 So, that's the story of our crib…even though only a few of you all actually asked about it. Maybe this post will be helpful to someone else looking for a nice, affordable, eco-friendly/baby-friendly crib. And it just goes to show that sometimes, Wal-Mart really is the "getting place" as my family always used to say. 🙂
If you do happen to be in the market for a crib any time soon, I'd totally recommend this one. They aren't paying me to say that or anything, I promise. (Plus, it's on sale even more right now for only $199! Score!)
Have you ever shopped for a crib? How did you choose? Ever surprised by an awesome find at Wal-Mart? We certainly were!