If there's one thing I know about babies (it's frightening how much I don't know…really), it's that they need to sleep. A lot. They also need to eat, and have their diapers changed. And when those things don't happen, they tend to cry about it.
So, creating a cozy place to do that is one way I've felt my nesting instincts kick in. Maybe because Wyatt and I like to sleep in a cozy place (we're not great at napping in loud, bright places), and maybe because I just want to protect and provide for our little one, but I knew I wanted to create a dark, cozy room for our little one's naps during the bright summer daylight hours. But, I didn't want a dark room all the time. In fact, I wanted it light and bright!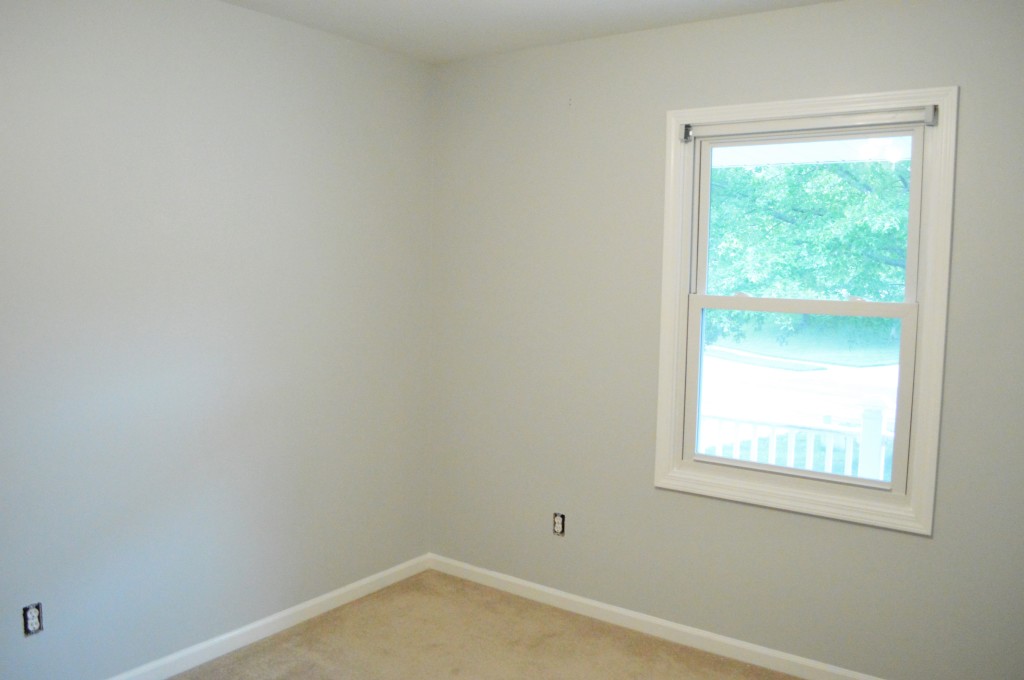 That mean finding some good, dark curtains to cover the window and block out the light. Since that window faces west, it gets a lot of afternoon light. And I think that might make it hard for a little one to fall asleep, or stay asleep. (Or for a tired momma to fall asleep in the chair…)
I searched and searched for "cute" curtains before giving in and deciding to make some. Then, in a moment of weakness, I ended up ordering a basic gray pair from Target during a sale "just in case" I didn't get around to another DIY project. For only $20 for the set, I figured it was a nice safety net bargain.
When they arrived and I draped them over the rods to see how they looked, I think a small part of me knew I was just going to give in and use them. Not only were they a soft gray color that complemented the subtle gray of the wall color, they were really effective at blocking the light. And for $20 for the pair, I was sold, especially since it meant I didn't have to sew anything.
I actually really like the contrast of the darker gray light-blocking curtains with the soft, sheer white curtains (from Ikea) we currently had in the room (from the old guest room) and I decided I'd like to keep both sets if possible.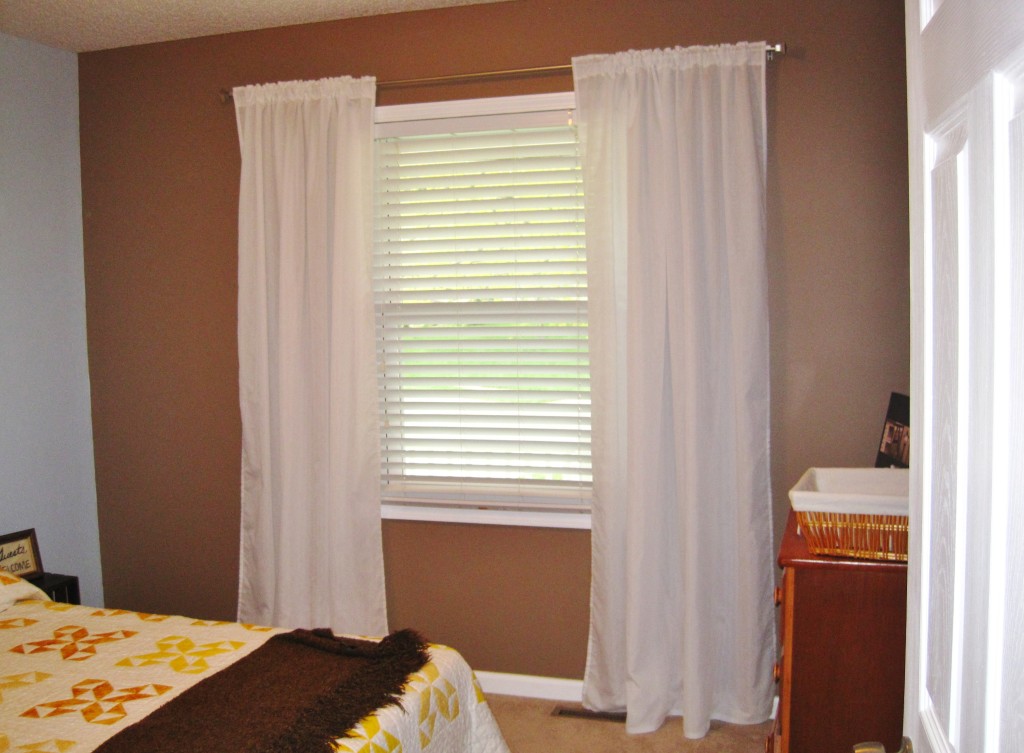 That meant tracking down a double curtain rod set, and those aren't cheap!
But, Ikea came to my rescue, again. We found the parts and pieces we needed to create our own double rod set for only $21. Of course, we had to put it together ourselves, including building these little "rod holder pieces" and attaching them to the wall braces.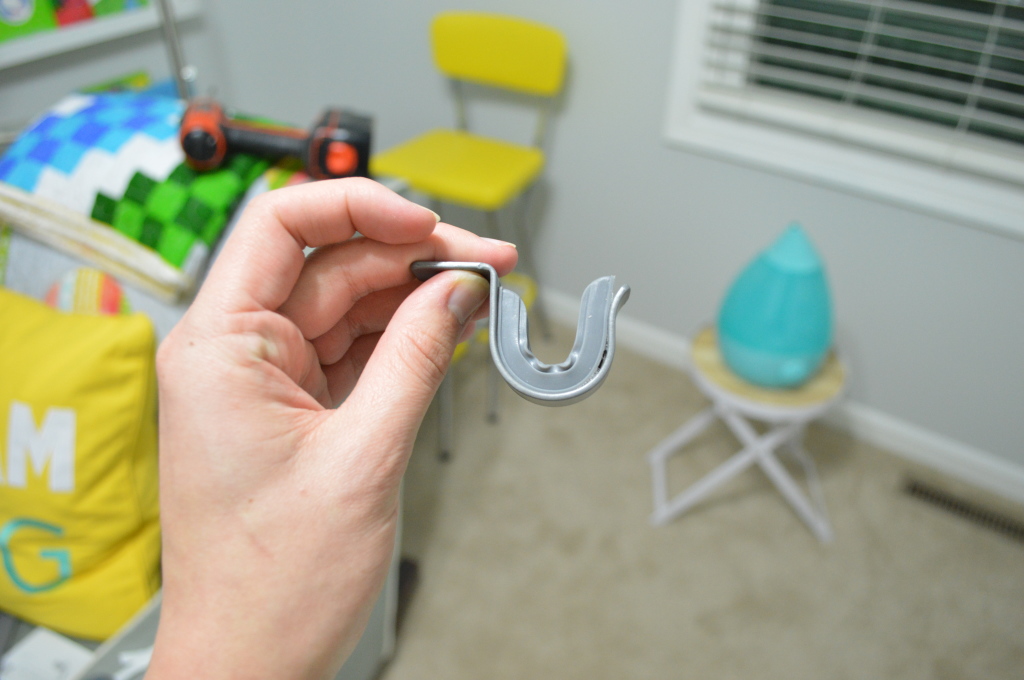 Wyatt started by removing the old hardware, but we kept the screws because we used them for the Ikea brackets since those didn't come with any of their own. We actually kept the entire brackets, because we're savers and never assume something won't be useful to have in the future.
.
Then, he screwed the new braces right back into the existing wall anchors. You can see we hung these curtains a long way out from the actual window size to make it feel larger.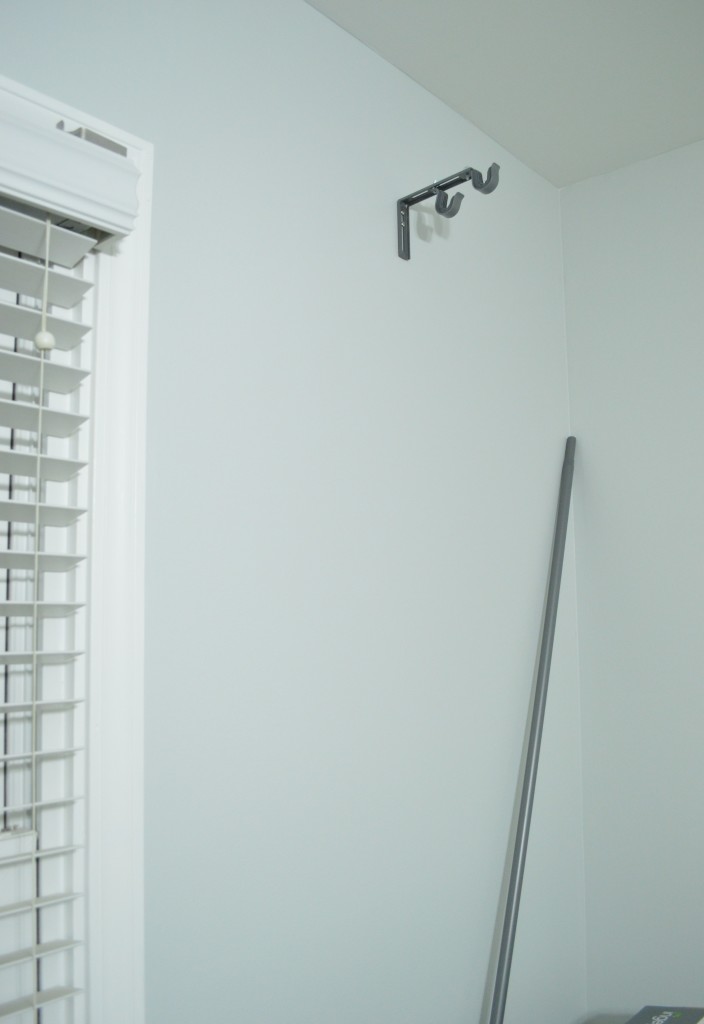 Then, we installed the rods, reusing the original one we had before for the back one. It's from Target and doesn't match, but I don't mind because it really doesn't show unless you're up close and looking at it from the side since it's on the back and the curtain covers up most of the rod since we left it attached using the pocket instead of clips.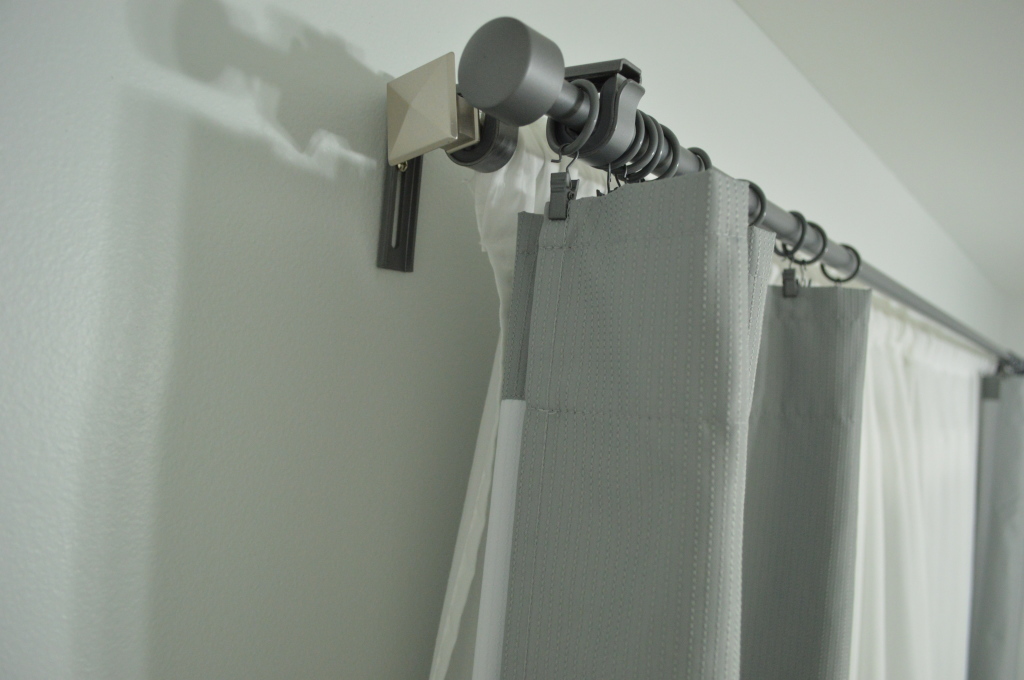 I really like the double look. It's so soft and full. It gives us a lot of light-blocking options, too. We can go from all the way open, to just the sheers over the window, to pulling the curtains closed and really blocking out the light.
I would have taken a photo with everything closed up and the lights off to show you, but the room gets really dark, so it wouldn't have turned out well. You'll just have to take my word that it's cozy and dark in there. Perfect for sleeping.
Also, you're getting a sneak peek at several other projects we've finished recently for the nursery, so stay tuned for more details to come, soon! And, you can't even really tell we have mismatched rods, can you?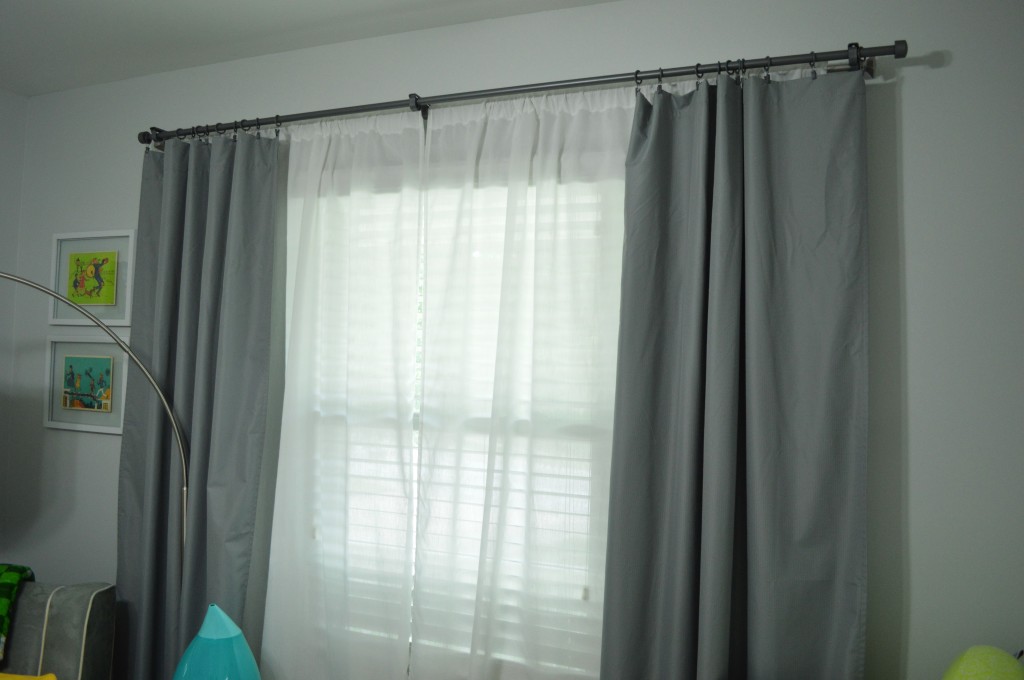 Also, I have a crafty little project planned to add some fun color to these curtains, even though I went with plain gray and white. Stay tuned to see if I actually get it done. 🙂
What are your thoughts on double curtains for a nursery? Overkill? Dated? I never thought it would be a look I'd like, but I'm so glad we figured out how to make it work!
I know there are TONS of theories about putting newborns to sleep and parents can have pretty strong feelings about which ways are best. We're thankful for a supportive environment where we can all make decisions based on what we think is best for our baby in each season. So if you like to co-sleep, or put baby to bed on the couch next to you while watching TV, that's great if it works for your family. We'll find out soon enough what works for our little one, too!