I realized a couple of weeks ago that we haven't even really shared the plans for the basement. And that might be because we hadn't fully decided on every detail, but I have found that talking things out with you all tends to help me make decisions, so today, we'll start with what we do know, and go from there in the future.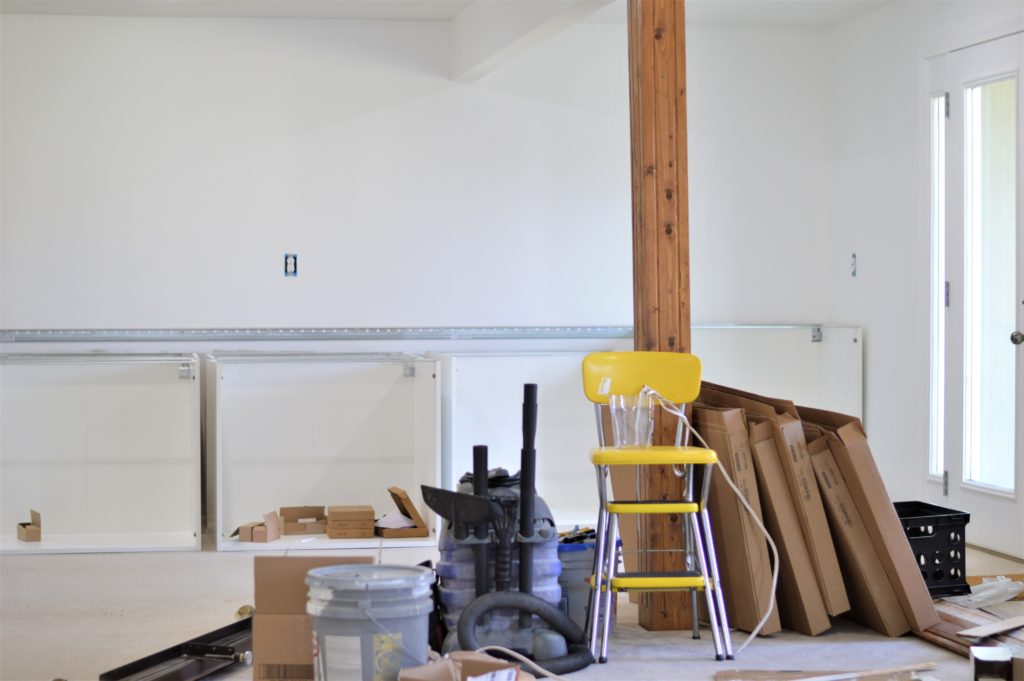 The first thing we had to decide was how we pictured ourselves using the space. It's a big room, and we hadn't really been using it at all. It was a catch-all for junk, pretty much.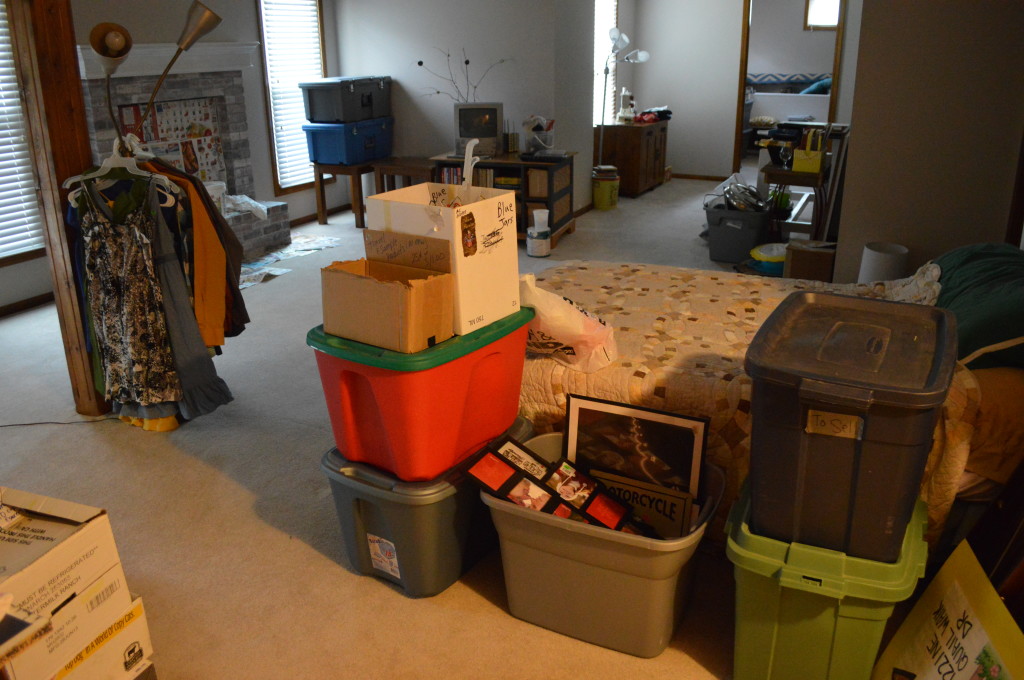 And occasionally home to a pop up play center.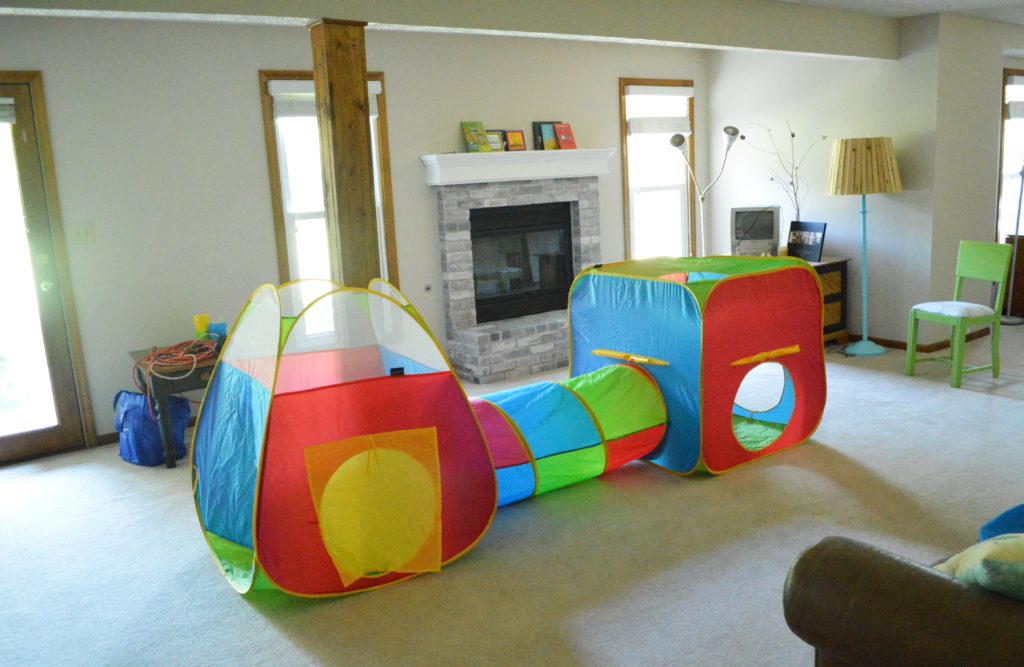 And of course, we had the ping pong table we rarely used but never got rid of.
Basically, it was a wide open space and because it had no designated functions or comfortable places to hang out, pretty much just sat empty. We decided the best use of the space would be a super kid-friendly/family-friendly family room, with lots of room for playing, watching TV, and just spreading out more than we can in the living room upstairs, which is pretty small.
I found a lot of inspiration in recent family room renovations by a couple of my favorite home bloggers. Check out Young House Love's bright and fun play room, and Chris Loves Julie's more moody family room.
The first order of business was storage. Namely, storage for toys and games. As Will gets older and starts actually playing with more things, it has become clear that we need more toy storage than two ottomans in the living room.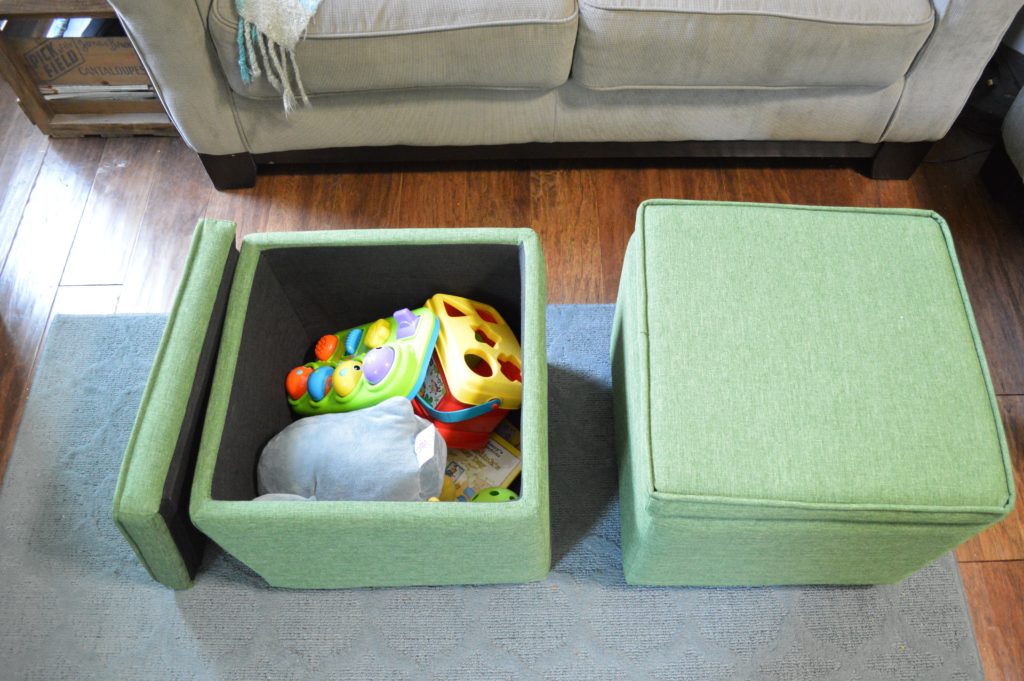 Not that we don't really like those ottomans, it's just that they don't really hold everything anymore. So, the toys needed a place to live. Especially bigger toys, like battery-operated turtles, ride on trains and bubble lawn mowers, and baskets of 25 balls that get dumped out onto the floor multiple, multiple times a day. (Thanks, family, for those lovely gifts.)
We also wanted some more functional storage for art supplies. I have a TON of things leftover from my childhood, teenage years, and even young adult life, and everything is sort of thrown into some cheap, hand-me-down plastic drawers and shoved in a corner of a storage room. The drawers aren't big enough to hold bigger supplies and often don't slide well since they are over full. Not ideal.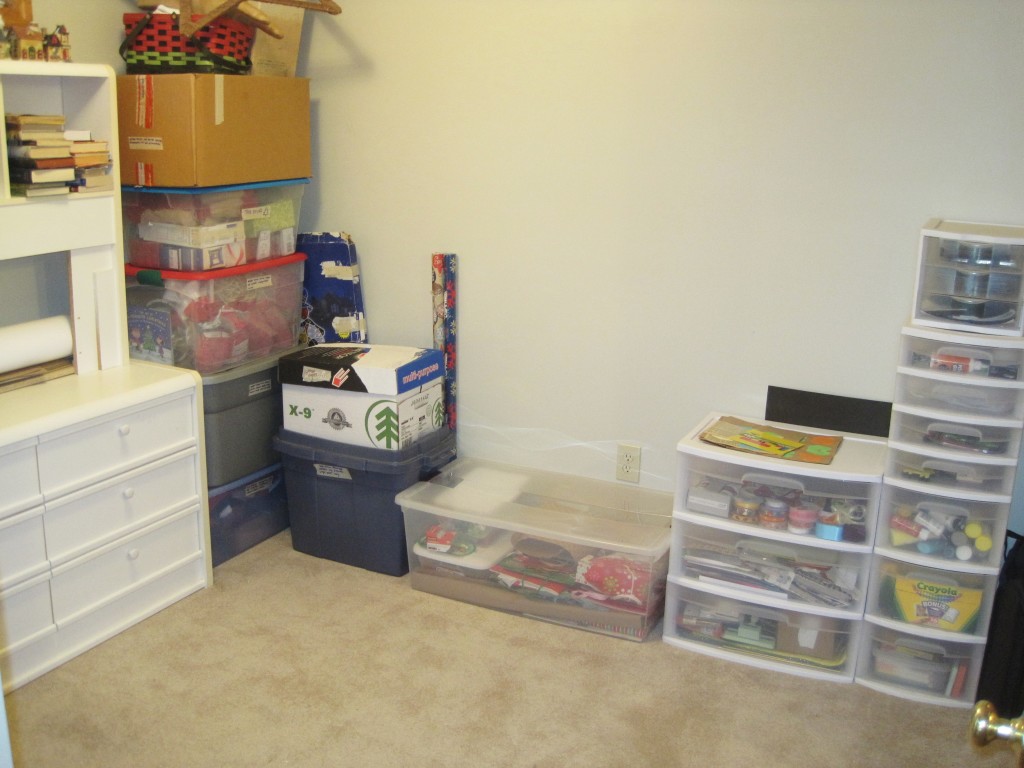 So, I had my mind set of a wall of built-ins right when you come down the stairs.
Imagine something like this, found in a google search, from this source.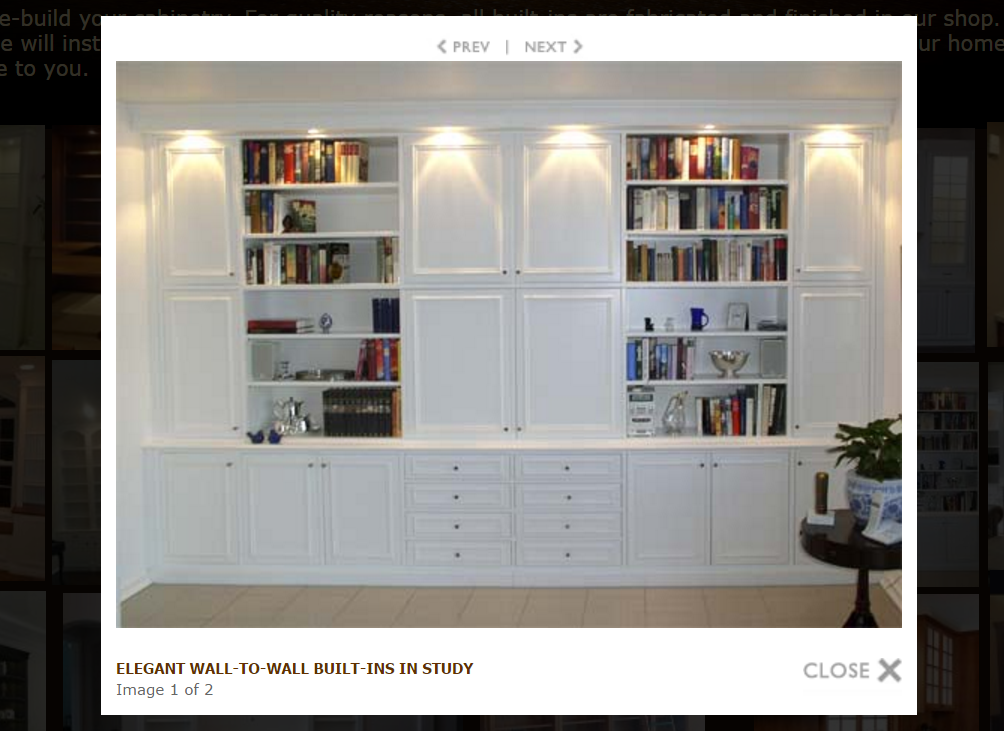 But, when we priced something like that out, it was pretty high. As in, way too expensive for a "probably-not-forever-house" basement makeover. So, we decided on just base cabinets and we'll do some sort of shelving on top.
Even that came out to be around $1000 for all the cabinets at Ikea, so that gives you an idea of how much it would have been to add in the uppers and middles and everything in between. Ouch.
We went with a full wall of traditional base cabinets, which would give us the most storage. We didn't add any bells and whistles…not even any drawers, because we plan to use bins to store toys and shelves work just find for that. We ended up needing 7 cabinets to completely fill our wall, and two small spacers on each side.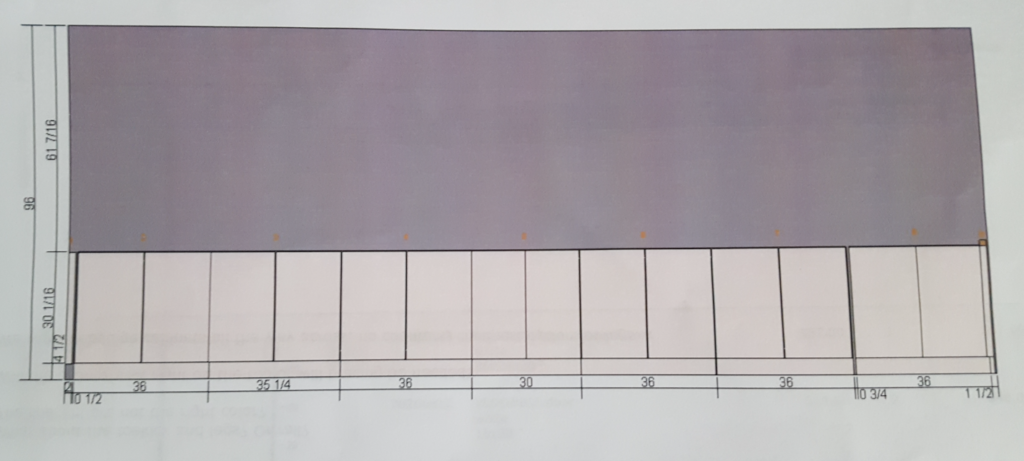 We really had a great experience ordering with Ikea and Wyatt will be back later with a post about the ease of building and installing them, as well as a review of the quality compared to the Lowe's Kraftmaid cabinets we used in out kitchen remodel.
Of course, cabinets need some sort of countertops and Wyatt was pretty set against doing a painted wood finish. It just doesn't hold up that well in our experience. But, I was against granite or laminate because I thought it would feel too much like a kitchen. So, when Craft Art wood countertops reached out to us about a collaboration, we jumped on board. I'd never heard of this company before, but you guys…I'll totally use them again and you should too. I'm just so excited about these and can't wait to share them with you.
So, more details coming soon on that as we get them installed. They were delivered a week or so ago and I'm so anxious to get them all moved in and finalized.
In the meantime though, here's the current mood board: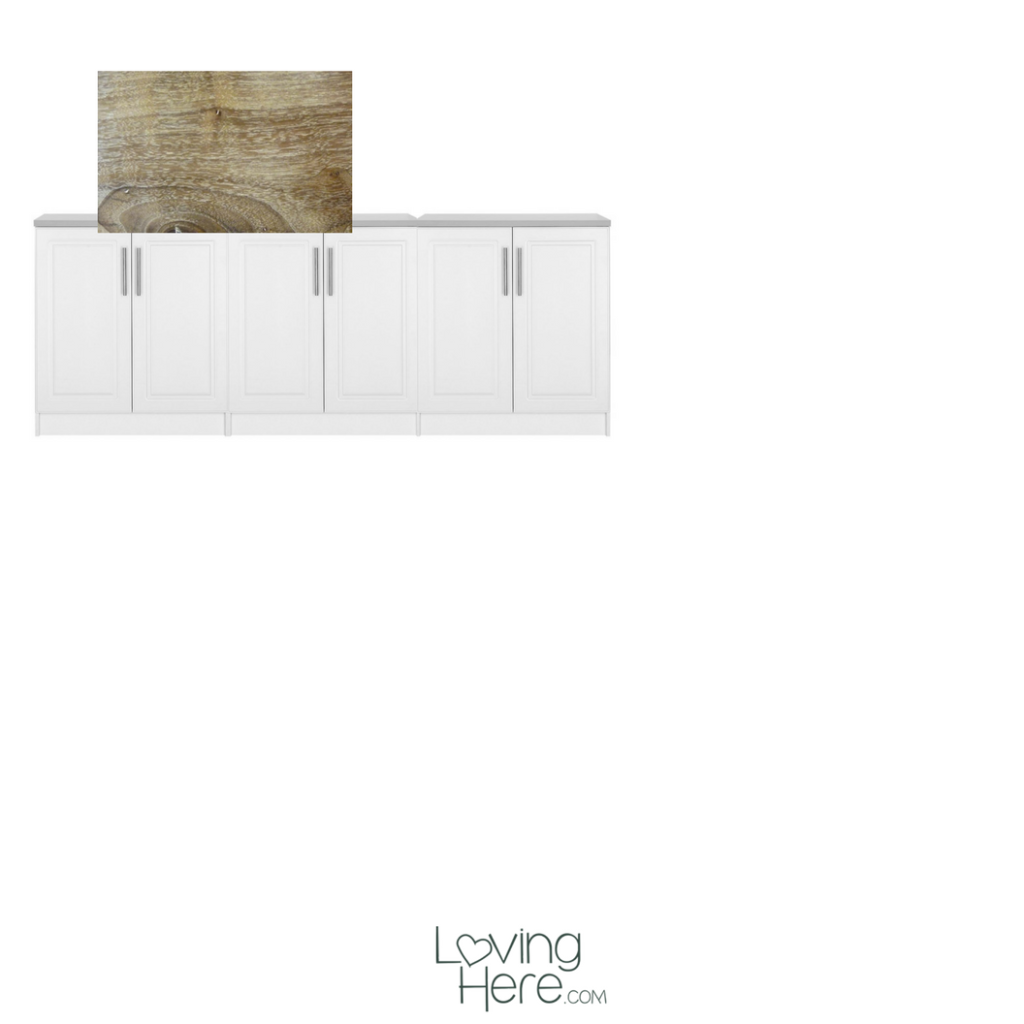 Ha! Just kidding. I still have a ways to go, but it's a start, which is what we started with when planning this room…the storage.
So, there's a little recap on the "why" behind this room. I can't wait to share more progress down there soon!
What do you think about basement family rooms? Any must-have features?