First of all, I'm super excited we have blueberries!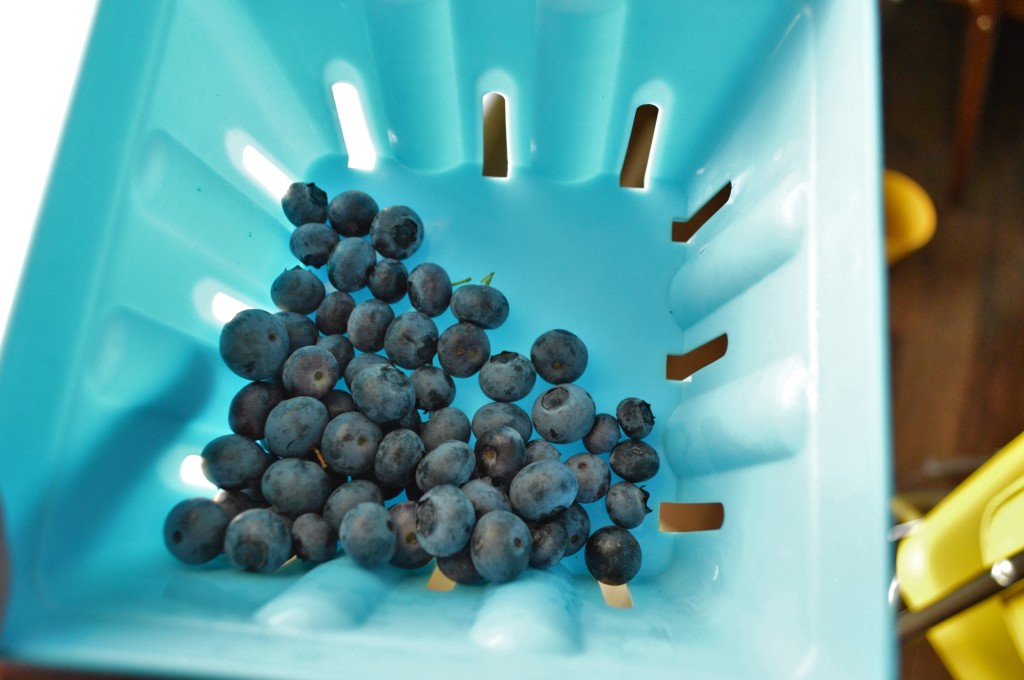 I know it isn't like a bumper crop or anything, but this is just the first little picking of the ripest ones. It's the first year we finally beat the birds at their game of stealing our delicious blueberries with Wyatt's upgraded berry house.
And even though it's been frustrating, it's worth it to see this. I mean…this is just goodness.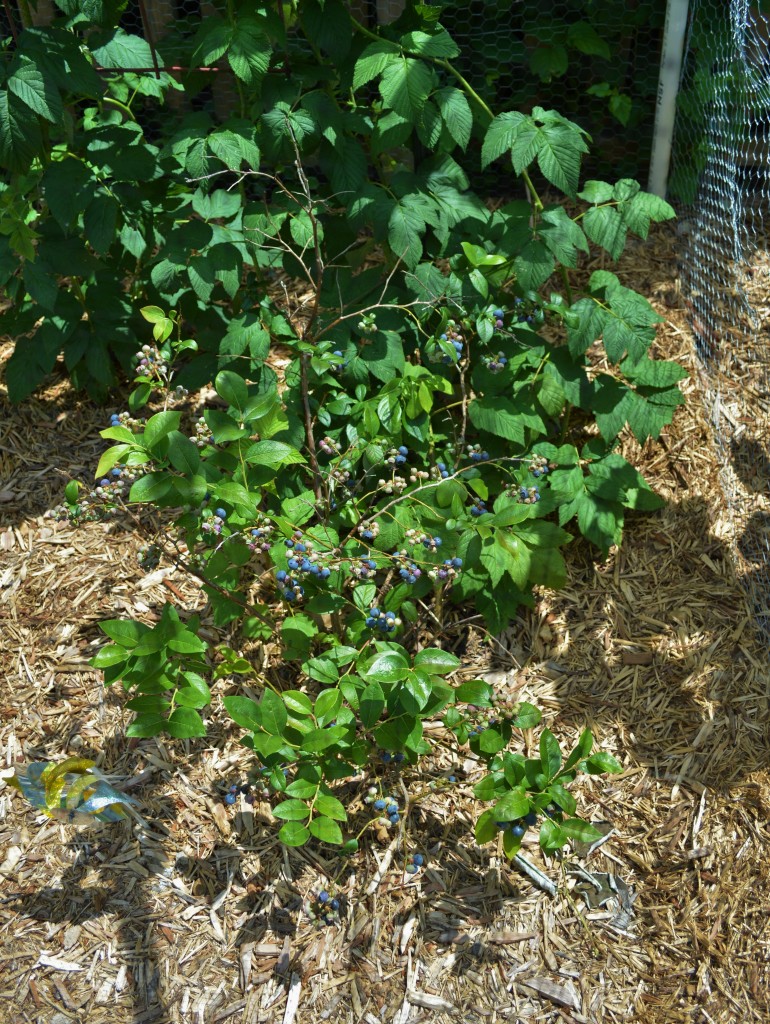 Nothing like feeding Beanie a little homegrown super fruit action, right?
Anyway, I wanted to share a quick little garden update to talk about what's going well and what's going…not so well. First of all, the beans all sprouted so big and fast they are taking over the little row of lettuce I planted along the front of their garden bed. Oops.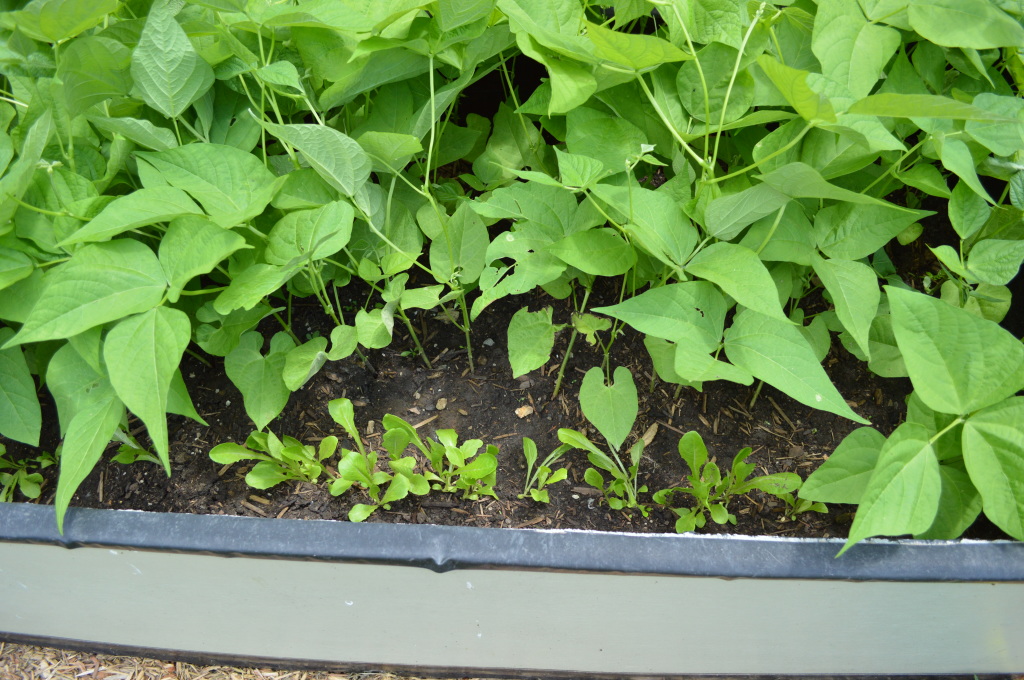 I've been trying to push them back so the lettuce gets a little light…at least for a week or so until I just give up and go harvest all the baby lettuce for a salad.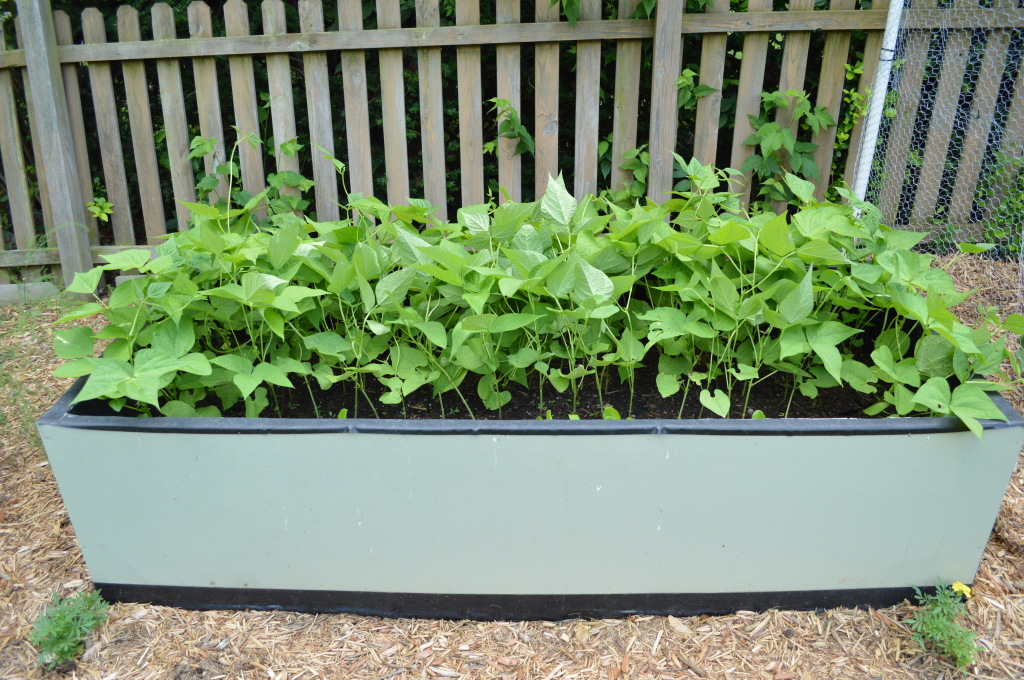 The peas are also doing well, and not overtaking the lettuce I planted nearby them.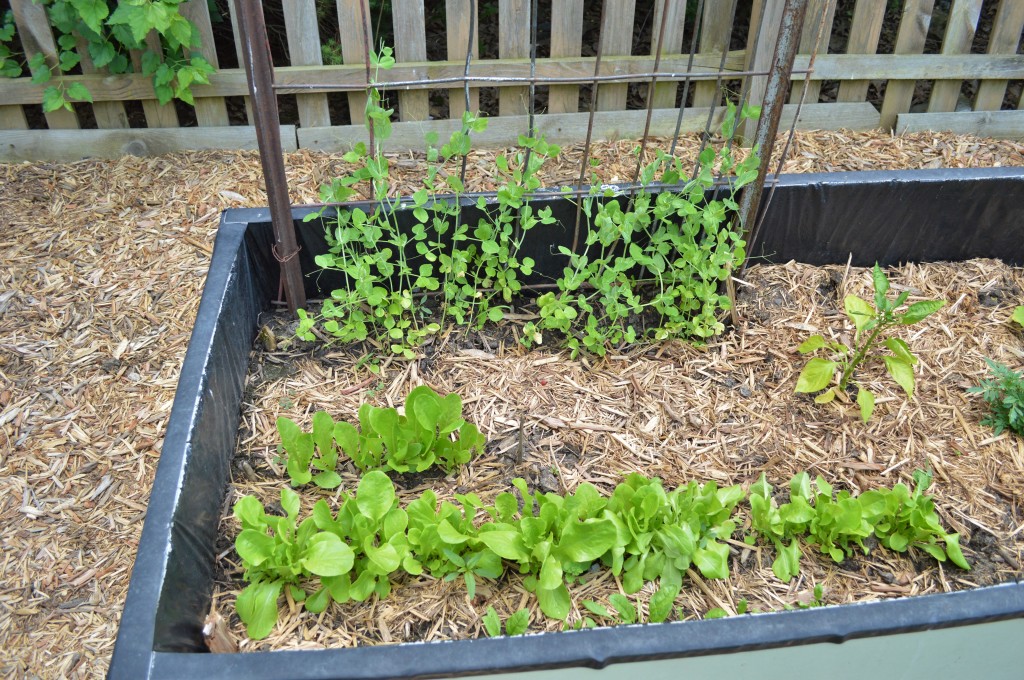 The eggplant isn't doing much. I'm wondering if there has just been too much water for their liking. I also tucked a bell pepper into that bed. It's not looking so hot, but I just got it a couple days ago, so we'll see how it does.
The okra has struggled the most so far. We had aphids at first, which really took a toll of the leaves and almost killed all three of our little plants. It's crazy how fast those darn bugs find the good stuff. We used some neem oil on them, though, and they seem to be doing better. At least two of them are going to make it, I hope.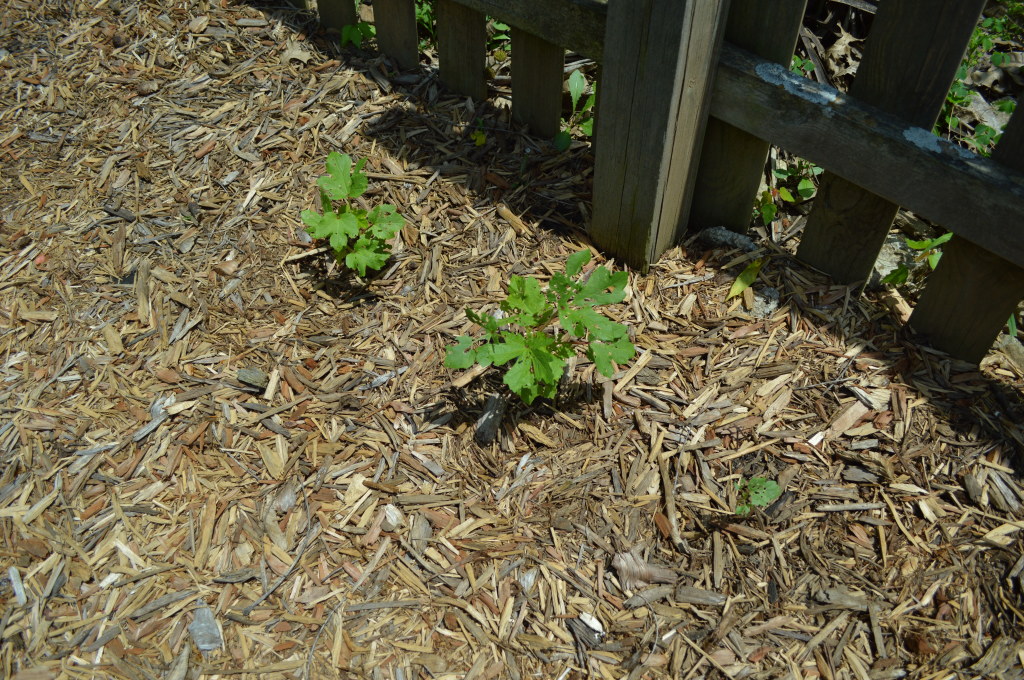 Something is still eating off one of the bunches of the marigolds, though. It could be bugs of some sort (maybe the locusts although we haven't seen many at our house) but I think I'm going to blame the bunnies…but I didn't think anything ate marigolds, so I'm not sure. Weird.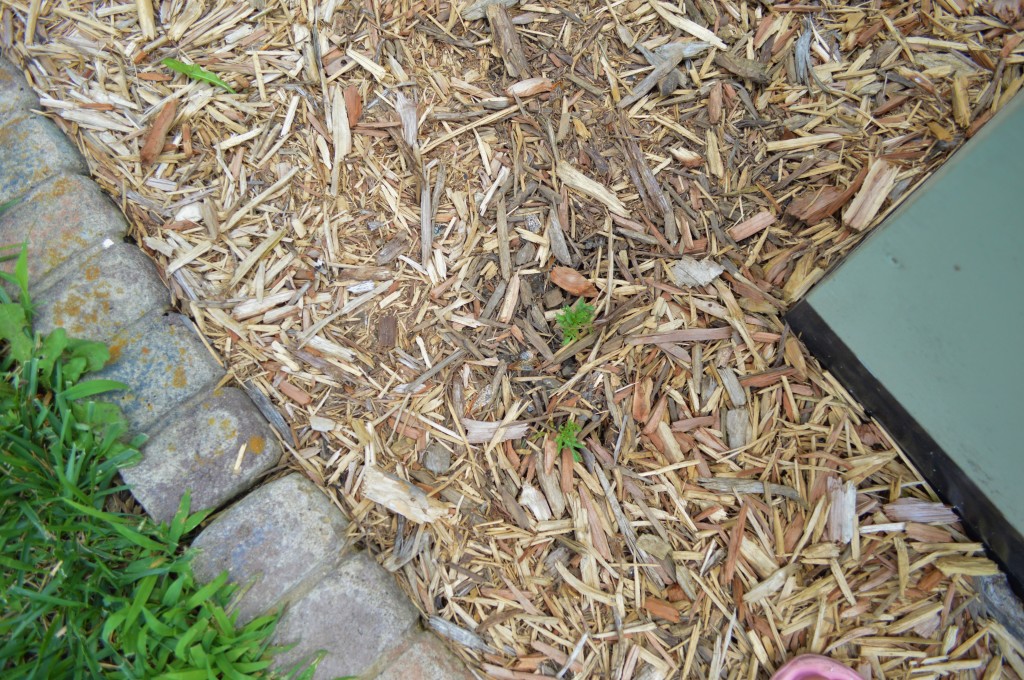 Another unfortunate surprise is that the jalapenos we planted turned out to be not jalapenos. Oops! I think these are some we got from Wyatt's parents and they look super healthy…they just aren't growing jalapenos. It will be interesting to try them and see what we ended up with. I think they are a hot banana pepper…but it might not be. A lot of peppers look similar.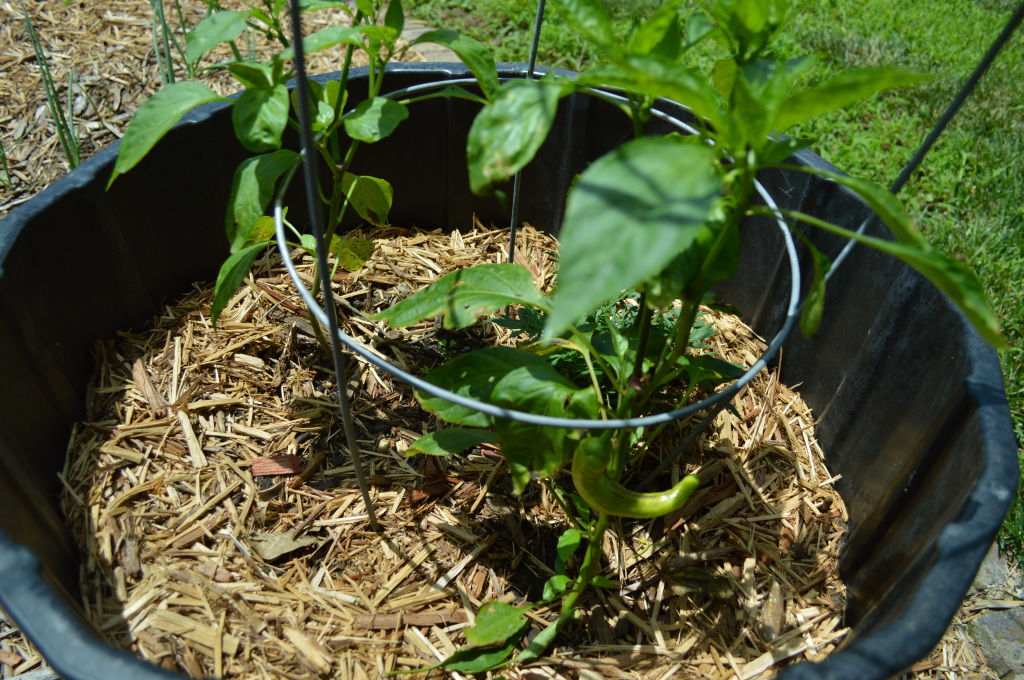 That meant I needed to grab some jalapeno plants…and pickings are pretty slim now that we're almost to July. I finally tracked some down for a pretty good price at Price Chopper, of all places, and got a couple in the ground in a bare space I had over by the cucumbers where the carrots and beets I planted from seed didn't ever get started. I think there's one carrot and one beet currently growing.
The rest of the peppers look okay…not great, but okay.
The onions seem to be doing well. I have no idea how long to let them grow down there. Also, anyone know if you can eat the tops of these onions like you eat green onions? Just curious…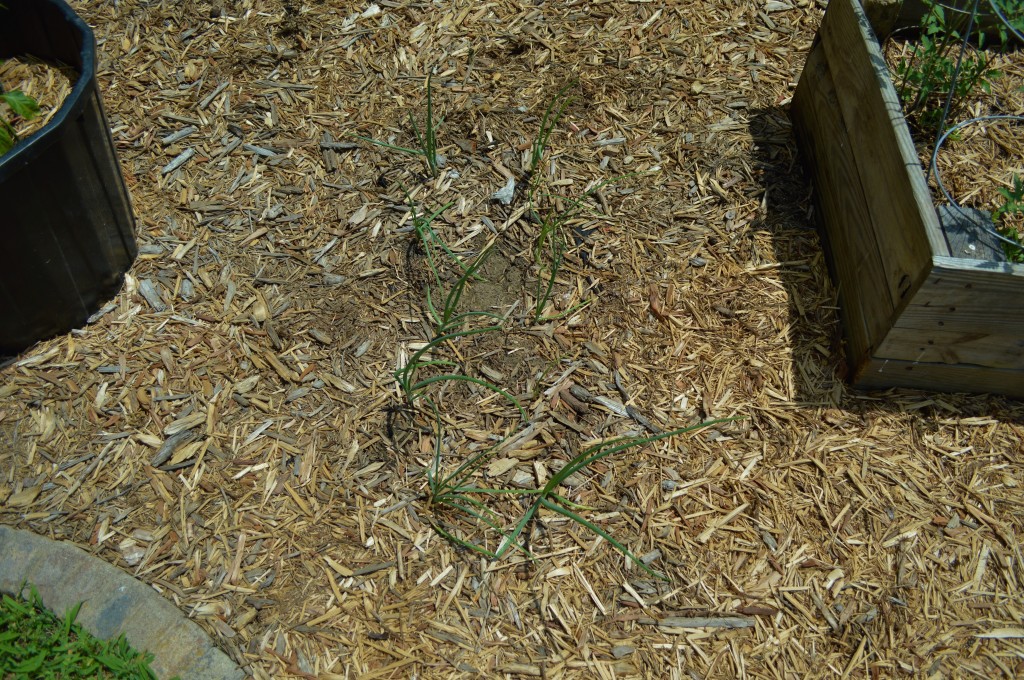 So far, the tomatoes are doing well. Much better than last year.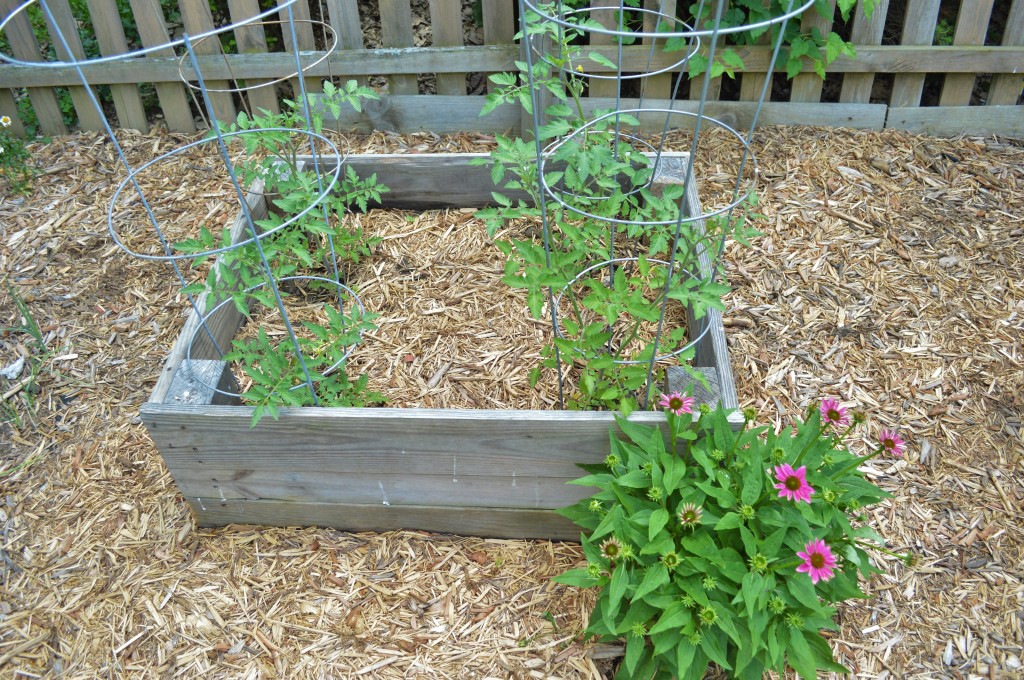 Maybe this will be the year we have a bumper crop of tomatoes. (Lots of yummy homemade juice in the future would make my heart quite happy.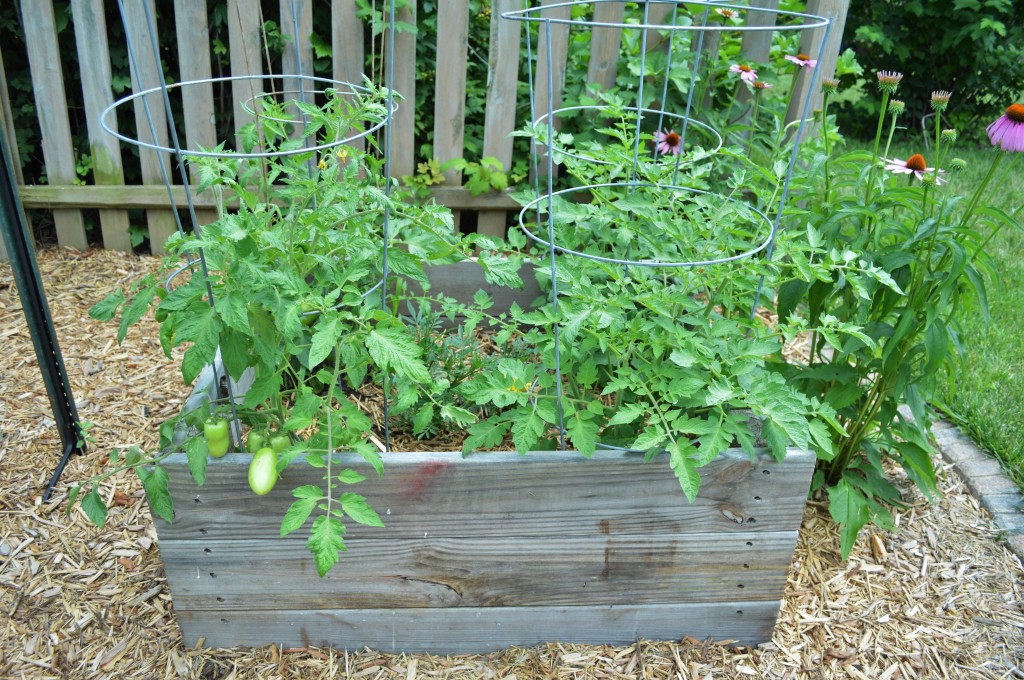 I need to do some pruning though, and thin out the bases. I was waiting to make sure everything got well established because I was afraid last year I pruned too heavily too early. Of course, none of them are ready yet, but if we can get some sunshine instead of clouds and rain, I think we could have some by July 4th!
The cucumbers are rocking it, too. We have a BUNCH of baby cucumbers out there already.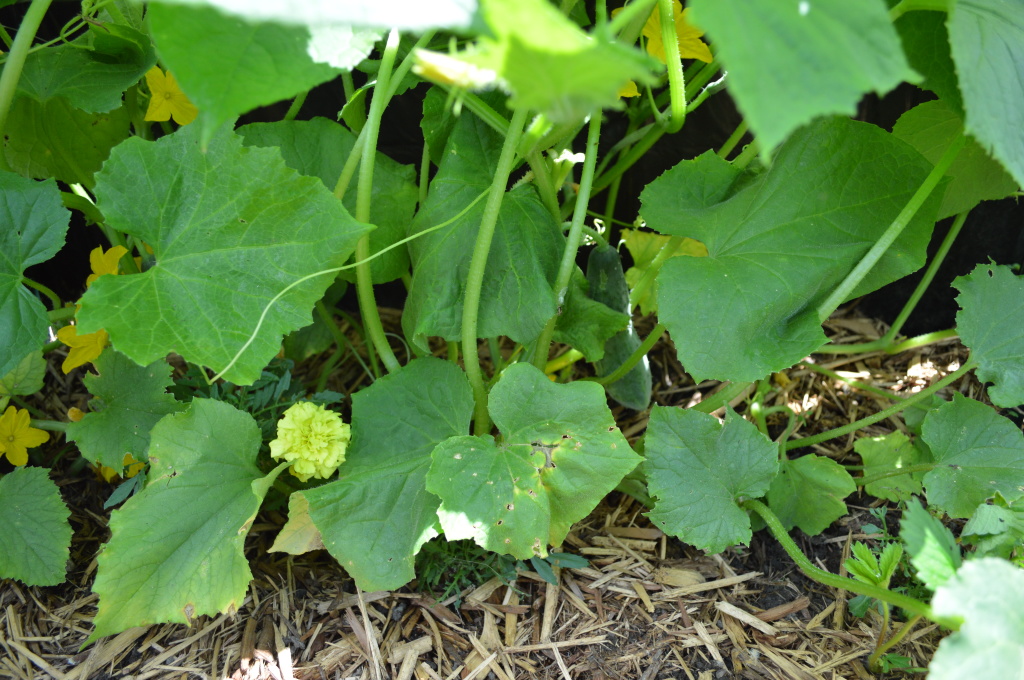 The strawberries also look good, although they haven't been producing as much as I'd like. I think I need more calcium and less rain…I can add some egg shells for one of those issues…and talk to God about the other I guess. We may also have some bugs bothering them. I need to investigate more because I thought ants would be harmless for them, but it seems there are a lot…maybe they aren't ants.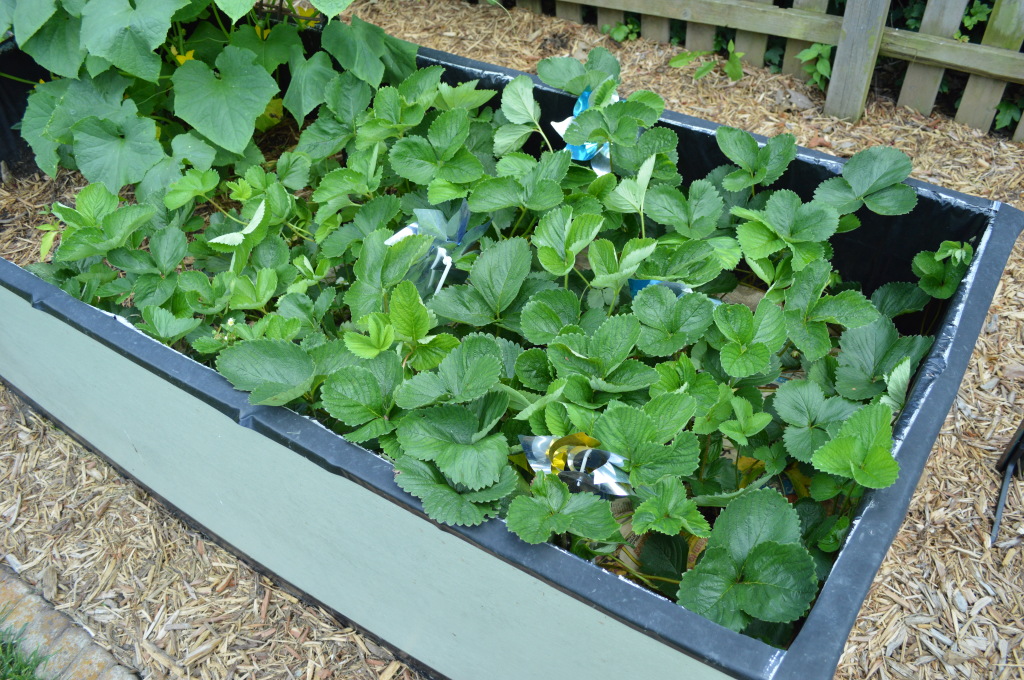 I've also been impressed with my flowers, transplanted last year from starts from the front flower bed, and hopefully they are doing their job of attracting the bees we need to pollinate all this good stuff.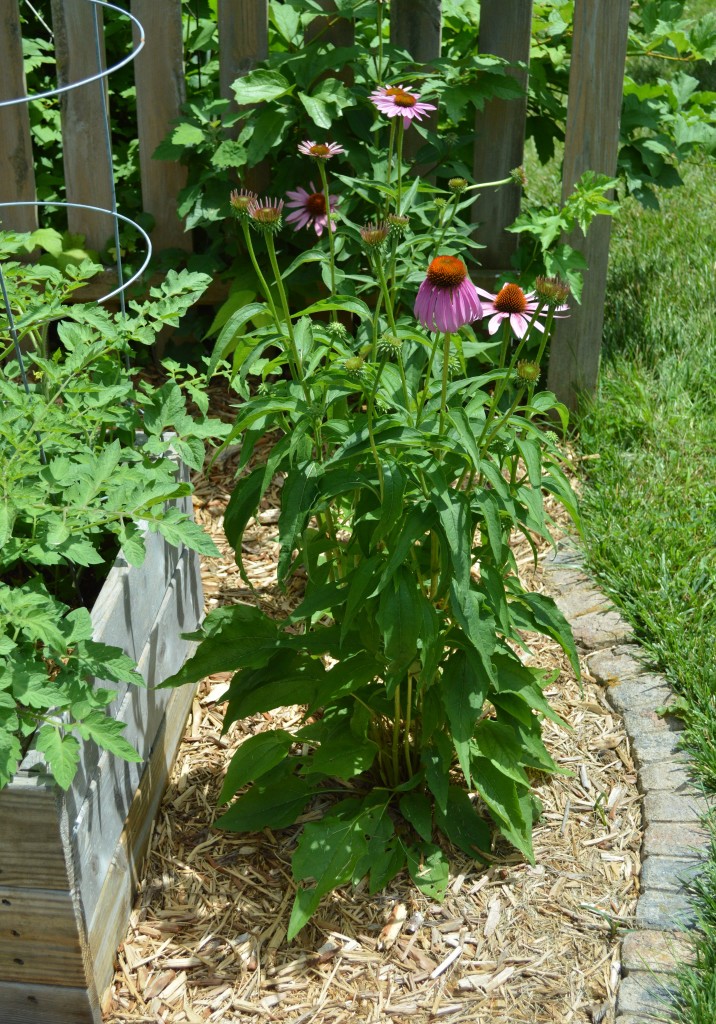 We also have some things planted on the deck, but not much is happening up there yet. The cilantro looks good, though!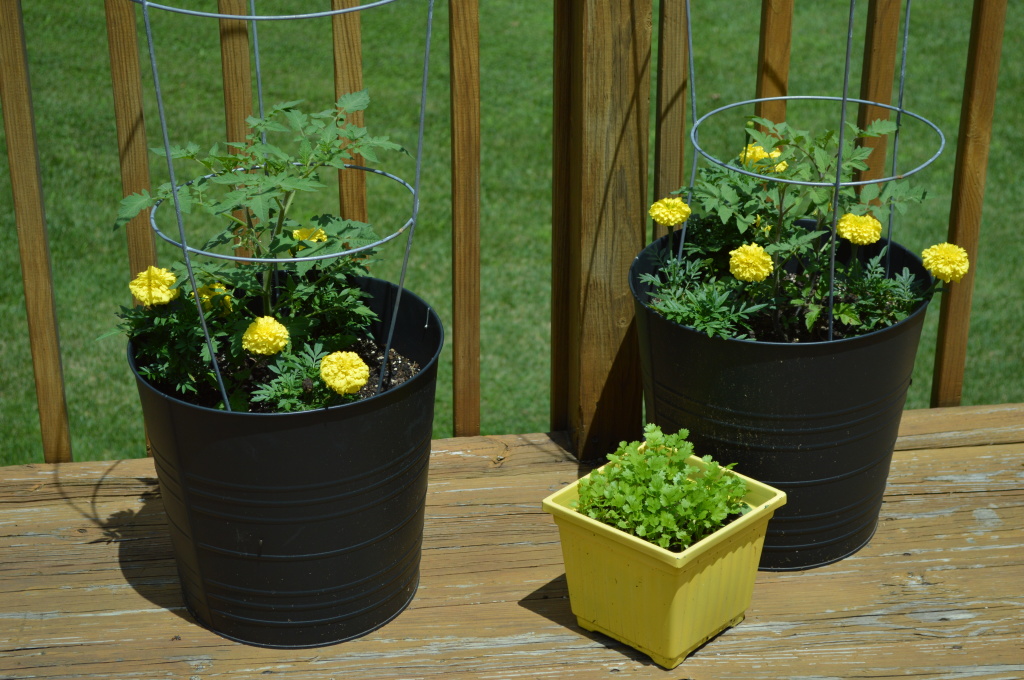 Of course, one of the new jalapeno plants came with a nearly-ready-to-pick pepper so I guess there's a little something happening.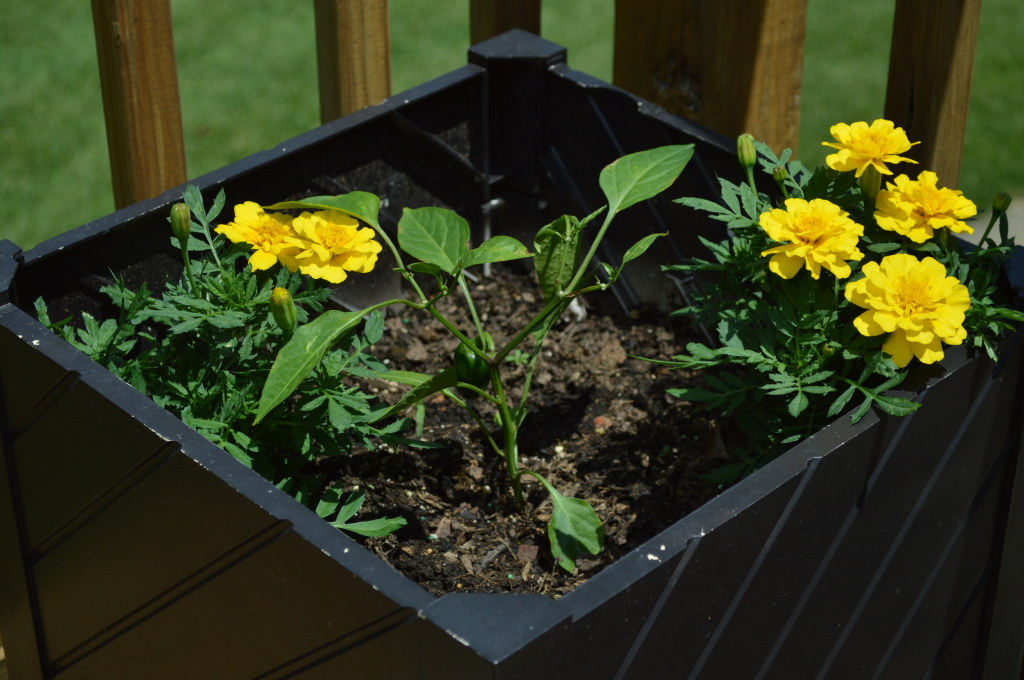 Nothing as exciting as those first blueberries, though.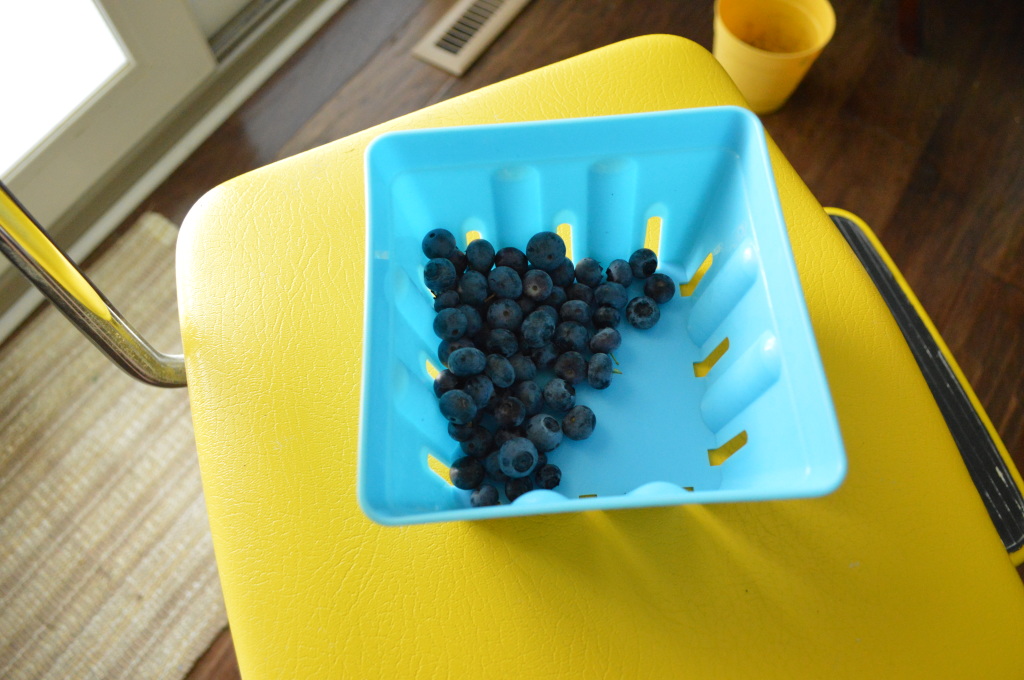 How are your garden efforts being rewarded so far? I know we have a bunch of readers who have small gardens like us, and maybe some of you even have big gardens? I'd like to hear your progress!
For more about our garden project, including how we built our raised beds, see this series of posts.