A few weeks ago, Kirkland's reached out to us to see if we wanted to do some style "window shopping." Because I like to shop, and because I've been feeling totally stuck on finishing off our master bedroom, I was excited to spend a few minutes browsing their website for ideas.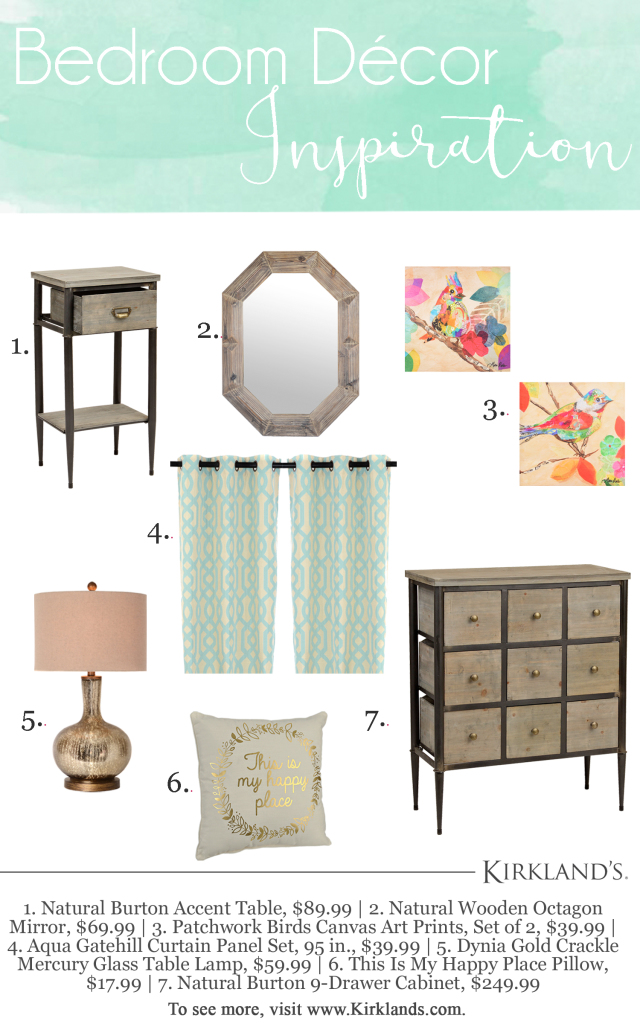 I wanted something that felt fresh and clean, and that would pair with our existing wall color, because Wyatt really doesn't want to have to repaint, and we both like the dark walls just fine.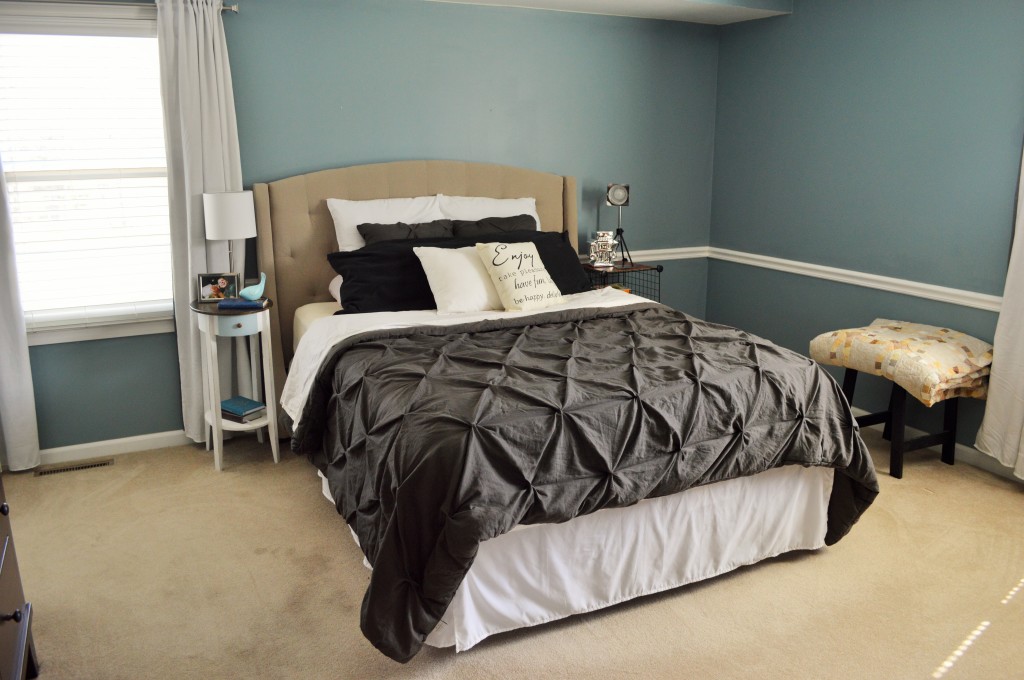 It's sort of a blue gray, and it feels calming. Dark enough for midday naps (Naps? Who am I kidding? A momma can dream, though, right?) and light enough to not make the room feel super small and cramped.
We also wanted new nightstands, preferably something that matched, yet fit the spaces on both sides of our bed. What we have now just isn't cutting it, especially on Wyatt's side. Those modular metal cubes just don't say "relaxing and spa-like" do they? More like 'cheap and dorm-like," Am I right?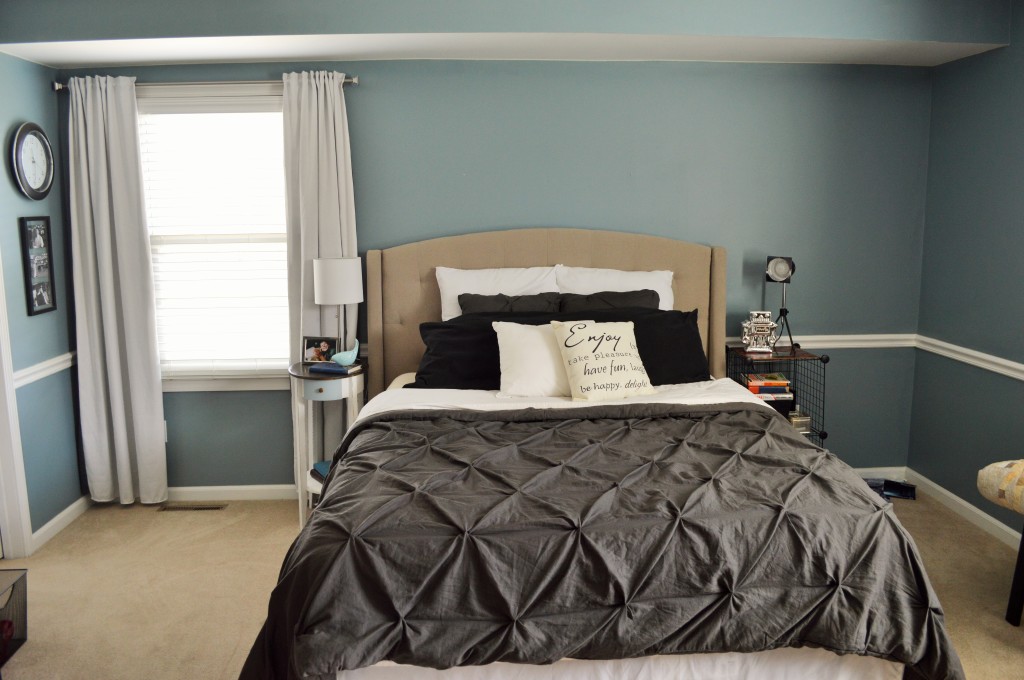 So, since Wyatt has more room (and more crap junk stuff treasures on his side of the bed, a wider little cabinet like this one works perfect.
While I get the smaller one for the narrow spot between our bed and the window. Plus, these are more interesting and rustic than a lot of the bedside table options I've seen.
I also picked out new curtains. I wanted something white, and the blue on these adds some pattern to the room. It also subtly matches the wedding ring pattern on the quilt Wyatt's mom made us that we use on the bed.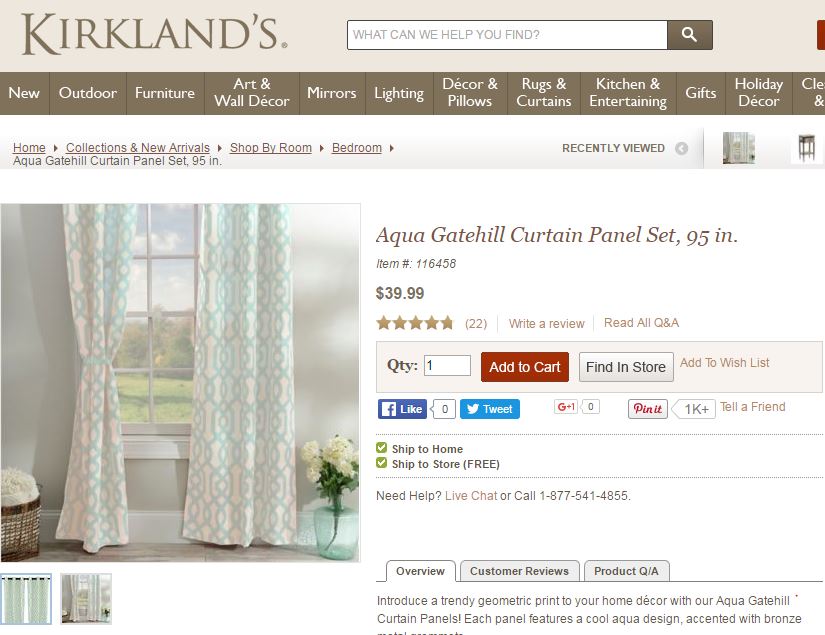 Gold has never really been my style, but it's really popular right now so I thought it might be fun to experiment with a few touches that could easily be switched out later. Kirkland's has a lot of metallic options to play with right now.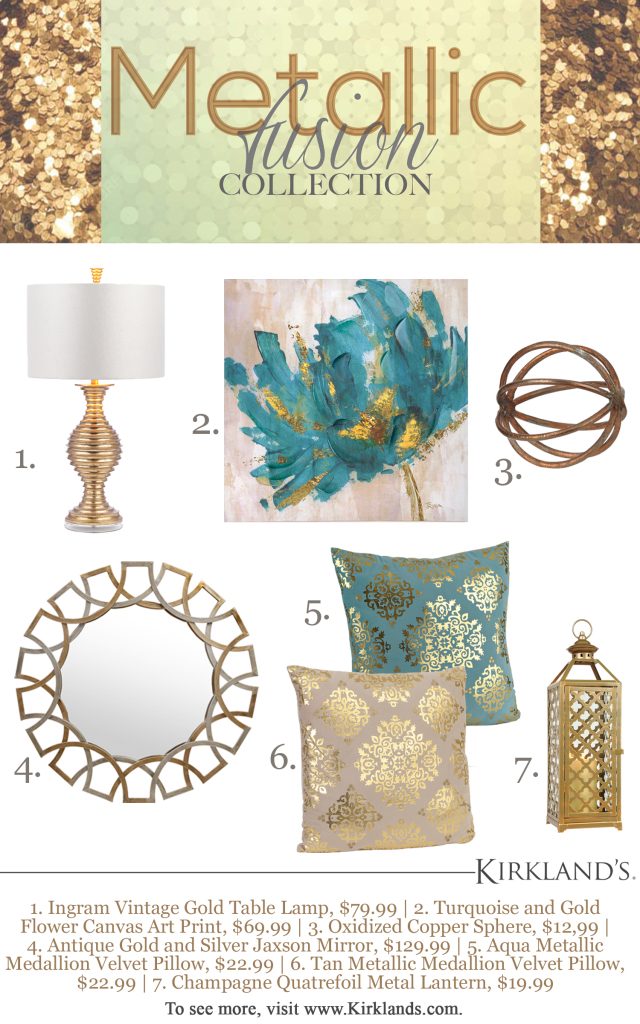 I particularly like this gold mercury glass table lamp and this shiny gold foil "happy place" pillow–perfect for a master bedroom retreat…even though Wyatt says I don't need any more pillows!
Wall art has been something I've really struggled with in here, because I just can't decide on a "theme" but I thought these watercolor birds were bright and fun.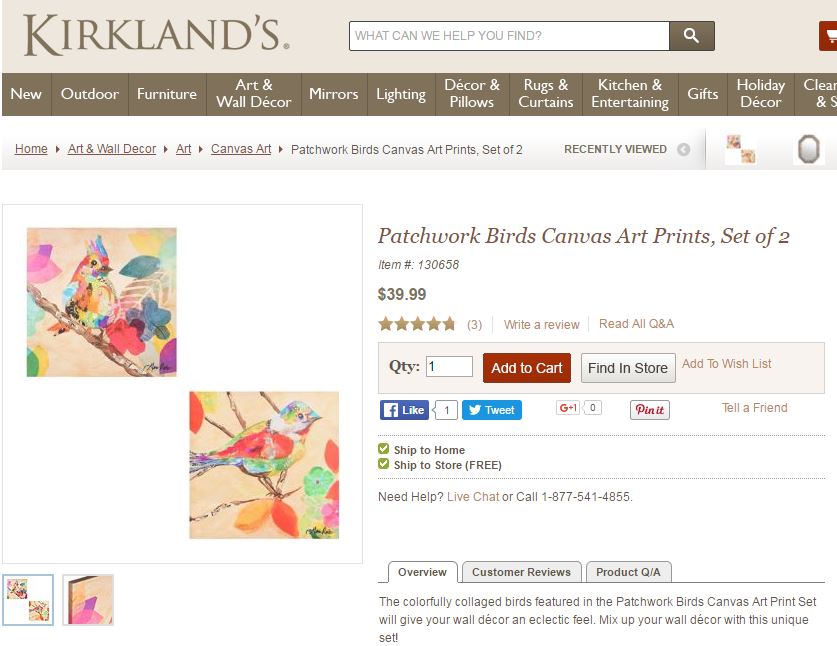 Oh, and this rustic wood-trimmed mirror will help tie into the rustic side tables I picked out. It would look good over the bed, or on the wall opposite the window to help bounce some more light around. (And it's on sale right now!)
Now that I'm feeling a little more inspired to finish up decorating this room, I figure it's time to do some real shopping, not just browsing. Too bad these items aren't going to magically appear on my front step tomorrow! Still, it was fun to pick out a few pieces. I snipped a Kirkland's coupon from the newspaper last weekend and may try to drag Wyatt to the mall (where our nearest Kirkland's is) this weekend to do a little actual shopping!
Also, they are having a spring sale right now! Top promos include:
What are some of your favorite items? Do you shop at Kirkland's? Any suggestions for finishing off our bedroom design?
**This post was created in partnership with Kirkland's. No compensation other than social sharing was received but they did help create content and/or images for this post. All opinions are my own.**