I think we've now shared all the projects we completed for the nursery…at least the ones we completed before Beanie's arrival. So, that means it's time for a full reveal post full of photos!
If you remember, we started from here: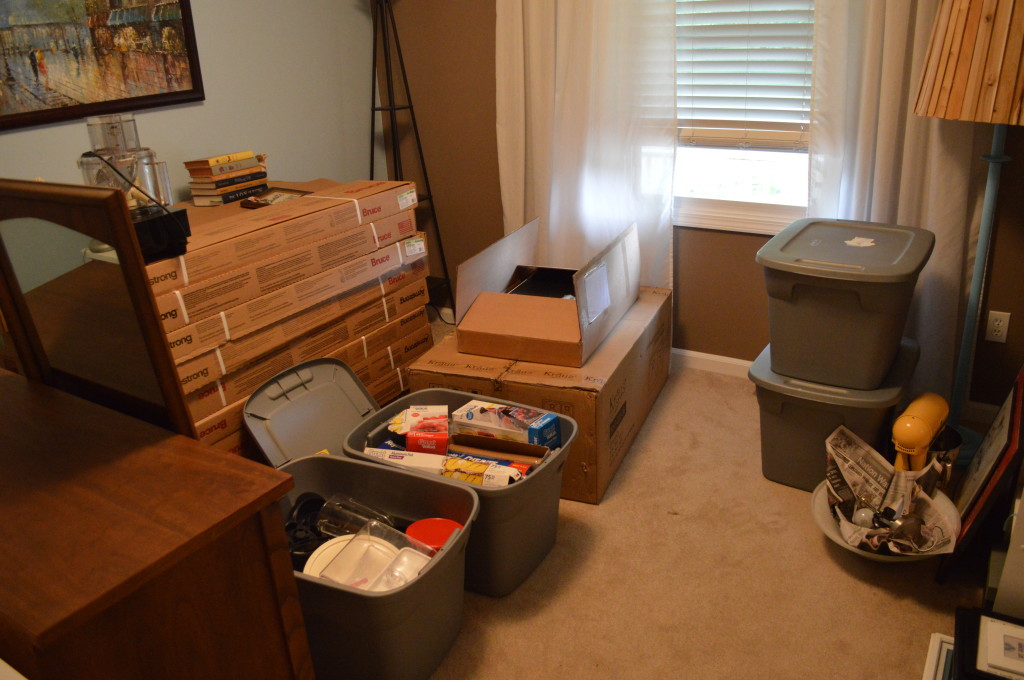 Of course, before that, it looked like this: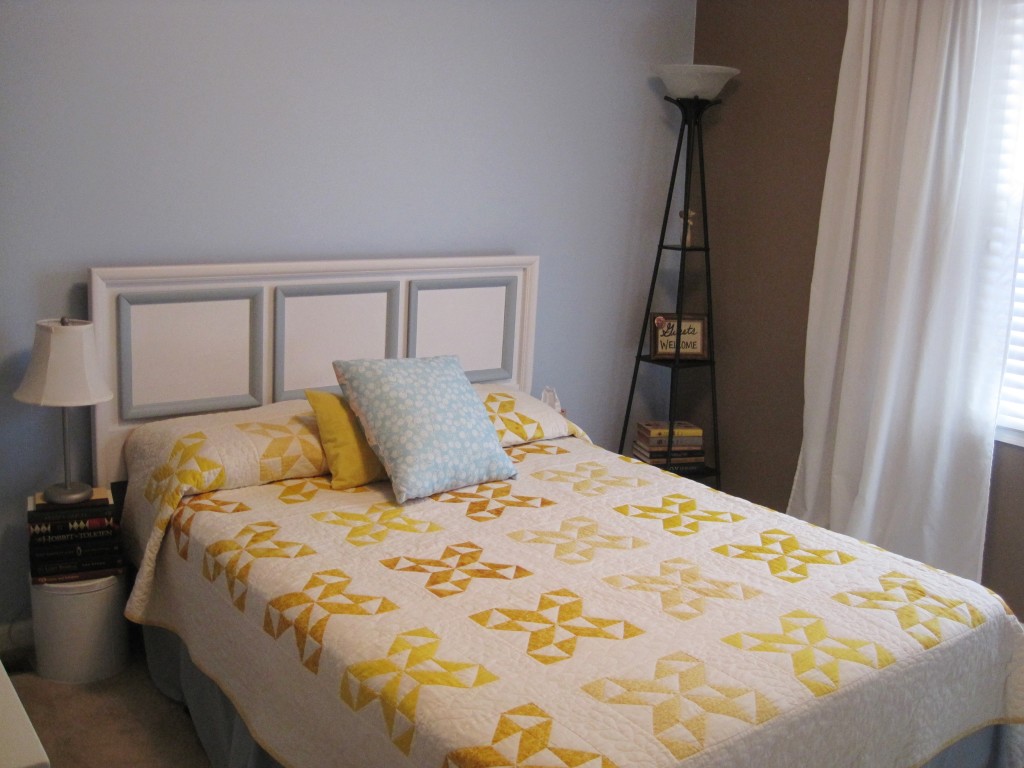 And don't forget the purple and zebra print bedroom from when we bought the house: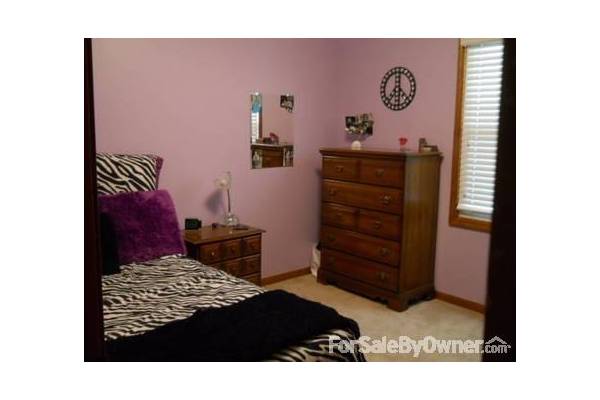 And our goal was to end up with something inspired by our mood board. Modern, gender neutral, and bright.
(For sources in the above board, see this post.)
And now we're here: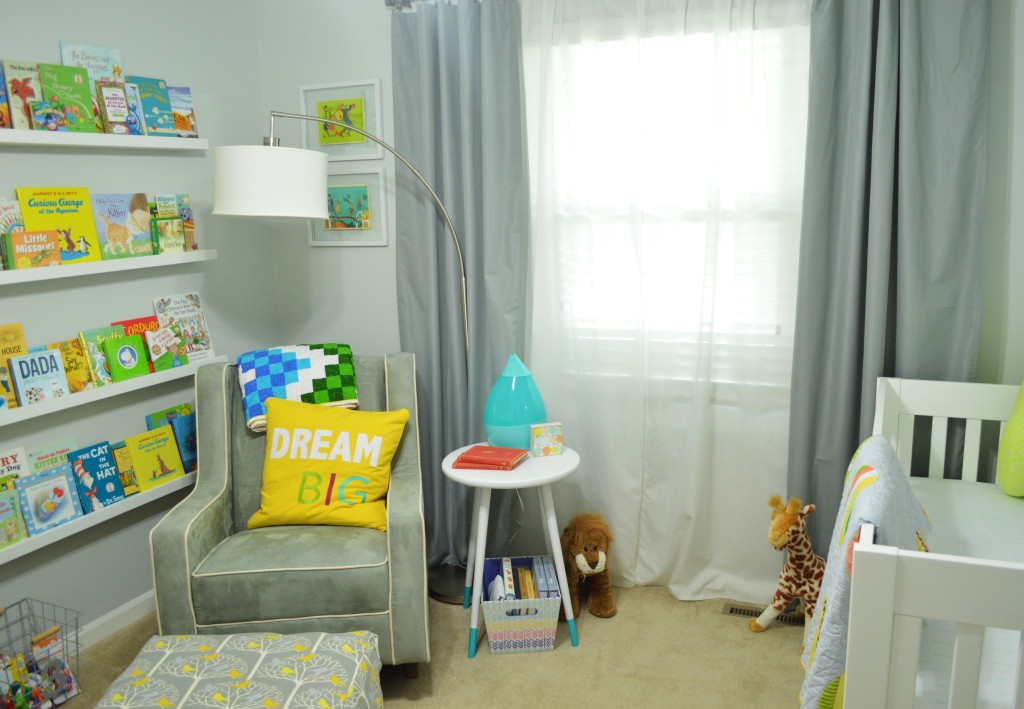 The crib is super sweet, and the gallery wall above makes me smile.
The crib is one of my favorite little areas. So sweet for sleepy time.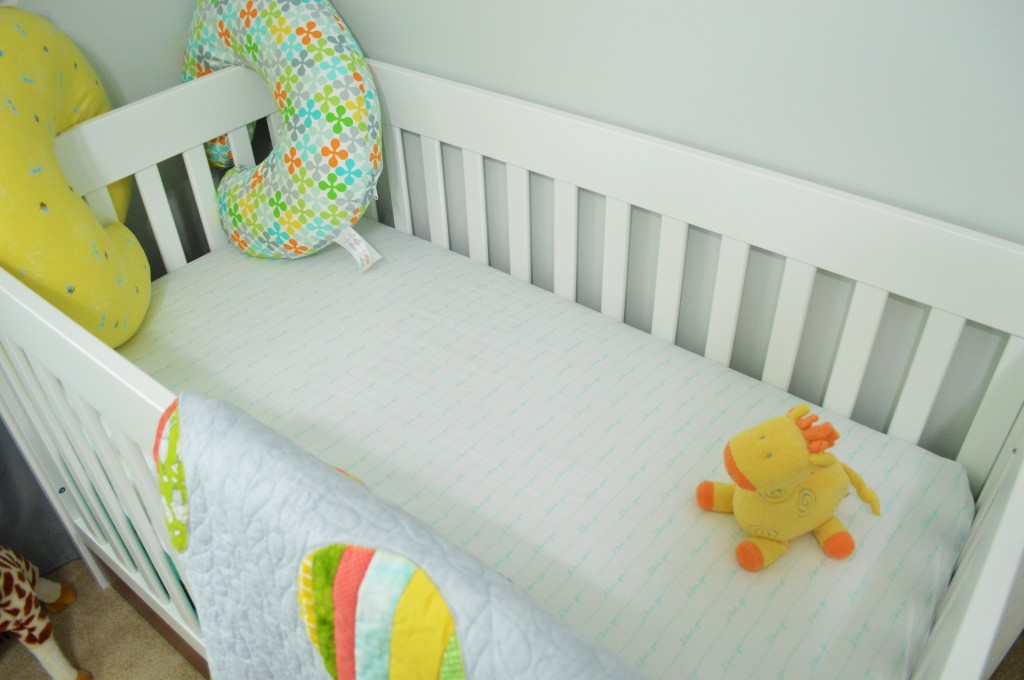 Just look at the cute "I love you" sheets (Circo brand, from Target.)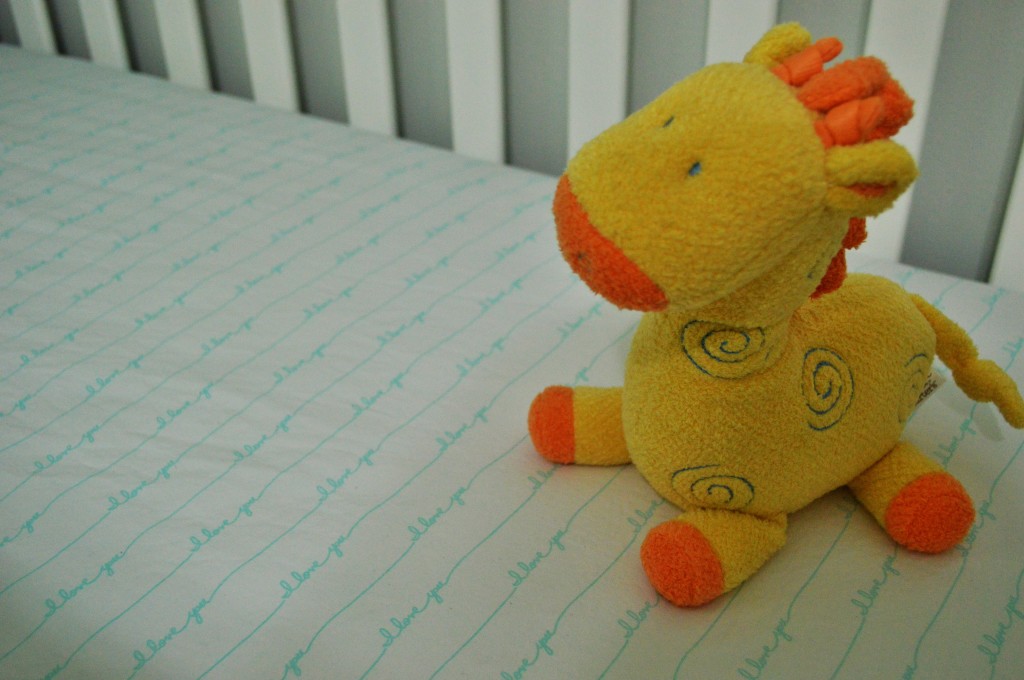 The dresser and changing table area turned out well, too.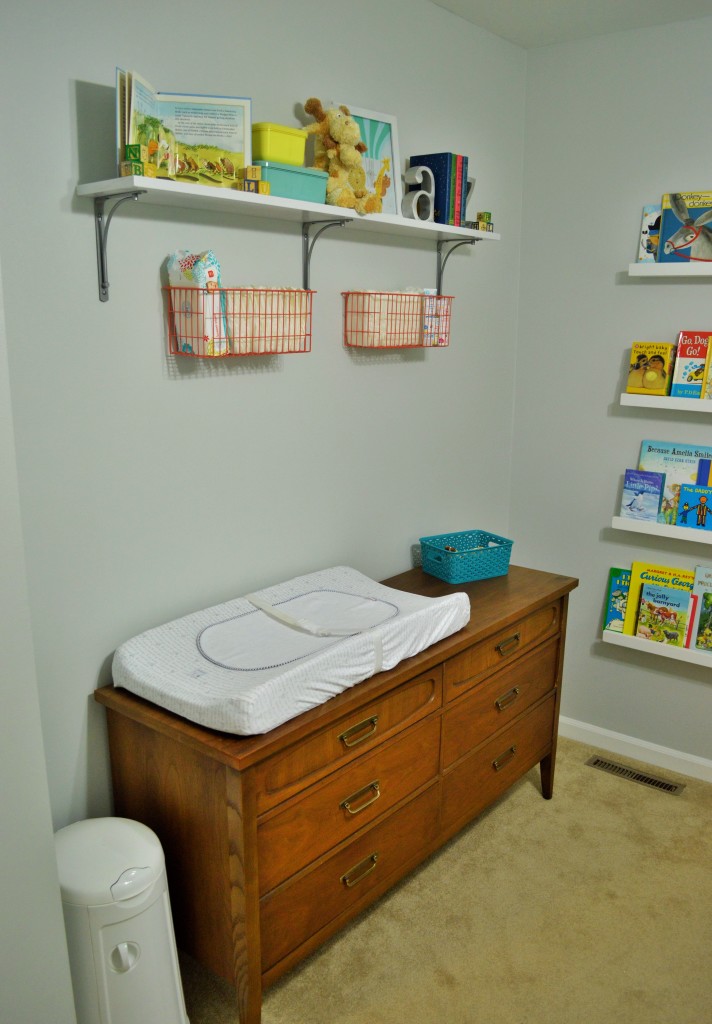 The storage and decor from the shelves above is also nice.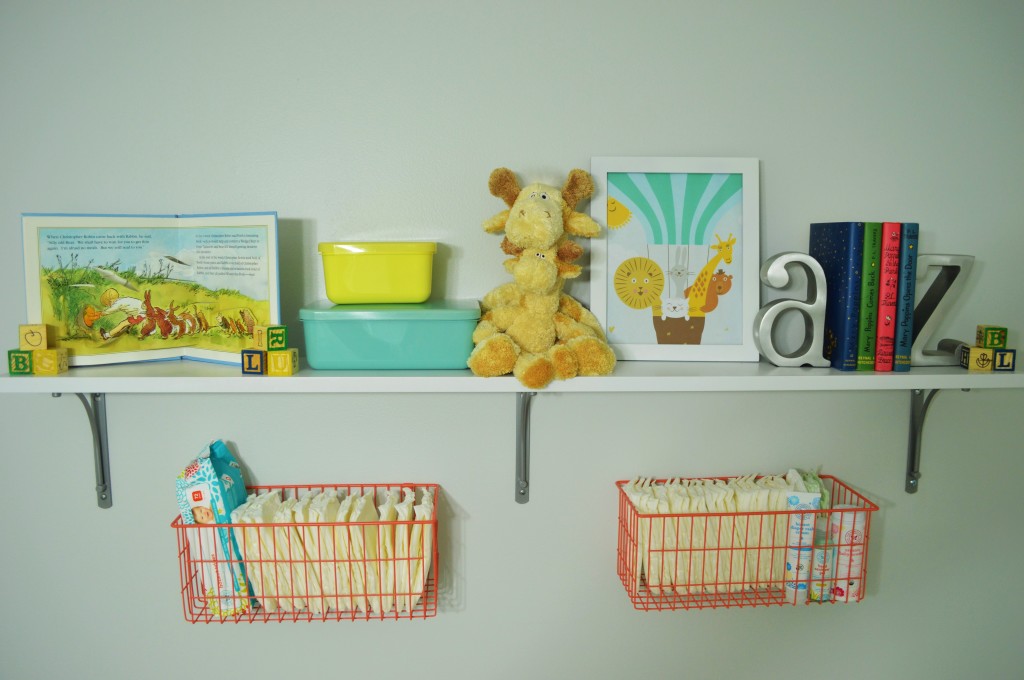 I sacrificed my A-Z from our bookshelves for the cause. And added my Mary Poppins chapter books. My parents found the set for my at a thrift shop last year and I read them over the past nine months in anticipation for Beanie's arrival.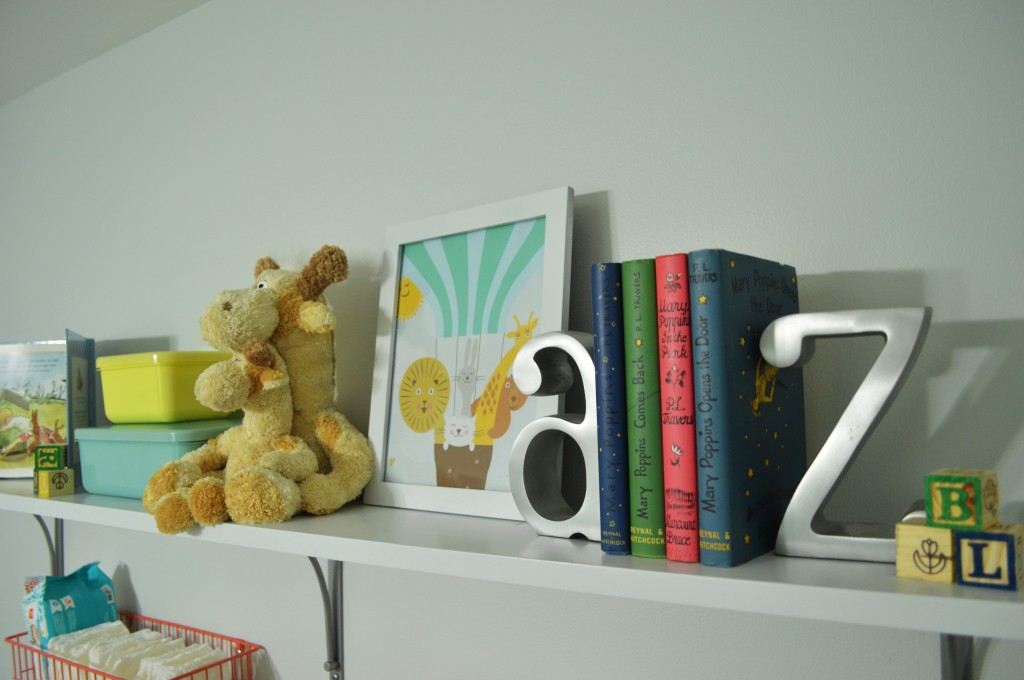 I really like the adorable alphabet Burts Bees cover I found at Target for the changing pad, from Target.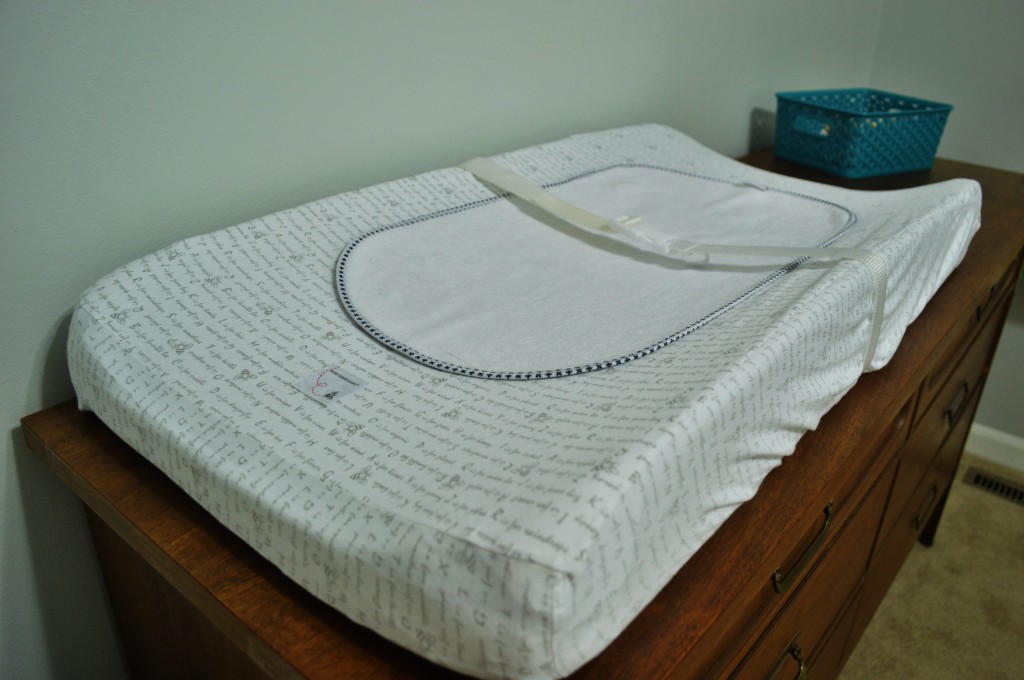 A few other little touches helped bring everything together…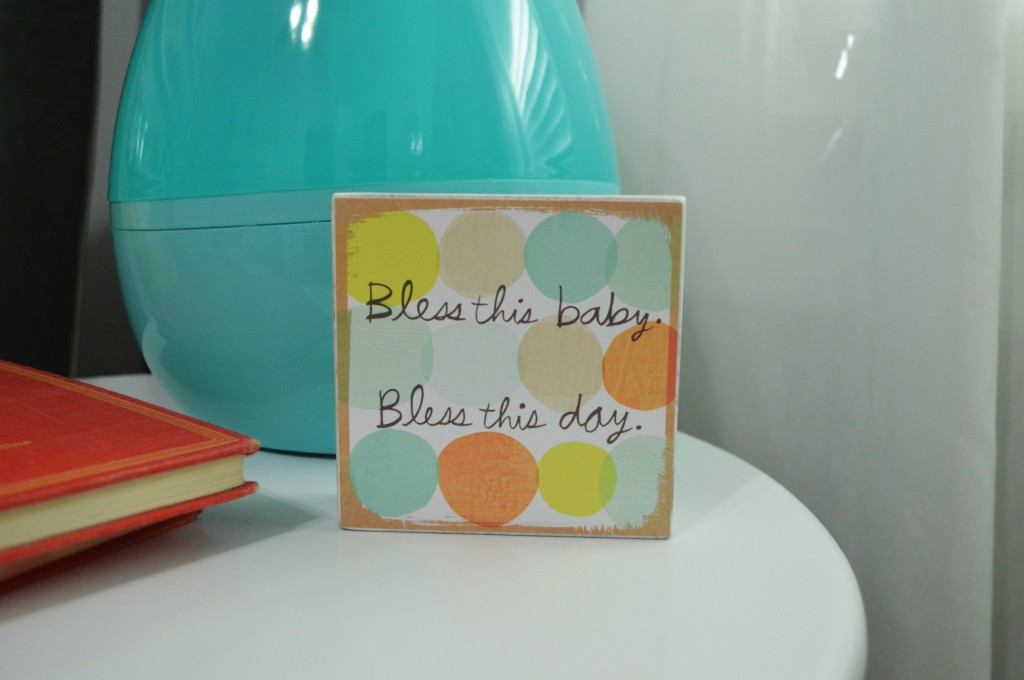 ….like the hamper, which we found at Home Goods…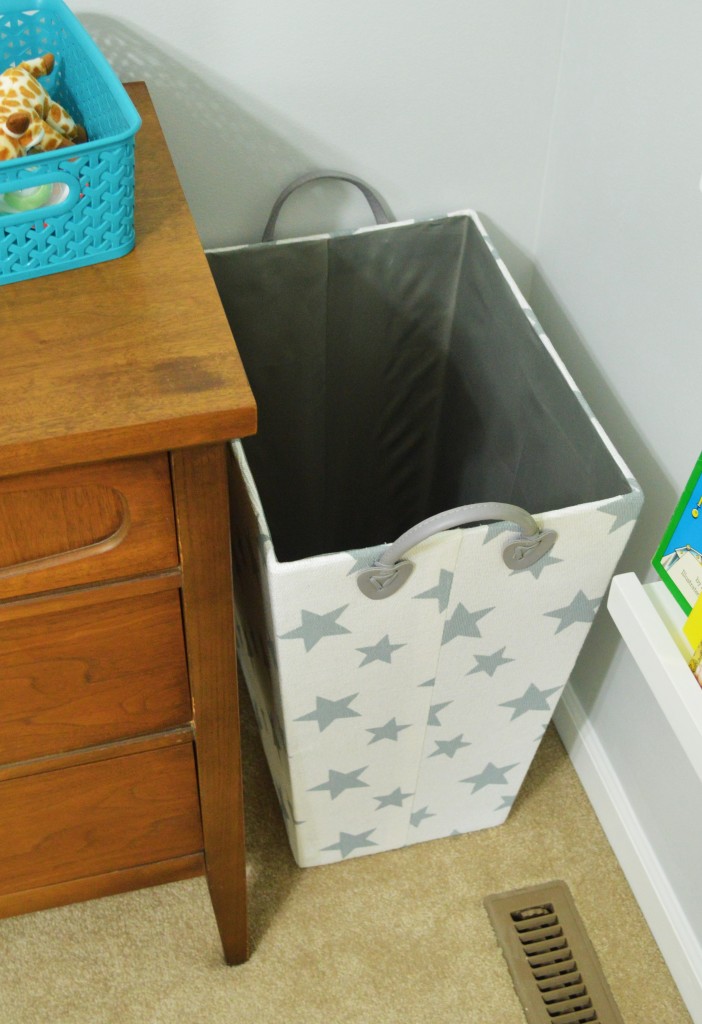 …some more storage near the rocking chair for books and burp cloths, from Target.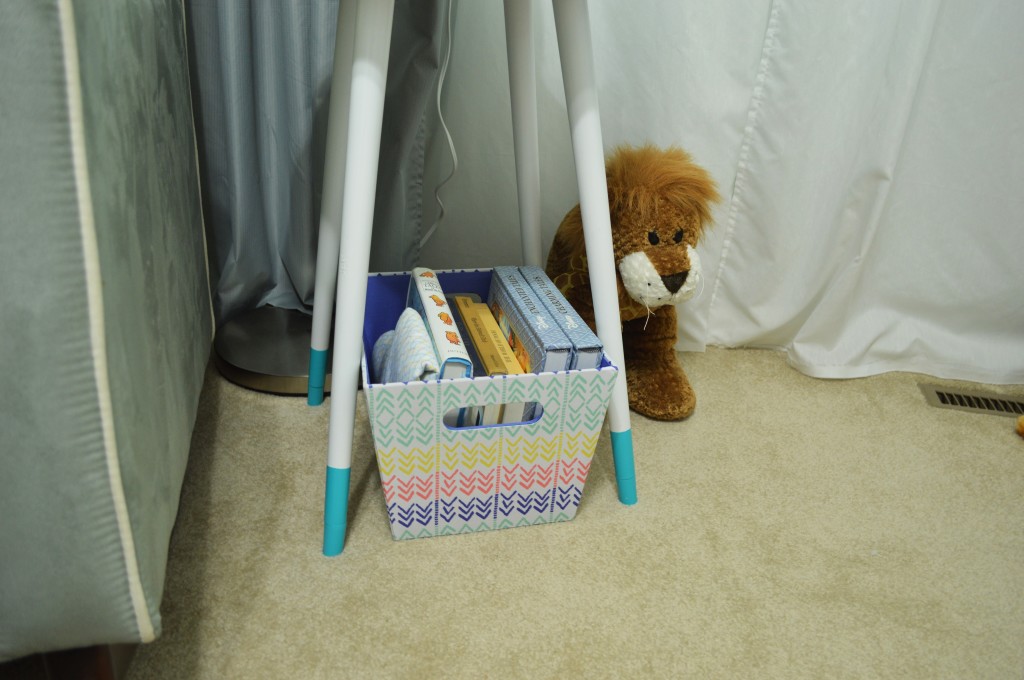 We also added this sweet pillow from Target for our modern rocking chair from Wal-mart of all places.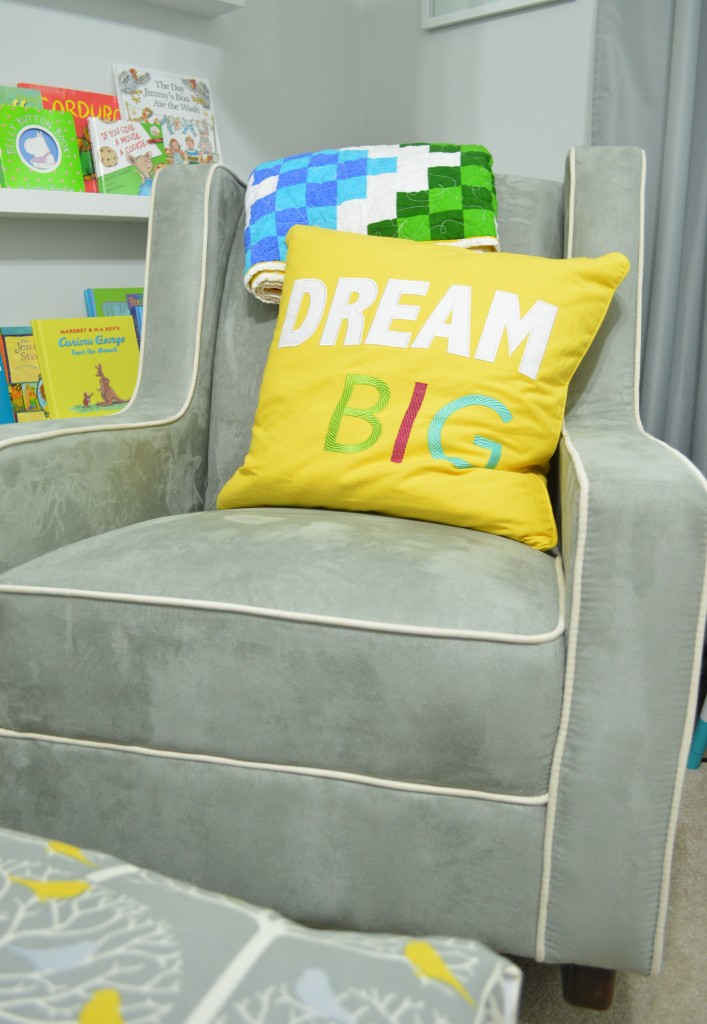 I think we did a pretty good job of staying true to the original plan. The overall feel is light, bright, and fun, with modern but classic pieces. And, the ottoman I made last year from a foam cooler works perfect in this space! It's awesome when a project completed way before the room is even started still ends up working perfectly, just like I planned. That isn't usually the case at all!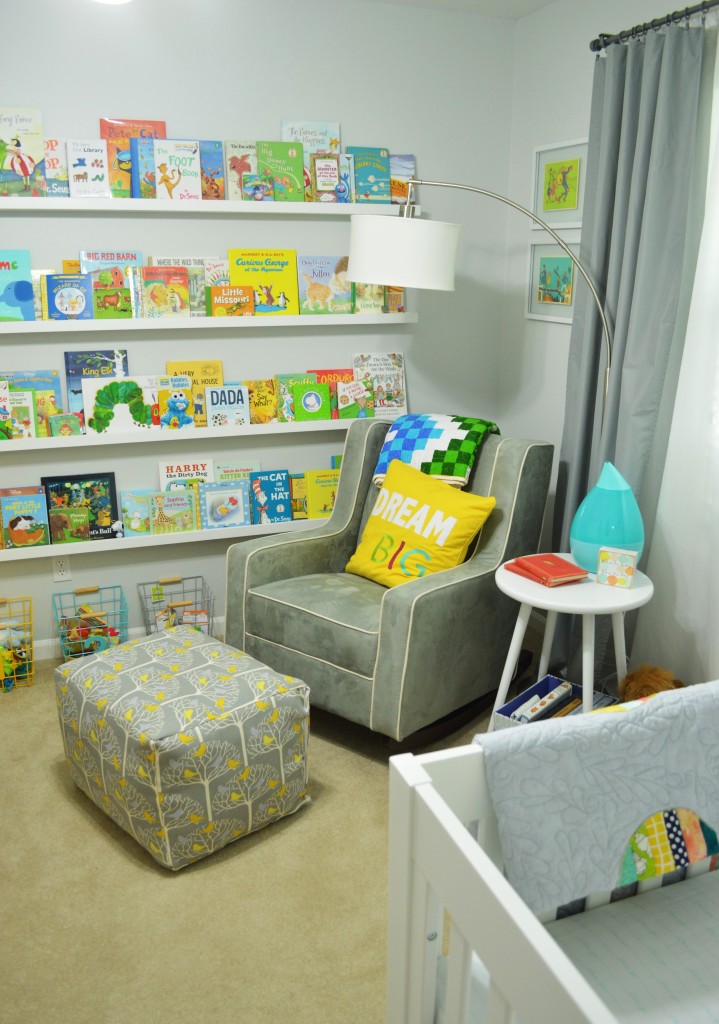 Not to mention the adorable side table Wyatt made me at the very last minute.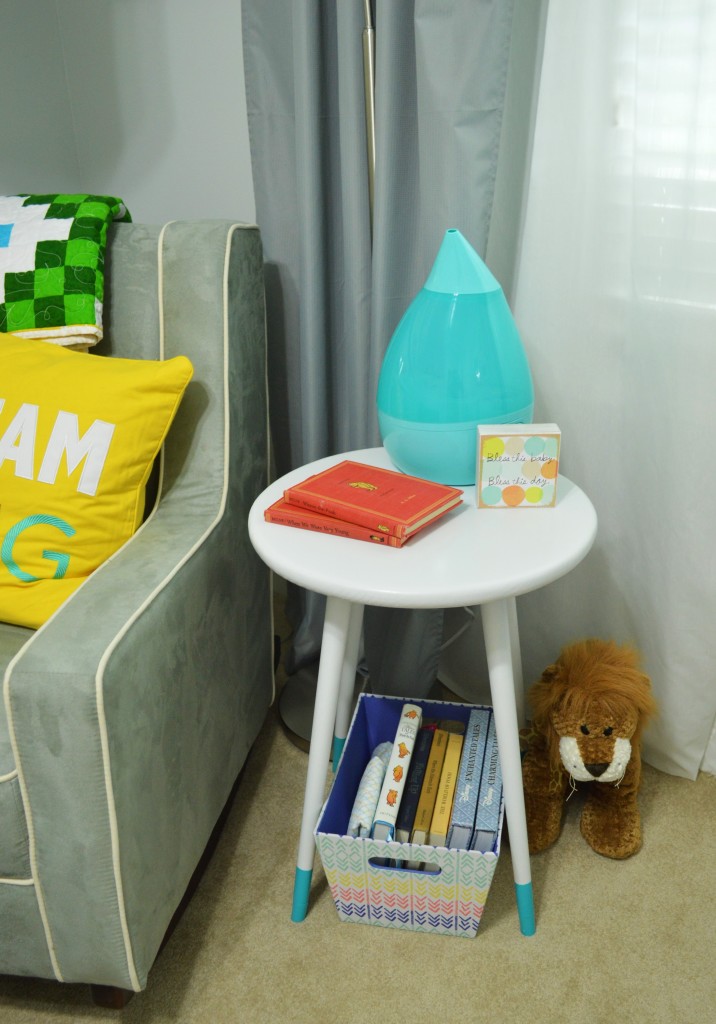 I still think the book ledges are my favorite part. I know we'll need to sort them a little bit so there aren't so many when we have a toddler old enough to pull them all off onto the floor, but for now, it's so bright and cheerful.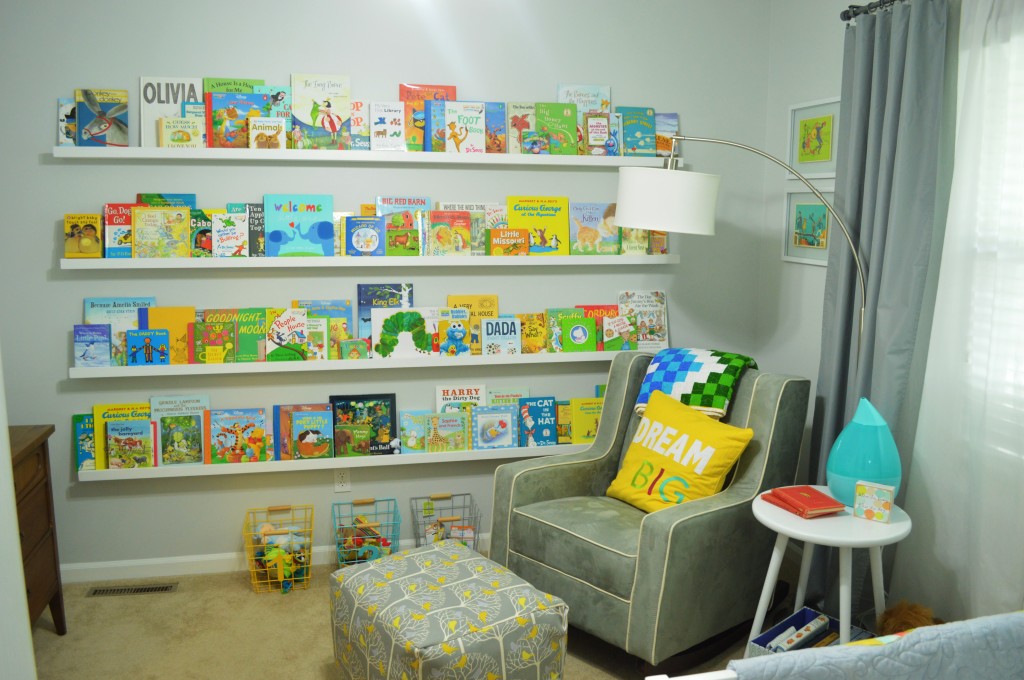 I'll be back with a breakdown of the total budget for this room, soon. I'm excited to get it tallied up and see how we did.
All in all, I think we have a wonderful little space to welcome Beanie into our family. I'm excited to see how this room changes and grows as we adjust to having a baby in the house. I'm sure we'll have lots of tweaks to make it work for us in the coming months. It's already a lot messier in there…ha!
Thoughts on adjusting from a nursery we designed with a baby in mind to a nursery a baby actually lives in?
Don't forget to see our budget breakdown for the nursery, here.