I feel like you guys probably have a pretty good idea of what our house is like on the main floor, but we never talk about the basement. Except to show you how messy it is, or to share secrets.
Today is really no different, see we have another big secret down there.
The real reason we haven't shown you all much of that space is that in one of the back rooms we have never shown you, we have a super awesome crazy tiki bar that we have no idea what to do with! It's pretty theme-specific but built really well…so we haven't even attempted to use this space for anything…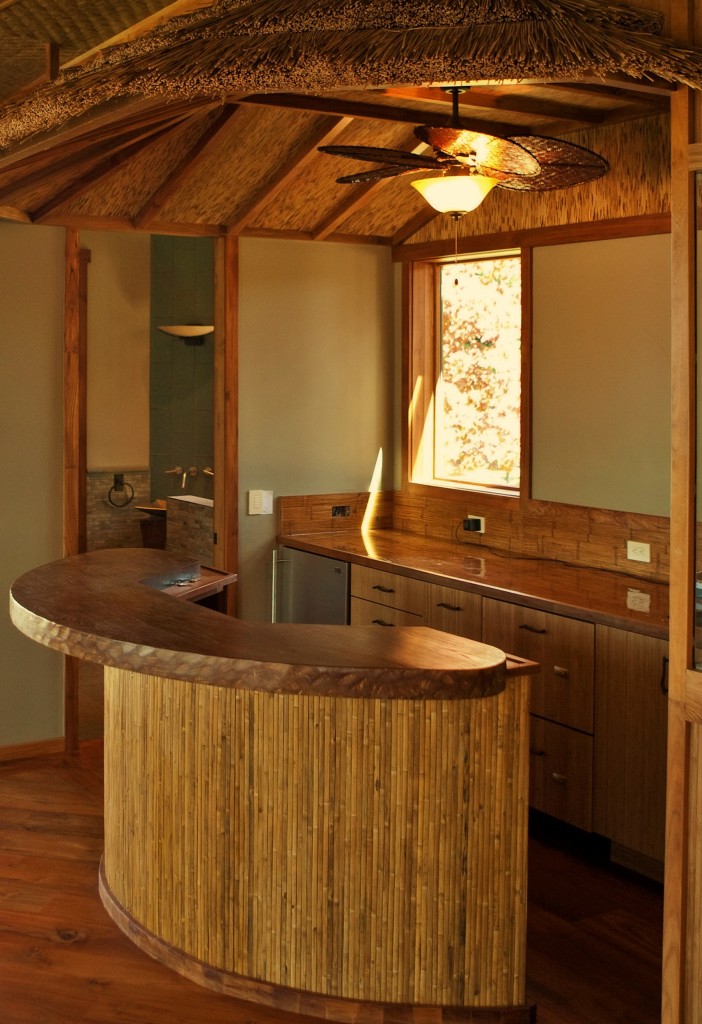 I mean, just look at this wallpaper! How do we deal with that??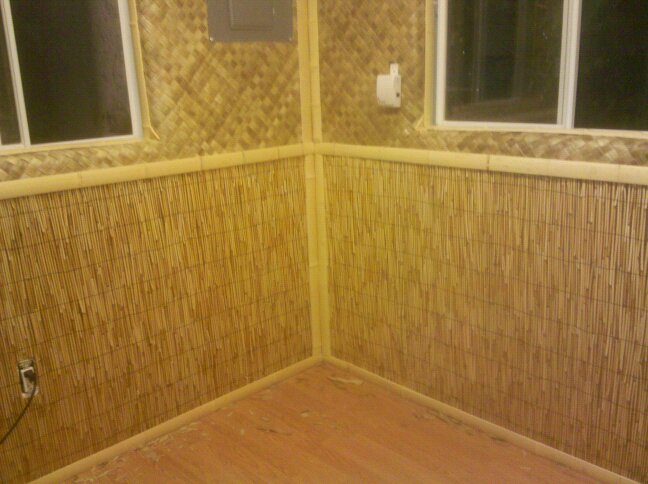 In fact, we've already done a bunch of work, including removing this tiki face attachment the previous owners had placed over the fireplace to complete the look. This is what it looked like when we first saw the house listed for sale…it's a wonder we even agreed to come check it out, huh?
Went too far?
Yea, that fireplace was too for, for sure.
So I probably didn't fool you.
Ah well, last year's April Fool's joke was also not super likely to fool anyone. 🙂
But in all seriousness, I'm hoping someday later this year, we'll be able to talk about the basement without feeling like we're opening the door to some deep secret we've been hiding for months.  See, we don't really have any big secrets to hide down there, it's just that we don't currently use the space for much besides storage and an occasional place to stash the guest bed when the bedroom is torn up upstairs.
But with Beanie on the way and a guest room soon to be located downstairs, I'm determined that we'll have some usable space down there we can take advantage of. So, with that goal in mind, last fall/winter, we started looking for some good deals on furniture and soon one of our church friends posted this on Facebook: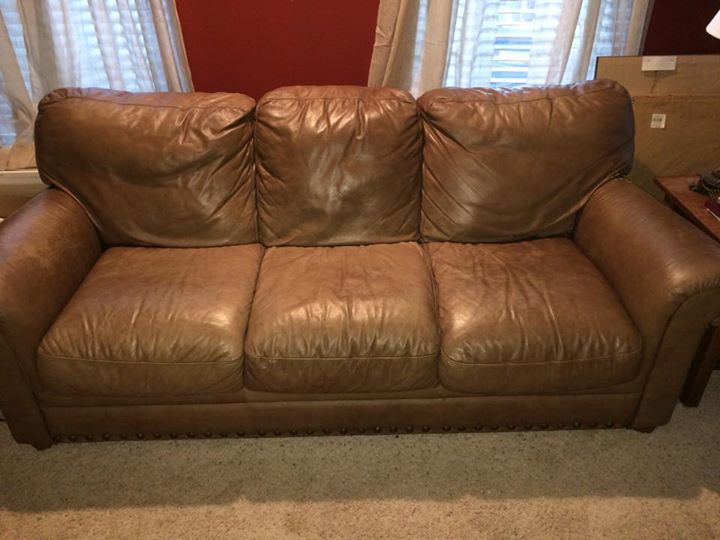 Ta-da! Our first purchase for the basement.
Ok, it's not life shattering to buy a basement couch, but I was excited because it meant we were at least thinking about moving in down there a little bit. And it really just needed a good cleaning to be ready to use. It's real leather and oh-so-comfy. Seriously, this thing is so soft and it just cradles you in. Every time I sit in it, these scenes run through my mind:
Although, when I think about Wyatt and I moving it in there by ourselves, I thought of this scene:
Anyway, the first step in getting it cleaned up was removing any dust, dirt, pennies, etc. I could find. The cushions don't come out, so I used our Shop Vac extension arm thing to get as far back in there as I could. I couldn't see what I was doing so I just continued vacuuming until I stopped hearing the clicking sounds of stuff being sucked up into the tube.
Then,, I'd never cleaned leather furniture before, mostly because we had never had any so I did my research and found a few solutions online to try. I used a very diluted mixture of Dawn dish soup and Dove conditioning shampoo. (Sounds weird, but it worked really well!)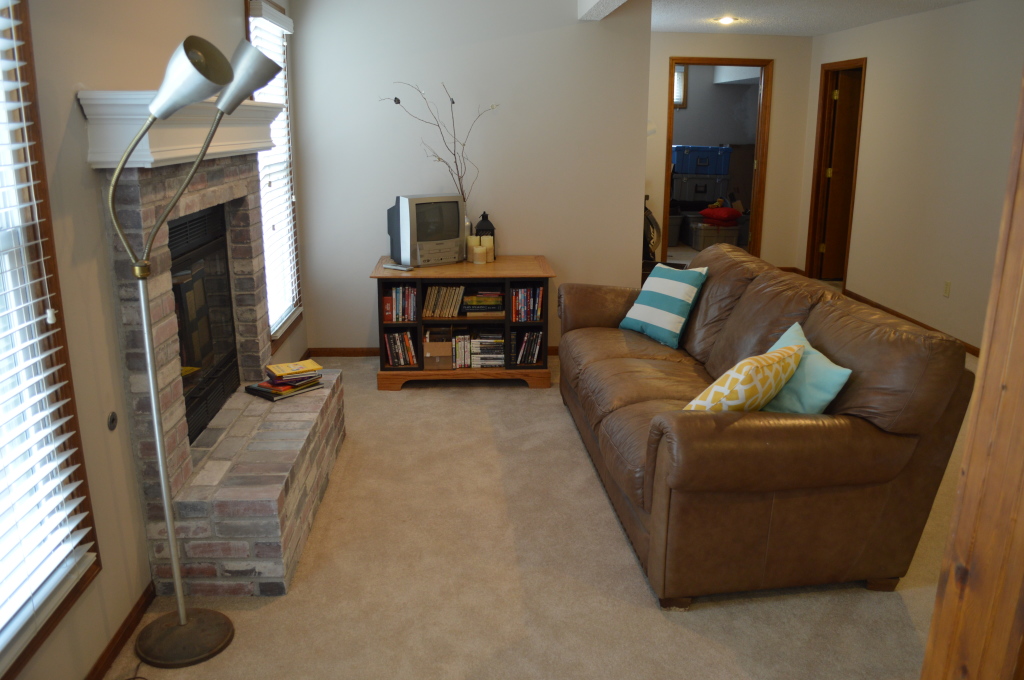 For the stained areas, I used a little fingernail polish remover on a q-tip, which did seem to remove what I assume to be spilled paint or fingernail polish since it's pink and a little glittery, but it also started to remove some color from the leather.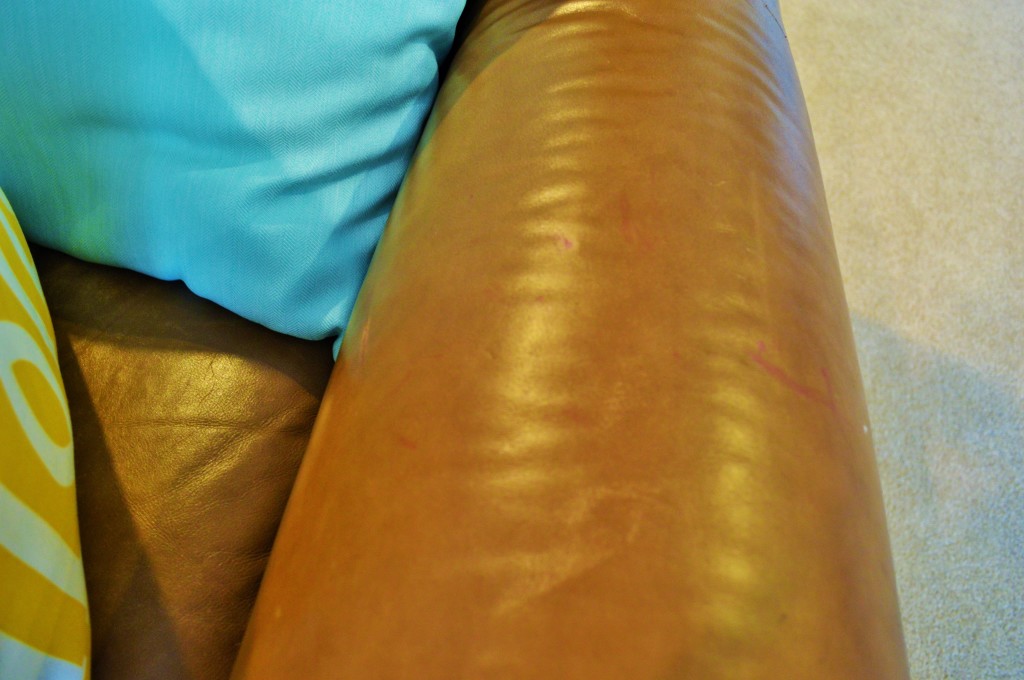 So I gave up and said I'd just cover it with a blanket or pillow if it really bothered me.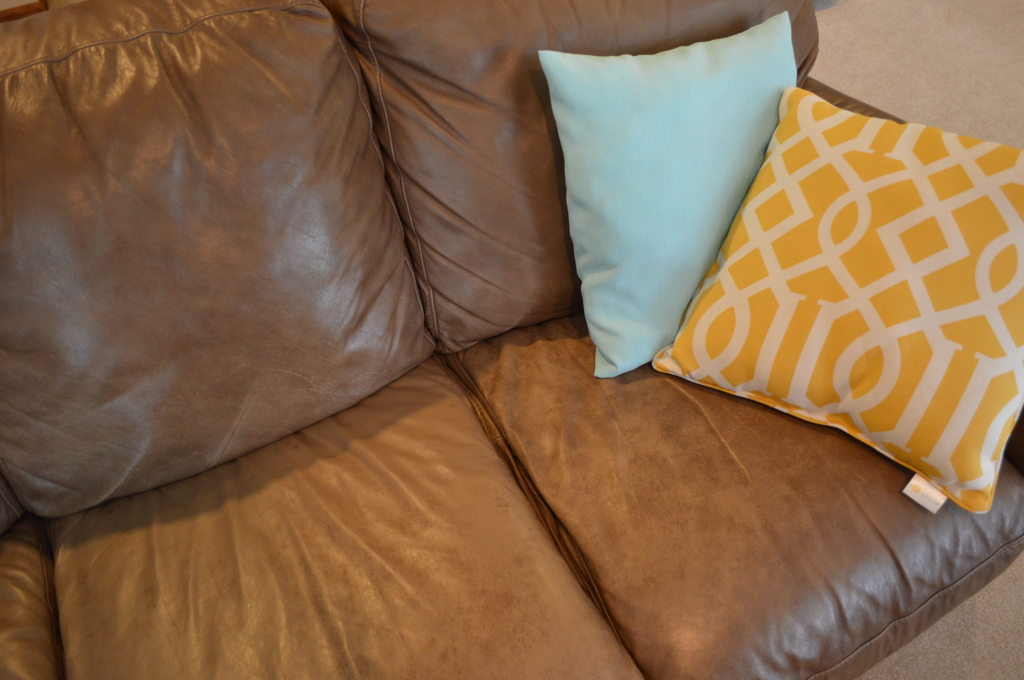 I figure our kids will be allowed to play on it, so it's going to be dirtier eventually, right?
I made sure to really buff all the residue from the cleaning solution away so there wasn't a film on the leather and it's ready for some use.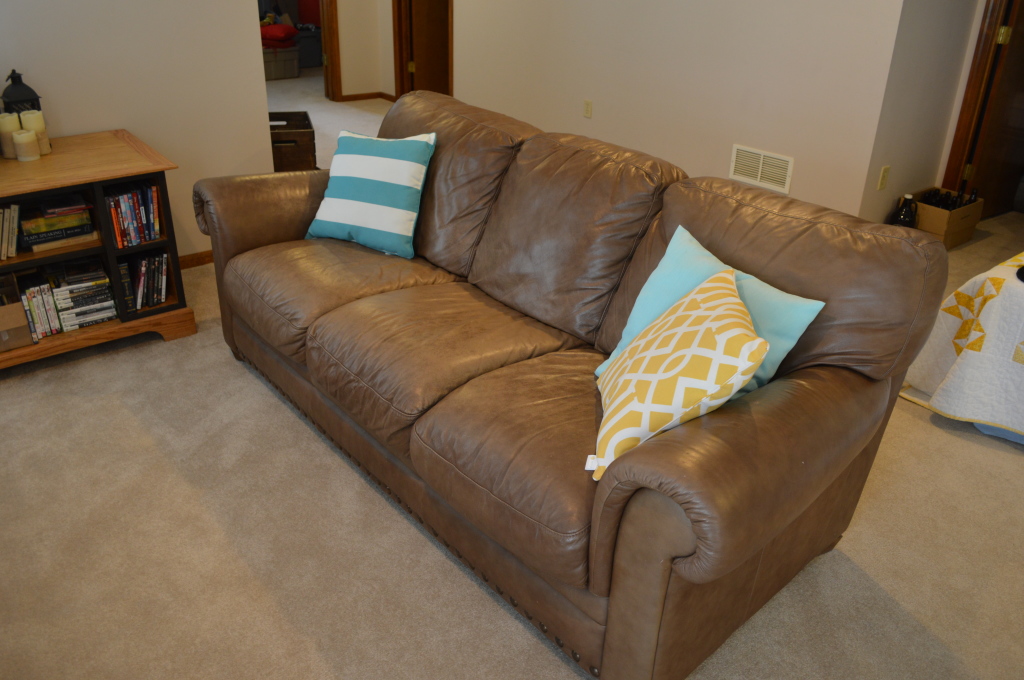 All in all, a great deal on a great basement couch. We still rarely use the space, but I know we will eventually. And having furniture is a good start. After all, if we're having a guest room in the basement, we should have some sort of living space down there, too, right? Otherwise, people will just be walking past all our junk and boxes to go to the bedroom down there, and to visit our secret tiki bar, of course.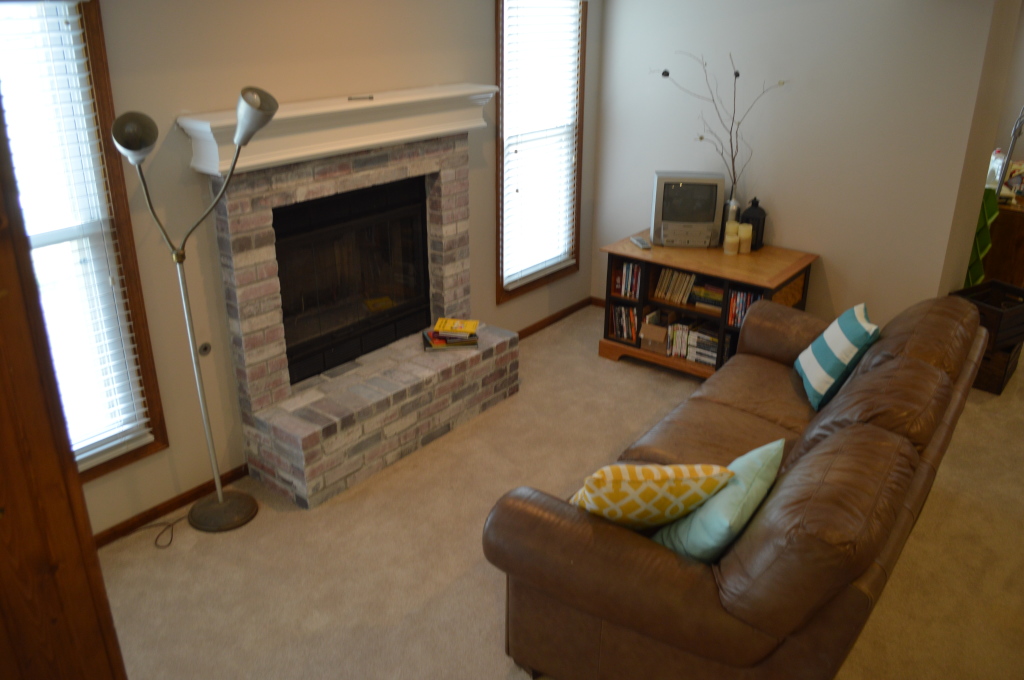 We are still undecided on the final arrangement of the living space. We have a fireplace in a sort of odd place, so I'm not sure if we go with that and put the couch near it for a little sitting area, or if we forget the fireplace for now and put the couch where it makes the most sense in the area by itself. Hmmm…all of this is assuming the ping pong table isn't staying there forever. 🙂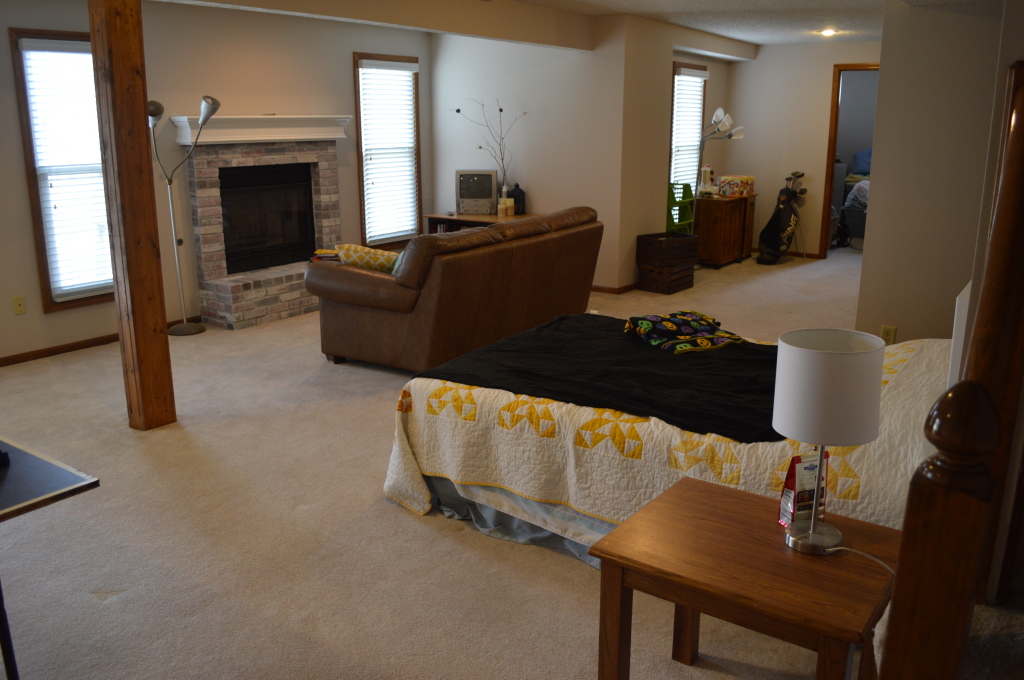 It's the kind of puzzle I think about when I can't sleep at night. Seriously, I fall asleep rearranging furniture in my mind these days.
What are your best tips for caring for leather? How would you use this giant basement space? Did you believe, even for a second, we had a secret tiki room down there???
(Tiki photos from here, here, and here)