Not sure if you noticed the eyesore in some recent photos we've shared on the nook or not, but it's certainly been bothering me…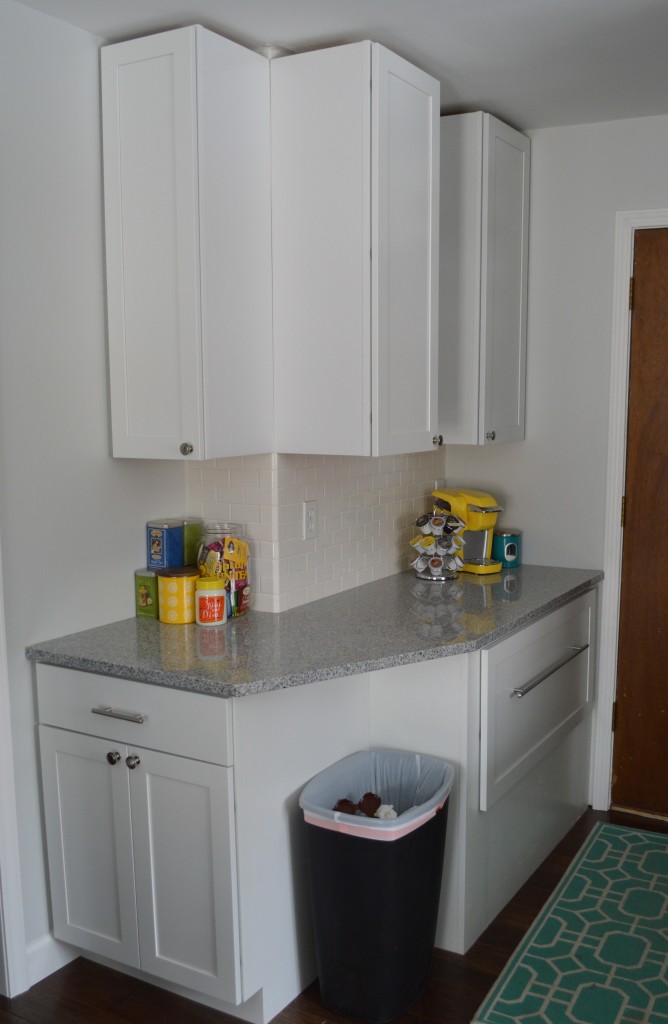 Boring old black trash can with no lid so our trash is just out there for all the world to see. Ick. Not to mention, it can get a little stinky if there's food in there.
I had originally wanted to integrate the trash can into the cabinets, but Wyatt really doesn't like that since it means you have to use a smaller trash can. For some reason, he also doesn't like that guests have to ask where the trash can is. I'm not sure why that would be an issue since it doesn't happen that much, but he's entitled to his opinion. In the end, he won the argument, and we didn't design a cabinet for the trash can to go inside of. So, it's just been sitting out for months, forgotten and semi-ignored.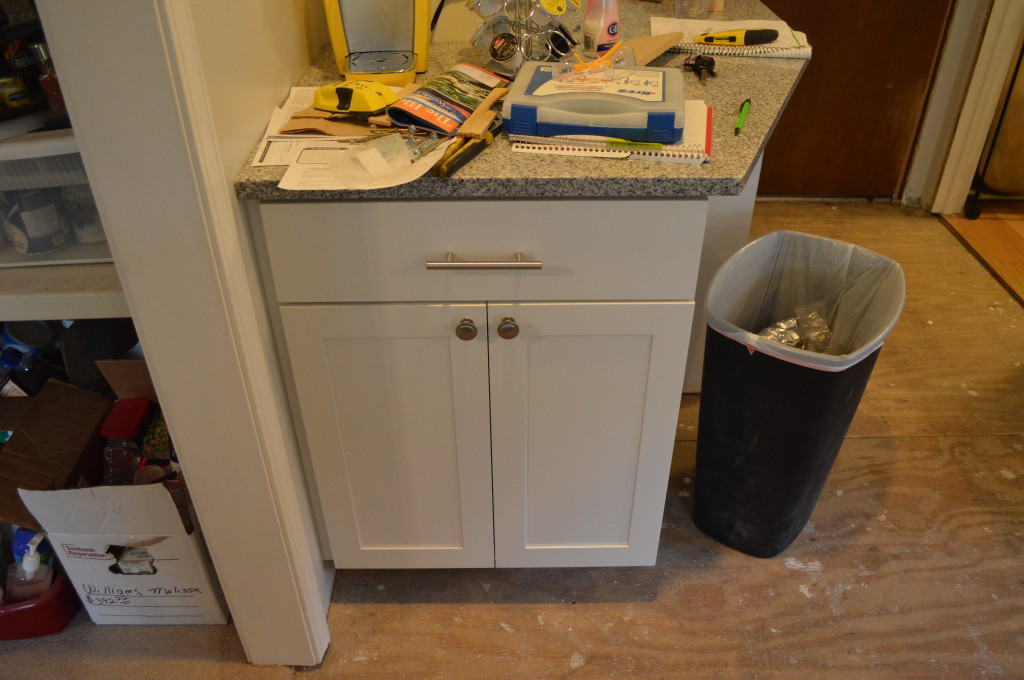 However, I wasn't willing to just live with our old, icky trash can out in the open forever. For starters, this is the trash can we had when we got married and it was starting to get a little gross. It had survived the remodel and some paint splatters, drywall splatters, grout splatters, and a bunch of dirt, sawdust, and dust.
Not that visible in photos, but a little bit of a taste of what we were seeing in person below: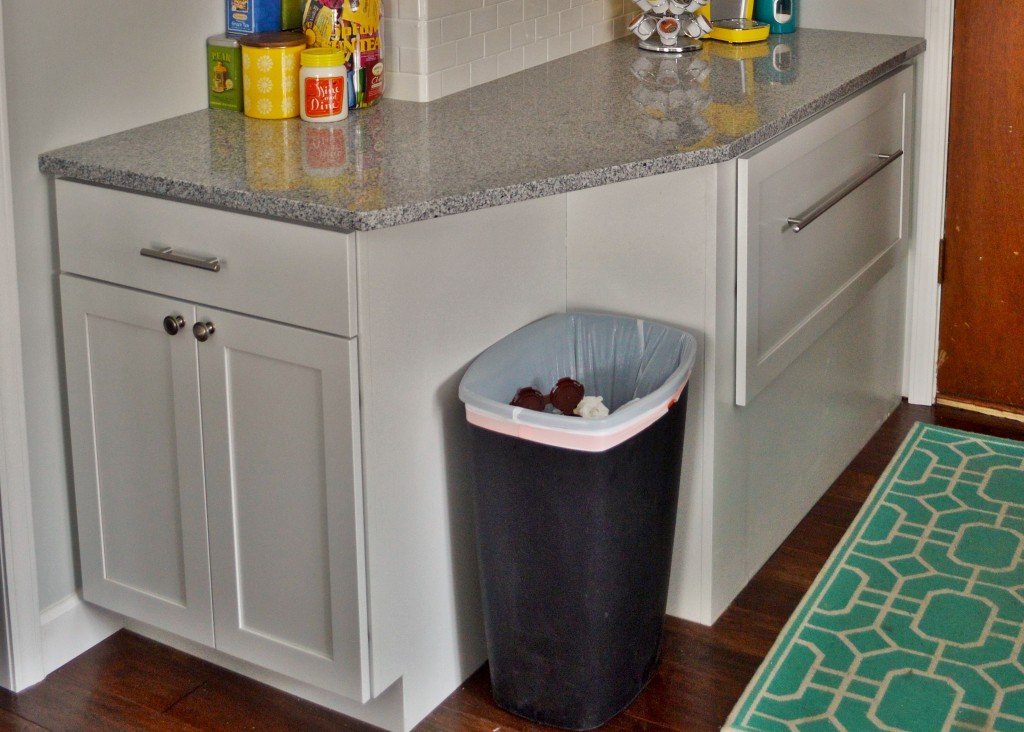 Especially the lid which had been buried in a pile of junk in the garage for several months when I dug it out on Sunday afternoon in hopes of cleaning it and starting to use it again. I also had a secret plan I wanted to try, spray painting it.
Originally, I wanted to buy a new, nice, stainless steel trash can, and we might still do that someday, but we had trouble finding one the right size and shape for our spot since the lids tend to be too tall when opened to fit under the counter. Plus, those stainless steel trashcans can cost more than $100! I couldn't find it in myself to spend that kind of money on something we throw our garbage in. It just felt like a waste…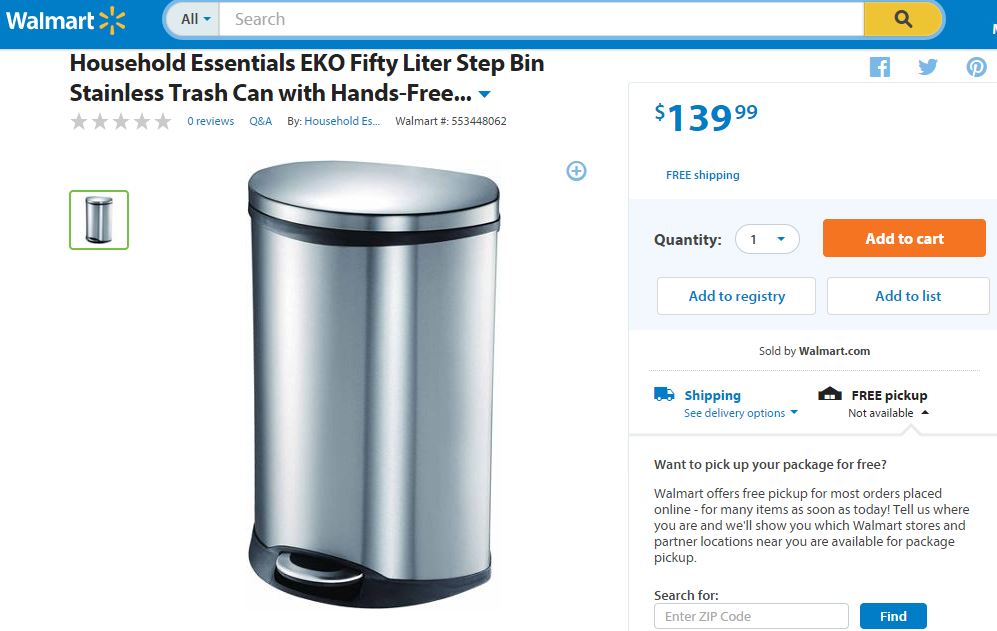 So, I grabbed a can of teal spray paint from our collection and we washed the existing trash can and lid and got to work in the yard over the weekend.
Wyatt offered to do most of the painting, not sure if it was to protect Beanie from the fumes or to protect the trashcan from my sometimes sub-par spray painting skills. Maybe both. Either way, he did a good job with the initial coat and I went back and touched it up for the final coat.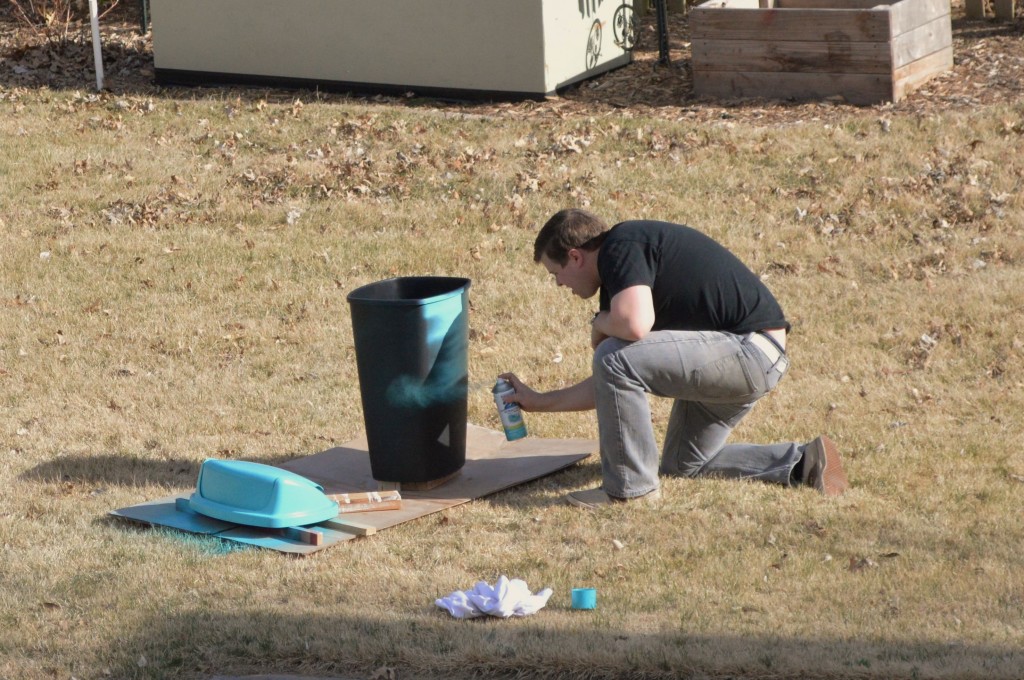 Finally, it was dry enough to bring inside and try it out.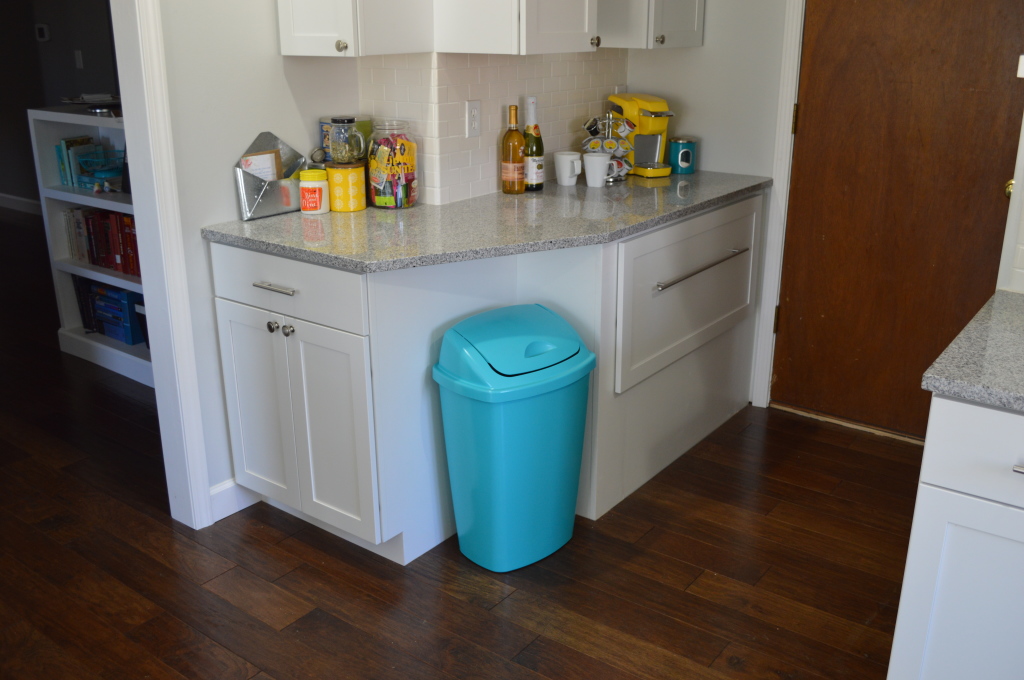 I will admit that it's brighter than I thought it would be. But Wyatt gave his approval and I like it, too. It's certainly more fun than the black, dirty, dingy one we had before. Plus, the lid is now back in business, which makes me happy.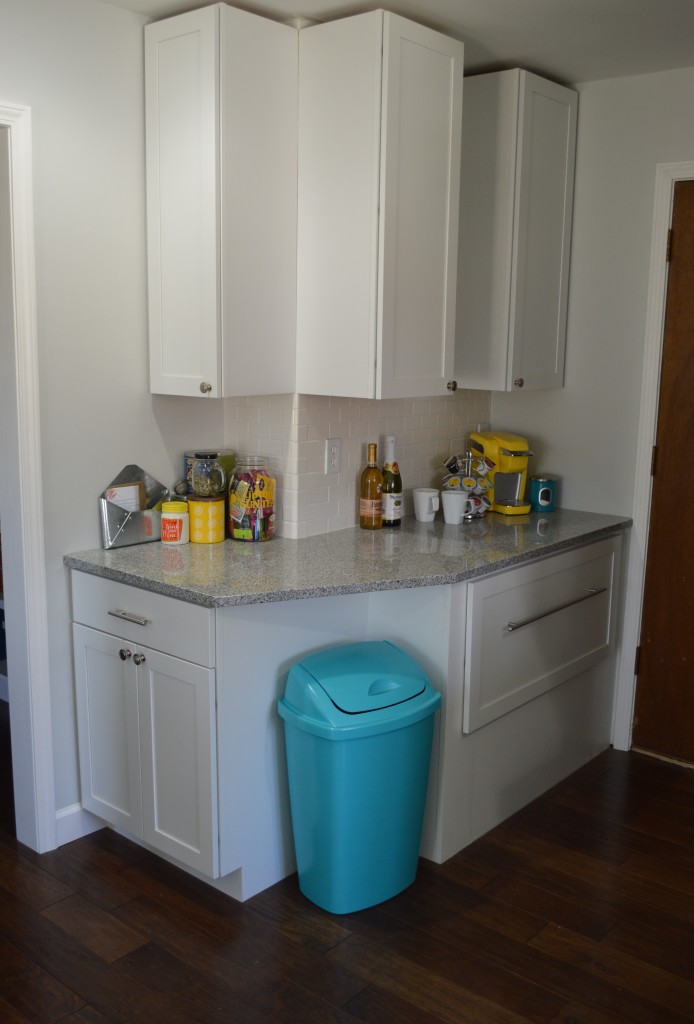 I think I would have chosen a green apple color if I had it to over (and I might someday if this one gets scuffed by use) since I'm trying to add more green into our kitchen accessories and I already have a lot of blue and yellow stuff. (Go figure, right?) Still, I do think this is super fun and unexpected…which is sort of up my alley.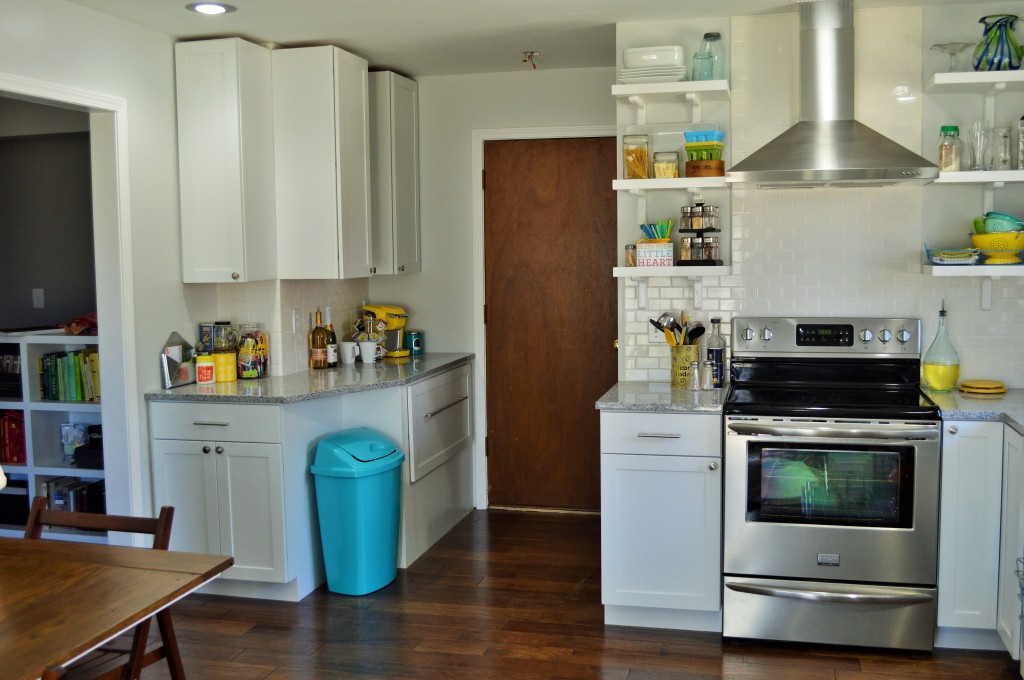 But overall, I think it was a successful, free, fun update.
Ever painted something random like a trash can before? This was a first for us, but I figure why not? Where do you stand on the in cabinet/outside of cabinet trash can debate?