One of the last projects we did in the nursery was to install a shelf above the dresser for a little more storage and place to sit a few little decor pieces.
Other than the book ledges, which are just for books, I didn't have anywhere to sit things, other than the floor or the top of the dresser, and I'm really hoping to keep this room clean and uncluttered for as long as possible.
I was nervous about starting another DIY project for this room because I had it all cleaned and ready to go, but I was pretty sure we could finish it within a couple days, and as it turned out, we had plenty of time.
We started with some basic metal brackets we found from Home Depot. To give our shelf stability, we used three brackets to span the length of the dresser.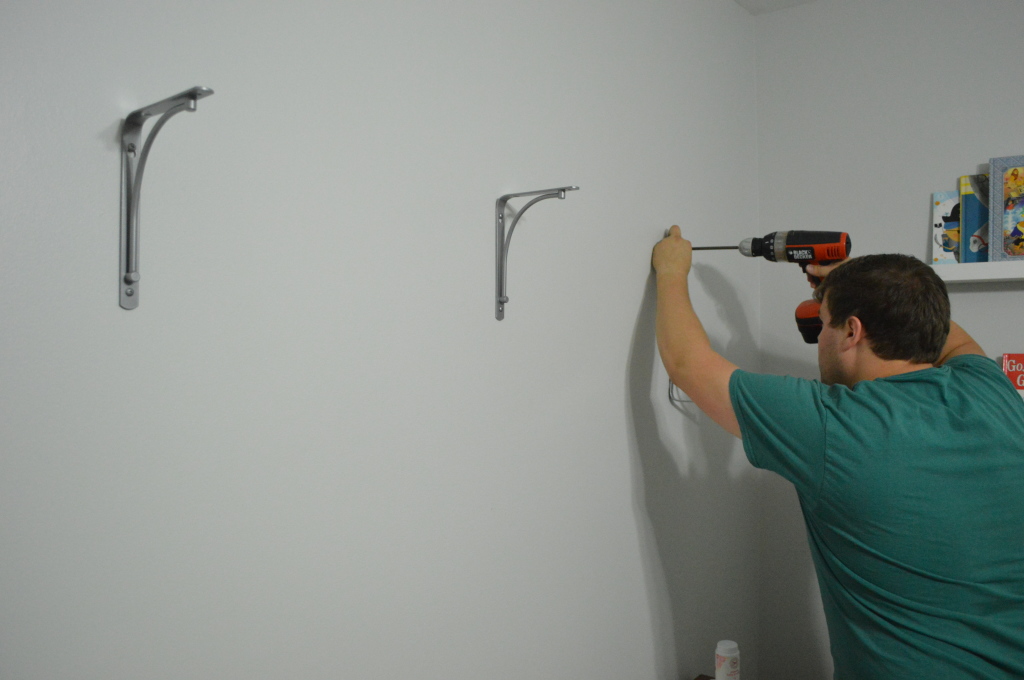 Wyatt had to fight a bit with the drywall anchors, but he got them installed just fine and they are nice and secure.
We considered just buying a ready-to-use shelf board to make this project faster and easier, but it was more expensive and I hate the laminate edges those boards have on them. Even though they tend to look fine from the beginning, it's always a place where dirt tends to catch it eventually it peels. I just prefer real wood whenever possible.
So, we grabbed a 6-foot 1×8 board from Depot and Wyatt cut it down to size and then painted it white, of course.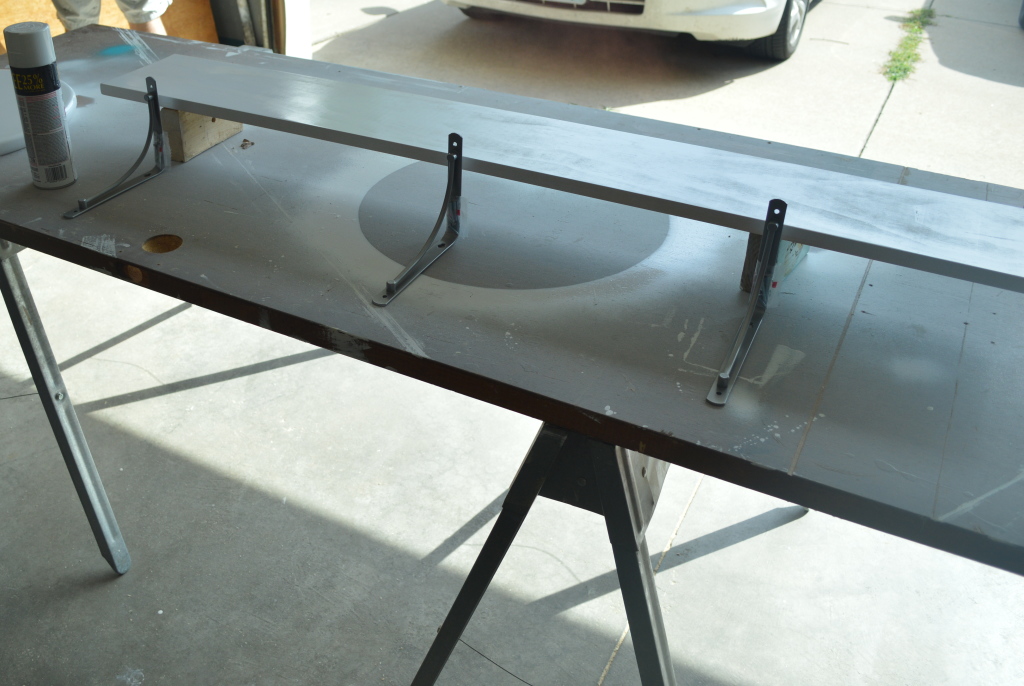 Then, he got started attaching it to the brackets.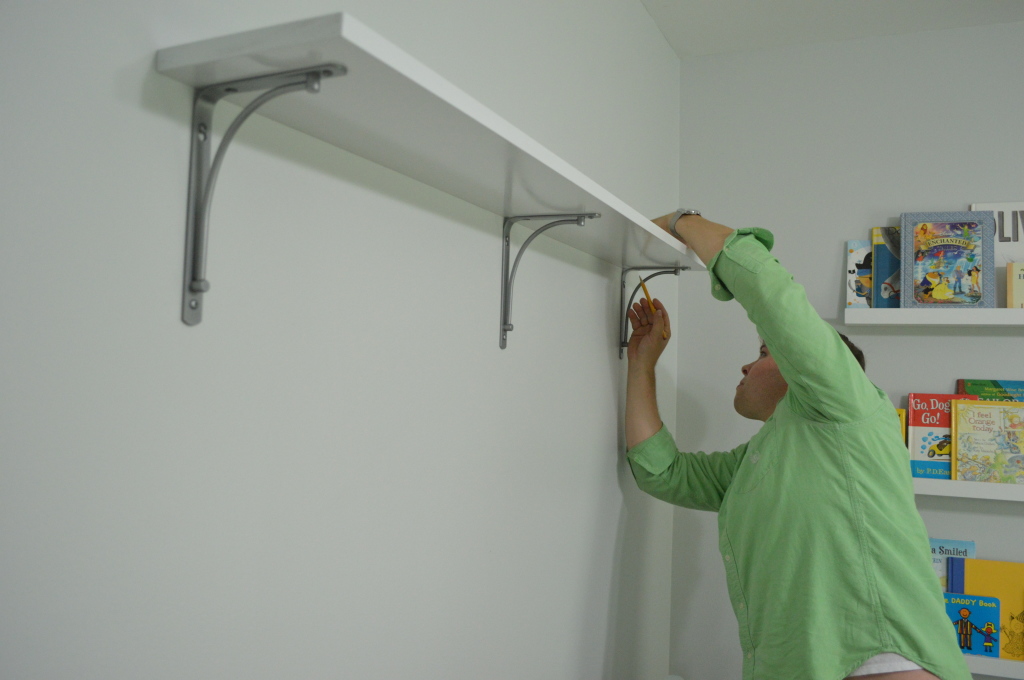 I also wanted to hang some baskets on the wall for quick and easy diaper storage so we can grab and go. For those, I had to look a little longer. After several frustrating hours of online searching, Wal-Mart came to rescue yet again.
Here's the link to these, but they also have other sizes. (And it looks like they've gone up in price—bummer!) But, here's a 3 pack that's more cost-effective.
(FYI–not affiliate links. Just trying to help.)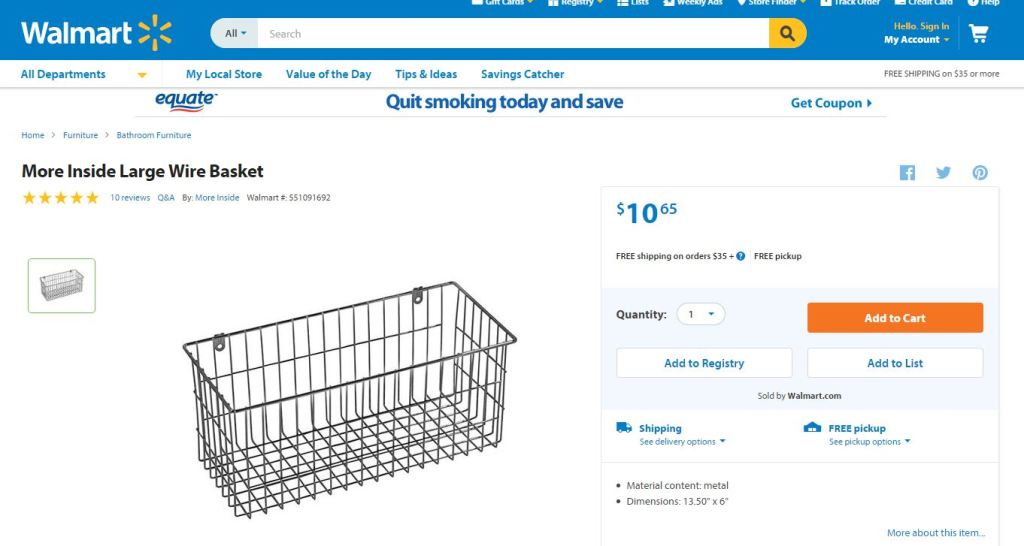 (Much to our surprise, we also found our crib and rocking chair online from Wal-Mart.)
Of course, we ended up spray painting these baskets a coral-orange color to add a little more oomph and bring in some of the other accent colors besides blue and green.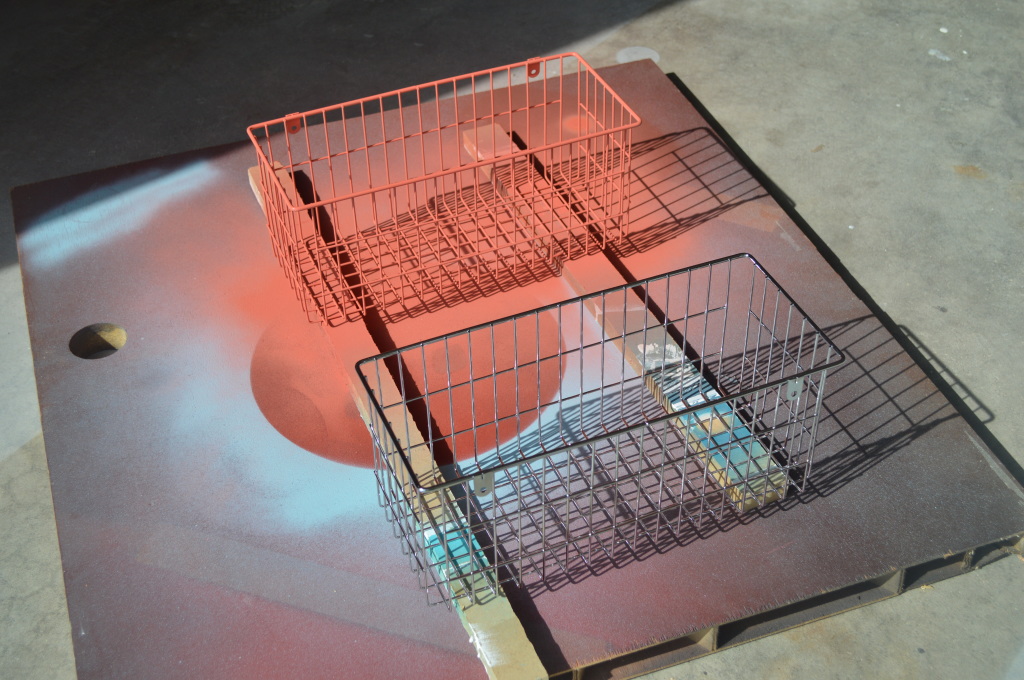 The garage workbench has been taken over by my nursery spray paint collection.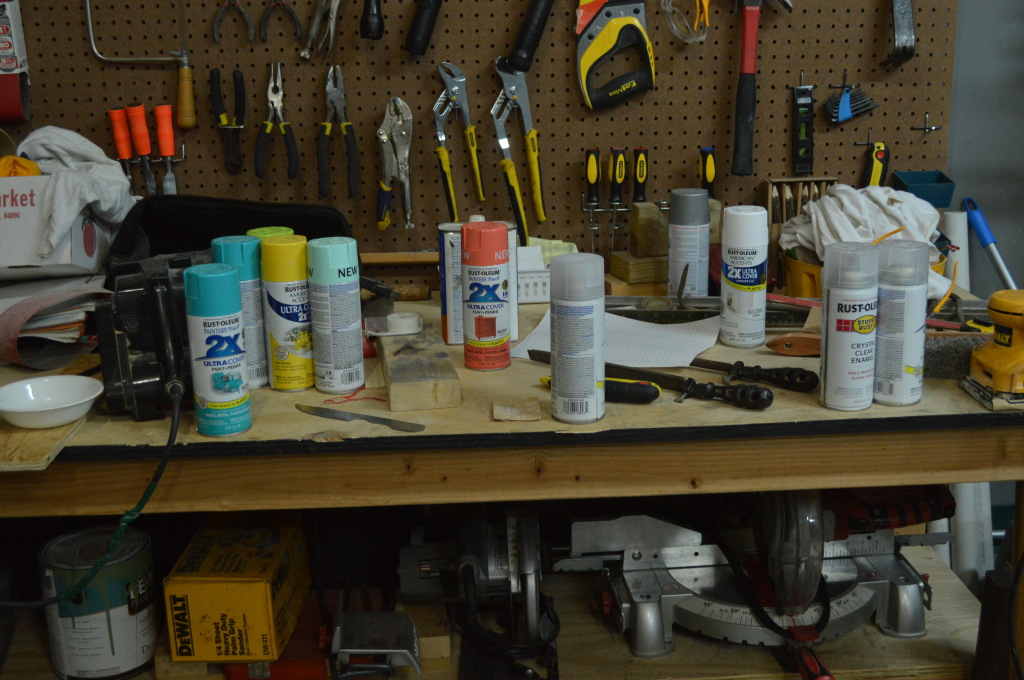 They are the perfect size for stashing diapers within arms reach. I can also stash some other diaper supplies like powder, creams, and hand sanitizer.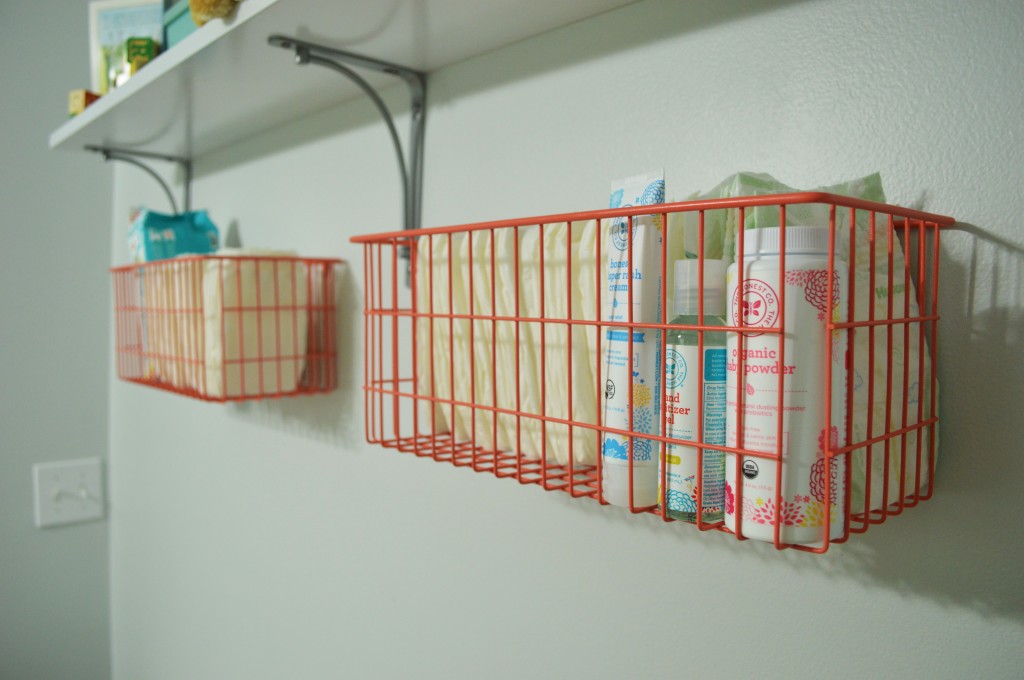 Plus, they're just cute.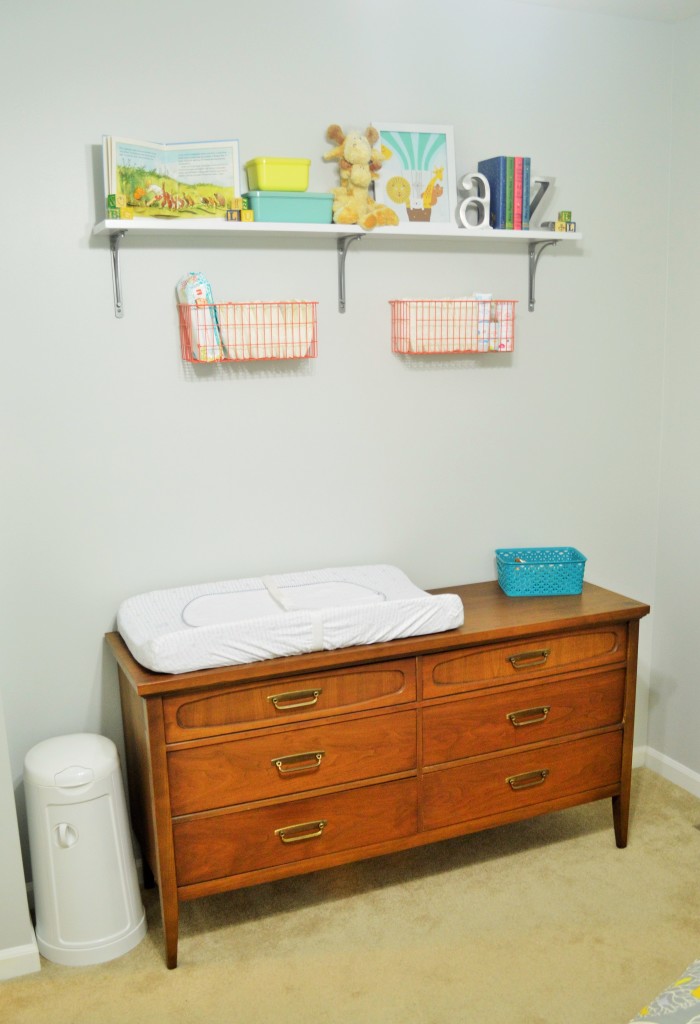 The wipes will probably end up just sitting on the top of the dresser so we can more easily dispense them.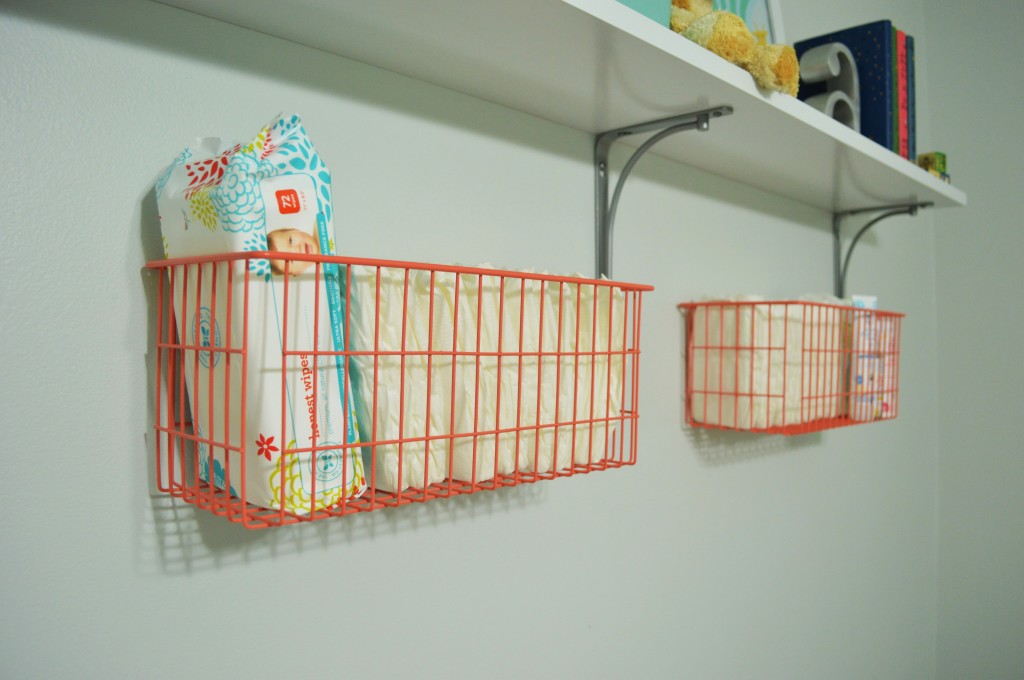 All in all, a quick little project that added a lot of function and a lot of cuteness to the room.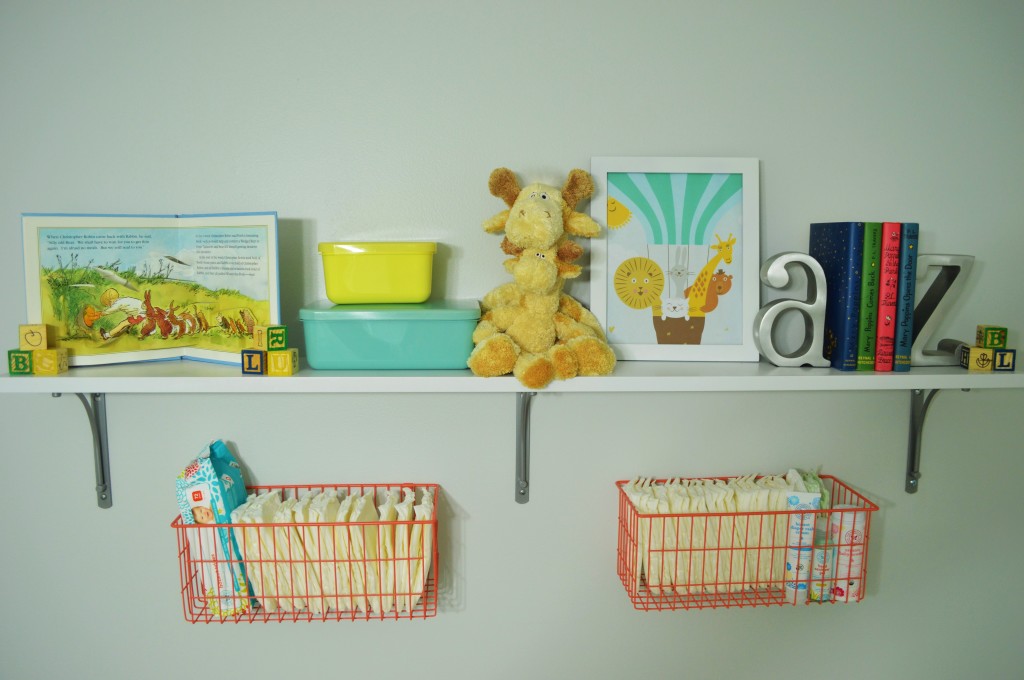 I still want to hang some sort of mobile over the changing pad for baby to look up at. But, it needs to be high enough to avoid being pulled down. It might be a good place to hang the awesome Mario mobile some friends made for Wyatt though!
What are some of your best tips for organizing a diaper-changing station? Anything we're missing in this area?