So, it's no secret we're behind on things around here. I already admitted we were not as far along with the nursery as I would like to be when I shared the mood board for that room in THIS POST. But, one thing that has been done for awhile and just not shared yet is the basement sectional. So, it's time to introduce the newest member of the household: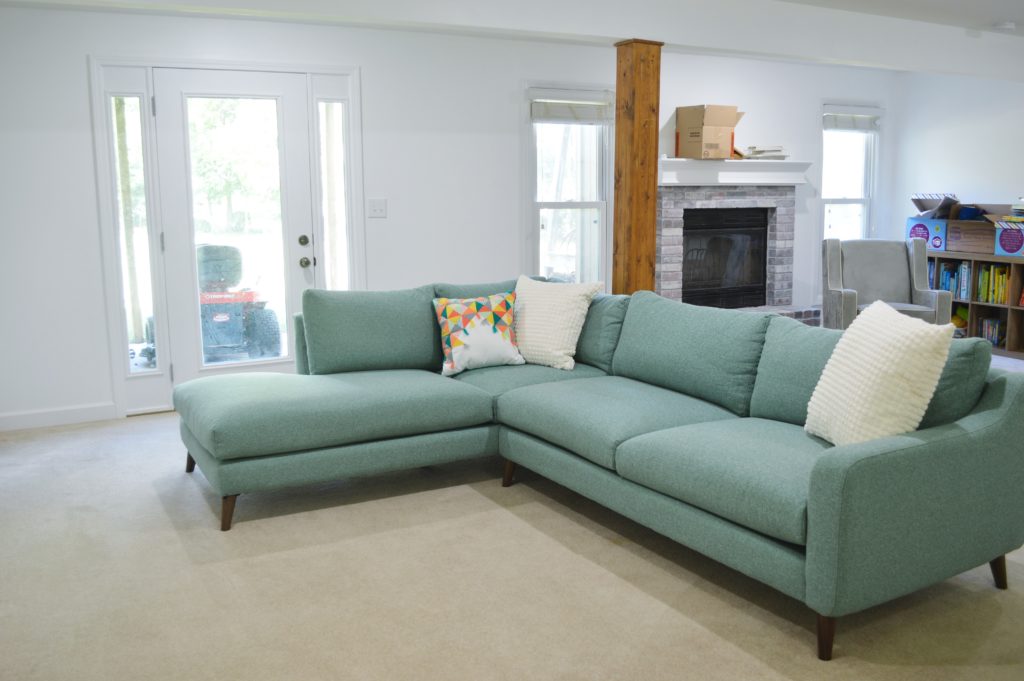 Isn't she pretty?
For anyone else in the market for a sectional, HERE'S THE LINK to grab this one for yourself. It's even on clearance right now…which maybe means it will be discontinued or something in the future? I don't know.
I searched and searched for a sectional for this space and it was a struggle to pick one after all that shopping overload. But, a few things made this one stand out:
Local – It was on display at Nebraska Furniture Mart, which is within the metro area so we could go look at it in person. I wasn't totally against ordering something online but being able to sit on and touch this before we spent a ton of money on it was a big perk.
Color – Something unique and fun without being crazy
Shape – We needed a chaise on the left side, and I was surprised at how many I found online with the chaise on the wrong side. This one ended up being able to be very customizable so it could have gone on either side, but many I looked at online weren't that way.
Size – We wanted something big, but not too big. This pushed our space a BIT tighter than we originally thought we wanted, but it works well in the space and will seat at least 6 people, assuming you don't mind cozy-ing up a bit.
Mid Century Feel – We liked the sort of subtle Mid-Century feel of this one…without it being too dedicated to that era. It's sort of transitional in that it will blend well with a few styles. Plus, it's a bit "loungier" than most mid-century looks I liked, which made it feel more comfortable and family-friendly.
I'll be honest and say we saved up and spent about $1300 on this, all options included, so it's certainly a piece we expect to have a long time, and we are hopeful it will wear well. Of course, that's very "middle of the line" when it comes to sectional costs, but it's a lot for us to spend on any one item.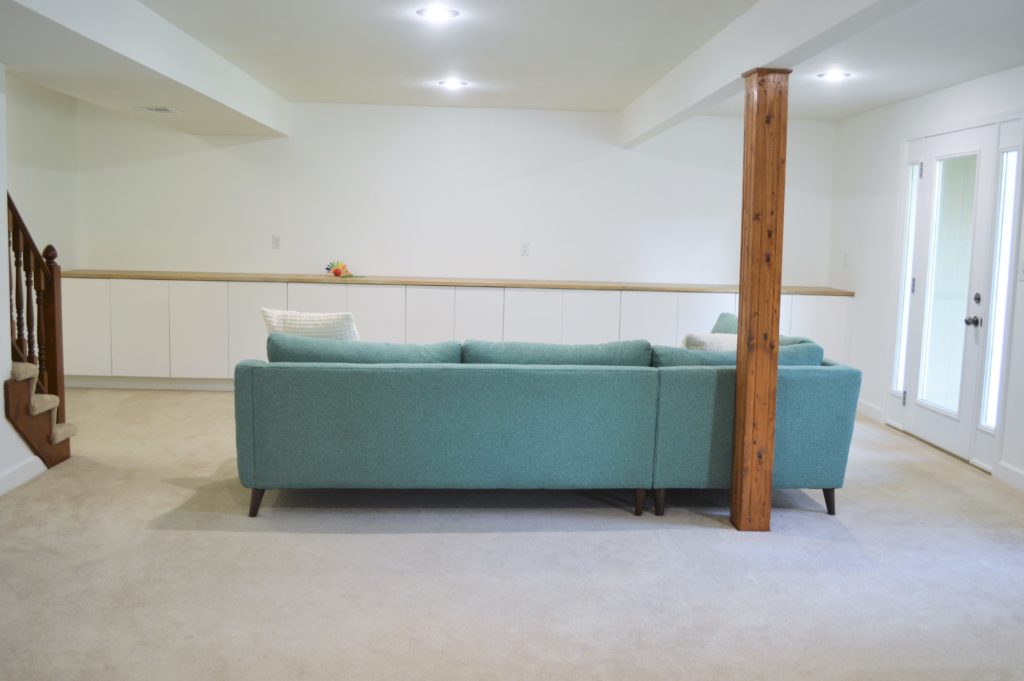 I was a bit worried about pulling the trigger to get the fun aqua color, but it feels fresh and bright, and honestly, I've liked teal/turquoise/aqua for many years without wavering, so I think it's a pretty safe bet for us. I don't think Wyatt ever feels "tired" of a look. He's more of an "if it isn't broken, don't replace it," kinda guy when it comes to design. Ha!
We did get the fabric protection on it as well so that should help a lot considering it's a fairly light-colored fabric. We had that on our upstairs couches and they have looked pretty good for almost 7 years now. The cushion stuffing is getting a bit deflated, and we have been a lot more lax in letting Will have snacks on the couch lately…so it's showing some age now-ha! #ToddlerLife
I think a dark couch would have looked a little too stark in such a light space since we have so much white in this room. And…really, is an aqua sofa going to get any more stained by grape juice than a light gray sofa? Not really. So, we went for it.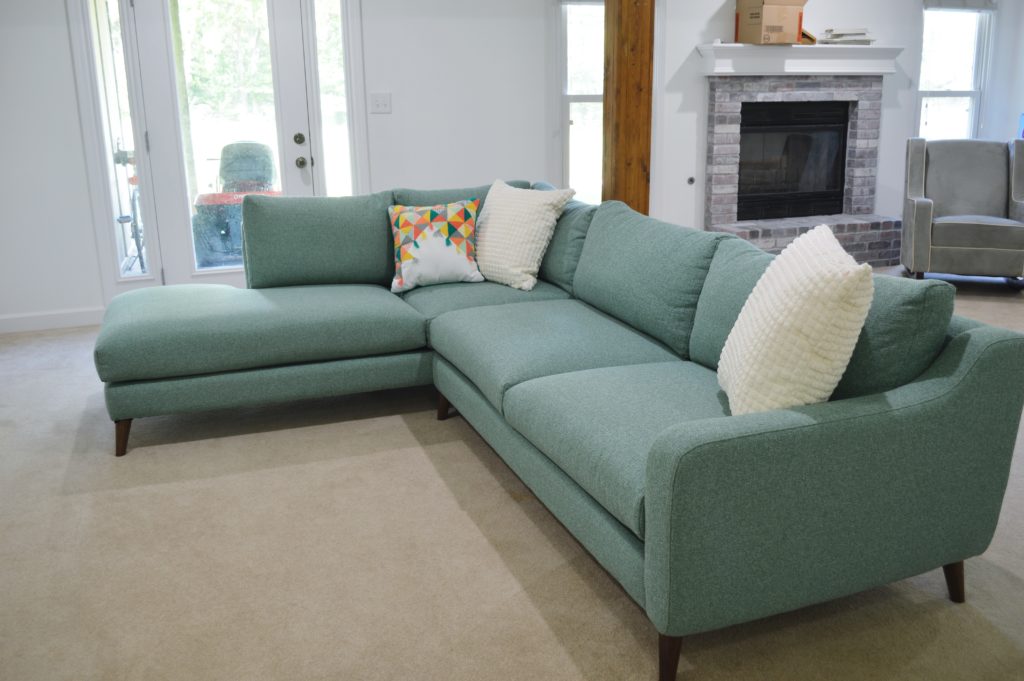 Surprisingly, I actually liked two of the three pillows that came with the sectional. I usually really dislike the sort of "stock" throw pillows that come with couches, but these white fuzzy ones were cute and soft. So, we'll use them for awhile until I get tired of them.
We also want a coffee table. Preferably something round and family friendly. I may also get a rug for the front of the couch to make it extra cozy feeling. But Wyatt thinks rugs on carpet are a bit unnecessary unless you're covering a stain or something. Maybe I'll just have to spill something before he lets me get one?
Kidding.
Of course.
I would never.
Right?
Now just to get some other pieces in this space so it isn't quite so stark! Maybe including a new, bigger TV? I told Wyatt I was considering that and I think I caught him off guard. I'm not really a big TV person, so adding another one to the house feels a bit redundant, but I just think a tiny TV will look so odd on that big wall…so, we'll see where we end up.
What do you think? Big TV or big artwork on the wall? Both? It's a big wall, there might be room!