It's been warm out recently, which has me dreaming of flowers and garden goodies…but I know it's too early, so I had to satisfy myself with some indoor gardening.
If you recall, one of my goals for the year was to add more house plants to our house…and keep them alive. A couple weekends ago, I grabbed two new little babies at Home Depot and got them planted in nice ceramic pots.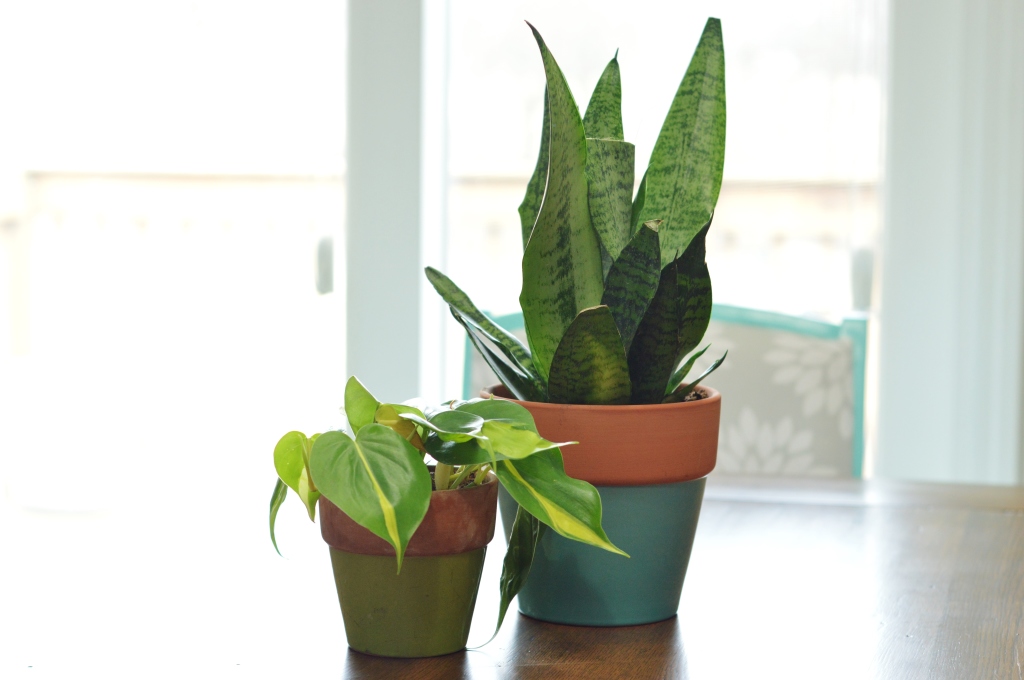 These pots are also from Home Depot and are really affordable. You can grab them online, here and here, if you're interested.
I'm really pleased with how these new plant friends look after a couple weeks at home.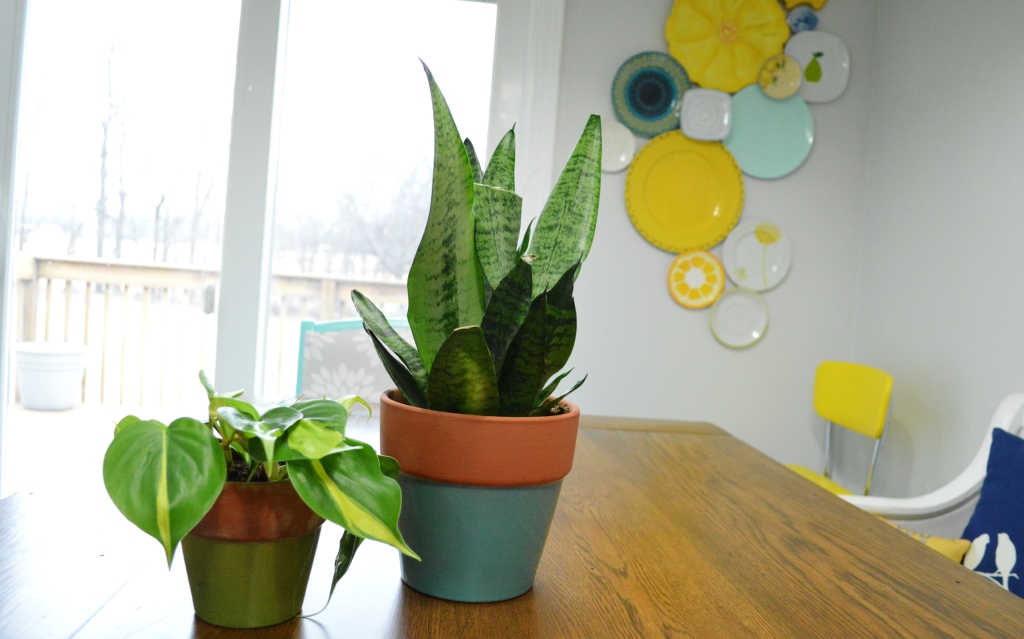 This big one on the right is my favorite, as it is huge and was less than $3. Plus, it's just pretty. I have no experience with these, but I'm really hopeful I can keep it alive. Anyone have any advice or tips?
I'm only cautiously optimistic about the little guy, but fingers crossed I can figure out what he likes, too. It's always a tricky dance to get the watering schedule down for a new plant. Established ones are easier and less fussy.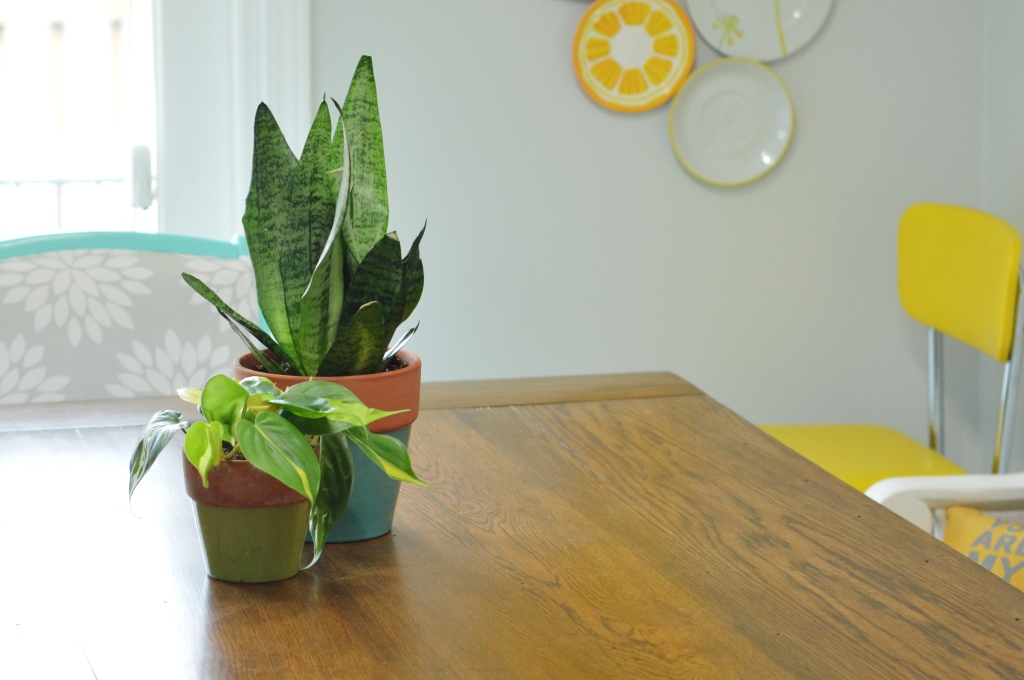 Like this guy, who pretty much just takes care of himself now. (I do water him once a week or so, and fill his little water globe from time to time as a backup.) I also have re-stake him every so often (and did after snapping this photo) because his arms get a little wobbly.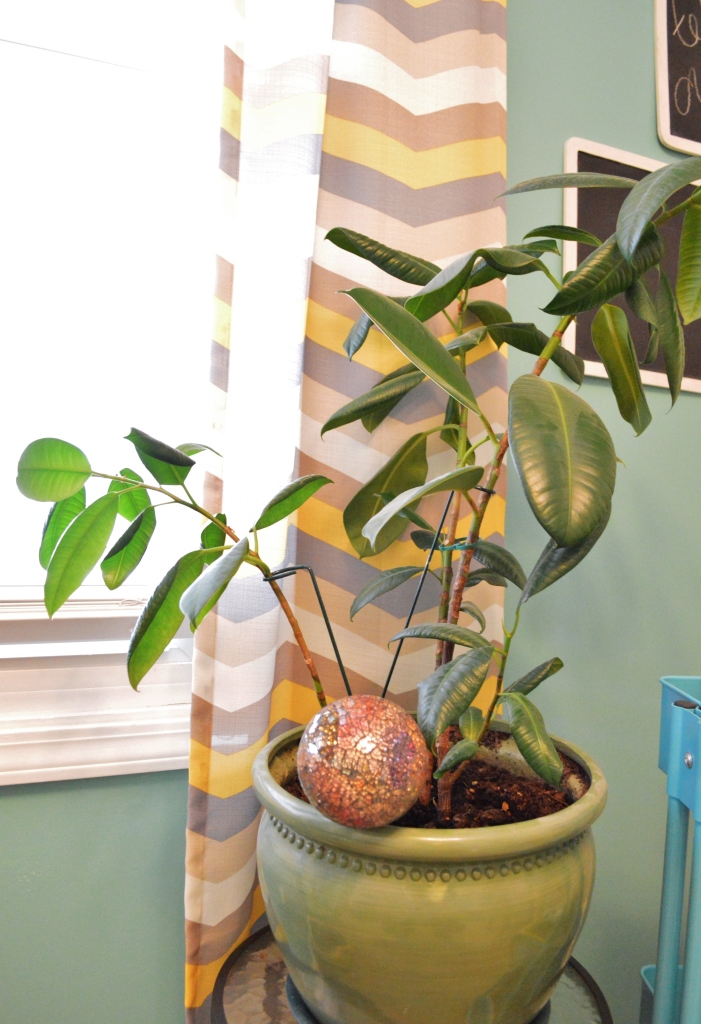 Sadly, I did say goodbye to one I got as a birthday gift last year (right before Will was born…so it got a little neglected for awhile) but I also have had really great success with my little Christmas cactus babies. They are perfect in our new honeycomb shelves over the TV.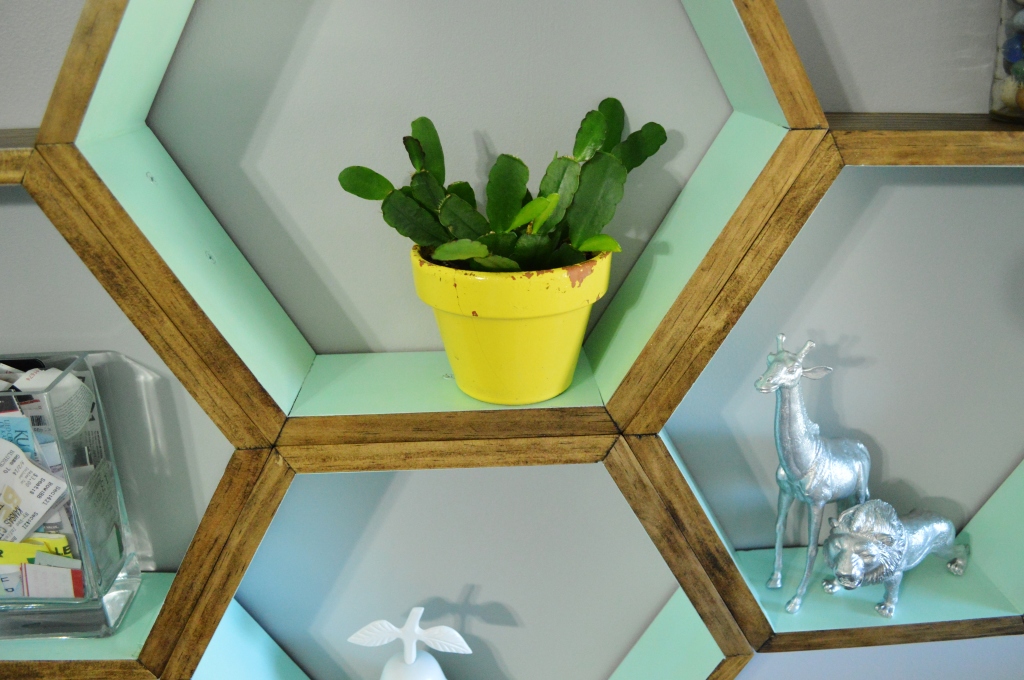 I took them from cuttings from the original granddaddy Christmas cactus I've managed to keep alive and thriving since Easter 2014. This guy was a gift from my mother-in-law. I can't believe how big it's gotten (I've had to repot it twice to give it a bigger home.)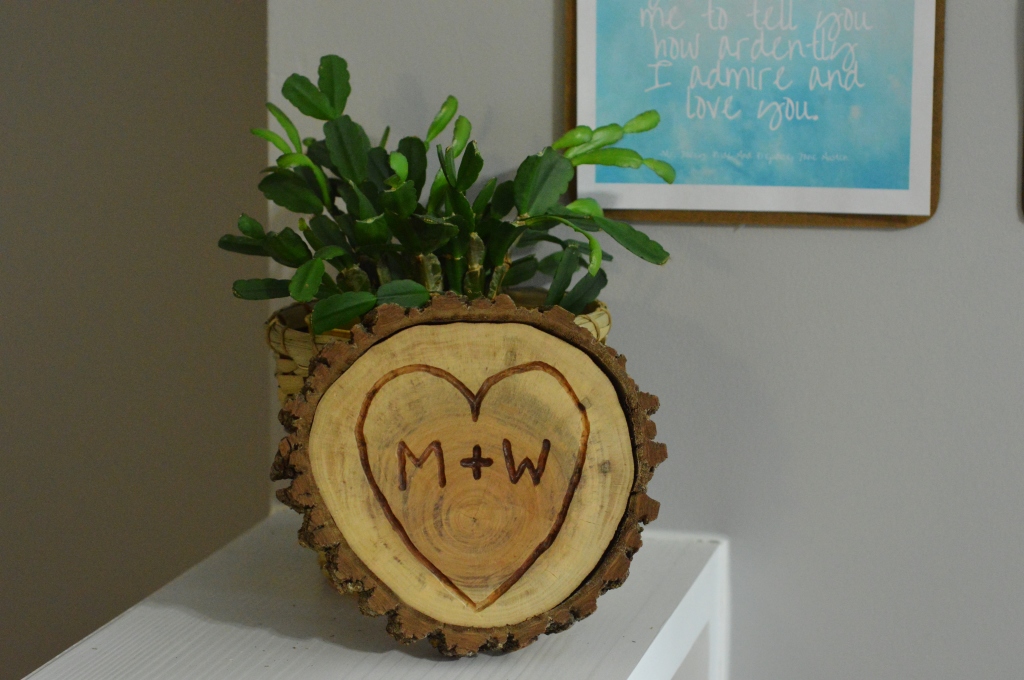 All in all, I now have three established cuttings from my two original plants, including one that lives happily in the hall bathroom.
Please excuse the awful-looking mirror. Will has discovered splashing during bathtime and the entire room (not really but it seems like) gets soaked and all drippy every time.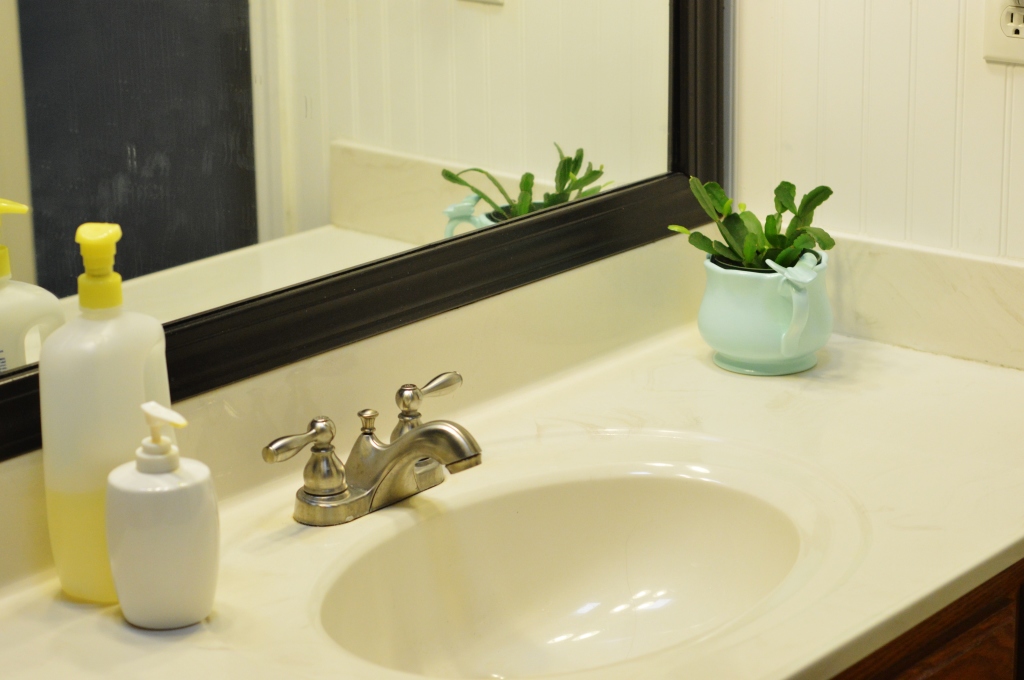 This little guy was taken as a cutting in November and has a bunch of new growth. See those little light green "leaves" coming out the top of the larger, darker "leaves?" He's doing awesome.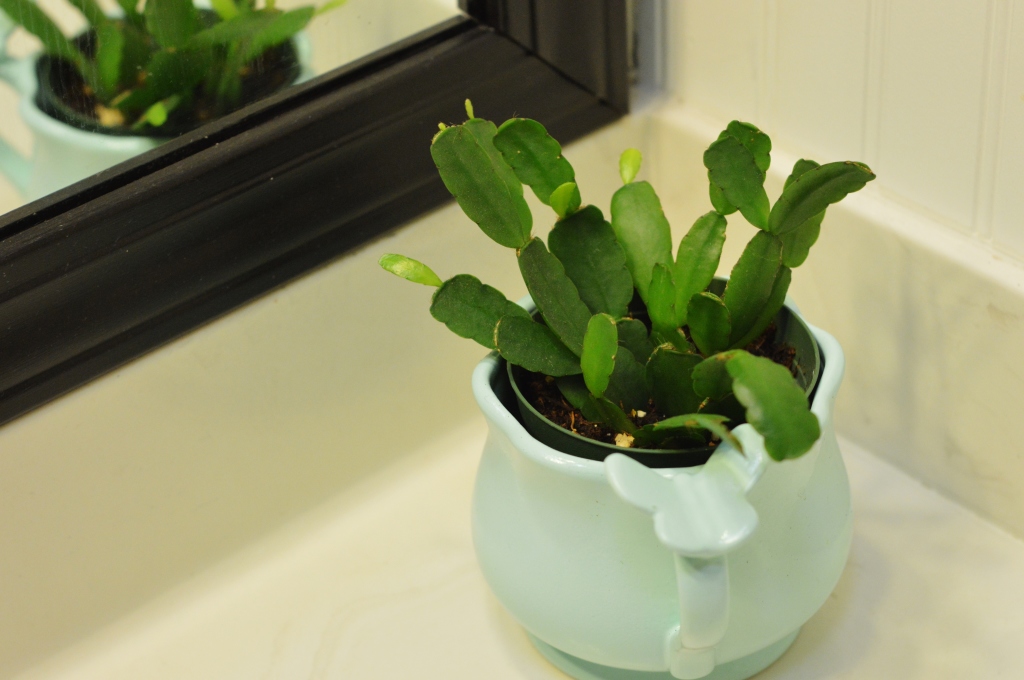 And, I have four new little babies taken as cuttings in January that I'm hoping to keep alive and spread around the house or even give as gifts if I can manage to keep them alive and thriving until then…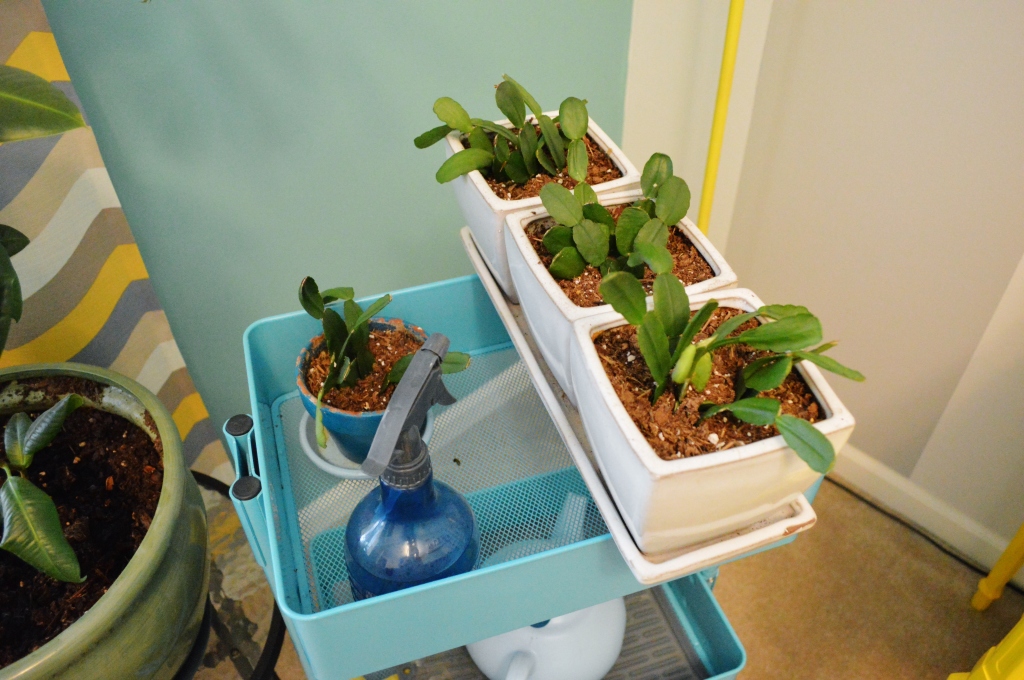 I'm a little disappointed and jealous because I just found out my brother-in-law and his girlfriend managed to get their little Christmas cactus from last Easter to bloom…so that's my next goal for those guys. But, I'm still pleased with my plant project so far.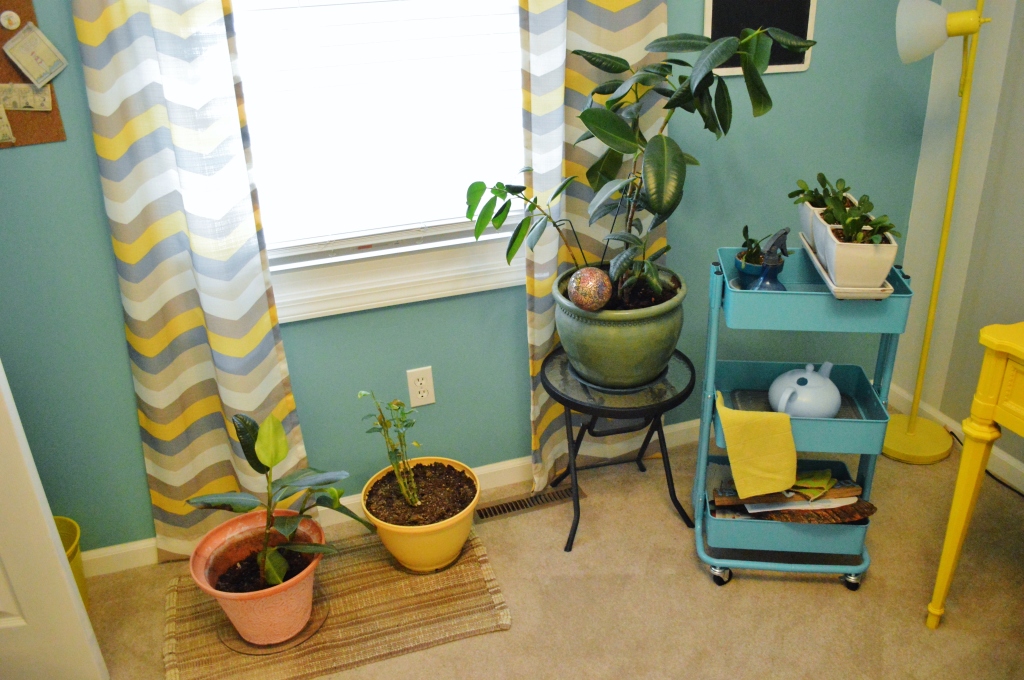 I do have to admit that I'm having a little trouble with these two… (One is a cutting from my mom from the same plant I got the big, floppy-armed friend on the right in the full photo above. The other I bought last year and have struggled with since bringing him home.)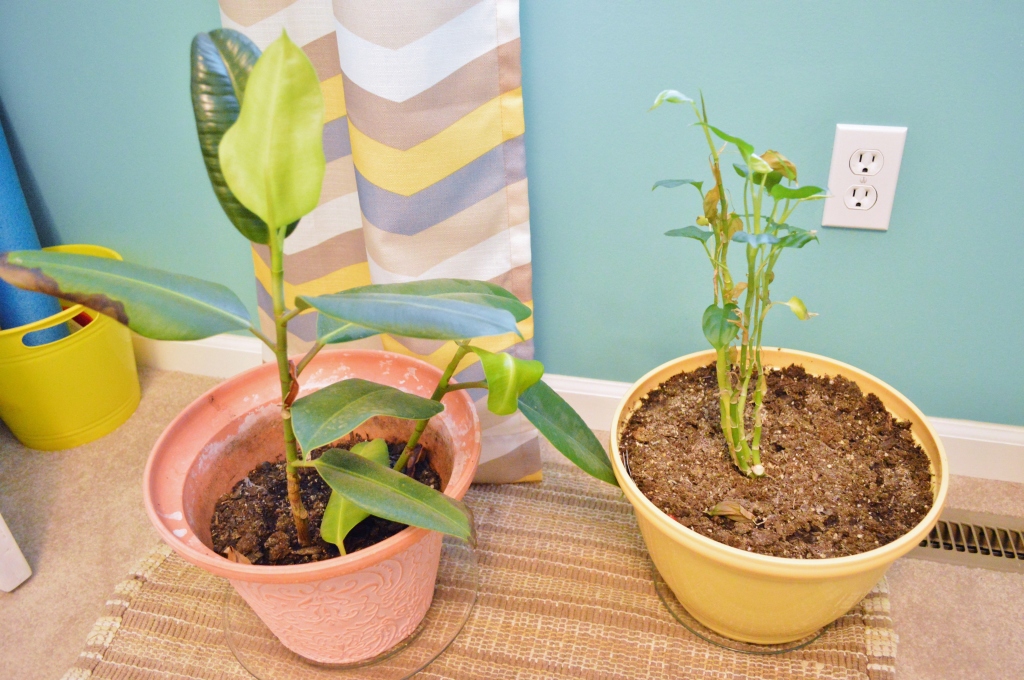 I just can't seem to keep them totally happy. But, I'm not ready to admit defeat yet.
(For a photo of what the sad little guy on the right should look like, and his sad journey in his time at our house, read this post and scroll down to the last photo for a before shot.)
What are your favorite house plants? I want to buy a few more but can't decide which ones!
Also, what are your favorite types of pots? I like the ones with incorporated water dishes to prevent puddles on surfaces…but have trouble finding those that aren't plastic…ideas?