Say that 10 times fast, I dare you.
Also, say that I'm a slacker because it's already the end of October and I am just now decorating me house for fall. It's okay, I deserve it.
To be honest, until last Thursday, my front door still looked like this: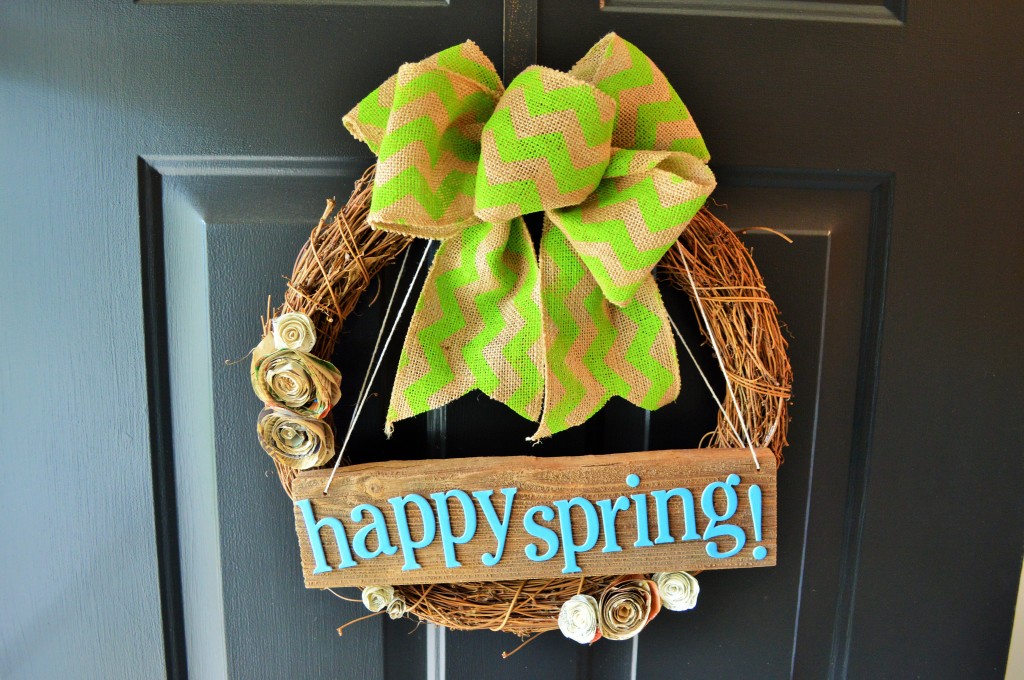 I know, I know. But I've been more concerned with kitchen stuff and living life than making wreaths lately, people.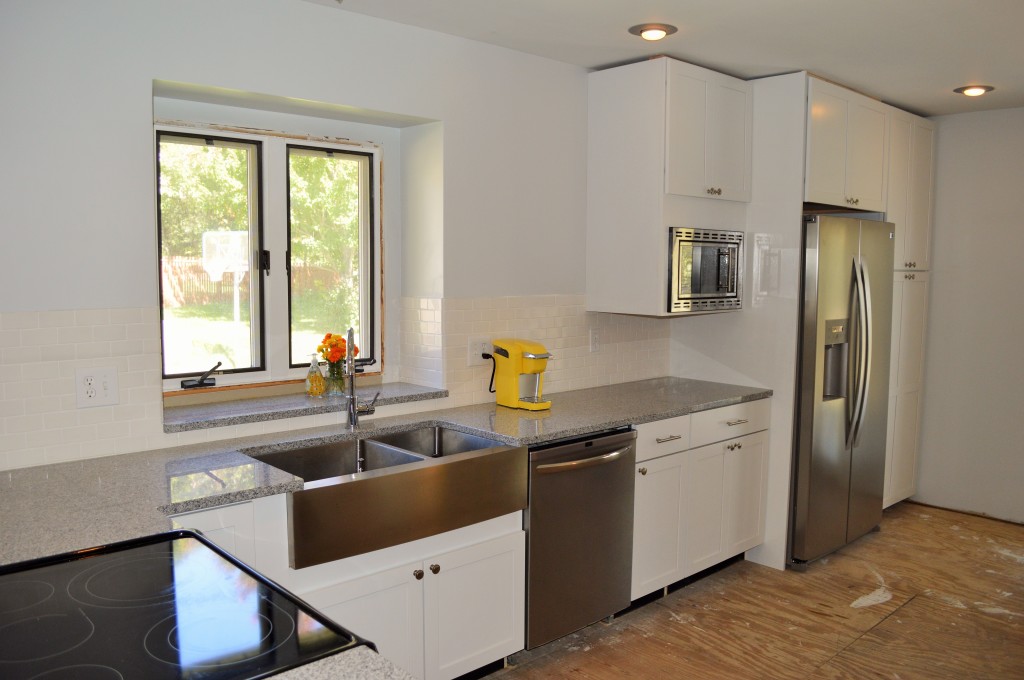 Not to worry though, because we're now in the correct season over here, guys. Our new fall-themed wreath is officially in place. Never mind that I totally missed summer. We're in fall now and we're moving on with life because that's just the way it goes.
Wanna know a secret? This wreath was FREE. I didn't spend a penny on it because I had all the supplies on hand. And it's EASY. Even my craft-challenged mom and sister could do this. (Yes, I'm talking to you guys. Yes, you can do this.)
Here's how I made it:
Step 1. I gathered a bunch of pine cones my mom had collected for me from her yard last year. I bet if you don't have pine cones of your own, you can ask your neighbors to gather a few of theirs. Or you could buy them, but I'd try to get them for free first. 🙂
One tip: Stick them in the freezer for a few days to kill any potential critters that might be hiding in these if you do get them straight from nature, though. 🙂
You can also cut pine cones to make them fit. I had mostly long skinny pine cones, which I liked, but if you wanted to go with a more round pine cone look, like this one, just cut them in half with scissors.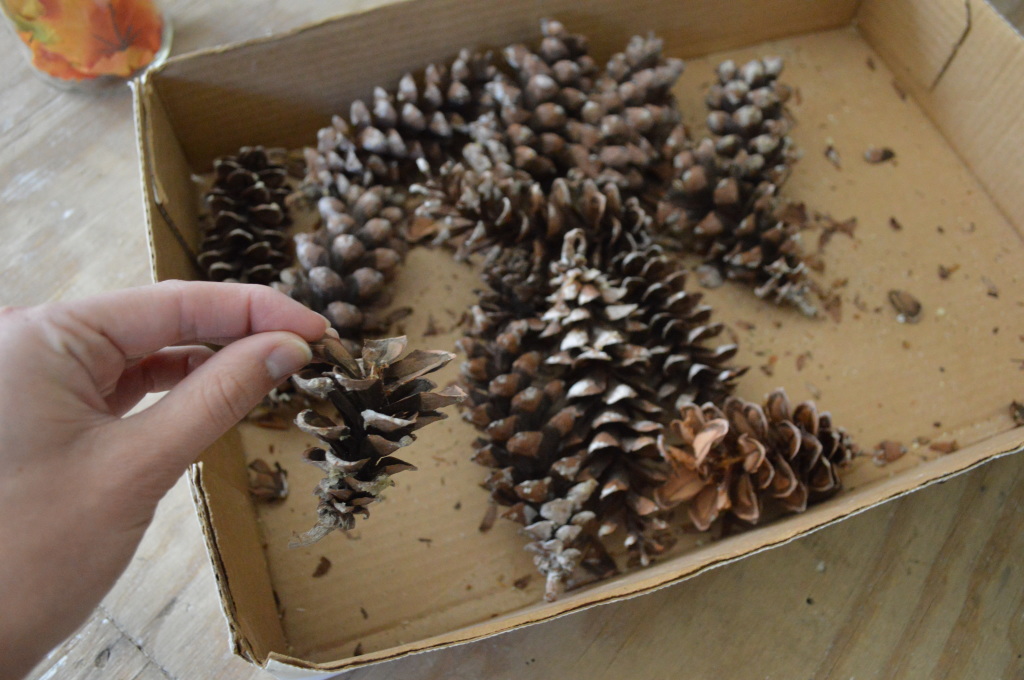 Step 2. Cut out a circle (or square, or triangle–whatever you like!) from cardboard and start hot gluing pine cones to your wreath.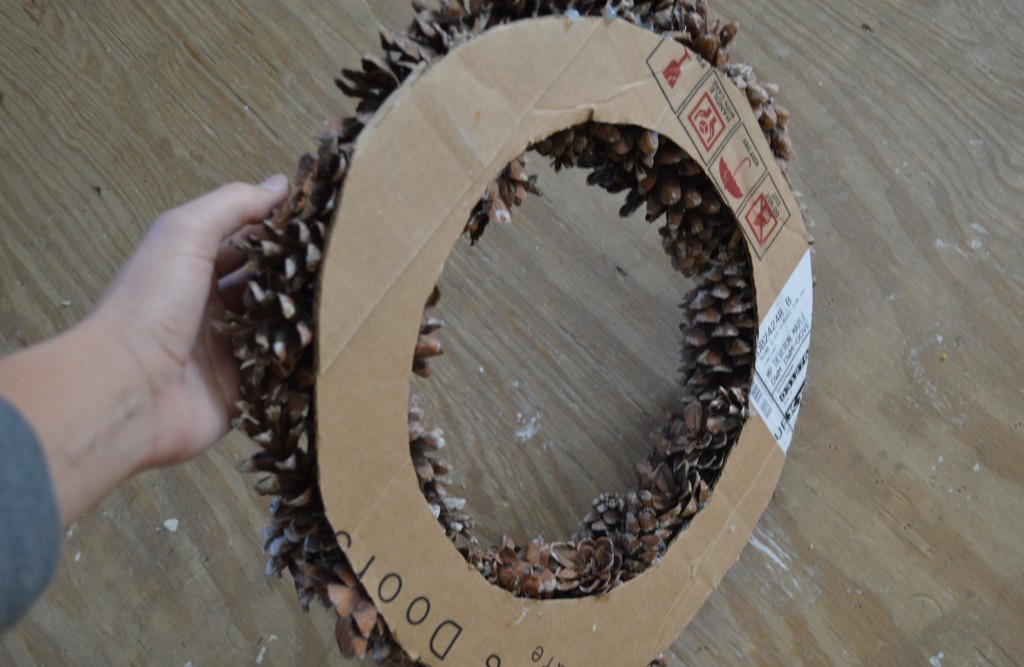 It will use a lot of hot glue and you'll need to really squish them down to get them to stick to each other and to the cardboard, but just work with it and you'll get it.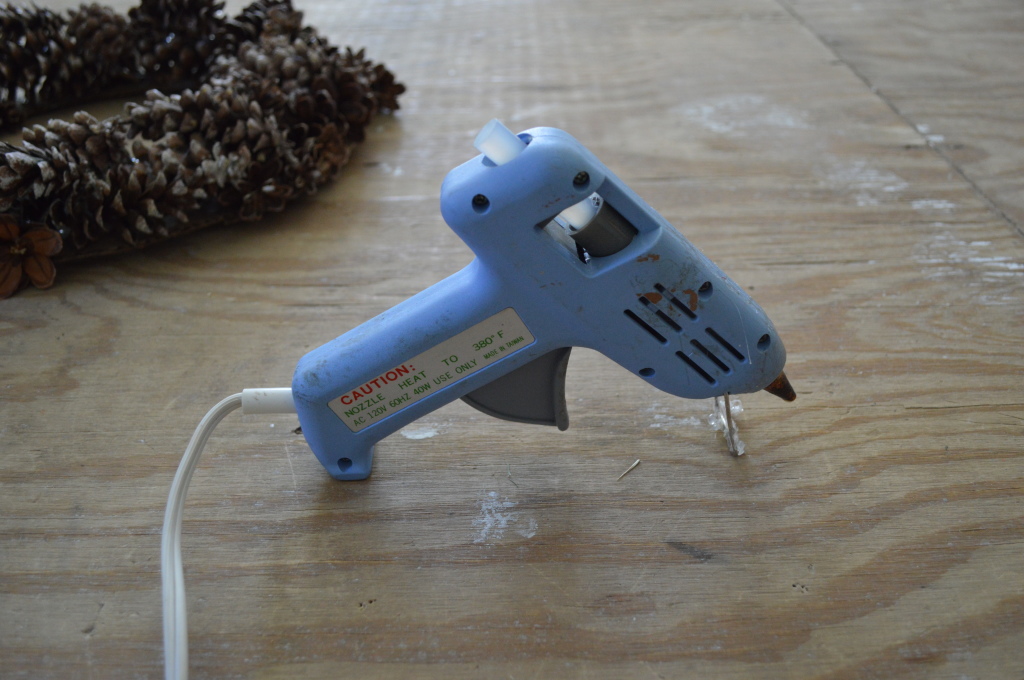 Warning: sap will get all over you during this process. Also, don't burn your fingers, like I ALWAYS do working with hot glue.
I also made sure to stick some smaller pine cones (trimmed from larger ones) on the inside and outside edges to hide all the cardboard. See how the inside edge disappears with the extra little ones on there? The left side is done in the photo below.
Keep in mind, it will be hanging straight, so you don't need to cover everything from the side view, just the front, and maybe any edges that will be super visible when someone comes in the door. No one will see this top view once it's installed.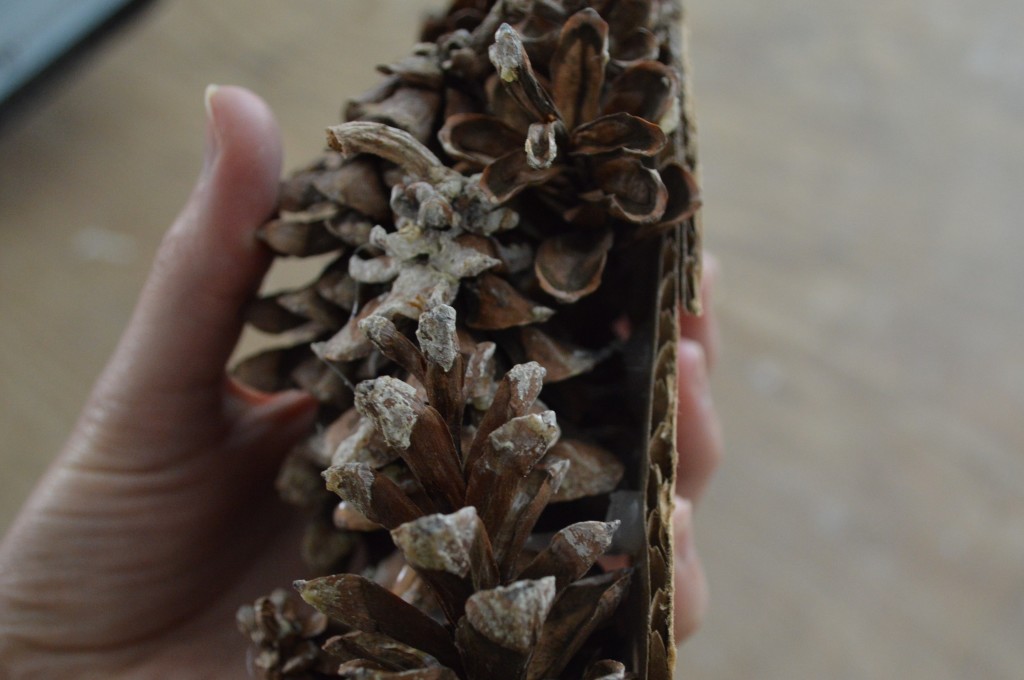 Just keep adding pine cones until you're happy with the way your wreath looks.
Step 3: Admire your work. I mean, really, it's a neat looking project.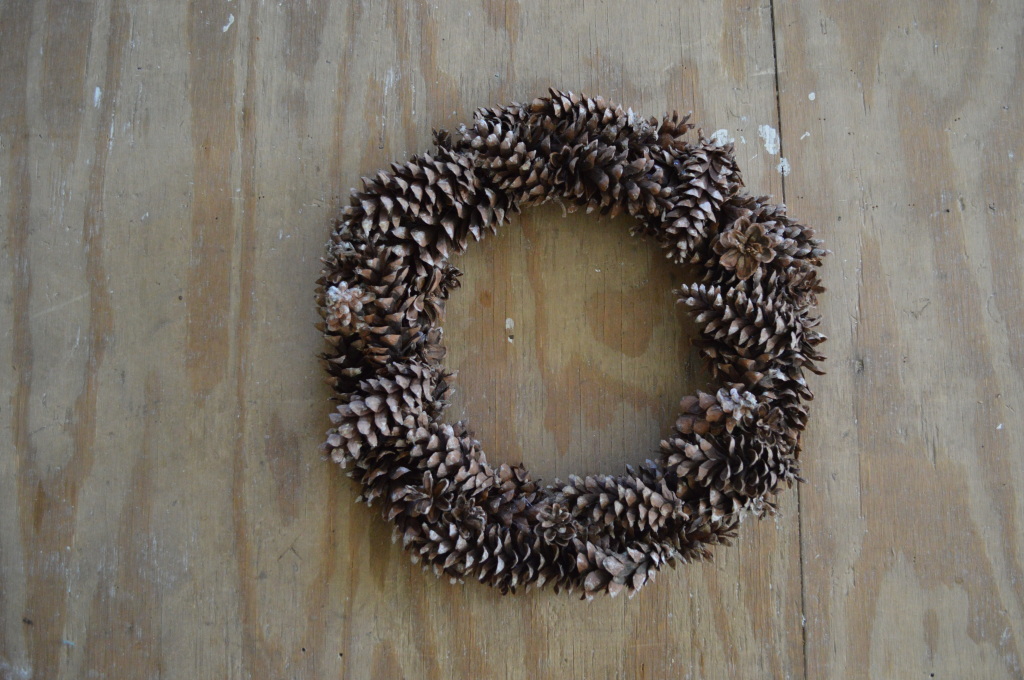 To hang my wreath, I created a loop from printed burlap ribbon (from clearance at Wal-Mart this past winter) and stapled it around the wreath.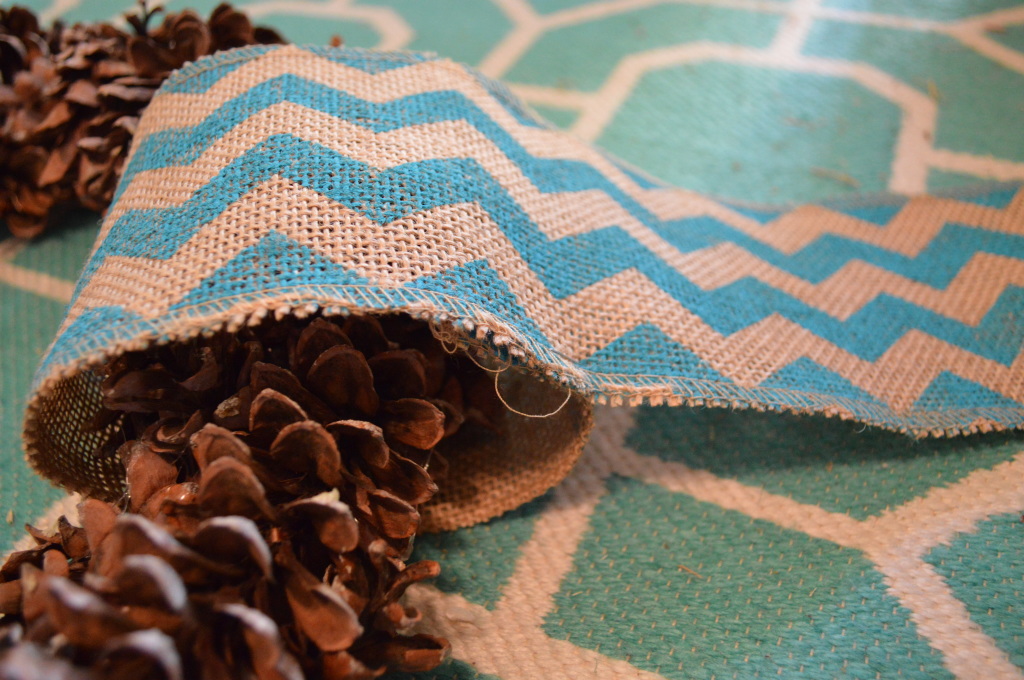 Then, I used some removable sticky wall hangers from 3M (I got a free sample in the mail) and stuck this wreath to the door using the ribbon on top of the door.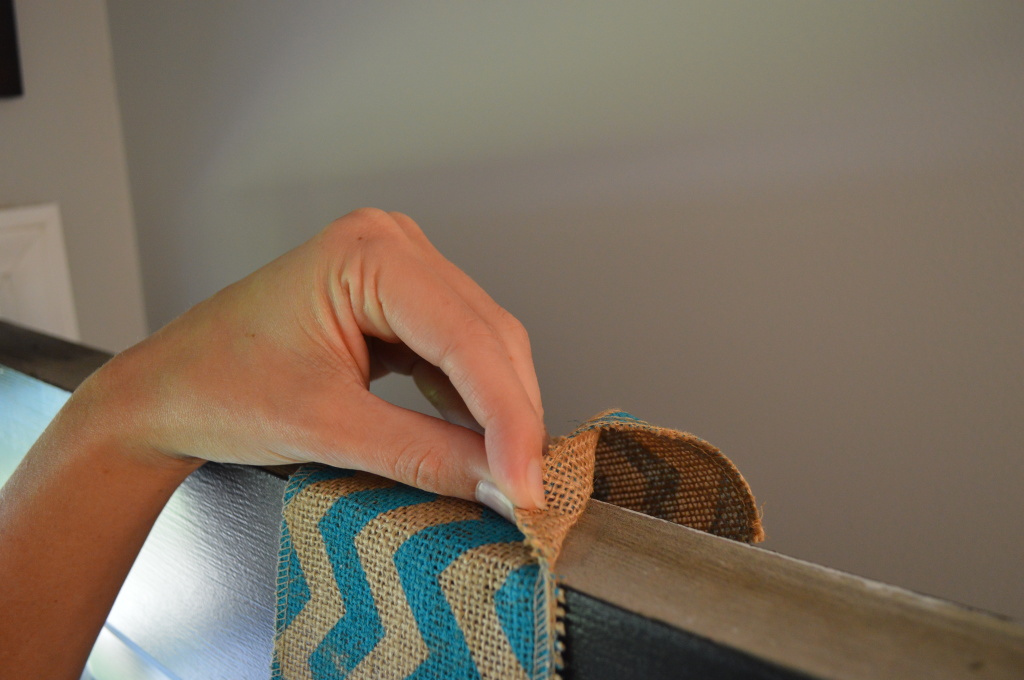 I also stuck a couple pins in the wood up there to make sure it didn't fall.
I uses another sticky wall hanger thing on the back of the cardboard on the wreath itself to keep it snug against the door.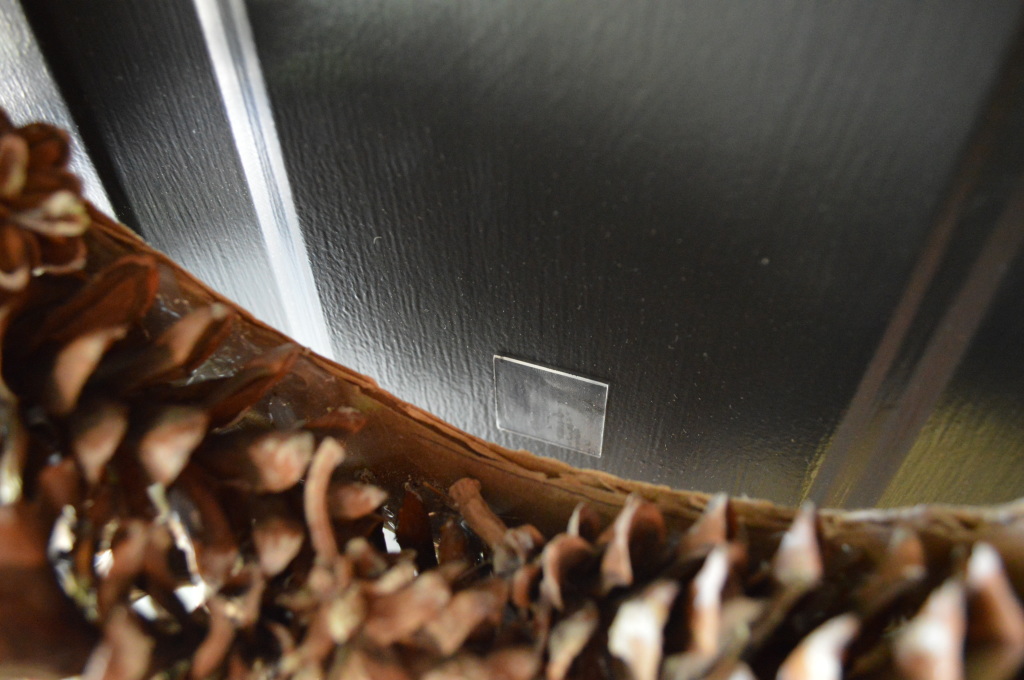 Then, to give this a more fall-ish look, I cut out an "s" from more scrap cardboard, which we have a lot of from our cabinet boxes.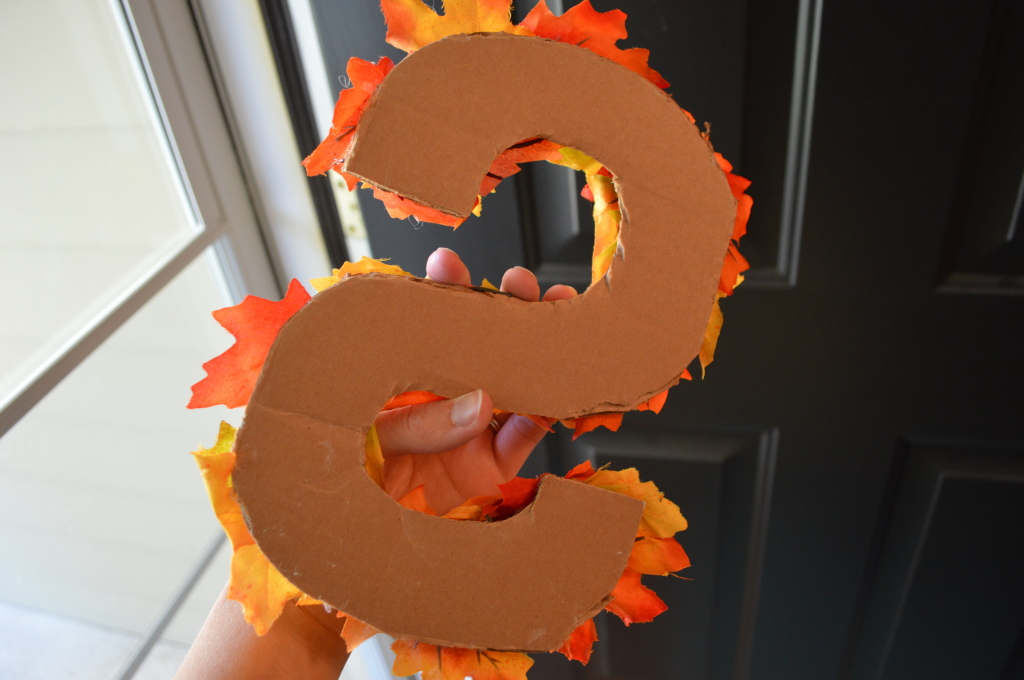 I hot glued a bunch of fake leaves (but you could use real if you prefer. I wanted mine to last from year to year without making a huge crumbly mess.) all over it.
Again, the tops and sides won't show, but just hold it up a few times as you are making it and cover anything that bothers you. I'm telling you guys, recycling crafts are my favorite crafts. Who doesn't love turning trash into something lovely?
Then, I just wedged my "S" inside the pine cones to hold it in place. you could glue it, but I wanted it to be removable so I could use this pine cone wreath for winter, too. (Maybe with white and red ribbon?)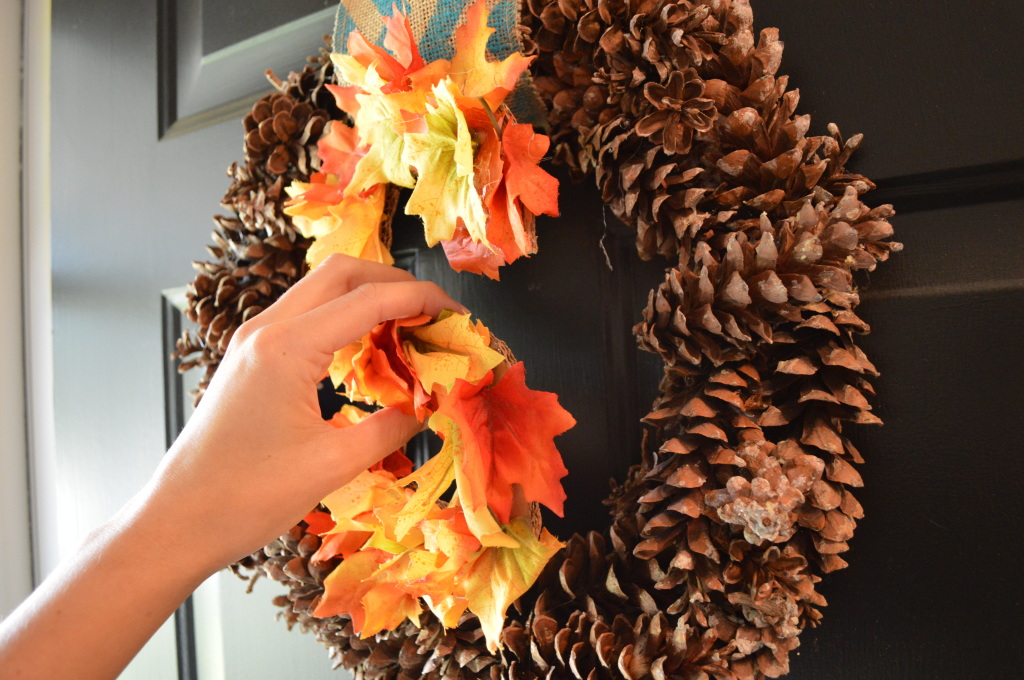 And ta-da! A free, DIY fall wreath!
I had a great time making this. It had been too long since I'd done anything crafty. Plus, I got to create while chatting with some lovely ladies at church during a craft night. And, my door got a makeover for the first time since…May? Sheesh!
Plus, this was easy—and free! (If you didn't already have the ribbon, leaves, and pine cones, I'd guess you could still do this for under $15 or $20, depending on how expensive your pine cones are. But I'm telling you, the free ones from outside work great!)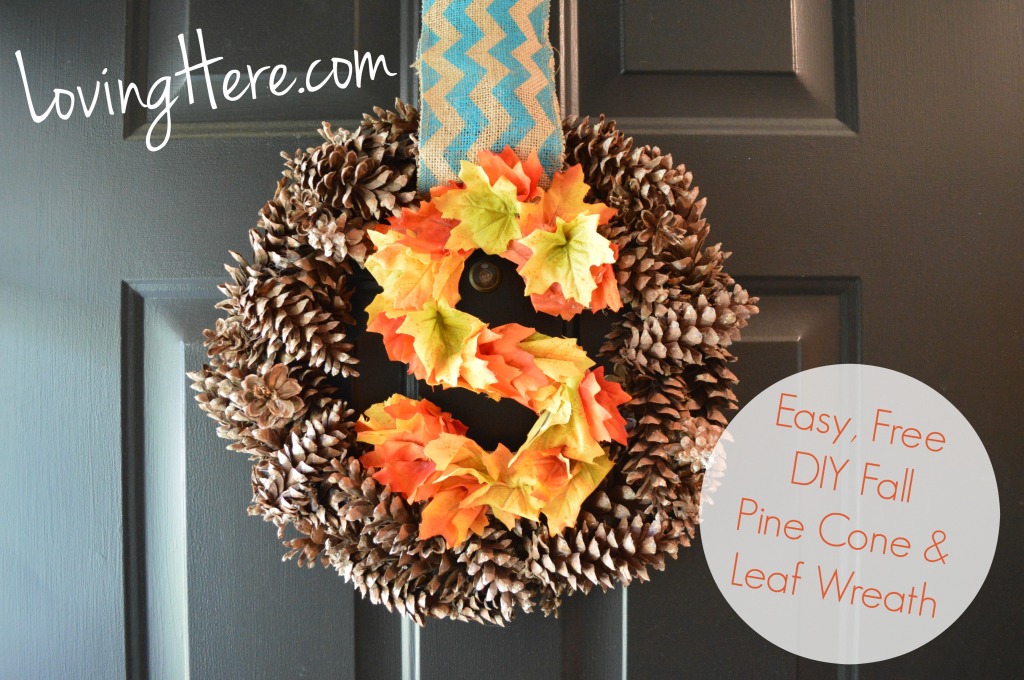 Are you all decorated for fall? Have any pine cones in your yard to turn into a wreath? I'd love to see your festive decorations and ideas! Have suggestions for transitioning this wreath for the winter season?