~ This post contains affiliate links, which means we will receive a small commission if you make a purchase after clicking on our direct link. Don't worry, it doesn't cost you anything extra. And, we won't recommend anything we're not personally a fan of! Please reach out if you have any questions about sponsorship or ads on our blog. We're happy to help explain how this works, and as always, thank you for reading and supporting LovingHere! ~
---
A couple weekends ago, we were able to tackle a few small projects that have been in the back on my mind for quite some time now.
First up, some paint fixes.
Over a year ago, I grabbed a paint brush and our living room paint and went to work touching up some scuffs, which was fine until I got carried away and ended up making more work for myself. You see, our living room and hallway are the same gray color, but the entryway is actually slightly lighter. It's a long story, but basically, we bought one color too light on the paint sample card and ended up with two very similar shades of gray. Since our entryway is pretty dark (there's no window if the door is closed), I decided to go ahead and use the lighter shade in there.  Not only did it keep us from wasting the paint, but it also helped brighten that space just a little bit. The result of lighter paint in a darker area is that the entryway looks to be an identical color to the living room, which is exactly what I was going for. However, I forgot that little detail as I was happily touching up paint scuffs in my pregnant haze and ended up cursing myself as I realized my mistake and tried frantically to wipe off as much of the wet paint as I could. Honestly, it turned out to be not that noticeable…but, I still noticed.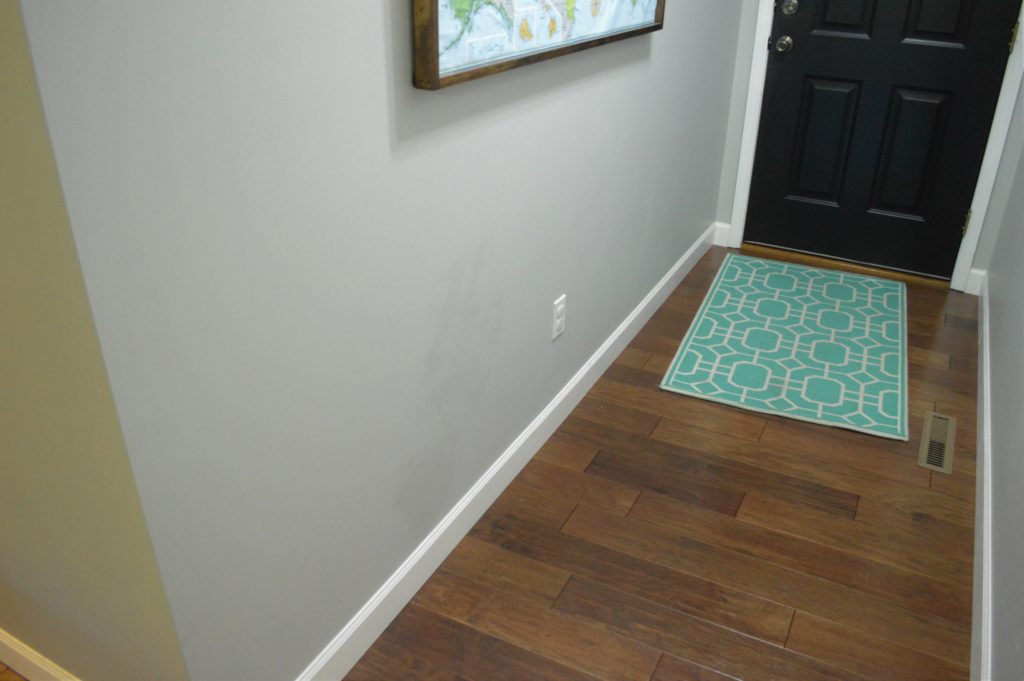 Fast forward to this weekend, and I finally, more than a year later, got it fixed. Better late than never?
I also touched up a few places where the paint had chipped off above the doorways from me taping up various banners and decorations. Oops.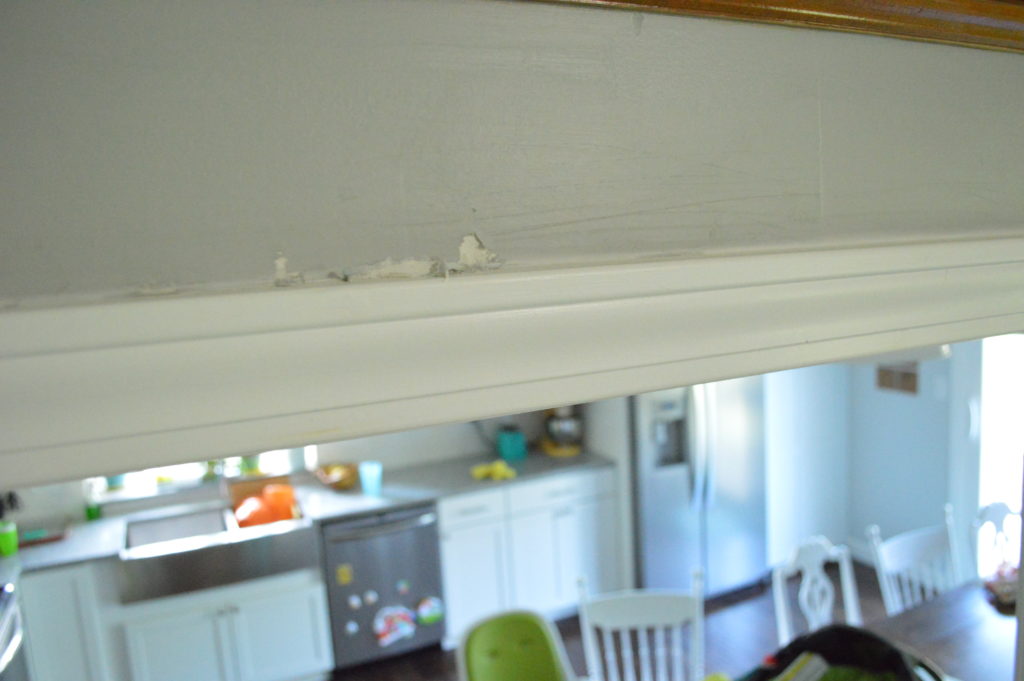 And then, I went to work in the hallway where we tend to scuff things while carrying big items, or when Will throws toys into them.
I also touched up the white trim in a few places (but not enough as I just saw more places where it was needed today—it's never done!) and a couple spots on our white painted doors and even in the kitchen. It's amazing how fast walls get smeared, scuffed, dented, and scratched around here.
The second update reminds me of my grandma's house, and we won't win any design awards for this, but thought it was worth admitting in case it helps anyone else.
The vents in our house are almost all located right in front of windows…which means when we close the curtains in our bedroom at night, the air billows out the curtains and gets lost going right up the wall behind them instead of going out into the room. We have been propping the curtains back against the wall with a notebook or a shoe, or whatever we can find, but that wasn't a very good solution, admittedly.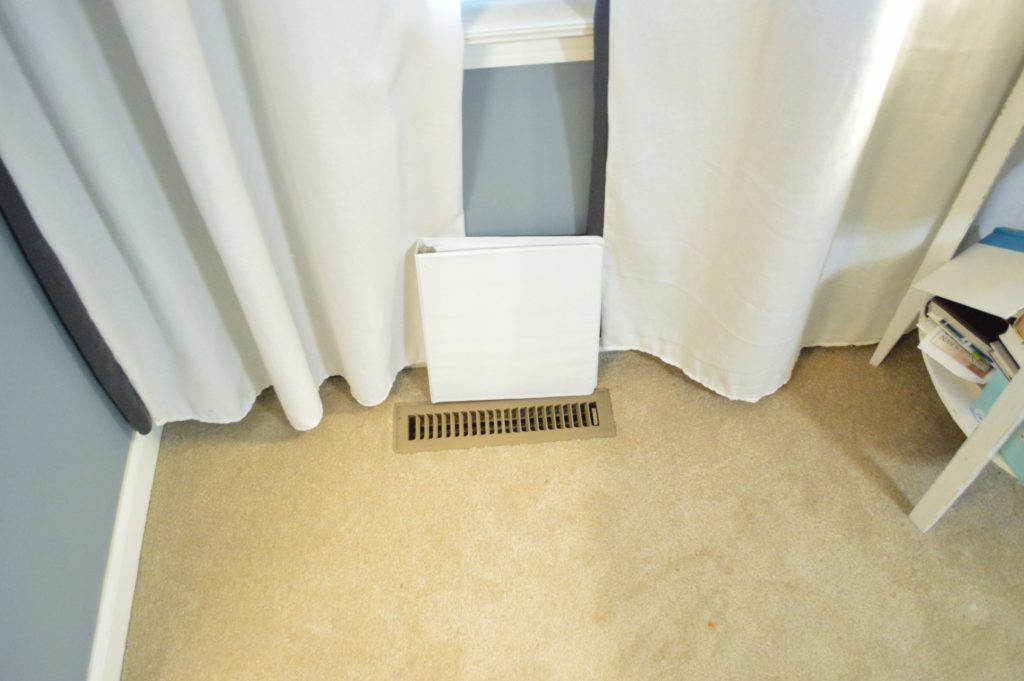 So, we finally grabbed two of those cheap plastic air vent diverter things from Home Depot to direct the air out and away from the wall and out into the room. It made a huge difference right away, but we started to notice the floor being really cold in there. Since hot air rises, and cold air sinks, there wasn't as much circulation as there should have been.
So, Wyatt also switched the rotation of our ceiling fan in there to draw air up rather than push it down. So now, the vents push cold air out along the floor, and the fan sucks it up and distributes it around the room. Ah, modern conveniences, right? And plastic vent covers that I could have stolen from my grandma's house. Who would have thought?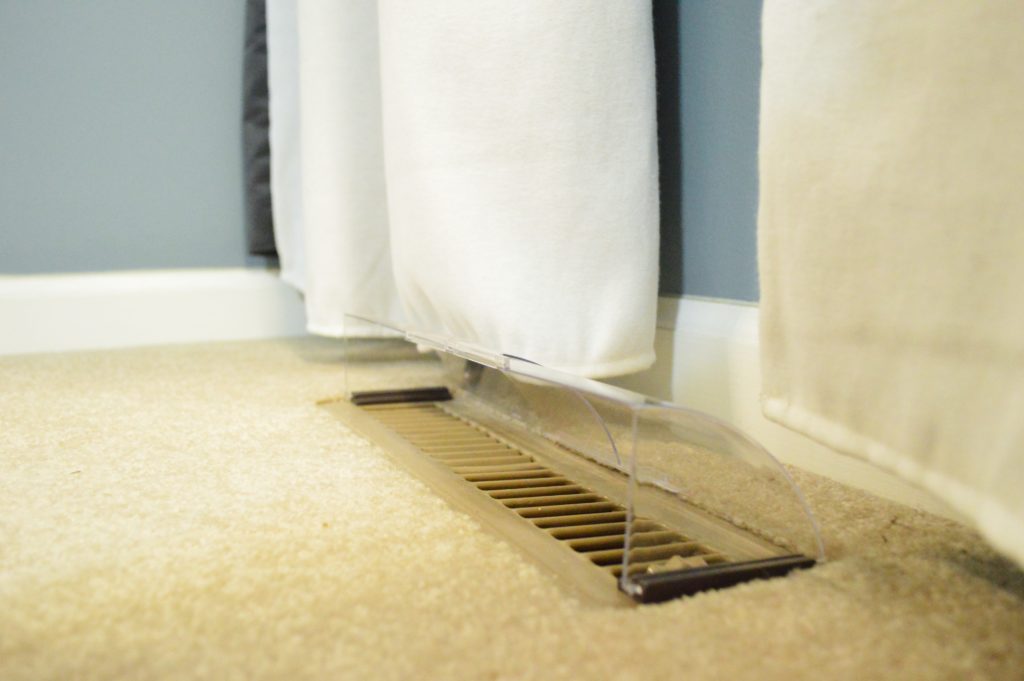 Here's a link so you can get your own E/O Heat and Air Deflector
. It's a cheap fix, but it made our nights a lot more comfortable, especially considering Will's room is cooler than ours anyway since it's first on the HVAC run. So, we have to turn the air up (to make it warmer) for his sake, while we're sweating. Not anymore!
Also, I wanted to share a little update that not many people would probably need but that helped us a lot and made us feel really clever.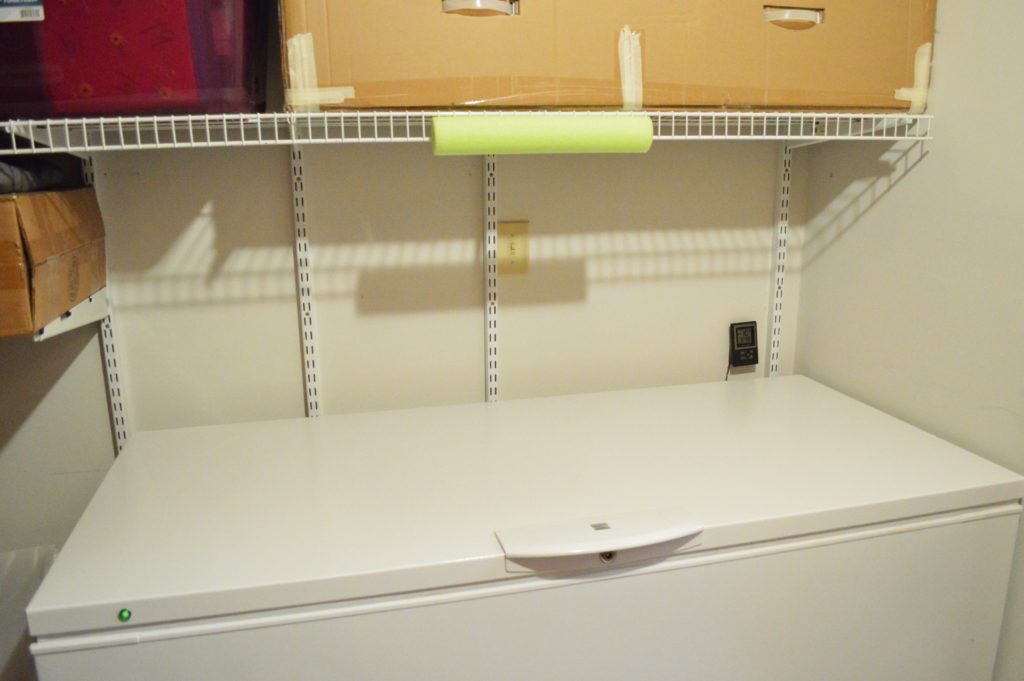 Yep, that's a pool noodle, and it solved the issue of our freezer being just barely too tall to fit under the shelf above it when we open the door. We used some scraps of fabric to wrap around it at first, but that wasn't very effective. The pool noodle, grabbed for $1 at a discount store, cut through to the hole in the middle and trimmed to fit the space we needed, has been perfect. Easy, cheap solution that might help spark someone else's creative problem solving.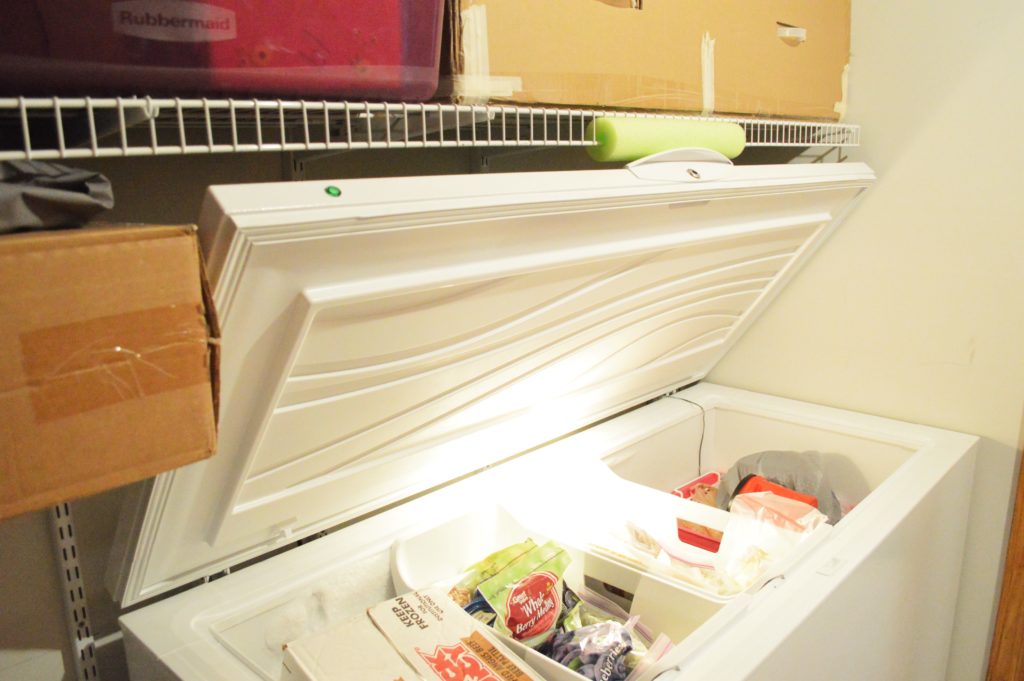 So, there are a few simple fixes we've managed lately. Maybe one of them will help one of you!
Now, if anyone wants to offer a solution to the problem of not having enough hours in the day for work, not having the motivation to do the dishes, or not having anything to eat for dinner because I forgot to thaw meat again, I'm all ears!