Hi friends, happy weekend!
I thought it would be fun to share a little glimpse into our day-to-day routine since we haven't been doing any big projects lately. Plus, we use this little corner of the internet as a sort of journal of our lives, chronicling projects and trips and life milestones. So, I'm sharing photos I've snapped in our daily moments over the last week to give you a little behind the scenes look at who we are and what our lives look like right now.
(For more of our daily lives, don't forget to follow me on Instagram here, and on my personal account here. And Wyatt's personal account here.)
The day starts with Wyatt's alarm going off. He gets up between 6 and 7:30 am, depending on his schedule at work for the day. If I'm lucky, Will sleeps until at least 7:30.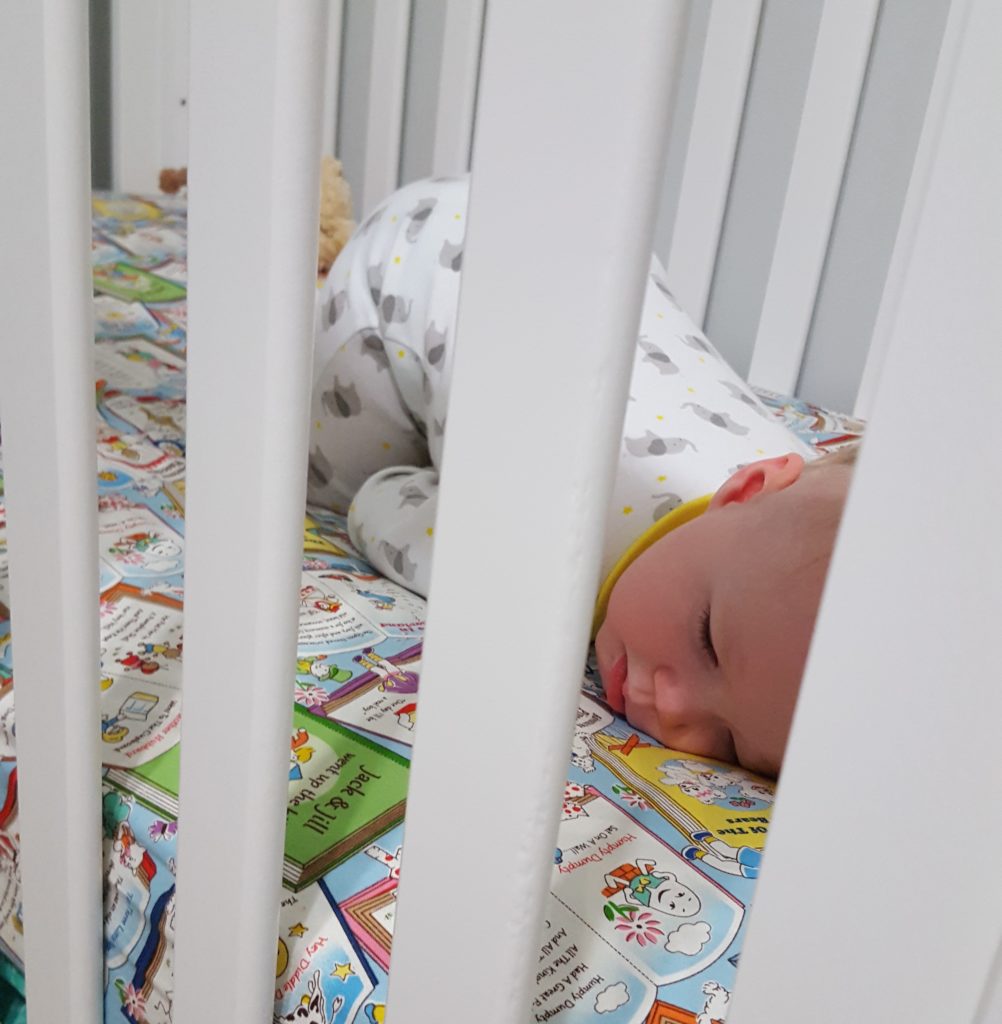 He's almost 11 months old and still wakes at least 2-3 times a night to nurse. I'm tired, but for now, it works okay for us. Sometimes he wakes for the day and is happy in his crib so I have a few minutes to get dressed and ready for the day while he talks and plays.
(Confession 1: Sometimes I never even get dressed for the day–the ultimate lazy shame, I know.)
Usually, he doesn't eat too long before he's ready to play, so I wrangle him out of his pajamas and into a fresh diaper. When I'm done, he crawls around and plays in his room for awhile. If he's content and safe, I try to check email on my phone and scroll through a few of the social media accounts I manage for work and personal use. Pretty soon, he gets tired of exploring his room and heads for the hallway and we go out to the living room to start the morning portion of our day.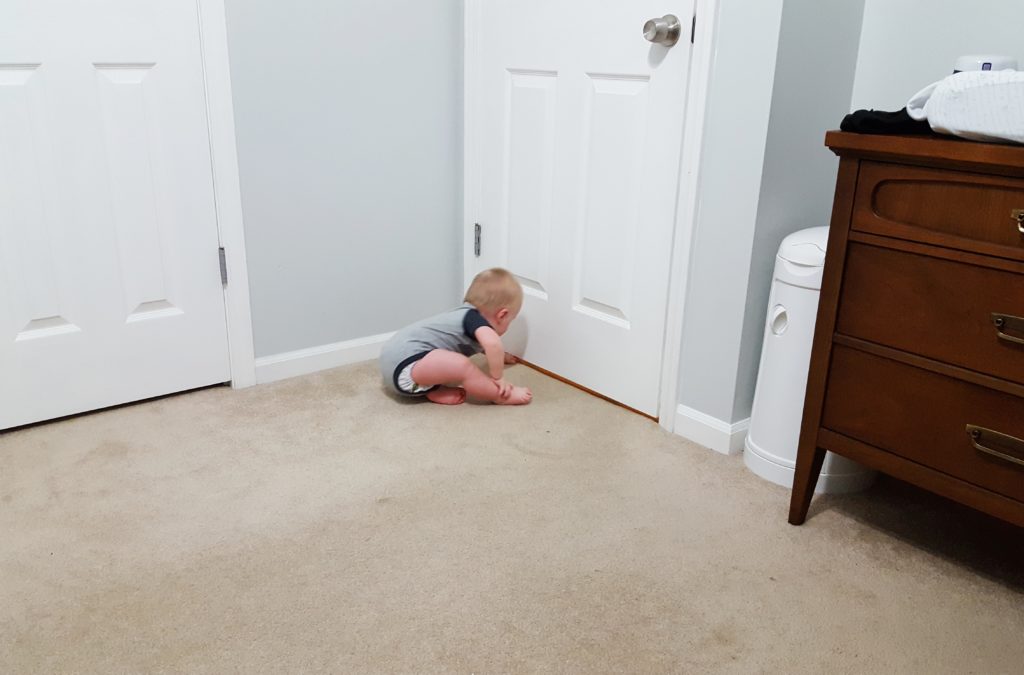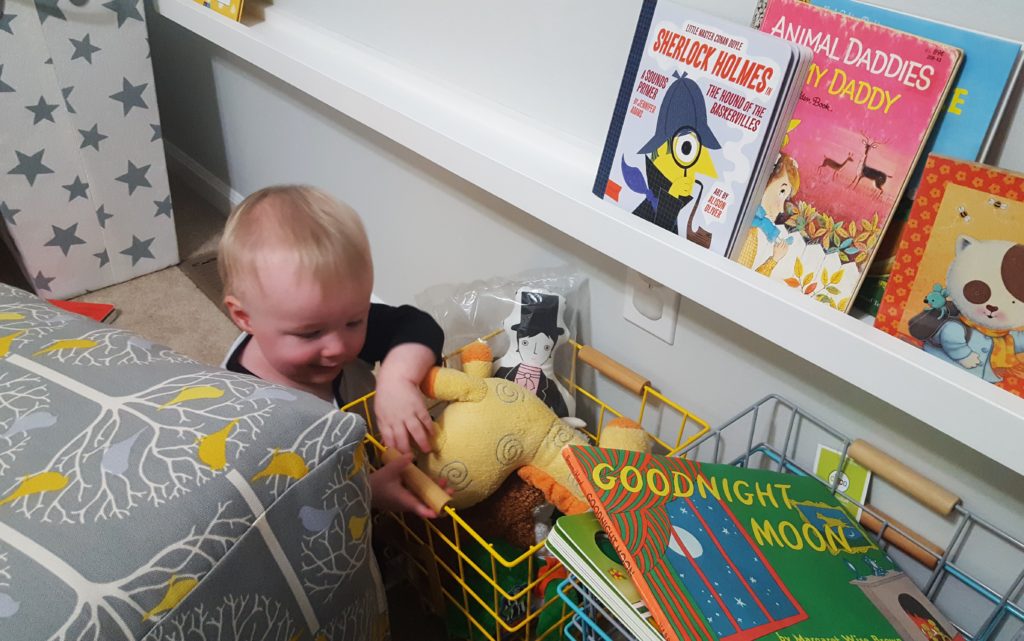 After an hour or so, I get Will's breakfast. He usually eats a combination of black beans, scrambled eggs, and whatever fruit or berries we have on hand. Right now, he's also eating butternut squash I steamed and sprinkled with a little onion powder. Weird, I know. But he likes it a lot. Sometimes he gets a little cereal mixed with breastmilk and fruit. He'd prefer to eat Cheerios at every meal, but we try to save those for when we're out and about or else he won't eat much of anything else.
Then, we do some more playing and when it gets close to being about two hours after Will woke up for the day, we start to read books to help wind down for his first nap. After a few of his favorites, he starts to get fussy and wants to nurse so we go to his room, change his diaper and he nurses until he's just almost asleep and I lay him in his crib. He usually immediately rolls over onto his belly and settled down to sleep, but sometimes will sit up and either play or fuss for awhile. I go in to calm him if needed, but usually, this first nap of the day goes pretty well.
This is when I eat breakfast.
(Confession 2: these breakfast pizzas are sometimes the third best part of my day. Following #myWillandmyWyatt, of course.)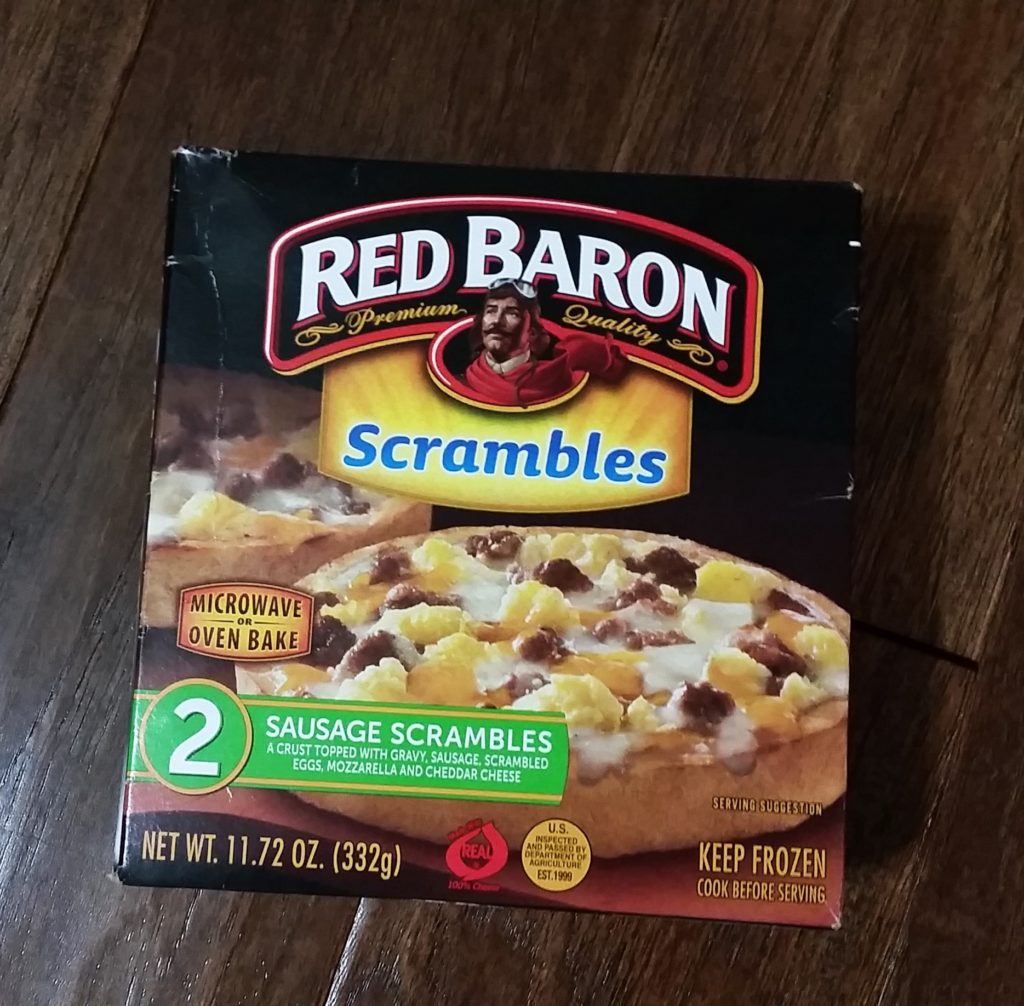 He sleeps for around 2 hours on a good day. Sometimes less, sometimes more. Meanwhile, I use this as my biggest and best chunk of the day to get work done. I'm a freelance writer and although I do enjoy this blog and wish I could spend more time here, I have a handful of other main clients that keep me busy. I typically use this first nap of the day to make calls to sources for interviews. I catch up on the morning's emails and then usually try to spend a good chunk of time writing on whatever project I have that deadlines the soonest. My main clients are agricultural publications. This week I'm writing about direct marketed beef and specialty produce like dragon fruit and lychees. Do you know what a lychee is?
I also manage the communications for our church so I'm working on new brochures and emails, as well as constantly managing social media. Not to mention trying to keep up with this blog. I never have everything caught up. Honestly, being on maternity leave and feeling like I had all my deadlines caught up was the best feeling ever. So much for feeling like that…ever again!
(Curious about the things I write? Here's an example.)
Anyway, Will usually wakes up pretty content. I let him play in his crib for awhile while I get to a stopping point with whatever work project I'm working on and then go in to get him. He loves to play with his mobile when I pick him up, which I find adorable since it was such a pain in the rear to get put together. (Read about it, here.)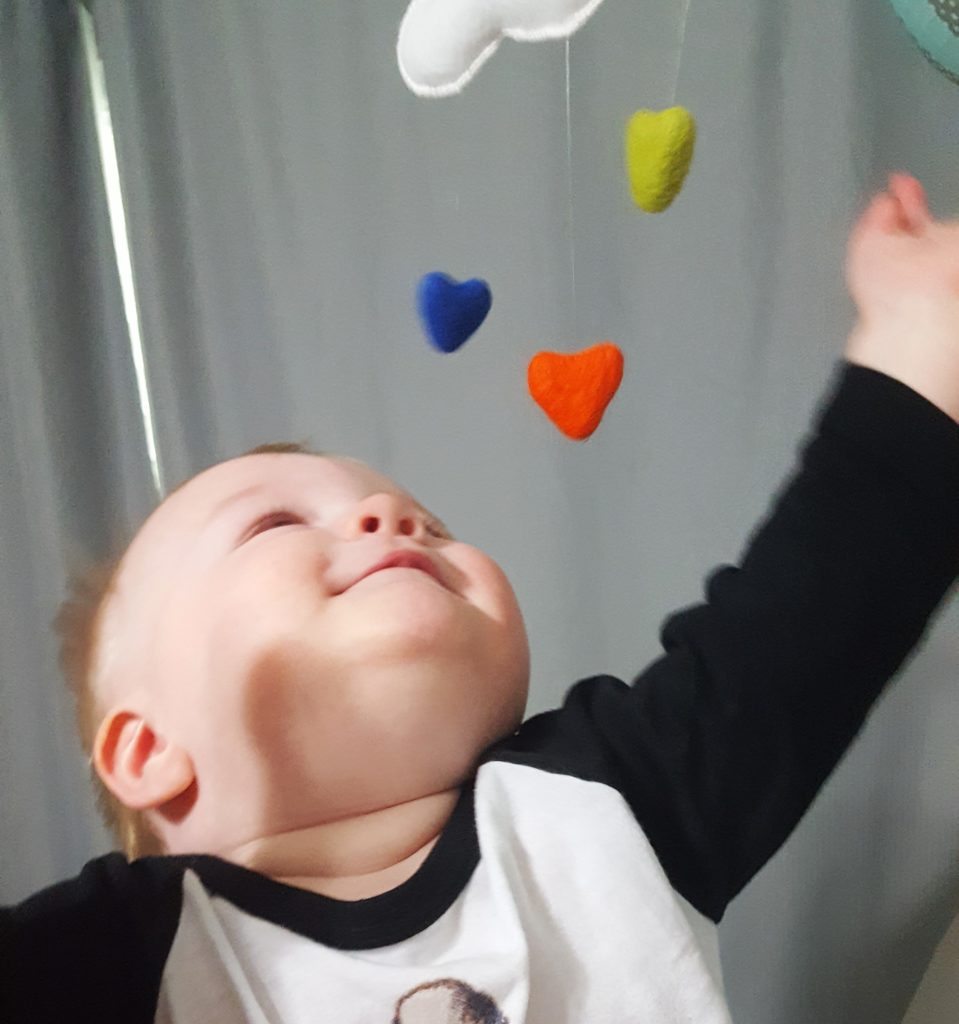 Sometimes he nurses right away. Other times he's ready to play. We usually try to go outside and get the mail together in the afternoon. He loves to go outside so I try to do that several times a day. Then, we open it and play with the contents. Coupon packs are especially fun.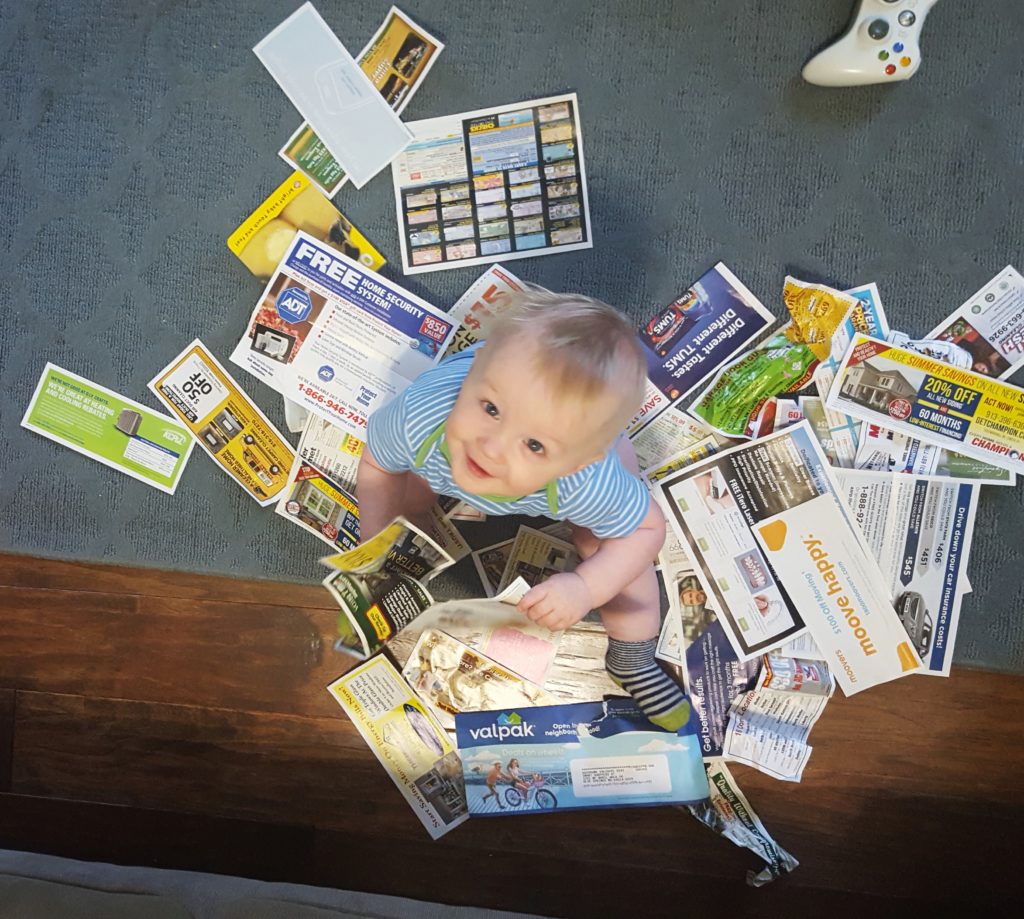 Some days we also go out and water or tend the garden. I like to wrap him so I'm more hands free, but I'm looking forward to being able to let him play in the grass. We have so many ants that I'm hesitant to do it until he's walking, or we get the yard treated.
Sometimes I do a little work while he plays. If he's having a clingy day, I sometimes put him in the bouncer and then work standing up at the bookshelves near him.
He eats "lunch" or an afternoon snack about an hour after he wakes up from that first nap. Usually it's the same foods from breakfast, but I try to mix it up a little if I can. He loves all kinds of berries and it's fun to be able to feed him things we've grown and picked together.
Then, we play and read until he's ready for nap number two, which is somewhere around 2-3 hours after waking up from the first nap. He sleeps around an hour and half and then hopefully wakes up happy. Sometimes, he wakes up really happy.
I try to be mostly done with work by this point, but that rarely happens. Sometimes I put him in his bouncer so I can work until Wyatt gets home from work, but now that he's more mobile (crusing all around!), he prefers to be out where he can explore. Sometimes, he's content to crawl around and play by himself for awhile in the living room so I can get a few short tasks done. Other times, I have to follow him around because he's getting into corners he's not supposed to be in.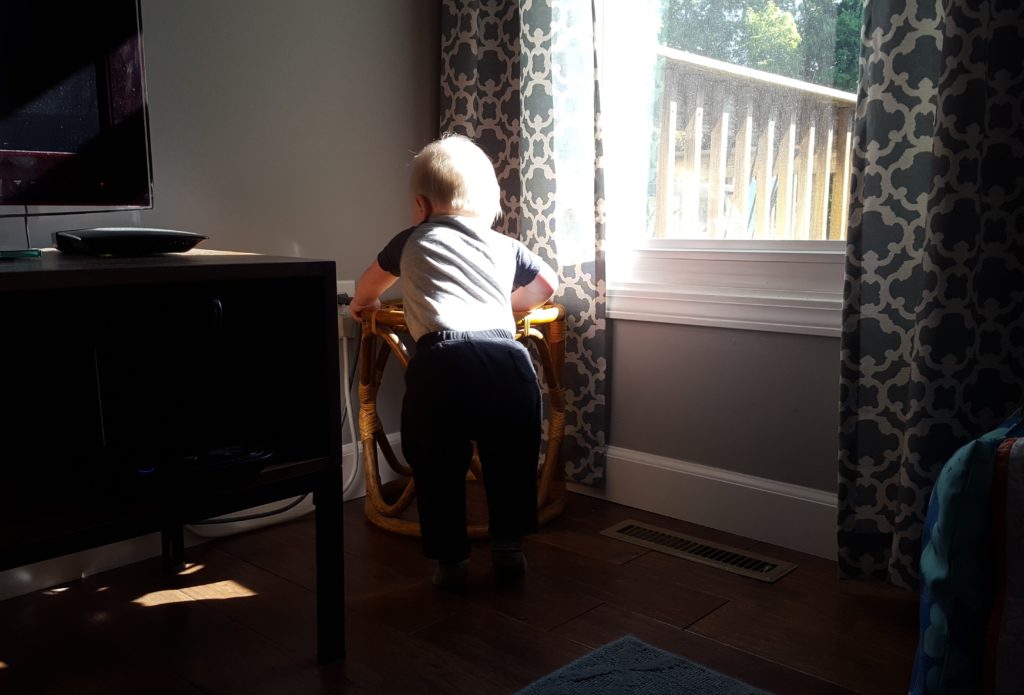 Sometimes we wait for Wyatt to come home on the front porch and watch cars go by our house. Our neighborhood is pretty quiet so he gets bored pretty easily, though. I usually try to get dinner at least started, but it's becoming increasingly difficult to keep him entertained and out from under my feet if I'm working at the stove. I never have time for anything fancy, but I try. Sometimes.
(Confession 3: Sometimes, I text Wyatt and make him bring something home and we'll end up eating take out three nights a week. I'm working on it…)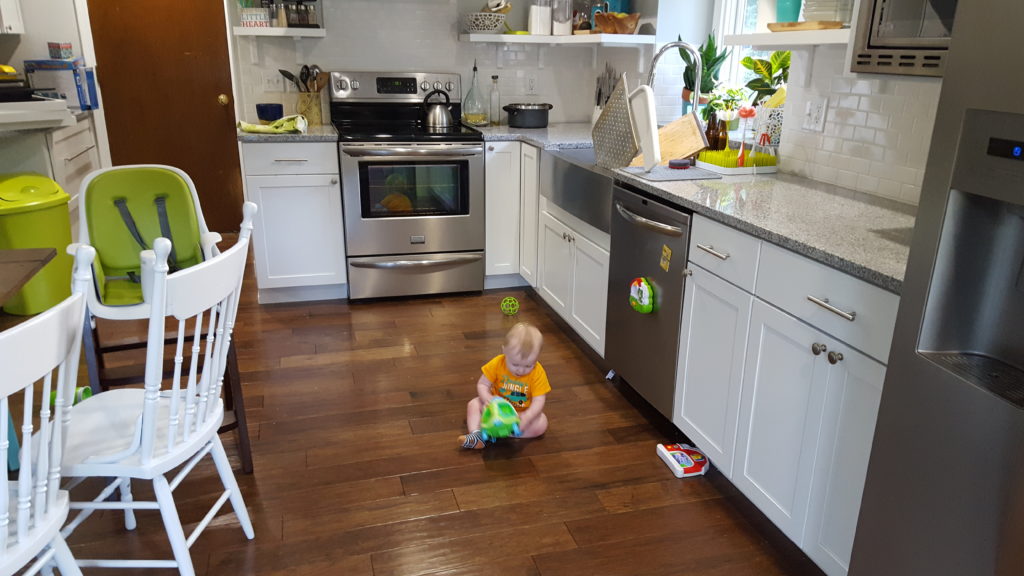 Once he arrives, we try to eat dinner as a family. Will eats more of the same and tries some of our food occasionally if we're eating something he can have.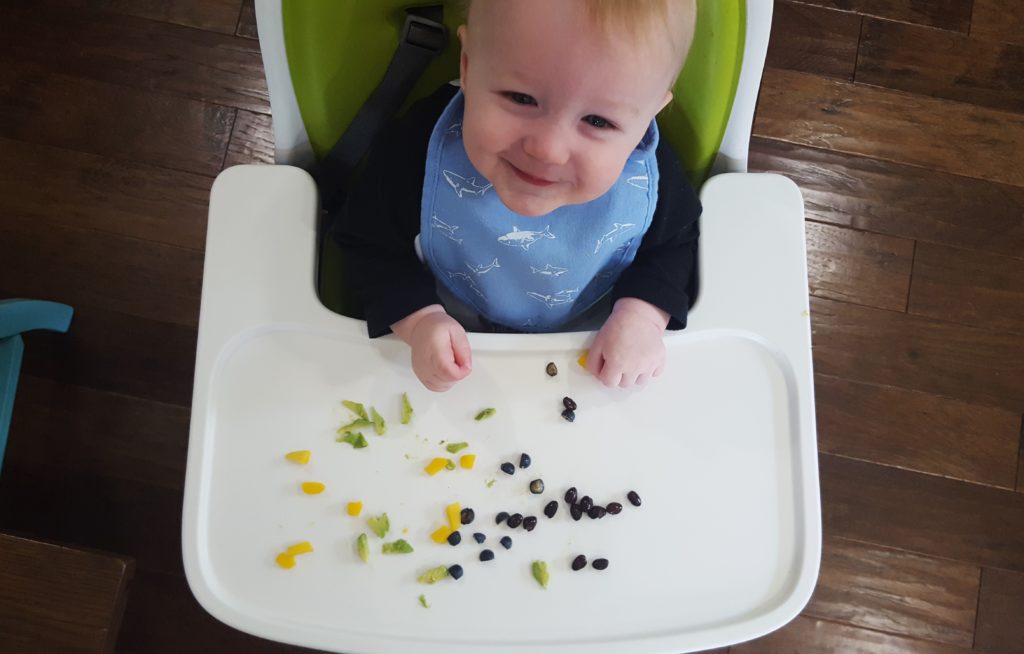 We have a couple of hours before Will goes to bed so we usually let him crawl around and play. Sometimes we take him outside to swing.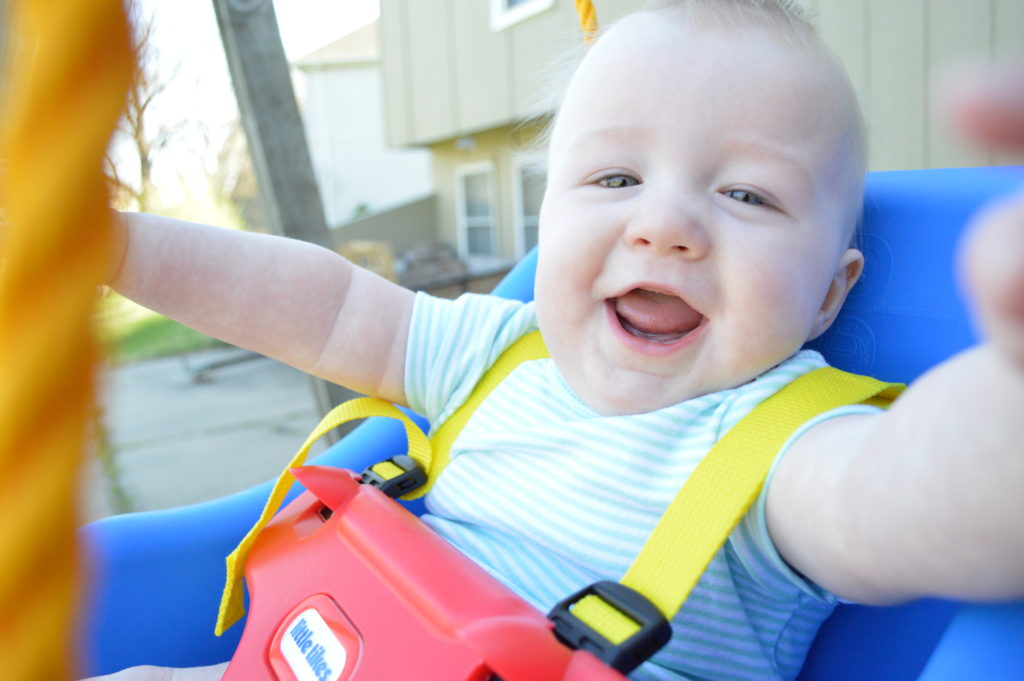 Sometimes, Wyatt has to mow or work in the garage so I entertain him. Sometimes I have a meeting, so Wyatt entertains him. Sometimes, we run errands together. Around 7:30, or a little later, he gets a bath and we start getting him ready for bed. It's one of the best moments of the day.
Our day ends with another nursing session and, hopefully, Will falling asleep peacefully in his crib. Then, Wyatt and I have a couple of hours to spend however we decide. Sometimes, we chill on the couch. Sometimes I work on catching up on blogging and work projects and he works in the garage. Right now, he's working on a custom order. (Did you know you can order custom projects?)
Usually, we wind up on the couch eating a snack.
(Confession 4–I eat ice cream or cheesecake or some other dessert almost every night. That's the real reason none of my clothes fit, I guess!)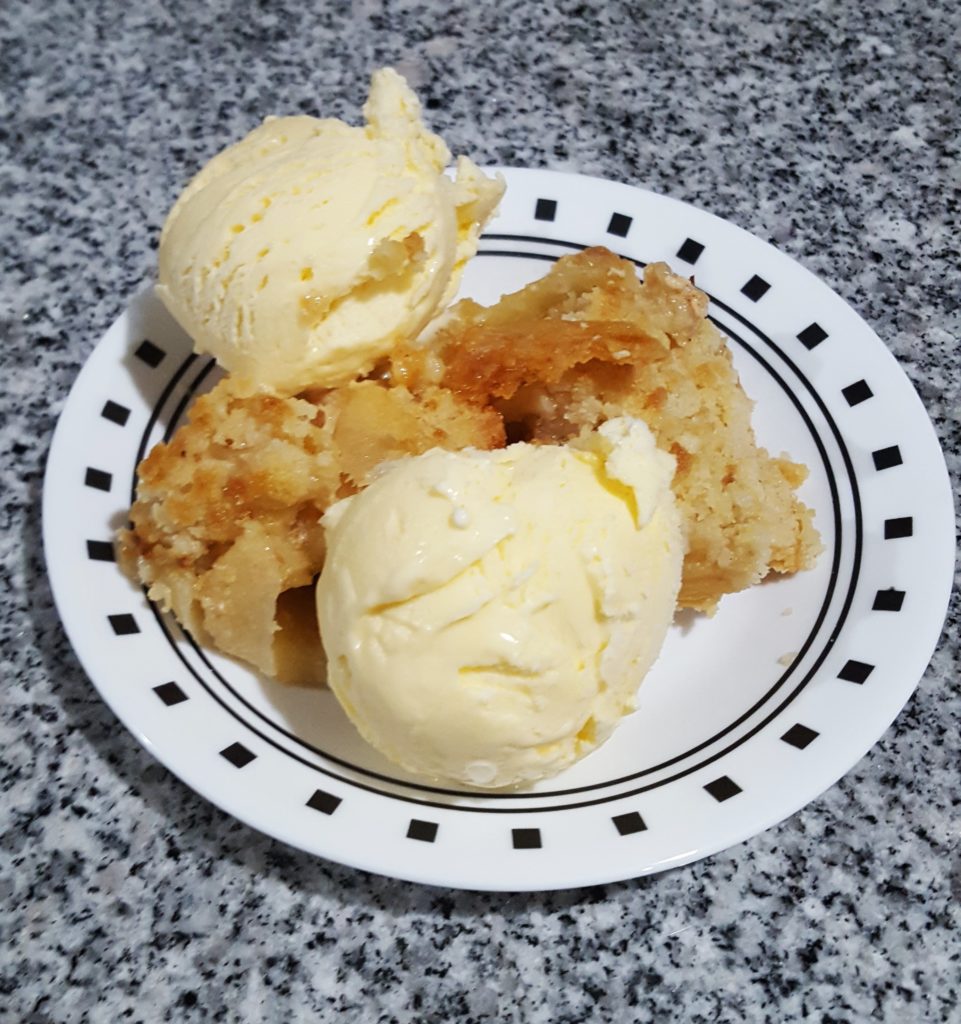 We finally go to bed around 11:30. We're trying to go to bed earlier, but for some reason, it just never happens.
So, there's a glimpse into our day-to-day life. It's a crazy kind of wonderful, for sure!
Any of our craziness look like your craziness? I bet we have something in common–like a love of frozen breakfast pizzas? Come on…admit it….