~ This post contains affiliate links, which means we will receive a small commission if you make a purchase after clicking on our direct link. Don't worry, it doesn't cost you anything extra. And, we won't recommend anything we're not personally a fan of! Please reach out if you have any questions about sponsorship or ads on our blog. We're happy to help explain how this works, and as always, thank you for reading and supporting LovingHere! ~
---
I can't believe it, but Will is crawling all over the place. And that means we needed to do some babyproofing. We're still not done, but we did cross a big item off the list last weekend… the baby gate at the top of the stairs.
(Like the bookcase? We built it. Click here for the tutorial.)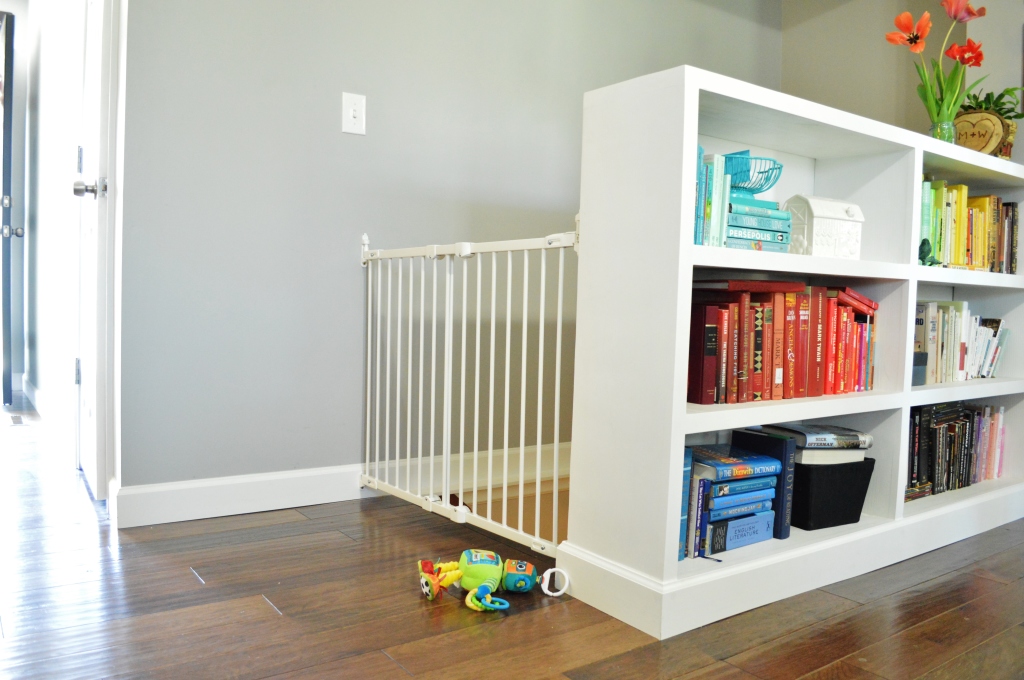 We originally wanted a tension gate to avoid having to mount anything to the wall, but those just aren't safe for stairways so we opted for the screw-in kind. I wanted a white finish to "match" the bookcase. We also wanted it to have a full swing open (not the kind you walk through with a threshold at the bottom. (Again, those aren't safe for stairs as they are a trip hazard.)
Once we knew want we wanted, we basically just went to Buy Buy Baby and chose one that fit those qualifications. There were a few options, and I think we chose the cheapest one. It was a very scientific process, let me tell you. But, we have been very happy with it so far, so if you're curious, HERE'S THE LINK.
Once we got it home, we realized the box had been previously opened (should have checked that beforehand!) so we had to lay everything out to make sure we had all the necessary parts and pieces.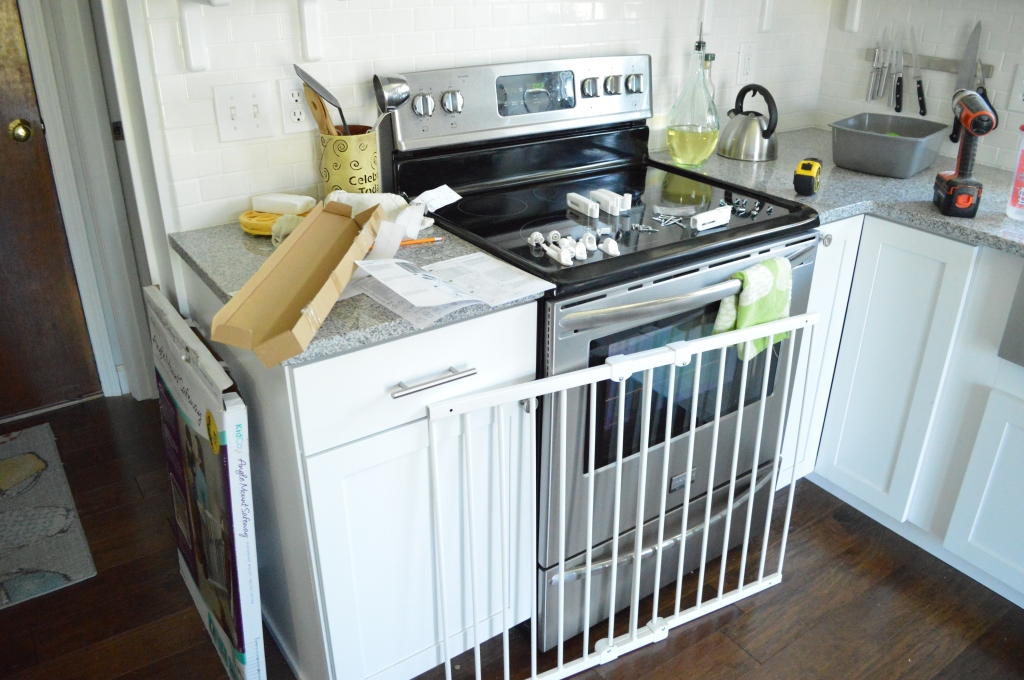 Then, the fun part, actually getting it attached to the wall. This was a little bit of an issue because we needed to mount it to a stud on the hinge side (the side attached to the wall) but that didn't line up exactly with the bookshelves on the other side. It turned out being just fine to mount it slightly at an angle, and even though it's sort of noticeable, I think it works just fine.
Wyatt just followed the instructions and used the template for drilling holes in the wall and then securing it.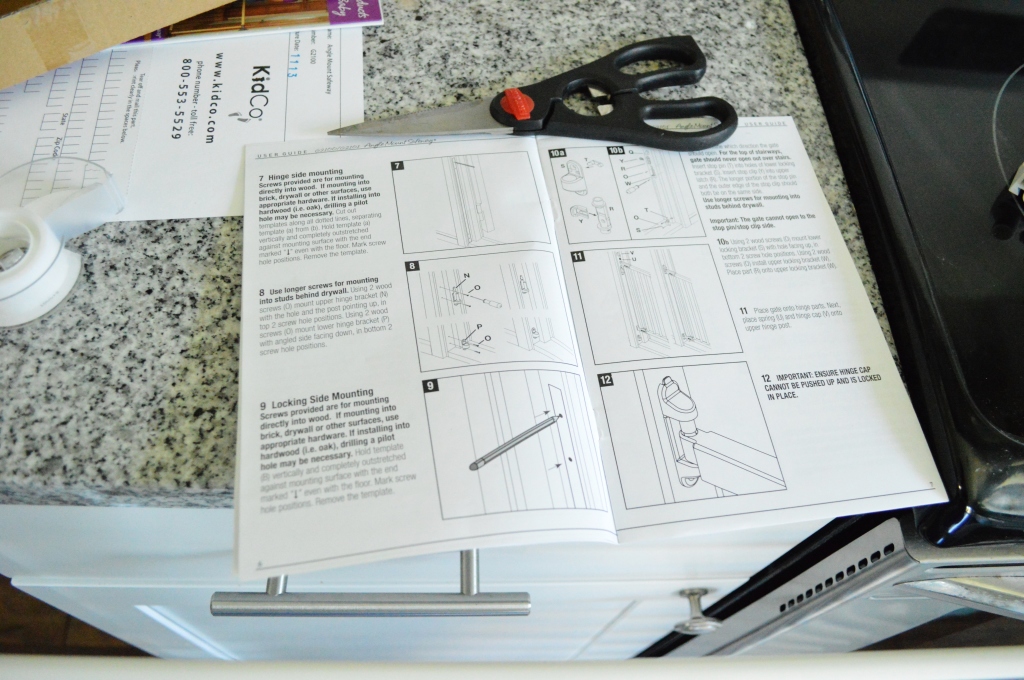 However, the gate didn't come with screws long enough to drill into the wall so we had to use some from our stash—which were deck screws. I could paint them if needed but it isn't that noticeable because the top ones are covered by the mounting piece.
We actually ended up not using the stopper that came with the mounting kit to allow it to open in both directions.
We can always add that back on later if we feel it isn't secure enough, but you have to press and lift the latch to open it, so we're confident it won't push open by accident. I've even tried to force it open without pushing the button and can't do it.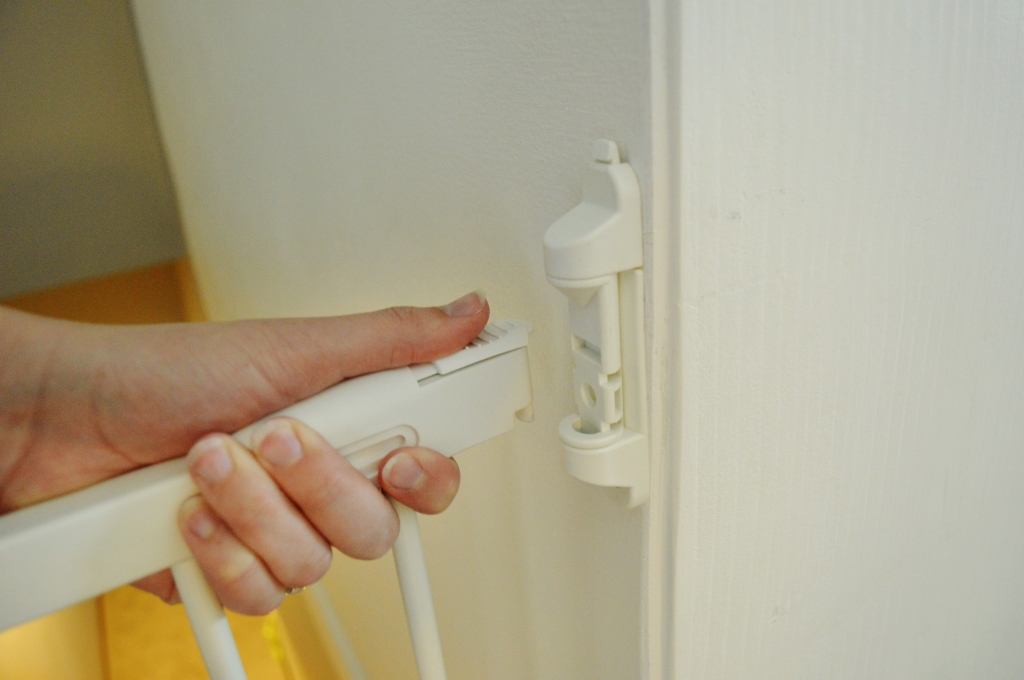 And, this felt safer and easier to use because you can always open the gate away from you. (Meaning you don't have to step backwards to make room for the gate to swing open, especially on the stairs!) And, it's not a hazard in the room because it can sit flush with the wall when we're not using it.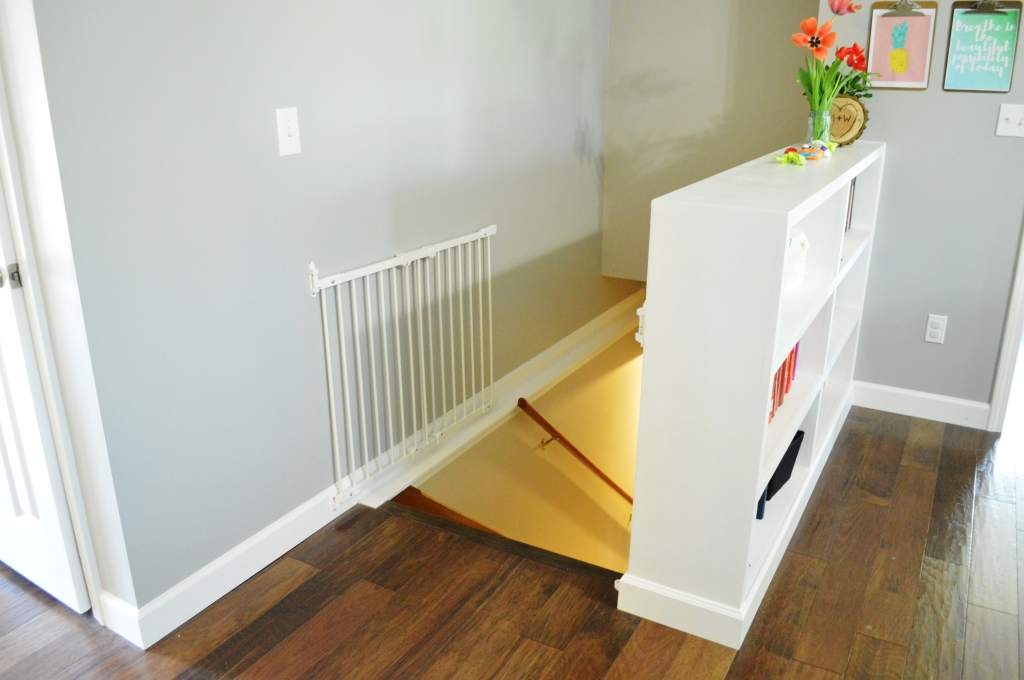 All, in all, it's really secure (I can't push it open) and that's one area checked off the list of things to make safer for our little one.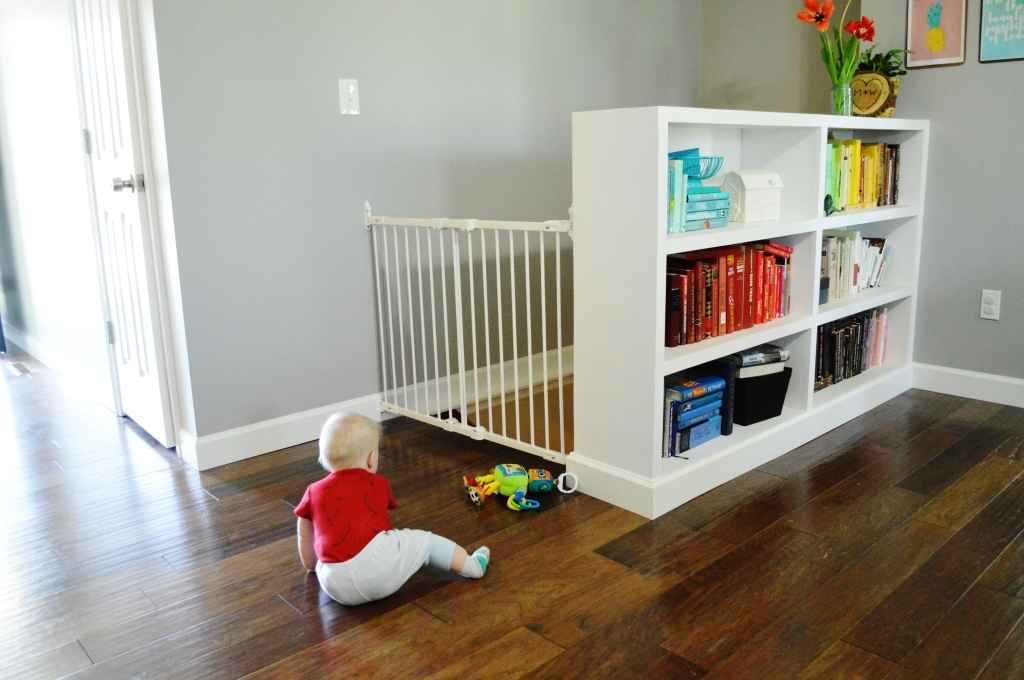 He's all over the place these days!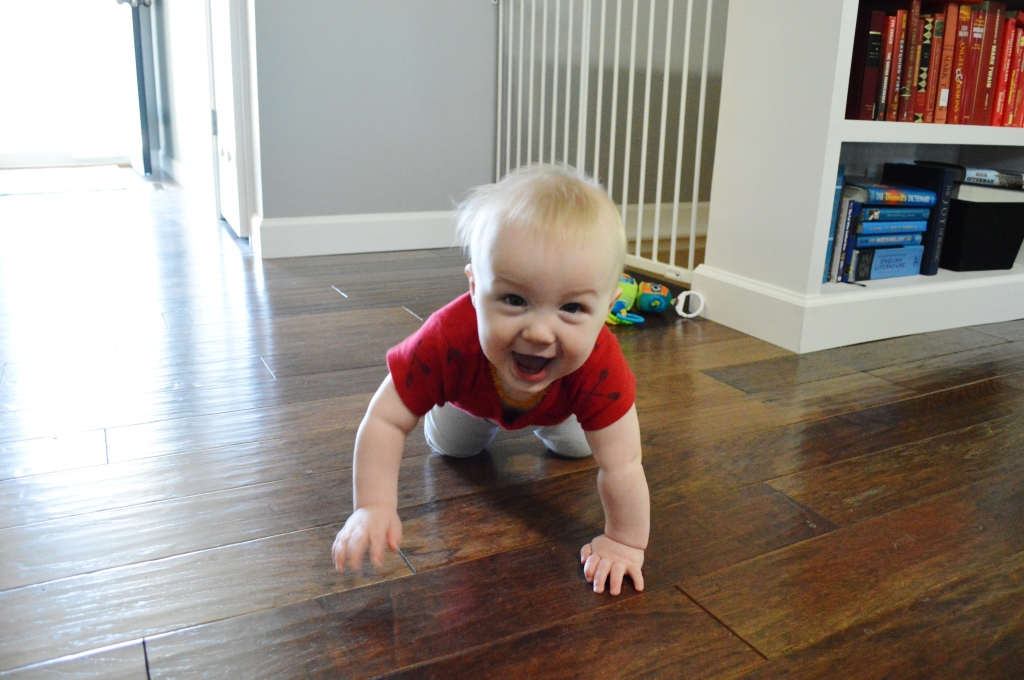 We've also gotten the dressers secured to the walls and are working on other hazards we'd never thought about until now.
As a recap, you can find the exact baby gate we purchased, HERE. We've been really happy with it over the last few months, and we'd buy it again if we ever need another one. It's simple to use and doesn't have any trip hazards. Plus, it's sturdy without looking bulky. And, it was affordable. Pretty much everything I ever wanted in a baby gate. Ha!
Any advice for babyproofing newbies?