On Tuesday, Wyatt and I celebrated my birthday, which was wonderful. I wondered if I'd be sharing my birthday from this year forward (my due date was Wednesday) but Beanie decided to keep hanging out in there, so I guess not.
I even had Wyatt take a couple photos so I can remember how big my belly was for my birthday this year, and I was shocked! I mean, I know it's big, but I hadn't seen it from the side in a long time…wowza!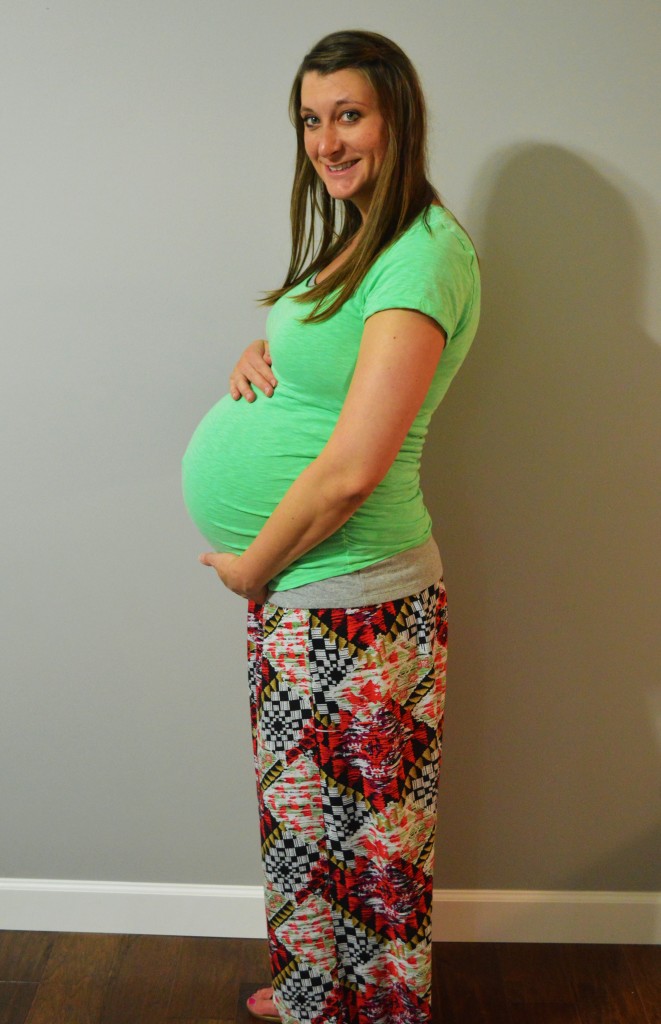 This is a funny face he captured. I think it looks like I'm saying, "Holy cow, how did this happen?"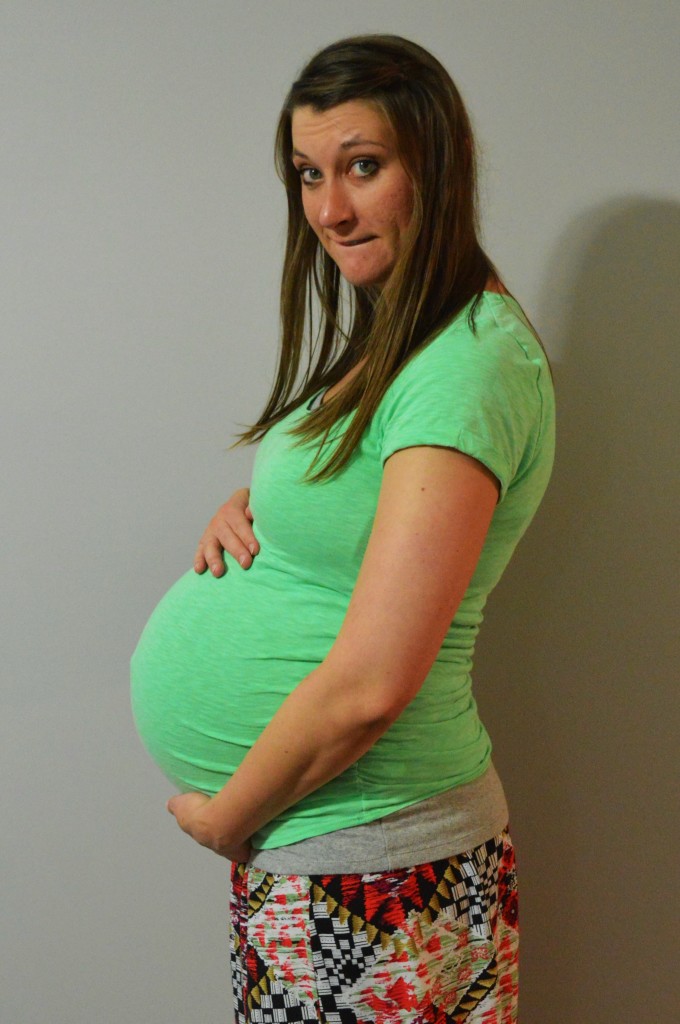 All in all, even though this wasn't the most festive or exciting birthday, it was a good day. I had a full day of work, trying to get as much ahead as I can for all my clients since I'll soon be taking a break when Beanie arrives.
We went to dinner that evening with friends, followed by some ice cream. Then, we took a stroll around a couple stores to keep me on my feet a little longer. I'd prefer to walk outside (gravity and movement helps keep Beanie on the track to moving out into the world) but it was about 100 degrees all day on Tuesday…so I wasn't willing to spend too much time outside.
We also ended the night with some cheesecake. Because it was my birthday and I'm nine months pregnant, so if I want to eat two desserts, I'm going to eat two desserts, right?
In terms of presents, I was excited because our stroller was delivered! Wyatt got it all put together and ready to go, even though we probably won't be using it right away, of course. It's still nice to have it all ready to go.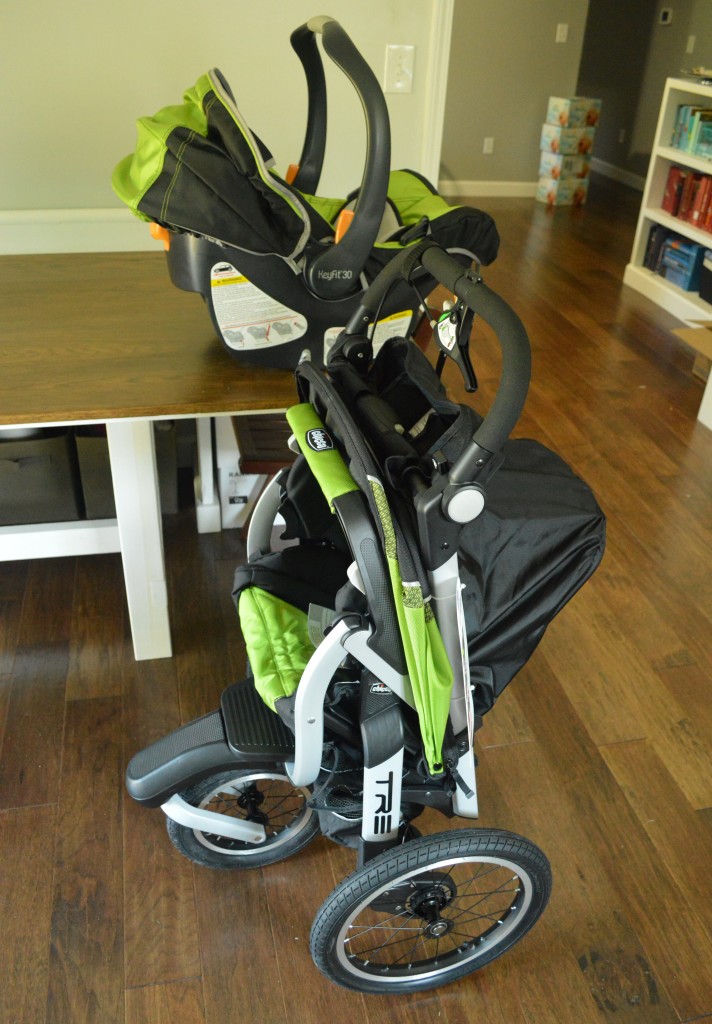 Plus, I also got a sweet little hat I ordered for Beanie from an online shop I really like called Fawn and Clover. Plus signs have been a fun little motif we've enjoyed (they were the inspiration for our wedding invitations and some other decor) and I thought it was just adorable that Beanie now has a little beanie as our own little "plus one."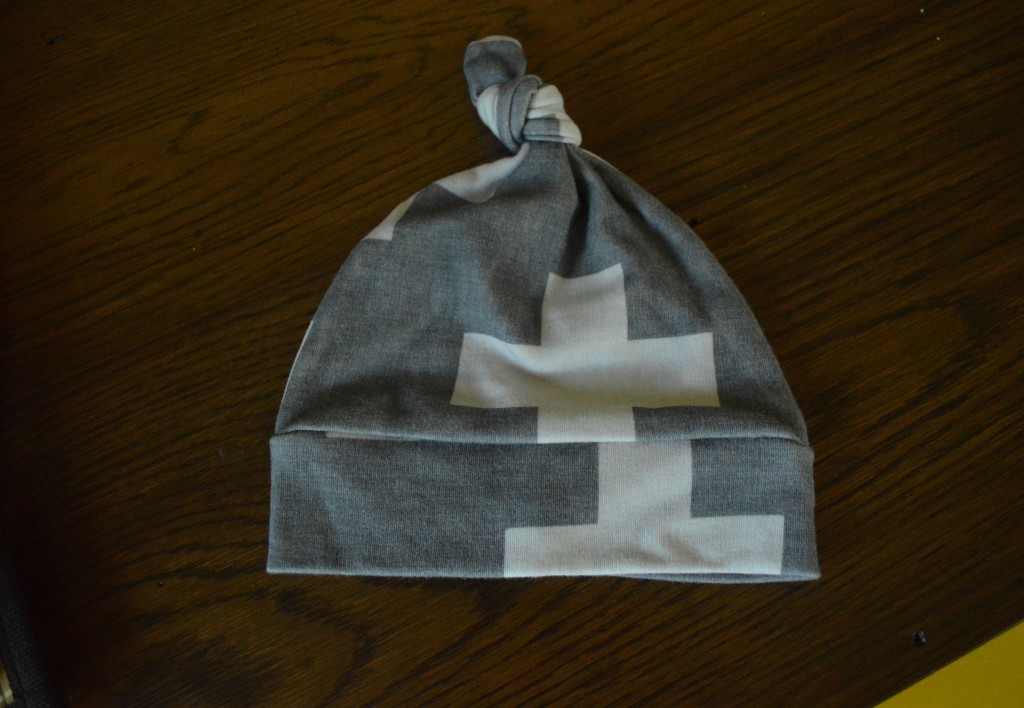 A part of me can't believe we're already at this point in the year. Not only are we at my birthday, but we're also almost at Beanie's future birthday!
Of course, that may have something to do with the fact that until last weekend I thought I was turning 25…when in fact, I've been 25 for a whole year already and I turned 26. I guess I just forgot that last year was my 25th birthday somewhere along the last 365 days…because I did know it at sometime. Oops.
Still, it's been a good year. The year that gave us Beanie.
Also, now that we're past my due date, any guesses on when we'll be celebrating Beanie's birthday? Feel free to leave a comment with your guest, below!